A Full Month of Daily Investments
As probably most of you know, today is Hive Power Up Day for the month of April. That means it's time to power up again to get the #hivebuzz badge! I just did it myself and already got the badge awarded.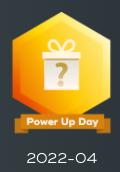 For me, this is the third one in a row and also the third one I ever received. For more info on how to participate in this event, have a look at this post.
But There's More Than Power Up Day!
In addition to #HPUD, I also participated in the Hive Power Up Month. This challenge is a bit more tricky to participate in. The basic idea is to either power up at least one hive per day or write one post with 100% HP rewards per day. While a bit harder to complete, this challenge will get you some sweet prices in addition to a badge. If completed successfully, HP will be delegated to your account for a certain amount of time. If I understand correctly, the more often you participate, the more HP delegated!
To give you an idea, last month I participated and got 12 HP delegated to my account for three weeks. While 12HP might not be much for some of you, I think it is a really nice reward for such a challenge. This month is the second month I participated, I'm curious if and how much HP I will get this time!
More info on the #HPUM can be found, e.g., in this post.
---
I can recommend everyone with some liquid funds to participate in the challenge. It's a fun way to increase your share in the Hive ecosphere! And if you look at the various extra prices, it can even increase your gains more by simply participating!
Happy #HPUD!
---
---