😁 SAVING EVERY DAY IS POSSIBLE 😁 // ahorrar todos los días es posible 😁
Hi all! Today I am going to tell you about how my girlfriend and I decided to save apart from what we always try to save per month.
Hola a todos! Hoy voy a contarles sobre cómo mi novia y yo decidimos ahorrar a parte de lo que tratamos de ahorrar siempre por mes.
Having savings is super important and last year we could see that importance when our cat got sick and we had to pay for his operation, hospitalization and other unforeseen things. That led us to run out of savings, since we had just moved into an apartment for rent.
Tener ahorros es super importante y el año pasado nosotras pudimos ver esa importancia cuando nuestro gato Gordo se enfermó y tuvimos que pagar su operación, internación y demás cosas imprevistas. Eso nos llevó a quedarnos sin ahorros, siendo que recién nos habíamos mudado a un departamento en alquiler.
At one point we find ourselves without money saved, so we try to save as much as we can. We separate fixed expenses and separate their value. We separate variable expenses and their value. What is left over is saved.
And apart, we started doing this.
En un momento nos encontramos sin un peso ahorrado, así que tratamos de ahorrar todo lo que podamos. Separamos gastos fijos y separamos su valor. Separamos gastos variables y su valor. Lo que sobra, se guarda. Y a parte, empezamos a hacer esto.
We took the trouble to make 365 envelopes so in each envelope we write $ 1, $ 2, $ 3 like this until we reach $ 365. Every day we randomly draw an envelope and place it inside the money that says ahead. Multiplied by two. Because we are doing it both.
Nos tomamos el trabajo de hacer 365 sobres entonces en cada sobre escribimos $1, $2, $3 así hasta llegar a $365. Cada día sacamos al azar un sobre y colocamos dentro el dinero que diga adelante. Multiplicado por dos. Porque lo estamos haciendo ambas.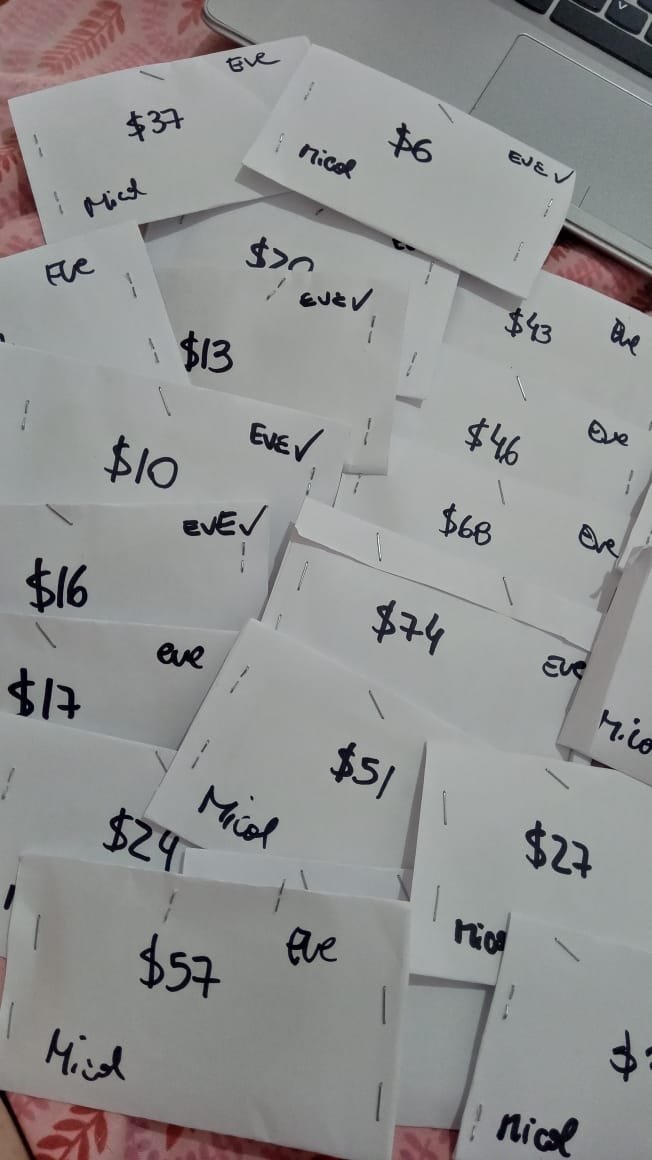 When we started to do it obviously I thought badly and said "I don't have money every day". So we said that when that happens, we have to score to put it when we collect the salary. There are no excuses.

Cuando empezamos a hacerlo obviamente yo pensé mal y dije "no tengo plata todos los días". Entonces dijimos que cuando eso pase, tenemos que anotar para reponer cuando cobremos el sueldo. No hay excusas.
On June 1 we are going to take the envelopes and count how much money there is and then buy dollars.
El 1 de junio vamos a tomar los sobres y a contar cuanto dinero hay para luego comprar dólares.
We have in mind to use this money to be able to go to Italy to meet my niece, the daughter of my friend who went to live there 2 years ago. For now we are doing well and we are going to achieve it <3
Tenemos en mente usar este dinero para poder ir a Italia a conocer a mi sobrina, la hija de mi amiga que se fue a vivir allá hace 2 años. Por ahora vamos bien y lo vamos a lograr <3
All the pictures were taken by me // Todas las imágenes fueron tomadas por mí.
---
---