Earn SPK by delegating your LARYNX tokens
Whether you've been diligently claiming your LARYNX tokens for months, or you've bought a bunch of them off the market (or both), now is the time to put them to work.
The SPK Network is scheduled to go live next monday, but testing has already begun and you can start earning SPK tokens right away, by staking your LARYNX tokens and delegating them to a node.

Almost too easy
I just went through the process myself, and it's basically as easy as powering up and delegating any other token here on Hive. I believe the whole thing took me less than a minute – here's what I did;
Logged into https://vue.dlux.io/me#wallet,
clicked the SPK tab,
powered up my LARYNX tokens and
delegated them to a node of my choice.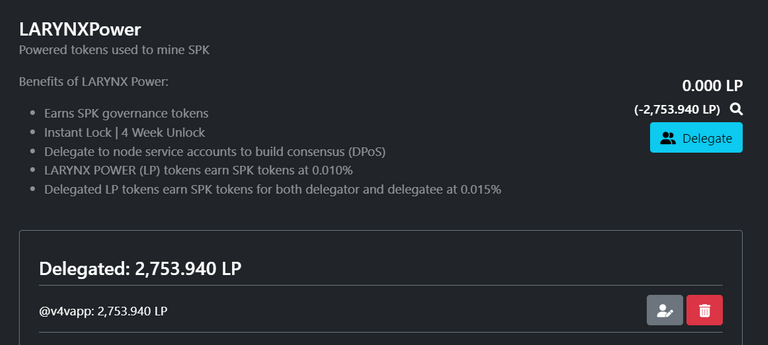 In my case, I chose to delegate my LARYNX to @v4vapp, which is run by @brianoflondon. I've followed his work for quite a while, and know that he's doing loads of important work around here, even if I don't understand the specifics of even a quarter of it. His intentions with running the v4vapp-node on the SPK-network is outlined in his post The real Web 3.0 and why I'm running a Node on the SPK Network as V4VAPP.
More than just earning
By powering up and delegating your LARYNX token, not only are you earning for yourself, you're contributing to the decentralization of a network which goal is a truly censorship-resistant platform that noone can ever own.
SPK Network, a decentralised, censorship-resistant social media protocol and incentivization layer for web3. The SPK Network provides the ability for video platforms and content creators to interact with the decentralized social graph, while rewarding infrastructure providers with SPK governance and BROCA gas tokens. - spk.network front page
I'm very excited for being here at this moment in time, to be a part of this ambitious and profoundly important project.
Further reading
---
---