Investors of today, supporting the champions of tomorrow (A JetCoin story) - Day 7

I was looking at one idea, and the more I read, the interesting it gets. JetCoin is a platform connecting talended individuals from various fields (football, music and so on) and fans around the world. The platform is build on Ethereum blockchain, and has an app developed for IoS and Android. Their main goal is to help talended individuals develop their media presence and image with the support of their fanbase. The platform is selling Jet tokens, and then they use the funds raised to buy a portion of a talended individual contract from their agent/agency. Fans got JET, and they can use their tokens to redeem experiences, social media engagements and more to come, from their preffered talended individual list. JetCoin team wants to have an active participation and collaboration with their talents pool.
More than that, the selected talended individuals can benefit from their connection with JetCoin, sharing their successes with their fans, and much more, due to a social media metric system, creating value, endorsements and even sponsorship deals. Going even further, they can create a line of merchandise aimed to be sold.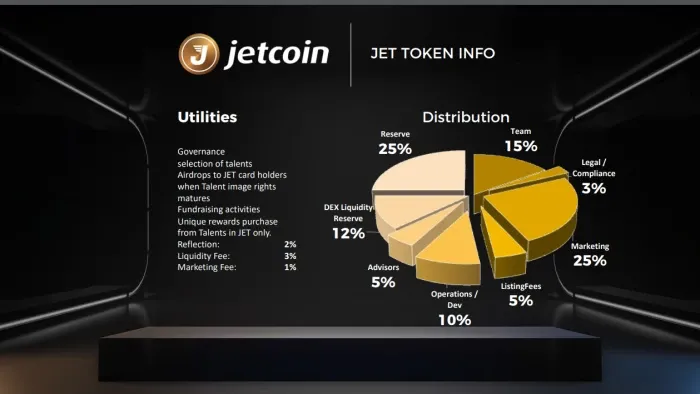 Looking at this, they may still need to continue to work on it, in order to decentralize it a bit more, maybe going into the direction of a DAO, if they aim at a pure decentralized project. At the moment I can see that there is 15% distribution to the team, 10% for operations and dev, 5% for advisors and 12% DEX reserve, adding up to 42%. Anyway, the project looks good and has potential.
They started small, but continue to expand year after year, having a series of sponsorship deal with Derby County FC, Wigan Athletic, a banner on English Premier League games, 2 Serie A teams (Chievo Verona and Hellas Verona) and tomorrow, 8.1.2022 they will be involved in a FA Cup game, supporting Huddersfield Town.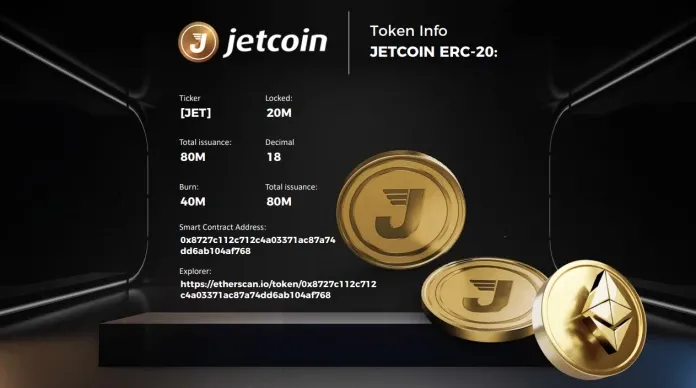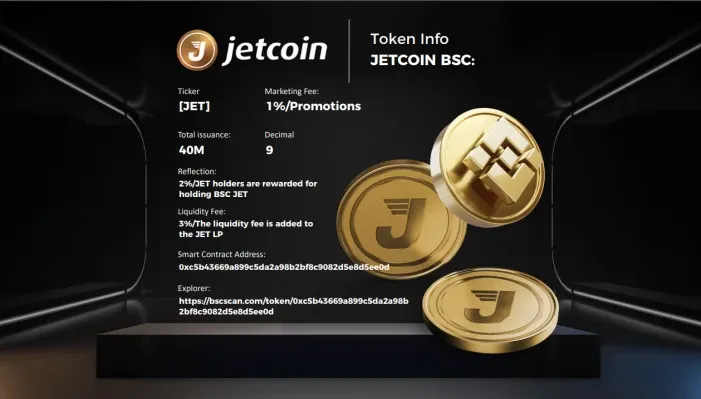 As you can see they got their token issued on both ETH and BSC, and there are some interesting numbers in the previous pictures. What can I say, overall, the idea is good, and there is a big market, with a lot of potential, just think about, having a percentage of the contract for a star like Ronaldo or Beyonce. Seems cool, a great deal especially for the fan of football, music or I wonder what other directions they can follow in the future.
What I would like to see here, as many projects started lately, is a small team directing various charity actions, as this build good reputation and create more engagement with the platform.
All the best,
George
​
Why not...
...have fun and win rewards on my favourite blockchain games (Splinterlands- Hearthstone-like card game) (Mobox - GamiFI NFT platform) and (CryptoBrewmaster - Beer factory sim).
_...get the higher rewards for your investments using Blockfi, Hodlnaut and Celsius.network. Get ETH while writing on Publish0x blog, using Presearch search engine to maximize your income with PRE tokens. Check my Lbry.tv channel in here and use Torum instead of Twitter . I am also writing on Read.cash.
---
---