Last Chance To Catch The Risers In France -🌠 Starbits & Cold Pizza #142 🍕
Hey Rockstars,
I hope you all are having a rocking day. Time for another edition of Starbits & Cold Pizza!
Here's what's been happening in my world of Rising Star!
Sending you all Good Vibes and Enjoy The pizza!!
If you not playing yet, please use my referral link click here and start living that rockstar life!
The Risers are playing for the last time in France today! So don't forget to catch them while you can and get your first of the Southern Europe Collection Armbands!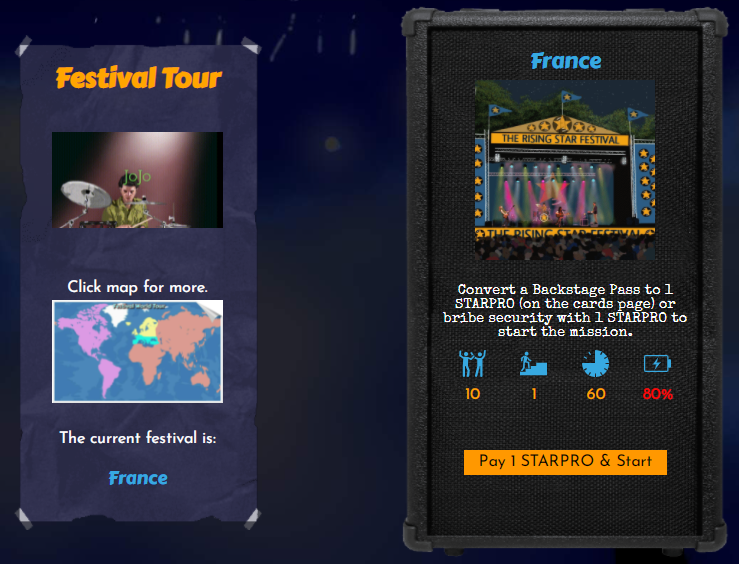 New Cards & My Favorite
Just got my France Festival Armband, so get don't forget to get yours today, if you haven't yet!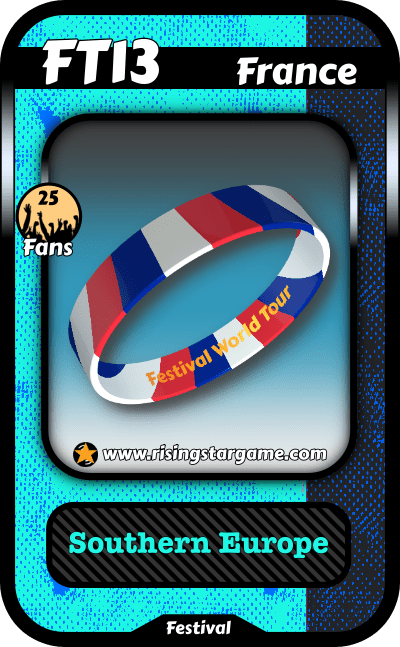 Also, Bought another 12 pack today and stopped opening after 2 packs! 2 Marching drums and lots of common cards. Not the best pull, but I have a bunch of all of these cards already. Would be great if oi could get more unique or some guitars or production instruments! But I'll take what I get!
Here's today's pull


Gameplay Update
Dropped down to 64 today. New cards didn't help much but at least increased my timings today so that's a good note. Grinding away at level 133, 3/4 way through. hopefully hit 134 by tomorrow.
Completed 400 Band rehearsals and got me a starbits reward! thank you very much!

Think I should add these achievements to my goals for the week as well. But we keep rocking and stacking starbits!
Still working hard at lessons and saving for my pizza bike. Feel free to gift me some, will be happy to gift you a slice in Return.
Overall Game Stats Summary
Rank: 64
Personal Best: 50
Level: 133
1012 Cards
52 235 permanent fans
10 646 luck
81 736 Skills
722 IM
Total Missions Completed: 5 429
Guitars are definitely my strongest instrument right now with 241 skills points to be earned. But production is a close second.
Starbits Pricing & Millionaire Cards Issued: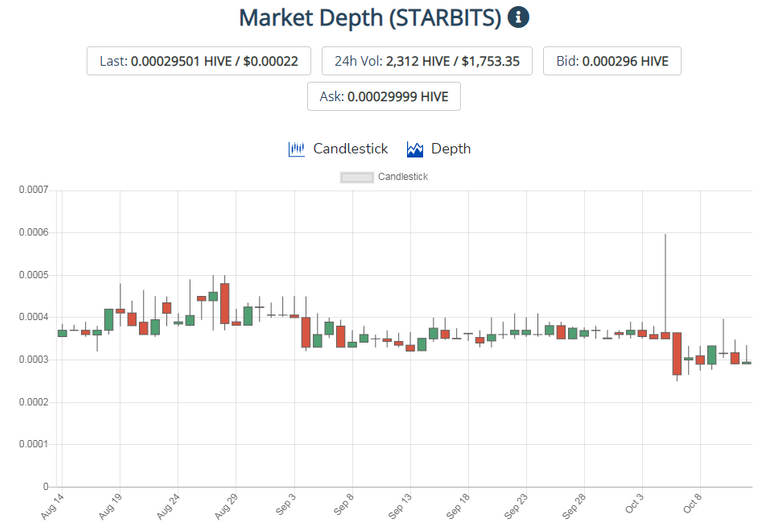 Starbits is dropping like its hot. The lowest it was for a long time. stack them while you can. If you saving for a millionaire, might be a good time to get in on some of this!
Lowest Ask went from 0.000338 HIVE to 0.00029999 HIVE - compared to yesterday.
January 2021 average: 0.00011 Hive
July Price Average: 0.00035 HIVE
August Average: 0.00040 HIVE
September Price Average: 0.00035 HIVE
So far 245 Starbits Millionaire Cards were issued - 1 more compared to yesterday.

Cards I'd Like To Buy
I'm creating a list of booster cards I want to buy. I might buy these before I hit millionaire or after. But adding this additional goal to the mix and adding the list here so I can keep track of what I need. These will help improve my stats as well as the number of unique cards in my collection.
54 cards marked off the list! The list is growing!!! Will add more every day.
1 x Cold Pizza Slice
1 x Whiskey Bottle
1 x Skillboost 1
1 x coffee cup
XP Boost +10
1 x can of petrol
1 x can of petrol
1 x can of petrol
1 x can of petrol
1 x can of petrol
1 x can of petrol
1 x can of petrol
1 x can of petrol
1 x can of petrol
1 x can of petrol
S1 Undead Fred
S5 Mozart
S6 Wizzy
S9 Beethoven
S12 Brahms
S11 Bach
E4 Modern Female Punk
E5 Headbanging Singer
E6 The Pad Of Chaos
E13 Unidyne
E14 Bobby Remedy
E14 High-End Drum Kit
E16 Rozzer
E19 Trike
E25 Pro Kit
E29 Stanley
E32 Bizzo
R23 Daisy
R2 Metal Drummer
R3 Mod
R4 Female Rapper
R5 Male Rapper
R6 Congas
R7 Vintage Synth
R8 Lead Guitarist
R9 The Songwriter
R10 Touring Coach
R11 Range Rover
R12 808 Drum Machine
R13 Pro Studio Mic
R14 Cowbell
R20 Touring Coach
R21 MC Pressure - 10000
R25 Double Bass
R31 Nykelharpa
i5 Cheap Mic - 600
i12 RS-303 Bass Line win this guy
i18 Electric Drums
i14 Cheap Sax
S10 Tchaikovsky
E1 Double Neck Guitar
E3 Red Lambo
E7 Grand Piano
E10 Pete Wong
E11 Chopper
5 Skater
R1 Classic Punk
1 x XP Boost +50
1 x XP Boost +100
1 x skills boost 10
1 x skills boost 50
1 x skills boost 100
1 x 100 fan boost
1 x 50 fan boost
What's your progress like? Got Any Hot Tips?
I'm keen to connect with other players! Pop me a line to let me know how you doing, or any hot tips you'd like to share!
Till next time, keep on rocking.
Start your band and join the fun here


Rising Star Resources:
Follow These Guys For To Win Rising Star Prizes
These Hivers and Rising Star Rockstars are known for running awesome Rising Star giveaways.
The usual suspects
Cool Resources for tips & Tricks:
From Other Players:
If you not playing yet, please use my referral link click here and start living that rockstar life!.
---
---