Another Listnerds Monthly Update

I'm going to keep this one short this time. I missed almost a week of posting in both Hive and in Listnerds in the week we were moving.
I had a few other things to deal with, and couldn't quite concentrate on all of it at once. Therefore I am well below my goals regarding posts mailed out in Listnerds. So let's get to it!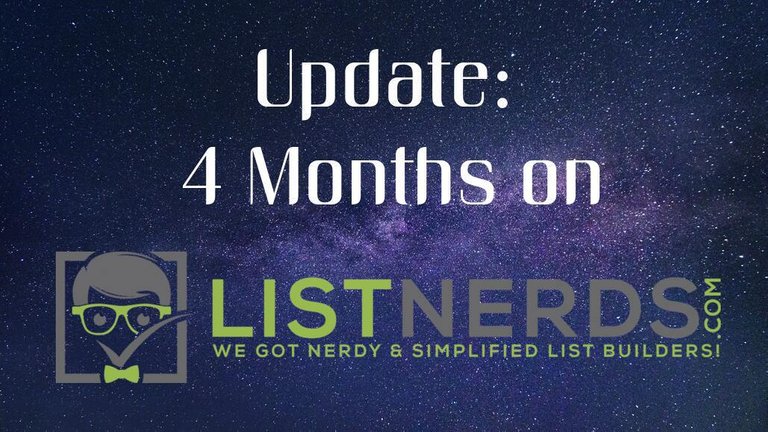 OK, so this month, I mailed out 49 posts, as opposed to 63 Posts last month.
31 were my own, and 25 of these were new posts. This is 'only' 5 posts less written in Hive this past month. So not too bad considering. It's almost one each day.
But I am not really worried, as I know I'll get back on track this coming month.
┍━━━━━♥♠♣♦━━━━━━━━♥♠♣♦━━━━━━━━♥♠♣♦━━━━━┑
The Listnerds Richlist
After being in 7th spot, around this time last month, after crawling up from 12th,
I slid back down to the 12th spot. I don't really mind, as the others who passed me apparently did more work this past month. Aside from this, it's nice to be in the top 10 but to me it's really not a contest. I'd much rather keep a steady pace, and I'll be just fine.
The number 12 isn't the worst haha.
My Stake
As for my stake, I can't complain about that AT ALL.
When I wrote last month's post I was up to 14k Listnerds.
I already said back then that my goal was to get to 20k by the end of June, which wasn't a problem at all.
Well, I am well over 30k now, 30,579 to be precise, so this means that I more than doubled my Listnerds Stake. I am happy with that!
Let's see if I can repeat that haha.
New goals
I will definitely do my very best to improve my posting rates on Hive, as well as mails sent out in Listnerds. I'm not sure if I can commit to 60 a month but I will definitely do my very best.
There's some more work coming my way at the moment so it will all depend on those things.
60k next month may be going a little overboard but looking at what I've seen this past month, I think that 50k is absolutely doable.
So that's what I'm going for. 50k by the 8th of August. At least.
Some final words about my Downline
So far, there are 20 people in my downline, however, I can't see all of them.
I'm not 100% sure if this means they're not in my direct downline but the secondary one.
Unfortunately, only a few of those are active at the moment but maybe if some of them see how it all works, they might get into it (more).
@camthecreator @lisamariesworld @dredreams @growandbow and @mangolatte are my most awesome team members, as they're quite active, and come with great content.
I'd like to thank them all for being on my team!
@thatscooterguy has been a bit unfortunate with his computer, but hopefully that will be solved soon so he can get back on here too.
Meanwhile him & his mom (@lisamariesworld) brought in another great new human being to the chain with @marleyandme.
All of these great people have great stories to share, so I feel blessed to be there with them, on their journey.
Kudos go out to @camthecreator who never did any writing in the past at all.
He consistently keeps with it, creates great content, and engages with others.
Well done!
And of course: to everyone else here on Hive & Listnerds who've been following and supporting me: A BIG THANK YOU!
┍━━━━━♥♠♣♦━━━━━━━━♥♠♣♦━━━━━━━━♥♠♣♦━━━━━┑





As an affiliate with ledger, I receive a percentage of the sales generated through this link

---
---