CCC's Street Art Contest 101st Edition: Another accidental find!
This is my second time joining in the CCC's Street Art Contest, and it's its 101st edition. I love the number 1 so this is awesome haha.
Anyway, I was looking through some of my older photos, since I felt like I could do a few travel posts about Ireland, where I used to live. I never really shared much of what I had from that time and I have an astounding number of photos!
So as I was going through all of the pictures, I landed on a set that I took in Achill Close and Achill Island. My sister had come to visit, and since we'd never even been to Achill, even though we didn't live too far from there, we decided to bring her there on a day-trip.
Achill Close & Achill Island is one of the most touristy areas of County Mayo but I will have to keep some of its story for the actual travel post haha.
Let's dive into this art post!
What an amazing find, and what a coincidence
I will tell you all about THAT, once you've seen the piece.
On the road back from Achill Island, in Achill Close, County Mayo, Ireland, we stopped at a rest stop for a bite to eat.
That's where I spotted this piece of art.
This is part of it. I believe that this part was done by one artist. The one on the right, in the next picture by another.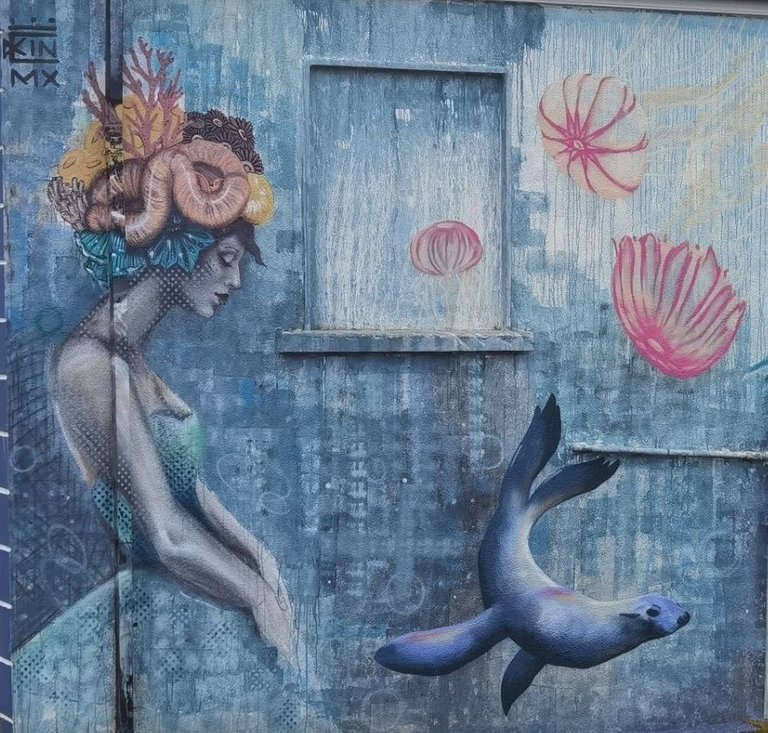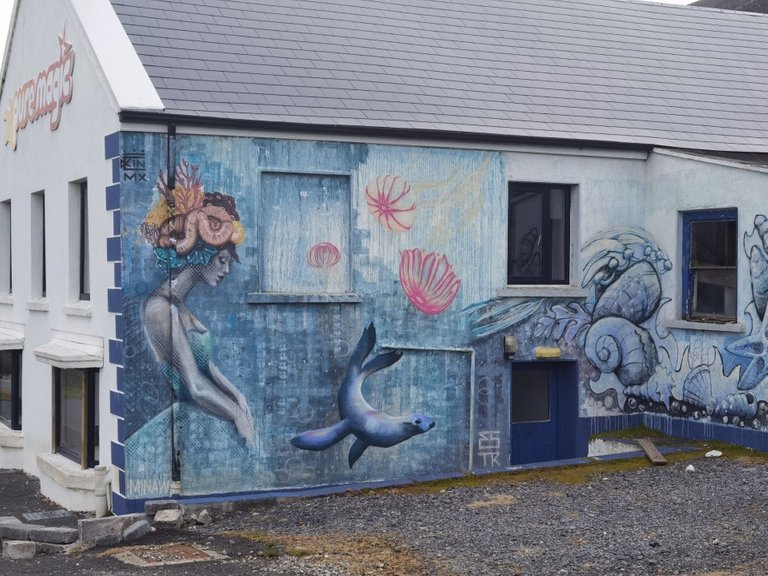 I looked at the signature, and saw three, one belonging to the other artist on the right. The one that produced this beautiful lady of the sea, and the seal calls herself KIN MX. And this is where it becomes interesting.
I found her online, and she has a website! Check it out here. Turns out: Her real name is Kathrina Rupit, and she's an artist from Mexico but currently living in Dublin, Ireland.
How cool is that? Since I used to live in Ireland but am now in Mexico.
I guess I had to find this piece to show to you haha.
I also noticed the name 'Minaw' on the bottom left corner of the piece, and also found the information about them. It turns out to be an all female artist collective, as you can see here..
However, neither her own website, nor the collective website shows this particular piece. Which, in my opinion, makes it into an even better find.
What do you think?





As an affiliate with ledger, I receive a percentage of the sales generated through this link

---
---