My upcoming event. Presenting The Crypto Corridor Playa del Carmen.
OK, so a few weeks ago, I had a phone call with an acquaintance for about 2.5 hours...While on the call, the energy just started flowing and ideas came popping up like mushrooms in a cow's field...(yeah, those mushrooms, LOL)
It's a long story but what it boils down to is that this acquaintance is a developer, works in crypto, has his own exchange, coin, the whole shabang.
There were a few things I asked to know about the project but instead, I agreed to organise this event with him. So let me tell you a little about the event and the project that's evolving from it.
┍━━━━━♥♠♣♦━━━━━━━━♥♠♣♦━━━━━━━━♥♠♣♦━━━━━┑
The Project
I won't tell you about the exchange and coin yet. I'll keep that for another time.
However, I'll tell you about the project we're hoping to create, starting with the event tomorrow.
The project will be bringing start-ups and established businesses that are looking to expand together with potential investors.
With this, we're also bringing cryptocurrency to the local communities, as well as investment opportunities for the same, as they will be able to start with as little as 10 pesos ($0.50).
We're already working with a few businesses, especially real estate opportunities, and more will follow.
More on that also later...
Then we'll also have music performances, so it should be good.

┍━━━━━♥♠♣♦━━━━━━━━♥♠♣♦━━━━━━━━♥♠♣♦━━━━━┑
The Event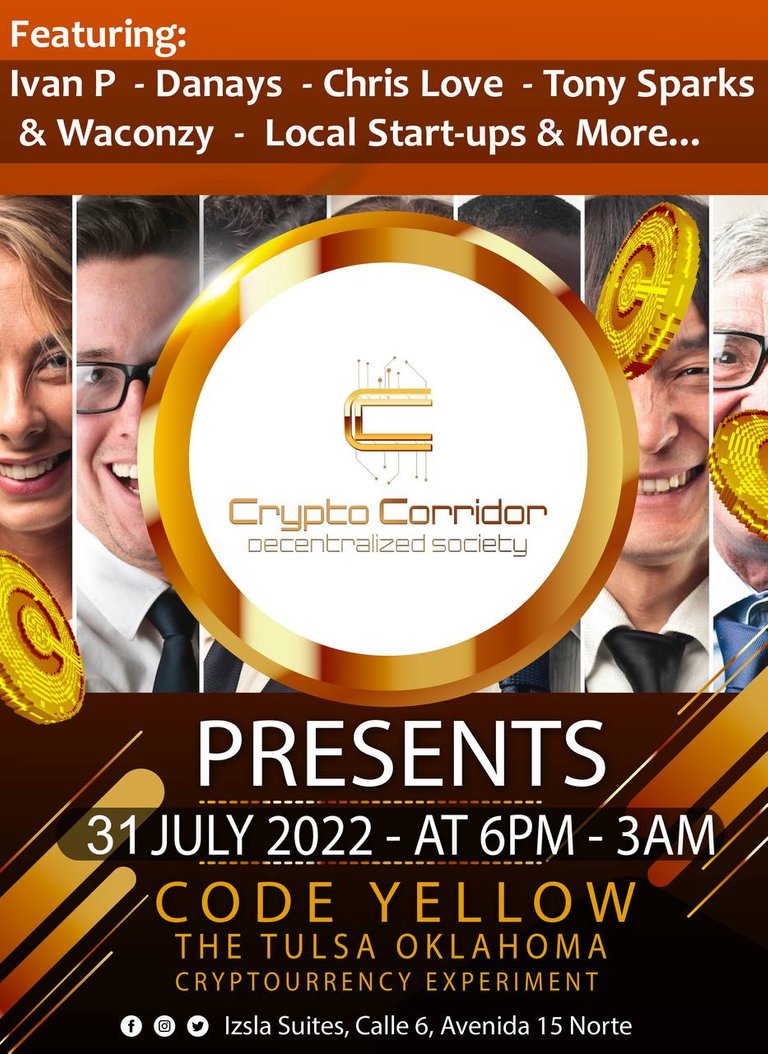 Our flyer. We have three...
So when we were on the phone, I got this event dropped in my lap.
If I'd be able to help set this up. Yeah, I can do that.
I've done events before, so this would be easy peasy.
Wrong!
We're in Mexico after all, and here everything can be done either really smoothly and surprise the hell out of you, or really shitty and, well...surprise the hell out of you.
The problems started when we had the flyers done, with the date on it.
This date was Saturday the 30th.
Do you see the issue?
Nope, we didn't get the date wrong on the flyers...
As it turned out, the owner of the venue double booked it...
So there we were, just sent out all the flyers and now we had to let everyone know the change of date.
No biggie. Again. We made it work. The dates were changed on the flyers, and off we went.

┍━━━━━♥♠♣♦━━━━━━━━♥♠♣♦━━━━━━━━♥♠♣♦━━━━━┑
Just as well
We pivot because that's what crypto people do. And luck seems to be on our side because the event is held at a rooftop and for the last three days the rain has just been pouring from the sky. Partnered with crazy thunderstorms.
So I'd say the event that happened last night was a bit wet. To say the least.
Of course, that doesn't mean that ours won't be.
However, the forecast seems to be a bit better. Fingers crossed!

┍━━━━━♥♠♣♦━━━━━━━━♥♠♣♦━━━━━━━━♥♠♣♦━━━━━┑
And we pivot again
Of course, when it rains, it pours, literally. So this wasn't the only hurdle to overcome. People started asking if there'd be food served.
When you're somewhere from 7 till late, people get hungry.
There was someone who wanted to bring a food truck. Awesome!
Well, they backed out because there were other places they had to be.
Then my other food guy cancelled on me because he was too busy.
I ask my business partner if he had anyone else...
Not sure.
Damn!

┍━━━━━♥♠♣♦━━━━━━━━♥♠♣♦━━━━━━━━♥♠♣♦━━━━━┑
So I chose to do the only thing I could do: aside from hosting the damn event, I'd also be preparing and selling food at it.
Don't ever tell me I can't do whatever it takes!
Aside from this, I can really use the money from it, so there we go...
I chose to do a few simple recipes. Something people I know always love.
But of course, I can't host an event, talk to people, and serve food at the same time. So my daughter is coming to help...
Super teen to the rescue!
┍━━━━━♥♠♣♦━━━━━━━━♥♠♣♦━━━━━━━━♥♠♣♦━━━━━┑
Nope, it's not the end of the story.
At the last moment, T (my newly found business partner) came up with the brilliant idea to have people who are coming to the event, sign up for the exchange.
Only sign up. Nothing else.
The sign up will result in an event ticket to be sent to them.
And in turn, this will give them access to discounts on drinks.
Great deal, right?
Well, turns out, it's not.
A woman that I know here in Playa, was being an absolute angel by sharing the event details to the many groups she's running. However, when she also shared the link for the exchange, people started leaving the group because they thought she was hoping to sign them up for some affiliate thing...
NOT GOOD!
Anyway, she removed the link.
And now, we have no idea how many people will show up.
Which makes it harder to guestimate how much food I'll need.

┍━━━━━♥♠♣♦━━━━━━━━♥♠♣♦━━━━━━━━♥♠♣♦━━━━━┑
Today we went out to get the groceries for this.
I spent my very last money on this, and will have enough for 30-40 people.
I know it will be a success, so I don't have to worry. And if only 10 people decide to eat...well then we'll be having good food for the rest of the week in the freezer...
Stressing - Nervous - All good.
Yes, I was stressing these past few weeks, and especially the last few days.
It's calming down now.
Yup, I was nervous, and I still am.
My name's on the line.
The last thing I want is for people to say, for other things coming up: "Oh, she is doing that event. No, let's not..."
But I know it'll be OK.
I have friends coming for support. All will be well.
I'll be filming the event. And will report back to you guys.
Wish me luck!





As an affiliate with ledger, I receive a percentage of the sales generated through this link

---
---