The Free Bird Flew the Nest
The other day I wrote about the changes that were coming into my life. Our lives.
Well, last Sunday the anticipated and dreaded day had arrived.
Anticipated because, of course, I am happy and proud that my daughter has taken her first steps into independence. Dreaded because...well, for the same reasons.
Let's see how I'm doing, shall we?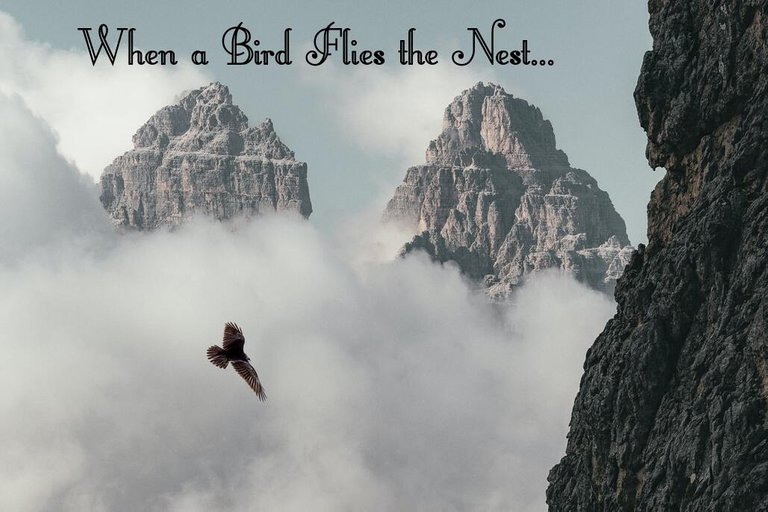 Source Edited in LunaPic
┍━━━━━♥♠♣♦━━━━━━━━♥♠♣♦━━━━━━━━♥♠♣♦━━━━━┑
One flew OUT of the Cuckoo's nest
I'm loving this title because, well, I'm AWESOME hahaha.
Kidding. The reason why I chose this title is because it's just my favorite movie of all times (One flew over the cuckoo's nest) and because it's true.
Our family isn't your most average family.
I've always known this. The family I grew up in seemed average, and turned out to be everything but. However, my parents were very strict. Sometimes ridiculously so, and I've always sworn not to be like that.
There were times when my daughter would tell me: "Mohooommmm...Please act NORMAL!"
And I'd turn around and say: "Oh ya? You want a normal mom? Like..." And I'd fill the dots with an example from people we knew, who had 'normal' parents.
She'd always consider it for a few seconds, and then vigorously shake her head and say that she didn't want a normal mom after all. 😆
So yeah, we're not a 'normal' family.
Maybe I've even been too easy sometimes.
But it doesn't matter what I've been, and how I've handled things because the most important thing is that my eldest survived all that crazy, and that she's grown into a level-headed young adult, who knows wrong from right, loves animals, hates injustice, knows what's going on in the world, and doesn't automatically form an opinion just because authorities tell her what to think or believe.
When I know I'm right, I really know it but I've always told my kiddos to think for themselves, and don't just believe anyone, not even me.
I believe I could have done a much worse job because it seems to have worked.
Anyway, trailing off here. It's funny how this works...When someone leaves the household, all of a sudden all these memories come flooding back from when they were little. At least, that's the case for me.
┍━━━━━♥♠♣♦━━━━━━━━♥♠♣♦━━━━━━━━♥♠♣♦━━━━━┑
In an earlier post by @camthecreator, and a comment from my end, he said that he understands how difficult it is, and that I knew how it would have been for his mother when he left. All I could think was that his mother had quite some time to get used to the idea, since we already decided to leave Ireland about a year before we actually did. Well, to Mexico. The leaving idea was there before that.
In my case, my daughter told me that she was considering going back with him when he'd go back, temporarily, only a little while ago. Then they sprung the news of them leaving for good (well, I never say never haha, so for good is not in my vocabulary in this case) only a few weeks ago. Two days before we moved into the new house, to be precise. So I barely had the time to get adjusted to the idea when they already had the tickets booked to leave less than a week later...
In this short time, I went through almost all the stages of grief, as if you'd mourn a person who passed away. Denial (as in: ah, they won't be able to book a ticket that quickly), then a bit of anger (how can they do this right now? Right this moment when we just moved to a bigger, more expensive house?). I left out the bargaining. Then I did fall into a little bit of a depression, as I felt like their decision came at a really shitty time. I felt like being left to pick up the pieces on my own. And now, finally, a bit of acceptance.
From the moment they booked, until they were actually leaving, there were only 6 days. Not a lot of time. Then there was a huge part of frustration because I didn't have the funds to do much. Even buying food is a challenge. I would have loved to be able to do something nice with them, like snorkeling, or at least a last cenote visit. But even the $10 USD per person to visit one of those wasn't within my budget. Let alone anything more.
But OK, it's not worse for me than it was for Cam's mother. I don't think it matters when you know they're leaving. You just have to make the best of the time you have, any day really. I believe it's hard to see them fly the nest either way. For any mother, for any parent.
Sunday came nevertheless, and at least I could manage to gather enough money for my youngest son and myself to go with them to the airport to see them off, and actually make it back home. It'd have to do.
Anyway, we had the taxi booked for noon. Their plane wasn't going until 6.45 pm, so with less than an hour to the airport, they had ample time to get there in time and check in etc. I believe we left them around 4-4.30 pm as they were going through the security check. This is the last picture I took of my daughter and her little brother saying good-bye.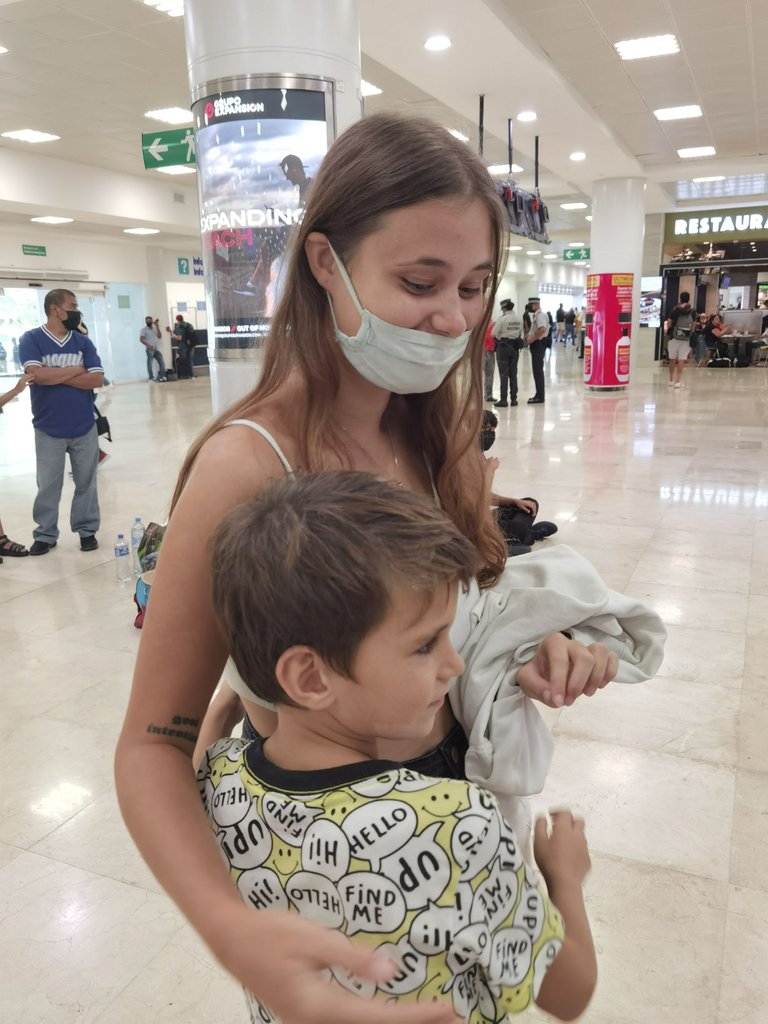 It's the last picture I'll take of her for a while...
I didn't shed any tears. I didn't want to because I didn't want to make things extra hard. I didn't want for them to leave with a heavy heart but I can't always control this so I'm quite glad I managed to this time.
I'm proud of the young woman she's become and proud of them both for taking these first steps into complete independence and 'the real world'.
My youngest and I went back on the bus, managed to get some (very!) cheap food in Cancun. Walked across the little market for a bit. Talked to a guy who was selling
Meade (or honey wine), invited him to the event I'm co-organizing on the 30th...
A productive day. A sad but also a happy day at the same time.
On the bus back to Playa, I realized:
We'll miss them. But we'll live.





As an affiliate with ledger, I receive a percentage of the sales generated through this link

---
---