When you come to a Realization
Hello my dear friends!
I hope you are all having a great day!
Here, it's the same old: Sea breeze, hot, and never-ending sunshine, so not much to complain about! So I don't, even if the sweat is dripping down my spine from doing virtually nothing at all haha.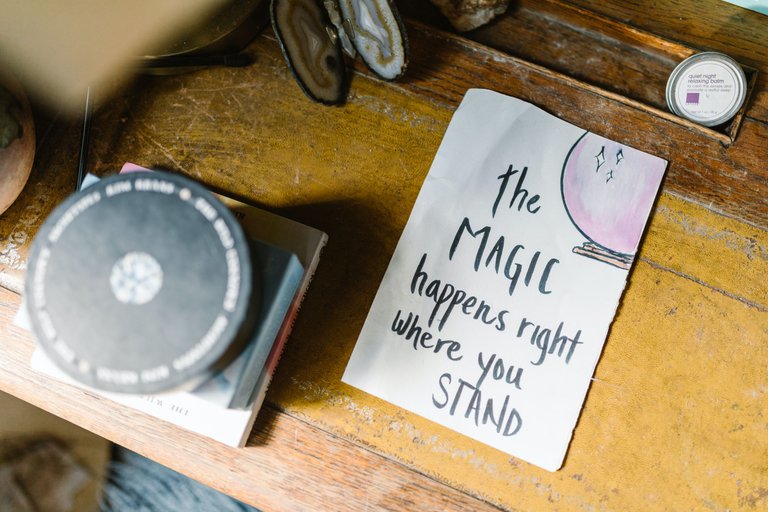 source
So yesterday I posted a post with one of the paintings I've done in the past.
It took me quite a bit of courage to do so because I usually don't think my work is good enough. However, I was always quite proud of this work so I chanced it.
And low and behold: I got some positive responses!
Then a friend who I haven't spoken to, or seen in a while, sent me a message today to tell me she was doing a workshop. I started talking to her to catch up, and she invited me to come to the workshop. However, at the moment, my financial situation is quite sour, so I couldn't even afford the small amount of 250 pesos ($10) that she was asking, and I told her this.
She quickly told me we'd work something out, or maybe we could do an exchange. She's quite interested in my hypnotherapy sessions, so who knows what can come of it. Which brought me to the idea that I could probably network a little after the workshop. Win/win in my opinion.
Meanwhile, I've also written the text for my Hypno flyer, which is hopefully ready to go soon.
A Discovery!
I realized that these two things: art & hypnotherapy are things that I love doing.
I loved losing myself in some of the art I did in the past. It's SO therapeutic!
And I always loved when I helped someone with my hypno sessions.
Then earlier today, I was trying a few things with some digital art, and it turned out pretty well actually. Especially for someone who's never done much art digitally. I messed around with it a bit, tried a few different things, and managed to make a few pretty cool things haha.
Like this one: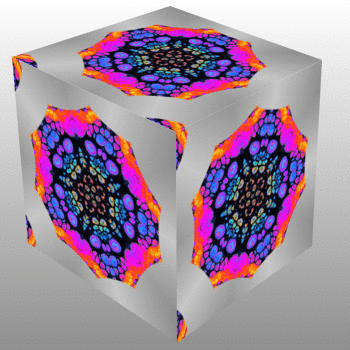 Let me know what you think! Be honest, I can take it 😆!
Not what I expected to do in a day!
I found it almost as relaxing as 'normal' painting and drawing. Maybe it's because I have to focus on just one thing, and can't think of other things.
It's the same when I write, except that when I write, I think of the things I'm writing about. When I am doing any kind of art, the focus is just on that: the art.
From Procrastination to Flow
I had been planning to write the text for my flyer to promote my Hypnotherapy services for weeks now. Every time I sat down for it, I came up with nothing. Nothing at all.
I really didn't know where to start!
So I left it, postponed it, and postponed it some more.
Then, yesterday, just before I went to my friend's workshop, and after messing around with the digital art, I sat down to get at least some of the text for the flyer on paper. Well, digital paper.
Somehow, things just flowed all of a sudden, and within less than 15 minutes I had it all done.
I was amazed!
How does one go from a total blank to the words just flowing in no time?
I realized that it may have been the quiet time in which I was doing art, that helped my brain to settle down and get the inspiration to write what I wanted people to know about me and my services.
I still wasn't quite sure if it was any good, so I sent it to a Hypnotherapy colleague and friend of mine, to see what she thought, and she loved it!
She helped me with the correction of a few things, and how certain things could be said differently without taking away from the meaning, and that was that. Done.
Amazing how these things go!
Now I just need to send it on to the person who did my logo & banner, and @dredreams has offered her help too. Now I'm trying to figure out about what logo/theme to use, although I have two already very clear in my mind. Just need to choose between the two. But I am sure this will happen too.
OH, and I went to my friend's workshop, and got quite a bit out of it to be honest. So that was also a nice surprise. We agreed to catch up with each other on Sunday.
I always enjoy her company so it'll be good to see her and spend some time with at the pool here or the beach.
Plus, I still have to 'catch her' for Hive & Listnerds...but I will.
Conclusion
These are the kinds of things I've been talking about in my Manifestation series, especially the Inspiration one here * Manifestation: Intent creates Inspiration.
But with all the stress going on at the moment, I tend to forget to focus on these things sometimes. I call it the 'Stress Trap', more about that later in one of the manifestation posts. Sometimes we need this little push to come back to ourselves and make things happen.
I figured, I could create some NFTs from the art I just created, and put them up for sale. It's worth a shot. Especially while I'm trying to build a name here as a hypnotherapist. It's not like I'll have 100s of clients right away, nor would I want to to be honest. I need more than one income stream since in the beginning I'd offer my services in the client's home, and although I love cycling, I really don't want to have to cycle all over Playa for days haha.
A handful of clients in the beginning is enough, then build it up from there.
Some of what I offer takes about 3-4 hours for one session and around the same time for preparations, and those always fill me with lots of joy, but also drain quite a bit of my energy, so I wouldn't be able to do more than one of those a week.
Anyway, if anyone has any suggestions about how to do the whole NFT thing, please let me know.
And wish me luck!





As an affiliate with ledger, I receive a percentage of the sales generated through this link

---
---