Shadow Hunters/SMASh Contest ENTRY - Round 196 - Sombras perpendiculares/Perpendicular Shadows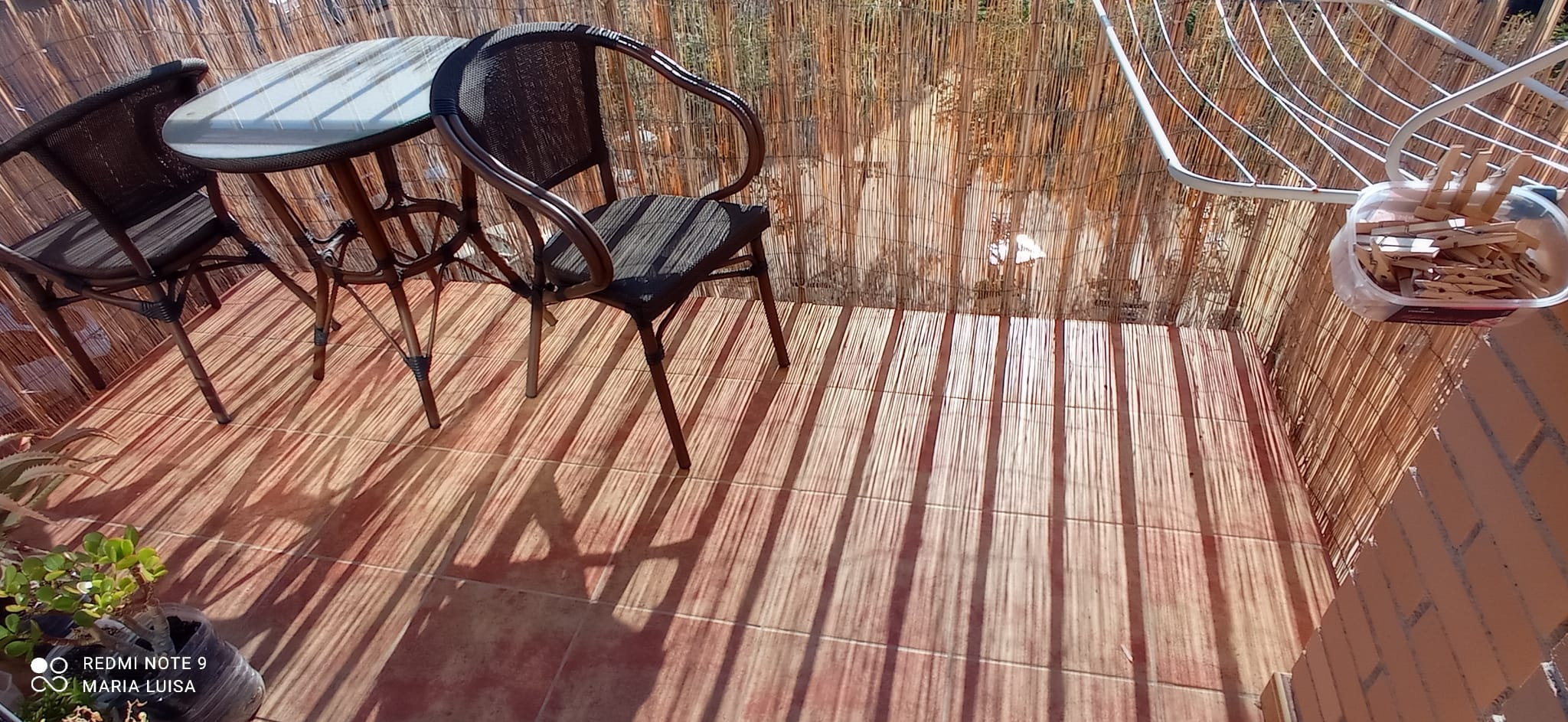 En mi balcón, si hay sol hay sombras. Pero en esta oportunidad, logré capturar sombras perpendiculares a las barras que las originan, debido a la posición del sol que nos sonríe francamente desde el Este. Y esto hace un extraño efecto de continuación del enrejado. Las ramitas de bambú mucho más delgadas que las barras se suman a la baranda. Me gustó ese efecto, en color de otoño. La mesa tiene un protector de vidrio, sobre el cual se proyectan también las sombras de las barras de la baranda. Con respecto a las sillas, están colocadas para proteger el posible desplazamiento del vidrio por las fuertes ráfagas de viento, típico del otoño.
On my balcony, if there is sun there are shadows. But this time, I managed to capture shadows perpendicular to the bars that originate them, due to the position of the sun that smiles at us frankly from the East. And this makes for a weird trellis continuation effect. Much, much thinner bamboo twigs add to the railing. I liked that effect in fall color. The table has a glass protector, on which the shadows of the railing bars are also projected. With regard to the chairs, they are placed to protect the possible displacement of the glass by strong gusts of wind, typical of autumn.
​

♥Esta es mi participación para el Shadow Hunters Contest, en su Ronda 194, pueden participar siguiendo las instrucciones (https://hive.blog/hive-179017/@melinda010100/shadow-hunters-contest-round-196)
♠Para el texto en inglés, utilicé el Traductor de Google Chrome.
♥Las fotografías y los separadores de párrafos son de mi propiedad, puedo utilizarlos en otras publicaciones.
♥Publicación original de @mllg**
**♥ This is my participation for the Shadow Hunters Contest, in its Round 194, you can participate following the instructions (https://hive.blog/hive-179017/@melinda010100/shadow-hunters-contest-round-196)
♠ For the English text, I used Google Translate.
♥ My friend @ sacra97 follows @ gamer00's Daily & Fresh, I follow both of them
♥The photograph and the paragraph separators are my property. Y could use them in other posts.
GRACIAS POR LEER Y VALORAR MI PUBLICACIÓNTHANK YOU FOR READING AND VALUE MY POST


​

​
---
---