Rising Star - 12-23-21: Selling vouchers for starbits

---
I may have caved just a little bit. While I said I was done spending any more Hive in Rising Star for the time I couldn't help but throw another 1 in to grab some more starbits. Using my grand total of 1 Hive I was able to scoop up just under 10k starbits. Thankfully I still had around 2k starbits sitting in Hive Engine. I really see no use in me holding on to my vouchers for Splinterlands so I've just gone back to trading them for Hive and other engine tokens.
A singing lesson or two mixed with a few Saturday Headline missions and I was able to finally break the level 34 barrier and move on up to level 35. Now that I've got a pretty suitable base of skill points I can farm I could rush up to 40 whenever.
---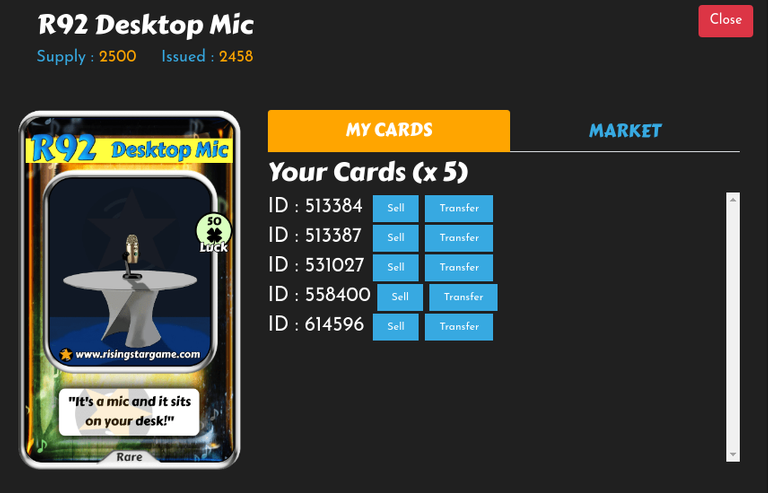 ---
Mics are almost always on at a "discount" price. You'll see them sitting at 5k starbits, but they tend to drop around to the 4500 range every so often. I managed to get these two for 4900 a piece which brought my total amount of cards up to 60. Just a little bit of a discount but every little bit helps out. While I love stacking microphone cards, I am lacking immensely in the variety of instrument cards I own. Maybe it would be better to start stacking some other cards such as guitars? I'm not entirely sure, or if it will even be required for later.
I've been thinking a lot more about picking up a pizza box or two + an extra cold slice just to stock up on energy. Maybe I can use the extra Hive from the voucher sale tomorrow to pick up either one. Just something to think about.
---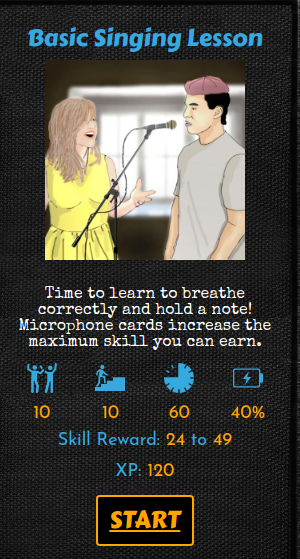 ---
Grabbing these two extra cards brought up my possible skill rewards anywhere from 24 to 49. So if I can average somewhere around a 35 skill gain per singing lesson, I can more or less negate any ego gain I have from a day of grinding Saturday Headline missions. I plan on continuing to stack them while they remain cheap as card prices for any amount of fans continues to rise.
There's not much else to report on for rank or mission completions as I've fallen back temporarily into my slow mission grind for starbits. I think a few more days with vouchers being funneled into microphone cards would make this the perfect opportunity to stack as much skill and luck as I can until 40.
---
---