9K HP Staking goals, appreciating my Hive's financial achievements
Hello Hive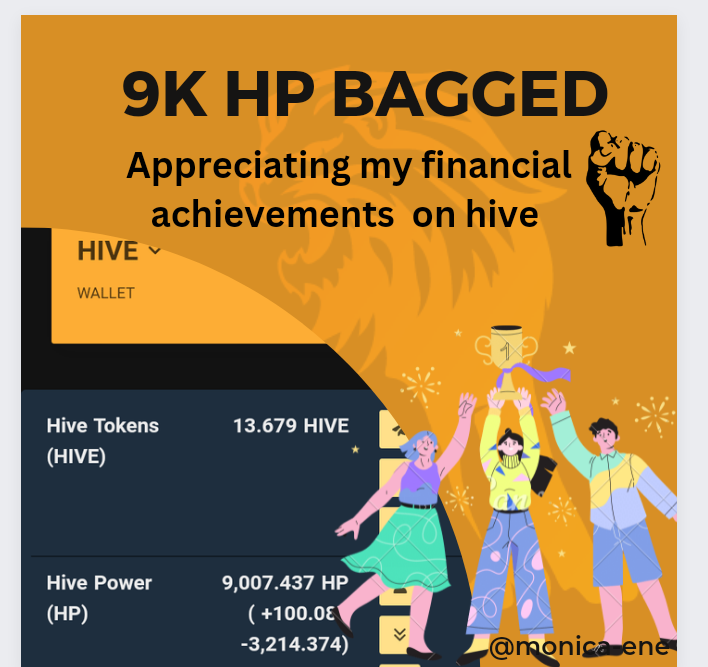 This may not seem like a lot to you, or may not even look like an achievements worth celebrating, but if I begin to recount the sacrifice, stress and alot of intellectual labour it took me to build this very 9k HP I can tell you that it is not an easy journey.
Coming to hive with no talents to sell or experience of blogging can be challenging.
Hive is out to reward your best, meaning you have to create quality contents that impacts people on the blockchain.
You have to take the pain to interact and engage with as many as possible and grow a circle.
I have had my own share of these challenges. Several times I had to work om my write-ups, learn how to do little designs because we all know how pictures can tell alot even before anyone reads your contents. Pics might have attracted them.
I had to learn the hive's kind of blogging which is very much different from a typical blog you see on the internet.
Taking out time and dedication to do all these while following all the rules and regulations of the different hive community to have achieved this, is like one small milestone victory worth celebrating.
That is one financial goal down and hoping to hit the next target.
Thank you for all the supports guide and advice that has brought me this far.
Posted Using LeoFinance Beta
---
---