Best way to generate Capital for business startup

Hello Hive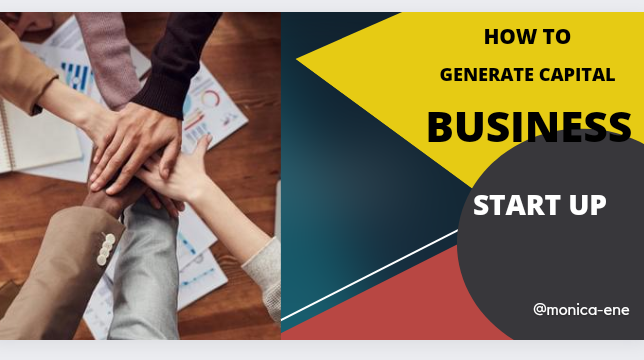 Yesterday we looked into how one can recognize a business idea from his surrounding.
How you can transform the needs of a society or potential problems and challenges to become a business opportunity for generating your own income and/or wealth.
To be honest with you, am not a business coach or anything but am also learning from myself and most likely finding a way forward for me finance and business wise.
We must learn to thrive well in every economic situations unless we want to live in lack and want subdued by governments who have stolen so much from its citizens to have the dominion and power they use to oppress their masses.
Look around and you will notice that there is hardly s rich or wealthy man who is under government control, all successful business people and company owners have some power to even dictate for the government of a nation.
Using our very own Dangote for an example, his vast multi company produces virtually every product in Nigeria, from cements, to petroleum products, a refinery to even the table salt in our kitchen.
This company is in control of price, policies and the direction of flow of this countries economy either they like it or not.
A company owned by one man can control a nations economy, that way is so much power bestowed on him as a result of the wealth generated by his company.
How to generate income for business startup.
This is the area we are looking into today.
The kind of business in mind determines the amount of capital needed for s startup.
For instance a man who runs a portable bottled water supply needs more capital for startup compared to one who see charcoal for cooking gas.
The latter can start with at 10k while the former might need up to ten times that amount.
After you have recognize a successful business opportunity how do you generate capital for startup
To be candid, am not in support of this in any way, with the way banks and centralized exchanges charge interest and extort people of their money, I don't see this as a good choice.
And if eventually the business didn't turn out as presumed one can end up sinking onto more debts.
Form partnership with individuals who have got cash
This is a way better option where you bring quality business idea and get someone else to do the funding. All income, profits and everything will be shared, a win win for everyone.
After generating enough income for yourself you can think of breaking out to form other sole owned business.
Apply for grants or crowd funding.
Good business idea has a opportunity of getting quick grants or becoming a winner for business competitions which will end up bringing capital to fund the startups.
There are lots of other ways to generate capital for your business startup and am sure we can have more ideas coming from expert in hive and our dear leo fam.
Thanks for stopping by.
Posted Using LeoFinance Beta
---
---