Building a financially secured Future on hive blockchain and why you should not give up.

Hello Hive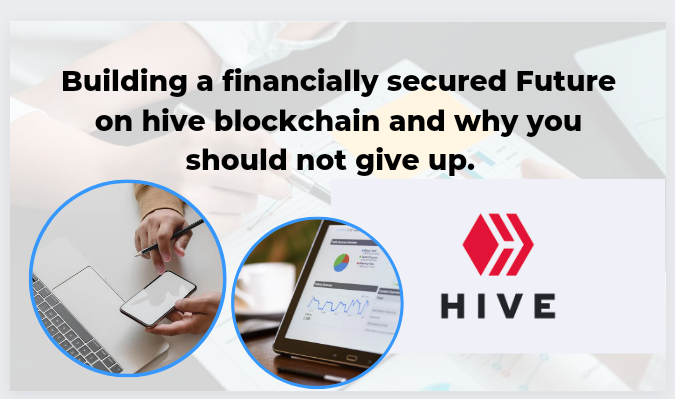 Hive blockchain has been one of the most amazing blockchain and social media platform that has impacted alot of people in many ways.
I can remember some other blockchain where it is totally difficult to mine their tokens and there are some in which you have to use your physical hard earned money to buy and stake the token if you want to get involve in their blockchain.
Building a financially secured future is very much possible on hive blockchain as an avenue has been provided for people to mine/earn the hive tokens doing various activities. There is room for everyone as much as there is something that each individual can do.
While on hive most of the things you need to invest is your time, talent, creativity and other simple social things, some other blockchain are quite demanding and I could remember my first fiat investment in crypto where I have used about a $150 just to buy/mine a token, it had been 2years now and I haven't mind even 50 number of the token that is still worth a few cents, I can day that the total amount I have mind so for is worth only $20 out of an investment of $150. To tell truth, I got recommendations from friends who actually advised me to buy that share in the token, this means that mining is not free and you have to pay to mine.
The payment you make on hive is your time like I said earlier
If you want to find Hive easy.
Look for your niche among the communities on hive.
There is something for everyone to do, if you are a writer, the inkwall and free writing community is there, there is community for diy, homestead and gardening even some general communities where you can make general blogs.
You just have to dedicate your time and creativity to make quality blogs that teaches enlighten or exposes the hive community to certain things.
The challenges you will face
Every newbie on hive faces one or two challenges but the biggest one of then is lack of engagement on ones post.
A newbie can make a post and most times it appears like not a single person viewed the post. Continuing like that means that you will make several blogs without anyone noticing it.
The solution to this is simple.
If you want to get noticed, take notice of the people around you.
Make the first attempt at engaging the hive community and they will come around to check your blog.
If I make a post in a community, Its only fair that I go around the community to engage others, read their blogs, leave a comment and seek to learn a thing from them.
Don't be an island on hive, as communication with others is one of the major keys that opens your way.
Get a hive mentor/Ask questions
Navigating hive is not an easy one.
Most people do not find their way here by chance, and a possible referrer can be kind enough to take them through a little tutorial, but just in case you have no mentor, ask questions from community members and admins every other person, hive is a good social platform with quality people who will answer your questions.
This is why you should not give up.
Building a house or any endeavor takes alot of time, you can't start a foundation today and expect finished house tomorrow plus you have to keep a positive mindset towards this.
Remaining consistent and taking corrections where need be.
Before thinking of building a financial stand here, work on your social status, hive is a social platform you can't afford to blog in isolation.
It took me more than three years to have this measure of success while for some it will take more and some others will take lesser time.
Lookup to those who are performing well and think of the things you can improve on.
Do not give up building on hiveblockchain
It is very much easier compared to some other blockchain and the one I mentioned above where you have to pay to get involved

There is room for growth, self improvement and development

There is a whole lot of lesson to learn,discoveries to make and knowledge to gain from the countless blogs here.
The social life on hive is not toxic, there is only room to encourage others rather than salvaged or inhuman and demoralizing statement.
While you get the benefits of a social life, the financial aspect is an addition and a reward for been a part of the blockchain. Hive rewards you for living your best life.
Building the social life comes first before a rewarding financial state follows.
NB : Feel free to ask questions as it has been my pleasure to assist newbies with the experience and hive knowledge I have gained so far.
---
---