Crypto is more powerful than any government, How crypto adoption makes it a powerful tool.
Hello Hive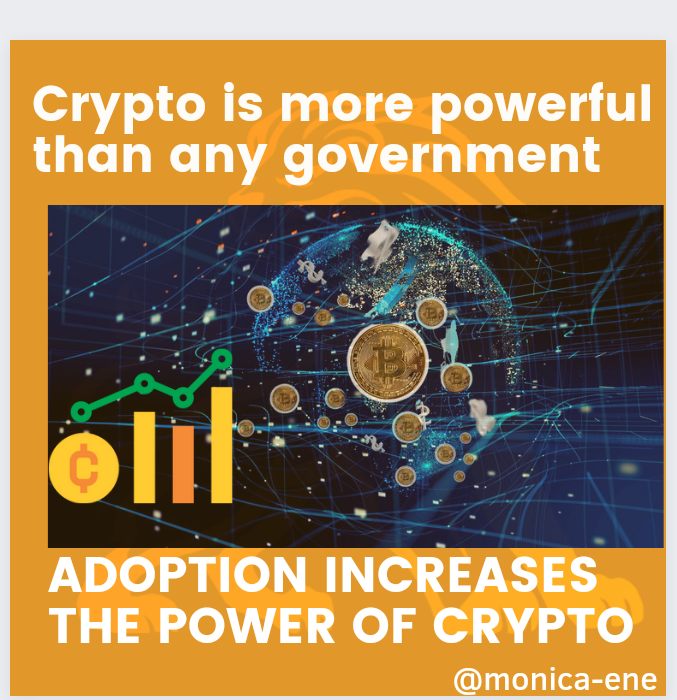 Cryptocurrencies have come to stay and with the positive impact it has had on many I don't think there is any government powerful enough to stop crypto activities.
Crypto adoption gets wider across countries and continent and even in places where trading is band we still have people who device a means to share data, finance and information using blockchain.
Wider crypto adoption is the reason why blockchain is becoming more powerful by day. And because people enjoy a financial freedom to do whatever they want with their cyrpto money adoption becomes easy.
Not everyone in this current generation will be able to invest in crypto because we have our older parents still around who we don't want to bother them much with this knowledge..
My dada keeps wondering how I make ends meet while still jobless and till date I havnt found the best words to explain this to him.
In other cases most of these people are not too educated to understand blockchain.
The next generation would be the perfect time to weigh the weight of crypto more as this present ignorant generation would have been wiped out...
Imagine a world where everyone is crypto oriented, we may possible have 90% adoption leaving the 10% to those who are to scary to take risk.
The financial system of buy and sell will change drastically to crypto from fiat, almost everyone will have their money in wallets, on their mobile phones and lots more such that the central banking system might not be in possession of our monies.
This will affect any government where its people have their money in their hand rather than keep it in central system where the government will have control over it.
Government losses power wherever it lacks control of a situation and such might just be the case of our financial system in the nearer future.
Adoption of crypto will make it more powerful than any government.
Having our keys, wallet and money in our hands makes any government less powerful as well.
Posted Using LeoFinance Beta
---
---