Frugality with a rich mindset is highly profitable
Hello Hive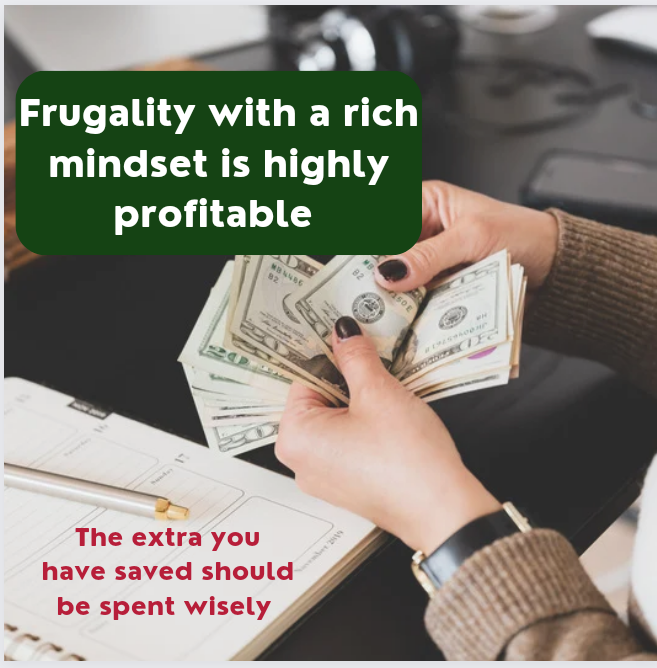 Many a times people see the categories of people who are frugal as individuals who are poor and do not desire the luxuries of life.
Been frugal doesn't mean you are poor or cannot afford certain things or the kind of lifestyle you desire.
But discipline is a watch word when it comes to finances and quality of life.
Let's assume that because you have 20k in your wallet and have the choice to eat at either a restaurant that sells a plate of meal for 20k or Buka where that Same meal Cost for 5k which is 15k less than the former restaurant.
Which will you rather go for?
Deciding to eat at a Buka simply means that you know the value of your money
We have often heard that abuse is inevitable when the value of a thing is not known.
And as many people who would rather chose to eat at a restaurant paying 20k for what does not really worth that amount does so out of one or two of the following reasons
First they sometimes do so for showoff, just to let the world know they belong to the upper class of the society and cannot stoop down to eat at low joints.
(A kind of pride that comes with been rich).
Some may not necessarily be rich and eating at a restaurant is not comfortable but they force themselves to express that luxurious look outside and cry in their bedroom because of the inconvenience.
Secondly others do not understand the value of money. Those in this category who do not understand the value of money might have been thieves who have stolen from public funds or other places to spend lavishly.
When you work hard for your income it is possible that the stress and sweat teach you a huge lesson on how to spend wisely
In another note, it will be good that we understand the thin line between been frugal and been cheap.
Been frugal works with the goal of buying quality things at a lower cost while been cheap means that you buy items of lower quality at a lower cost as well.
Someone who buys valuable products and services at a lower cost seeks to get the best while trying to save while the cheap persons tries to save by buying inferior things .
The benefit is that a frugal person saves enough money and has a valuable item that serves him purpose
While the cheap person losses in both ways
As firstly the item gotten may not be useful after a short time and the money saved is hence lost to repairs of replacement of the item after a while.
Been frugal with a rich mindset is profitable.
In a real life scenario here, I have friends who practice frugality, saving money from the beginning of the year only to spend it in the festive season on clothes, luxury, parties and all sort of things only for showoff.
Although they have bought valuable and cheaper items, lived a cheaper yet comfortable lifestyle all through the year but the proceeds gotten from the extra monies saved has not been utilized wisely.
They also may have along the line deprived themselves of some temporary pleasure only to spend the acquired extra sum overnight
Frugality practised in this manner is like a punishment to oneself, when all the extra saving gotten is spent in an unwise manner eventually.
When you know the value for money and try to cut down cost, an added rich mindset will direct you on how to utilize the extra sum wisely
---
---