Hive and Leo account Growth and the herculean task of achieving financial success on the blockchain.
Hello Hive.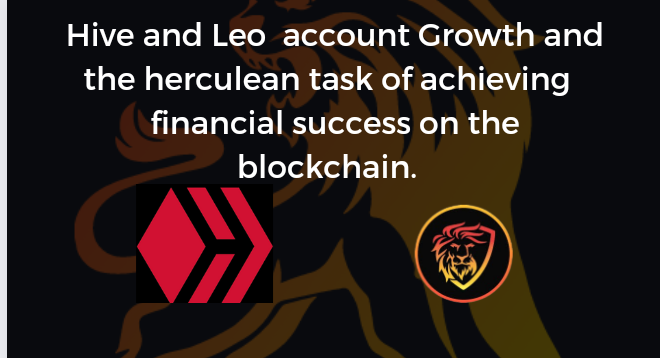 Achieving our financial goals is sometimes a herculean task and often times we have to revisit our goals to re-strategize and think of the best approach we can use to achieve maximum success.
Just like in every business one has to always think of a new plan especially in areas where competition exist among traders.
In about few days time we would be entering the first half of the year and I believe that it is such a good time to revisit our financial goals and tick some marks.
Personally I have had a very high expectant regarding the success and position I have hoped to attain at the end of the year, something around 15K hive power, 5K leo stakes and some undefined fiat savings for a business startup.
15k Hive power is still standing weak at 11+ HP and wouldn't cross to the 12k mark even at the end of the first half of the year.
5K leo looks more achievable standing at 3300 already, a little more push and I will be at the 4k mark by next month.
I have achieved more success with leo stakes, more because it is still very cheap to buy and it not a good time to miss out of staking some cheap leo token. Another step I took to boost the leo earning was to stake some Leo to @leovoter so I could earn some passive income in leo.
The major setback with the hive goals has been some noted.
It takes great efforts to achieve good financial success on the blockchain, a willingness to remain active on the blockchain and be actively involved in the web3 experience Engage with others, source for resources to create quality contents.
Another way to boost our stakes is by buying some hive at this hear market price $0.35 Cent is really a good one to consider.
The bear market has provided one of the greatest opportunity for us to buy and stake more hive and if that is also required to achieve my hive staking goals, it should be a welcome idea. Every positive approach must be taking in our quest to achieve success.
How Much success have you achieved for your hive Goals for the year.
---
---