Safety for yourself and Finances, Lessons to learn from a jewelry thief experience.
Hello Hive.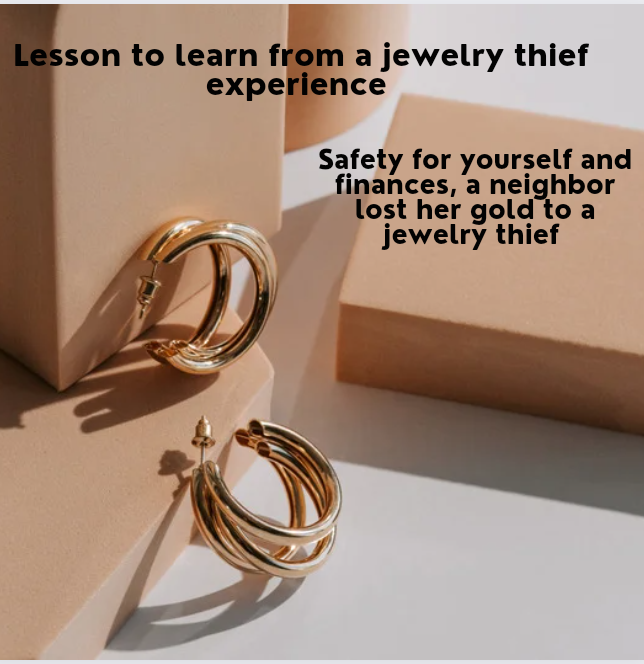 My neighbor lost her golds and Jewelry in an armed robbery attack, the process for how it happened holds a lesson for all of us to learn from in order to keep ourselves and our finances safe.
The walls have ears now and our speech and languages must be guided at all times.
It was barely midnight when the thief came and although the gates and house doors were locked already the thief was able to find his way in. She wondered if he had jumped in through the fence since she neither heard any footsteps for she was barely asleep.
Another thing that seemed off was that the body built of the thief looked familiar but she was too scared to check further details.
He carried a gum and pointed it to her even though her rate beat raced she was searching through the dim light of the lamb to see if it was a real or toy gum.
At that point my guess is as good as yours, her mind suspected that the thief could be a neighbor of hers but it is better to be safe and act accordingly rather than try to make any funny moves that her life will end up been wasted.
And been a woman living alone in the house, her strength cannot match with that of the manly thief standing before her.
After much threat, he took her to her bedroom and demanded that she gives him all the money and valuables in the house. All she had was a cash of 2000 naira, she took them out of her purse and stretched it to him, After taking the money grudgingly, she screamed at her to bring out her jewelries or risk losing her life.
Moving swiftly to her bed he pointed at her to bring out the jewelry box which he retrieved from her.
Therein contained her golds and some other jewelry. And the stricken discovery was that the thief knew just where those golds were kept
They were worth about 2million.
He exited the compound and this time he had wanted go jump out through the fence, maybe that could have made him look like a real thief but he simply opened the gate and step out, implying that he knows the compound so well and even how to open the gate.
He knew how to get into the compound and gate
Also found his way into her locked apartment
And equally knew where she has kept her gold and expensive jewelries coupled with how familiar his body form looked she came to a conclusion that the thief was from the neighborhood or even from that same compound.
There are about 4flats in the neighborhood. And different tenants occupied these apartment, In one of those apartment lived this neighbor that she believes in her heart to be the prime suspect of the robbery.
How did he get to know about her gold?
The week has been characterized by severe financial needs for herself and she had made some few calls during the day telling her friend how she wants to sell her golds since they are now her only hope of getting any funds.
The walls have ears, the echoes from her room and conversation with her friend filled the compound and tbis heartless thief has taking an advantage on that to come and rob her. He has heard every conversation and calculated his moved, monitored her so well to learn how to access her apartment.
But because she is a retired civil servant, she had no specific Job she was doing during the day which will take her out of the house.
That would have been the best time for him to invade the house and steal at her absence but luck was not on his side and he had no choice but to carry out a night operation.
Even if she holds him as the prime suspect and was sure that he was the one, there is no way she can have him arrested since there was no concrete evidence.
Lessons to learn from this.
We are in a digital age where even whispers can be heard audible.
It is very much easy for some people to discuss even their financial status in the bus and street corners this is one of the easiest ways to invite a thief into your home.
You simply unlock your phone beside someone and they pickup your passwords already.
Been careful regarding what we say and do per time and in different places will ensure both our safety and the safety of our finances and treasures.
---
---