Why now is the best time to invest in Leo token

Hello Hive.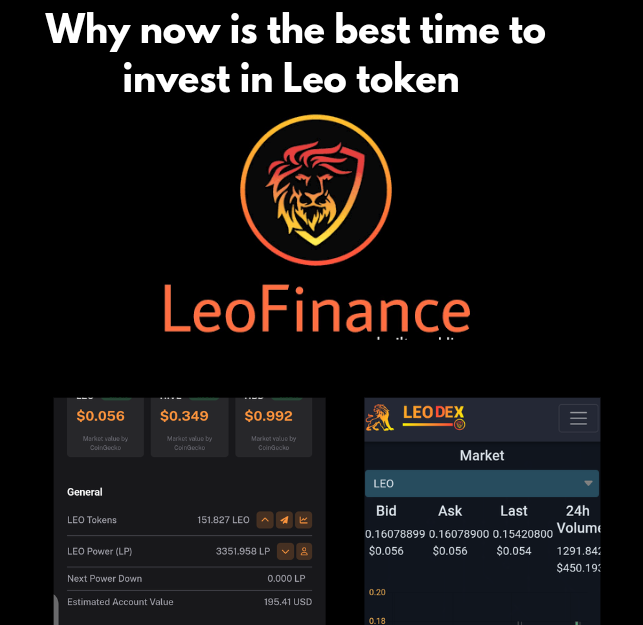 You may want to accumulate a good number of the Leo token before the price shoots higher that you may not be able to buy as much as possible.
We are still in the bear market and while hive and all the other Hive's layer two token are struggling to hold a good value, the leo token has experienced a tremendous shift and has pushed higher in price even above 60% since these recent days.
This progress has been as a result of the massive Leofinance adoption campaign, zealy quest, Microblogging and all the other activities that were planned and executed excellently in the community.
The whole of Hive blockchain were invited invited according to their communities and individuals were also invited to join Leothreads Microblogging.
Here you can either share the links to your long post forms to draw more visibility to your blogs or make short post forms using threads.
Either way you will be earning leo tokens from engaging with others using threads.
This massive development has pushed the token price forward as against a down trend experienced in a bear market.
To actively be involved in the community, talking about engagement, curation, blogging and others requires that you also stake some good amount of the token.
And while anyone is looking forward to staking a mass of it, maybe now is the best time to do so before price shoots higher beyond when we have the privileges to buy them cheaply now.
For my leo staking goals of 5k for the year stands at 3300 for now meaning that I still need more like 1700 leo tokens.
With the current price movements, it is likely that we won't find any more cheap leo in the coming day and drastic investment measures might seem to be a good approach.
I will have to buy more leo now and thank me later, buying now would mean that I will get lucky to buy more cheaply.
Trying to achieve this goal staking little per time Will take longer. It might be just worth it to take a bold step with certain investment seeing a promising token.
There are other projects in hive layer two token that have witnessed tremendous growth but a massive adoption for any tokens makes it hold a good stand.
Each Leo power up day indicates how much people are powering up staking leo and investing more into the leo token economy.
One might just be lucky if there are enough funds to buy now, though this is not meant to be a financial advice.
---
---