FRANCIA VS ARGENTINA Y LA FINA DEL QATAR / FRANCE VS ARGENTINA AND THE QATAR FINALS
---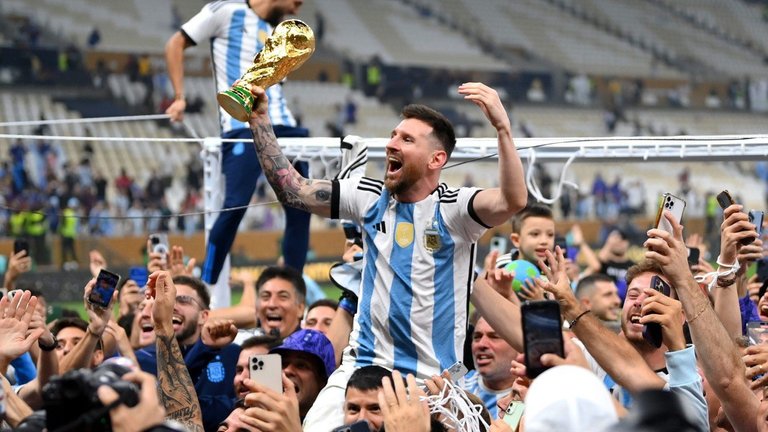 Fuente / Source
---
¿Por donde empezamos?, ¿Por el hecho de que Messi es campeón después de tantas finales perdidas o por el magnifico partido que nos regalaron ambas selecciones? Bueno, en este post que tengo para ustedes quiero hacerles un resumen, desde mi punto vista, de cómo se vivió y como viví, la que considero uno de las mejores finales de futbol que he visto en mi vida.
Sinceramente podría hablar de todo el recorrido de la selección campeona, pero eso lo quiero dejar para otra ocasión, ya que hoy, me gustaría que nos centráramos en lo especifico, que fue la gran final, de uno de los mejores mundiales de la historia.
Si bien es cierto que la final ya transcurrió hace cinco días, es inevitable seguir hablando de ella, ya que fue una de las mejores finales vistas en la historia de los mundiales, trayendonos consigo uno de los choques entre dos futbolista espléndidos como los son Kilyan Mbappé y Lionel Messi. Ambos jugadores iban con ganas de dejar todo en el campo por ellos, sus compañeros y su país; uno salía con el deseo de por fin llevarse esa copa que tanto anhelaba y poder reivindicarse de aquella final perdida en 2014, y otro, iba con la ilusión y las ganas de cumplir la hazaña de ser bicampeón del mundo y de manera consecutiva, para desmostrar una vez más porque son la selección más poderosa.
Where do we start, for the fact that Messi is champion after so many lost finals or for the magnificent match that both teams gave us? Well, in this post I have for you I want to make a summary, from my point of view, of how it was lived and how I lived, what I consider one of the best soccer finals I have seen in my life. Honestly, I could talk about the whole journey of the champion team, but I want to leave that for another occasion, because today, I would like us to focus on the specific, which was the great final of one of the best World Cups in history. Although it is true that the final took place five days ago, it is inevitable to continue talking about it, as it was one of the best finals seen in the history of the World Cup, bringing us one of the clashes between two splendid players such as Kilyan Mbappé and Lionel Messi. Both players were eager to leave everything on the field for them, their teammates and their country; one was going out with the desire to finally take that cup he so longed for and be able to vindicate himself from that lost final in 2014, and the other, was going with the illusion and the desire to accomplish the feat of being a two-time and consecutive world champion, to show once again why they are the most powerful national team.
---
---
Puff, no hay palabras para describir la calidad tremenda que tiene este equipo, tanto así que, al igual con Brasil, tiene para ocupar con facilidad 3 jugadores con calidad por cada puesto en el campo de fútbol. Es verdad que la selección francesa sufrió bajas importantísimas de cara al comienzo de la copa, lo cual fué un golpe duro porque dejó de contar con figuras como: Pogba, Kanté, Kimpembe, Nkuku y con el actual balón de oro Karim Benzema.
Sin embargo, esto no detuvo a Les Blues para alcanzar otra final de copa mundial, y esta vez, de manera consecutiva, defendiendo hasta el final su título de campeones mundiales vigentes. Seguían siendo tan atrevidos como siempre, tan técnicos y tácticos, y sobretodo, con las mismas ganas de salir a acabar el partido, como si se sintiera que el todo el tiempo estuviesen diciendo "Te voy a ganar sí o sí", algo totalmente impresionante.
Comandados por su máxima estrella Kylian Mbappé, que tuvo un mundial de locura, y Olivier Giroud quien venía de consagrarse como el máximo goleador histórico de Francia en el encuentro contra Polonia por los octavos de final, superando así la marca Thierry Henry, estaban catalogados como máximos candidatos a llevarse el trofeo nuevamente.
Puff, there are no words to describe the tremendous quality that this team has, so much so that, just like Brazil, they have to easily occupy 3 players with quality for each position on the soccer field. It is true that the French national team suffered very important losses at the beginning of the cup, which was a hard blow because they lost stars such as: Pogba, Kanté, Kimpembe, Nkuku and the current golden ball Karim Benzema. However, this did not stop Les Blues from reaching another World Cup final, and this time, consecutively, defending their title of reigning world champions to the end. They were still as daring as ever, as technical and tactical, and above all, with the same desire to go out and finish the game, as if they felt that the whole time they were saying "I'm going to beat you, yes or yes", something totally impressive.

Led by their top star Kylian Mbappé, who had a crazy World Cup, and Olivier Giroud who had just been consecrated as France's all-time top scorer in the match against Poland for the round of 16, thus surpassing the Thierry Henry mark, they were listed as top candidates to take the trophy again.
---
---
Comenzando el mundial con un tras pies contra Arabia Saudita, el conjunto albiceleste perdió su invicto de 36 partidos. Esto encendió las alarmas de todo el mundo, ya que pensaron que sería otro fracaso mundialista más de los argentinos y sobretodo por el hecho de traer consigo 19 debutantes de los 26 convocados, pero, nunca bajaron la cabeza en ningún momento y fué como un bofetón para abrirles los ojos, de que, se está jugando una copa del mundo.
Después de pasar por todo ese embrollo, los argentinos se entonaron y comenzaron a encadenar rachas, dominando juegos y mostrando su fútbol champagne, como dicen. Con un Messi letal nuevamente, y que solo pensaba que era ahora o nunca, un Julián Álvarez con hambre de gol y querer ganar, y con un Enzo Fernández con categoría y calma para manejar la pelota, argentina comenzó a convertirse en favorito nuevamente y llegando hasta donde llegó. Con una plantilla sólida desde el funcionamiento hasta en la armonía del vestuario.
Pudimos presenciar nuevamente una copa del mundo astral de Messi, con sus estadísticas que fueron una locura, te hace pensar que si realmente será este el momento de paso o seguirá Messi unos años más. Con un rol de capitán que se pudo apreciar al no bajar los brazos nunca y al motivar a sus compañeros a seguir pese a las malos momentos en el campo, argentina demostró su poderío de juego en cada uno de sus partidos.
Starting the World Cup with a behind-the-foot defeat against Saudi Arabia, the Albiceleste lost their 36-game unbeaten run. This set off alarms all over the world, as they thought it would be yet another World Cup failure for the Argentines and especially for the fact that they brought 19 debutants out of the 26 called-up players, but they never lowered their heads at any time and it was like a slap in the face to open their eyes, that they are playing for the World Cup.

After going through all that mess, the Argentines got in tune and began to string together streaks, dominating games and showing their champagne soccer, as they say. With a lethal Messi again, who only thought it was now or never, a Julian Alvarez hungry for goals and wanting to win, and with an Enzo Fernandez with category and calm to handle the ball, Argentina started to become a favorite again and got as far as they did. With a solid squad, from the way it functions to the harmony in the dressing room.

We were able to witness again an astral Messi's World Cup, with his statistics that were crazy, it makes you wonder if this is really the moment to move on or if Messi will continue for a few more years. With a captain's role that could be appreciated by never giving up and motivating his teammates to continue despite the bad moments on the field, Argentina showed its power in each of its matches.
---
---
Quizás, estamos hablando de las mejores finales de mundiales disputadas en toda la historia, y si les doy mi punto de vista, para mí lo fué en el fútbol general. Me explico, la euforia de las hinchadas de ambas selecciones, los jugadores con ganas de hacer historia y dejarse la piel en el campo, el último mundial de Messi, Di María, Giroud, Otamendi, Lloris y varias figuras, el choque de Mbappé y Messi como estrellas y los 10s de cada equipo, el heredero contra el rey. Está final lo tuvo todo, y sinceramente me estoy quedando corto con lo que estoy diciendo y seguro de tanta euforia, ansiedad y alegría que viví, puedo estar pasandome algún detalle por alto.
Desde mi punto de vista, el partido fue de más a menos para ambas selecciones, ya que casi más de la mitad del juego argentina dominó y tuvo la pelota, yéndose 2-0 arriba con un claro dominio en el partido. Eso claro, hasta que llegó la reacción de Les Blues un poco más del min 65, hasta conseguir el descuentos del 2-1 al minuto 80 con un penal cometido por Otamendi sobre Kolo Mouani y cobrado con gran categoría y potencia por Kylian Mbappé, para posteriormente en el 81' consignar el empate 2-2 con una brutal volea que daría el alargue a la historia que se estaba escribiendo.
Todo en ese momento fué silencio, lamentos, caras largas, se sentía como la ilusión de ver levantar a Messi y los pibes la copita y, se extinguía poco a poco por la garra francesa que hacía presencia en el encuentro. Por otro lado, los franceses embullados y con ganas de que su selección se volviese a coronar rey, no dejaba de hacerse sentir.
Recuerdo que una vez finalizados los 90 minutos, me entró un frío y una incertidumbre, solo me quedó mirar facebook, y cuando percaté, tenía delante de mi una foto de Messi reunido con los 7 balones de oro y el Dragón ShenLong de Dragón Ball z ( haciendo referencia a las 7 esferas del dragón) y mi reacción fué, cerrar los ojos, colocar mi mano en el corazón y pedir el deseo que más quería en ese momento.
Desde que arrancaron los últimos 30 minutos, se vivieron momentos de pura tensión, era todo o nada, había que salir a liquidar el partido a como diera lugar. Argentina golpea primero, con un pase en profundidad que dejó habilitado y de cara al arco a Lautaro Martínez, el cual le pega con todas sus fuerzas pero Lloris logra rechazar con su cara, lo cual deja rebote y queda Messi con el arco a Merced para empujarla y luego ser despejada por un defensor francés, pero ya era tarde, porque se el esférico había ingresado completamente. Todo era gritos, festejos y solo se pensaba en aguantar lo más que se pudiese hasta terminar el encuentro.
Perhaps, we are talking about the best World Cup Finals ever played, and if I give you my point of view, for me it was in general soccer. I mean, the euphoria of the fans of both teams, the players eager to make history and leave their skin on the field, the last World Cup of Messi, Di Maria, Giroud, Otamendi, Lloris and several figures, the clash of Mbappé and Messi as stars and the 10s of each team, the heir against the king. This final had it all, and honestly I'm not saying it enough and I'm sure with all the euphoria, anxiety and joy I experienced, I may be overlooking some details.

From my point of view, the match went from more to less for both teams, since almost more than half of the game Argentina dominated and had the ball, going 2-0 up with a clear dominance in the match. That is, of course, until the reaction of Les Blues came a little more than 65 minutes, until they got the discount of 2-1 in the 80th minute with a penalty committed by Otamendi on Kolo Mouani and charged with great class and power by Kylian Mbappé, and then in the 81' scored the equalizer 2-2 with a brutal volley that would give the extension to the story that was being written.
Everything at that moment was silence, laments, long faces, it felt like the illusion of seeing Messi and the youngsters lifting the cup was slowly being extinguished by the French claw that was present in the match. On the other hand, the French, full of enthusiasm and eager for their national team to be crowned king again, did not cease to make themselves felt.
I remember that once the 90 minutes were over, I got cold and uncertain, I could only look at facebook, and when I realized, I had in front of me a picture of Messi reunited with the 7 golden balls and the Dragon ShenLong from Dragon Ball Z (referring to the 7 dragon spheres) and my reaction was to close my eyes, put my hand on my heart and make the wish I most wanted at that moment.

Since the last 30 minutes started, there were moments of pure tension, it was all or nothing, we had to go out and kill the game at any cost. Argentina struck first, with a deep pass that left Lautaro Martinez in front of the goal, who hit it with all his strength but Lloris managed to reject it with his face, which left a rebound and Messi was left with the goal at his mercy to push it and then be cleared by a French defender, but it was too late, because the ball had entered completely. Everything was screaming, celebrating and the only thought was to hold on as long as possible until the end of the match.
---
---
Sin embargo, la alegría no duró mucho, porque luego de un corner cobrado por Coman y rechazado por la defensa albiceleste, le quedó rebote a Mbappé, quien parecía tener 30 pulmones y se incansable, y se mandó un zapatazo que impactó en el codo de Montiel, sancionando así la pena máxima y dándole el 3-3 a Francia que sería convertido por Mbappé.
Quedarían los últimos minutos, dónde se definiría todo y al fin uno, se llevaría la gloria. La tan ansiada copa, se iría a un solo hogar, y los franceses hicieron todo lo posible, presionado, atacando y llendo a más por ello, y tuvieron la oportunidad en el minuto 123', y ahí fue cuando el tiempo se paró por unos segundos, los países y el estadio se paralizaron, solo quedaron Kolo Mouani y El Dibu Martínez frente a frente, momento dónde serías héroe o villano. Kolo recibe, se perfila para colocar el remate y sentenciar todo, para coronarse, pero se consiguió con un Martínez que se montó al hombro los 25 seleccionados más y 47 millones de argentinos, convirtiendose en la muralla que evitaría todo y alargaría el encuentro a la tanda de penales.
However, the joy did not last long, because after a corner taken by Coman and rejected by the Albiceleste defense, the rebound was left to Mbappé, who seemed to have 30 lungs and was tireless, and sent a shot that hit Montiel's elbow, thus sanctioning the penalty and giving the 3-3 to France, which would be converted by Mbappé. The last minutes would remain, where everything would be defined and finally one would take the glory. The long-awaited cup would go to a single home, and the French did everything possible, pressing, attacking and going for it, and they had the opportunity in the 123' minute, and that was when time stopped for a few seconds, the countries and the stadium were paralyzed, only Kolo Mouani and El Dibu Martinez faced each other, moment where you would be hero or villain. Kolo received the ball, he was about to place the shot and to sentence everything, to be crowned, but it was achieved with a Martinez who rode on the shoulder of the 25 selected players and 47 million Argentines, becoming the wall that would avoid everything and would extend the match to the penalty shootout.
---
---
Ya en la tanda, los argentinos eran más seguros, porque estaban conscientes de que, tenían bueno pateadores y un gran portero de cara al juego psicológico en penales. Por otro lado, los franceses creo que se dejaron llevar por la frustración de no poder haber más en campo, y los desestabilizó para la tanda. De esta forma, los cobros realizados por Coman y Tchouamení terminaron en fallos, uno siendo atajado espléndidamente por el Dibu y otro saliendo desviado del arco. Dándole así, una ventaja de dos goles a Argentina sobre el vigente campeón. Pasado los demás pateadores, llega el momento de reivindicarse, de aquel hombre que cometió el penal que desencadenó en el empate de Francia, así que tomó la pelota, se puso frente al arco, solo pidió y pidió, y convirtió, pasando ser villano a héroe, y así, ayudar a Lionel Messi y a sus demás compañeros, a consagrarse campeones del mundo.
Already in the shootout, the Argentines were more confident, because they were aware that they had good kickers and a great goalkeeper for the psychological game in penalties. On the other hand, I think the French got carried away by the frustration of not being able to get more on the field, and it destabilized them for the shootout. Thus, the shots taken by Coman and Tchouameni ended in misses, one being splendidly saved by Dibu and the other going wide of the goal. This gave Argentina a two-goal advantage over the defending champions. After the other kickers, it was time to vindicate himself, the man who committed the penalty that led to France's equalizer, so he took the ball, stood in front of the goal, just asked and asked, and converted, becoming a villain to a hero, and thus, helping Lionel Messi and his teammates to become world champions.
---
---
Todo en ese momento era gritos, argentinos, latinos, europeos, asiáticos, africanos, todos estaban euforicos. De ver qué, aquellos que ellos querían, salieron campeones, y se puso obtener la mejor imagen del mundo, de nada más y nada menos que Lionel Messi levantando la copa del mundo y por fin, acabando con todos los debates existentes y dejando claro que, es el mejor de la historia y de todos los tiempos.
Sinceramente hivers, para mí, está fué una de las mejores formas de como expresar lo que viví en uno de los mejores momentos de toda mi vida, porque pude ver a mi idolo triunfar. Me gustaría seguir haciendo contenido de fútbol y me verán muy activo por acá, trayendo para ustedes temas interesantes. En fin, nos leemos pronto, que pasen feliz fiestas y no olviden ¡Qué la fuerza los acompañe!
Everything at that moment was screaming, Argentines, Latinos, Europeans, Asians, Africans, everyone was euphoric. To see what, those that they wanted, came out champions, and they got the best image in the world, nothing more and nothing less than Lionel Messi lifting the world cup and finally, ending all the existing debates and making it clear that he is the best in history and of all time.

Sincerely hivers, for me, this was one of the best ways to express what I lived in one of the best moments of my life, because I could see my idol triumph. I would like to continue doing soccer content and you will see me very active here, bringing you interesting topics. Anyway, see you soon, have a great holiday season and don't forget, may the force be with you!
---
---