IS THE RESURGENCE OF MARC-ANDRÉ TER STEGEN?🥅 [ESP/ENG]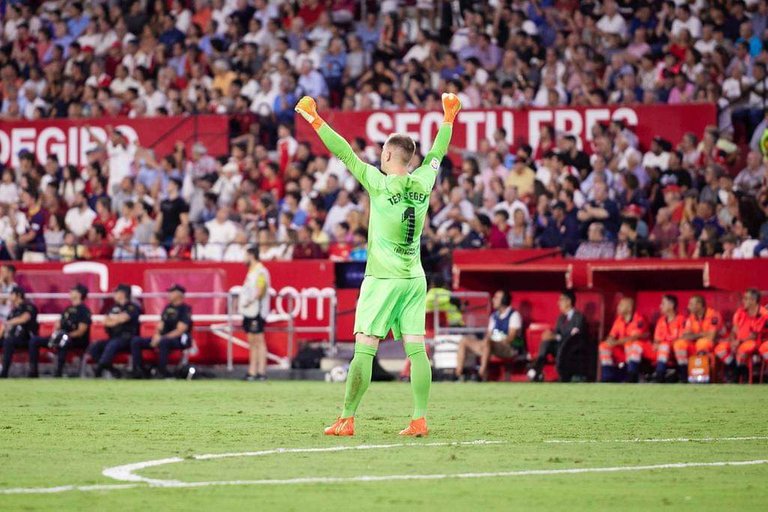 Fuente/Source
---
El guardameta Alemán del Fútbol Club Barcelona se está marcando otra temporada buenísima, y apenas marchando un poco más de mitad de campeonato. Si bien es cierto, que el equipo blaugrana no ha tenido el mejor arranque en competencias europeas, pues en torneos locales es otra cara diferente, y todo ese rol se le debe también a la gran muralla alemana que tienen en su pórtico, sin desmeritar por supuesto, a su gran defensiva.
The German goalkeeper of FC Barcelona is having another great season, and only a little more than halfway through the championship. While it is true that the blaugrana team has not had the best start in European competitions, in local tournaments it is a different face, and all this role is also due to the great German wall that they have in their goal, without detracting of course, to their great defense.
---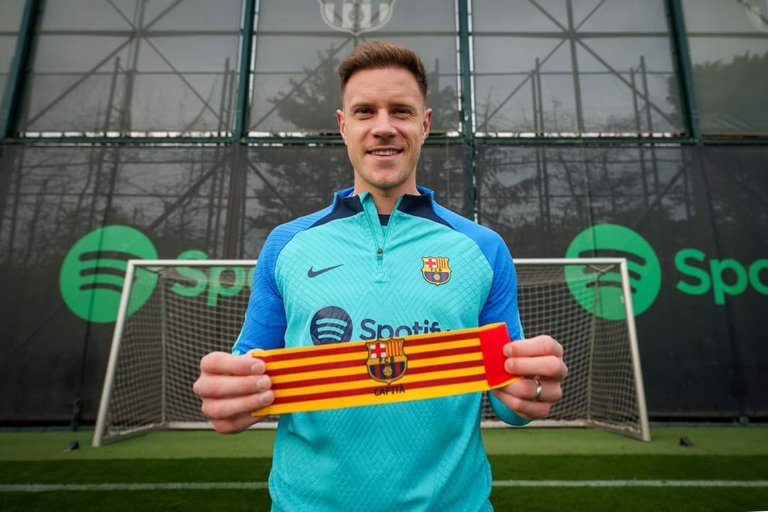 Fuente/Source
---
A diferencia de hace par de temporadas, actualmente Ter Stegen está teniendo un nivel excepcional y se le puede notar al demostrarlo en el terreno de juego con sus últimos partidos con el Barça. Y es que al ahora nuevo capitán del equipo, se le ve muy entusiasmado con el proyecto que hay y con la plantilla que tienen, por lo tanto se le hace estar bien.
Unlike a couple of seasons ago, Ter Stegen is currently having an exceptional level and you can see it on the field with his last matches with Barça. And the fact is that the now new captain of the team, is very enthusiastic about the project and the squad they have, so it makes him feel good.
---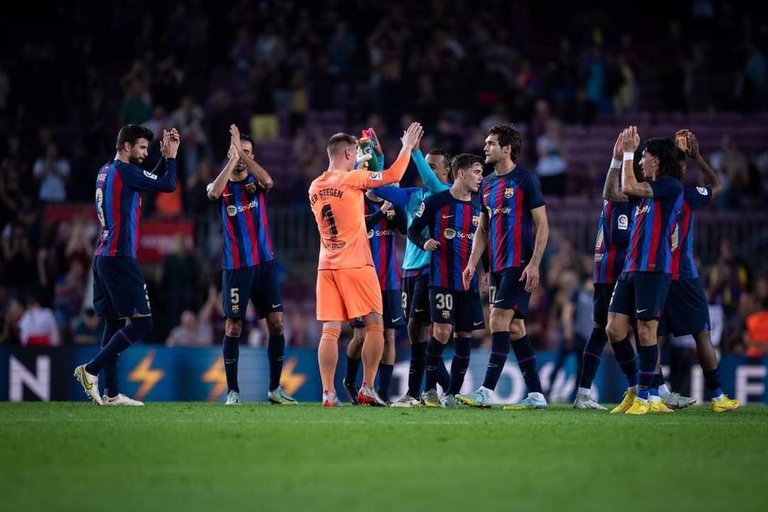 Fuente/Source
---
Hay que destacar varios puntos claves de este "resurgir" de Marc-André Ter Stegen, en los que podemos mencionar:
There are several key points to highlight in this "resurgence" of Marc-André Ter Stegen, in which we can mention:
---
CONFIANZA TOTAL DEL TÉCNICO Y COMPAÑEROS.
Este punto es uno de los más cruciales para que emocionalmente se le pueda notar estable al guardameta germano, y es que, desde aquel trágico 8-2 ante el Bayern Munich, se ha hablado mucho del nivel de Stegen y si de verdad seguía a la altura del fútbol del barça, e inclusive, la directiva anterior se llegó a plantear la posible salida del portero. Sin embargo, los técnicos que han llegado no han dudado en dejarlo bajo los tres palos y ser aquel que cubra de cara algo, esto por supuesto, respaldado por sus compañeros, que solo tienen elogios para el y saben su influencia como jugador dentro y fuera del campo, siendo para algunos, un ejemplo a seguir.
TOTAL CONFIDENCE OF THE COACH AND TEAMMATES.

This point is one of the most crucial for the German goalkeeper to be emotionally stable, and since that tragic 8-2 against Bayern Munich, there has been a lot of talk about Stegen's level and whether he was really still up to the level of Barça's soccer, and even the previous board came to consider the possible departure of the goalkeeper. However, the coaches who have arrived have not hesitated to leave him under the three posts and be the one who covers something, this of course, backed by his teammates, who only have praise for him and know his influence as a player on and off the field, being for some, an example to follow.
---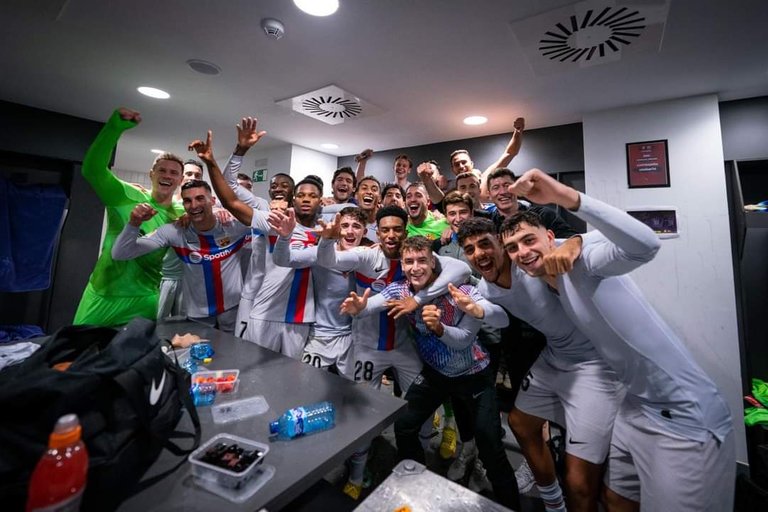 Fuente/Source
---
UNA LINEA DEFENSIVA MAS SEGURA.
Este es uno de los temas más delicados que arrastra el equipo Culer, y es que a través de los años, no ha sabido manejar bien de cara defensiva, específicamente desde aquella temporada 18/19. Por supuesto, esto hace que el rendimiento de Ter Stegen baje al notar la inseguridad de los 4 hombres que tiene por delante como compañeros defensivos. Pero está temporada todo marcha diferente, y es que al jugar con Christensen, Araujo, Koundé y Balde, se le con más confianza y temple al guardameta Alemán, haciendo nuevamente propuestas de salida de balón más rápida e incluso, con mayor seguridad al momento de salir jugando con los pies.
A MORE SECURE DEFENSIVE LINE.

This is one of the most delicate issues that drags the Culer team, and is that over the years, has not known how to manage well defensively, specifically since the 18/19 season. Of course, this makes Ter Stegen's performance drop as he notices the insecurity of the 4 men he has in front of him as defensive partners. But this season everything is going differently, and by playing with Christensen, Araujo, Koundé and Balde, the German goalkeeper is more confident and tempered, making again proposals for quicker ball exit and even with greater security at the time of playing with his feet.
---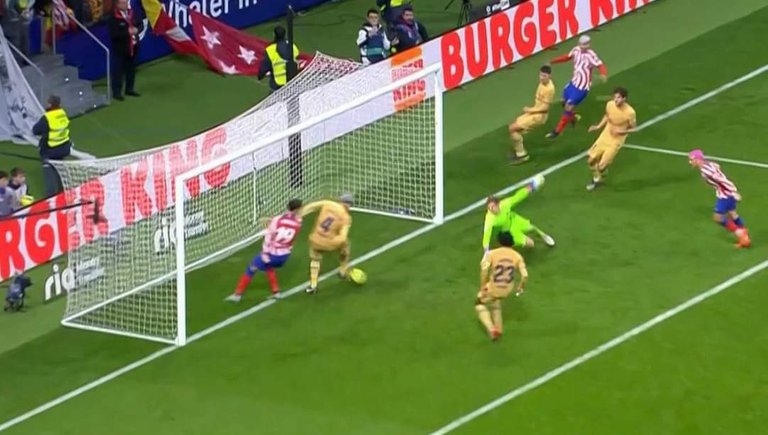 Fuente/Source
---
GANAS DE VOLVER A TRIUNFAR.
Este aspecto es muy notorio en Ter Stegen, por su forma de expresarse ante las cámaras, entrenamientos y sobretodo, en el terreno de juego, dejándose la piel en cada balón parado, en cada mano a mano y en cada disparo lejano al área.
Se puede notar sus ganas de triunfo, que el arquero alemán registra a día de hoy 12 porterias a cero en 16 partidos que ha disputado en esta temporada liguera, superando así el de su temporada anterior que fué nada más de 11 porterías a cero en 35 partidos ligueros disputados. Se dice que, este es el mejor registro histórico de un arquero en liga hasta lo que va de mitad de temporada.
TO SUCCEED AGAIN

This aspect is very noticeable in Ter Stegen, by the way he expresses himself in front of the cameras, training sessions and, above all, on the pitch, leaving his skin on every set piece, in every hand to hand and in every long-range shot in the area.

His desire to win can be seen in the fact that the German goalkeeper has 12 clean sheets in 16 games played this league season, surpassing his previous season's total of 11 clean sheets in 35 league games played. It is said that this is the best historical record of a goalkeeper in the league so far this mid-season.
---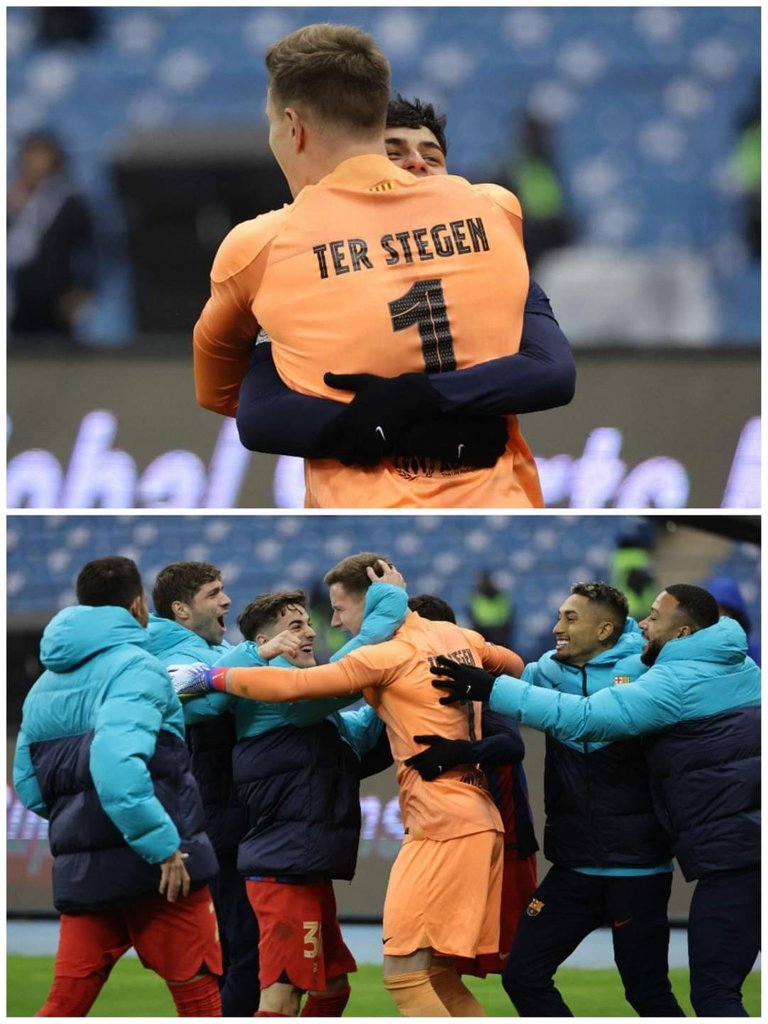 Fuente/Source
---
En cada partido maneja los hilos de una forma tranquila, al momento que le toca jugar saliendo con los pies, no tiembla, da órdenes cuando ve que su defensa no está bien alineada y sobretodo, cuándo tensión y presión en el partido, hace que sus compañeros entren razón con ánimos y palabras, por eso y más, ahora porta el gafete de capitán del equipo. Así que, piensas tú qué es su temporada de resurrección?
In every game he pulls the strings in a calm way, when it is his turn to play, he doesn't tremble, he gives orders when he sees that his defense is not well aligned and above all, when there is tension and pressure in the game, he makes his teammates come to their senses with encouragement and words, for that and more, he now wears the captain's badge of the team. So, do you think this is his resurrection season?
---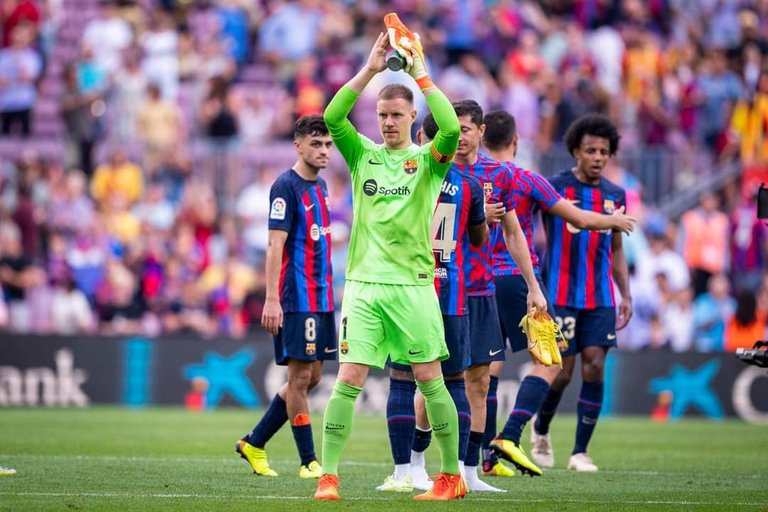 Fuente/Source
---
En fin mis hivers, déjenme saber su opinión en los comentarios si crees que este puede ser el último prime de Ter Stegen o si aún le queda mucho más nivel en primera. Nos seguimos leyendo pronto y con ansias de seguir trayendoles contenido nuevo. Nos veremos más seguido por aqui🤘🏻
Anyway my hivers, let me know your opinion in the comments if you think this could be Ter Stegen's last prime or if he still has a lot more left in the first team. We'll keep reading soon and looking forward to continue bringing you new content. We'll see you here more often🤘🏻
---
---