Moonthumb's Mysterious Wheel of Random Prizes Giveaway - Ep. 10 (Bad News/Good News/Better news)

If you have been following this post through the first few episodes, you will know that I try to publish this post every few days (the plan was at least once a week, but more often if time allows). As you may have noticed, the previous post was over a month ago. This has been due to being out of town, other offline activities, and extra hours at work. The bad news is that I don't see this getting better for at least another couple of weeks. Creating this publication takes me over an hour to create (usually closer to two) and after I finish a twelve hour shift and get something to eat, I am generally ready to start winding down for bed so I can get up and do it again the next day (I'm not as young as I used to be). In my line of work, I don't normally have time to access the Internet while I am on the job, so I have to create my content after I get home. As luck would have it, I spent most of the day today in a backup capacity and did not have my regular duties to deal with, so I was able to sneak away and put this post together. The problem is my schedule will continue to be whacked out through Labor Day weekend.
And now for the good news. While I was away, there were several more people who qualified for this giveaway, so we have enough to spin the wheels. And the better news is, we had so many qualify that we reached the threshold to be able to spin for TWO WINNERS!! (Woo-hoo) Hopefully, that will somewhat make up for the extended time away.
I addition to the two winners, I have also expanded the prize wheel from 20 to 30 prizes. As a part of the upgrade, I have added two new rare cards (one each for Rising Star and Splinterlands). I also added more crypto spaces and increased some of the amounts. So, not only will there be more winners, there are more and better prizes the win.
---
Now for what you really came for...It's time for someone to WIN A PRIZE!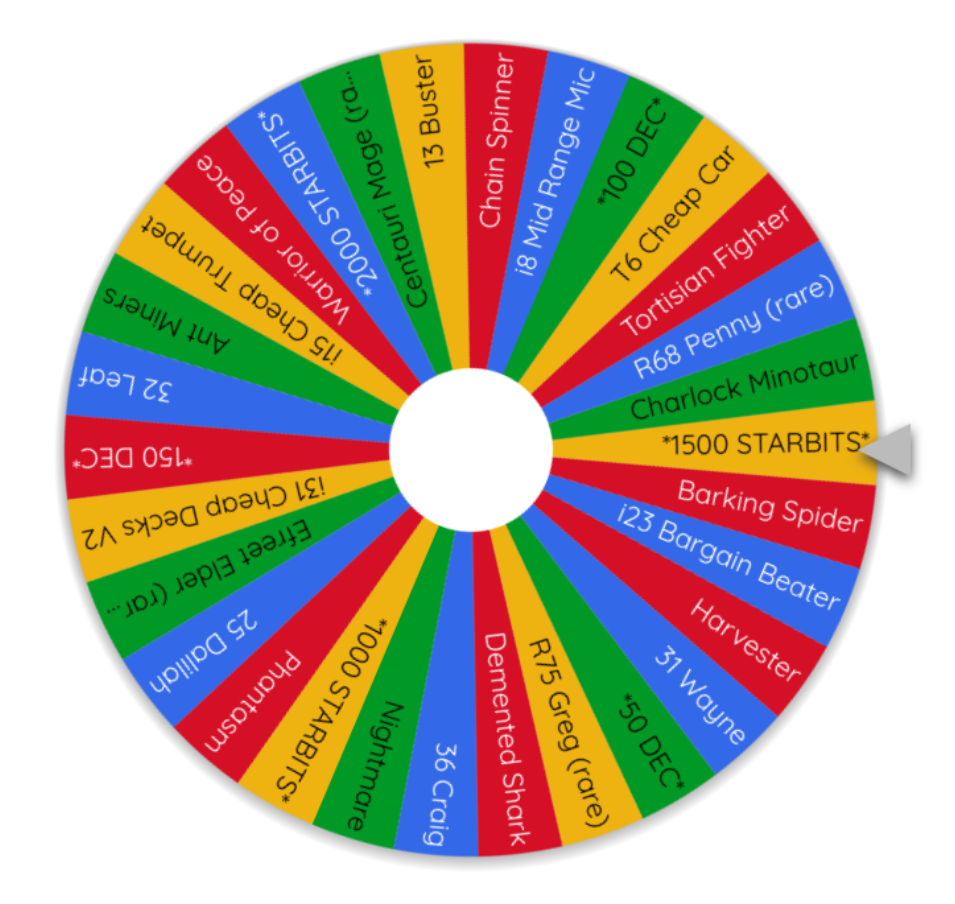 ---
Before we get started, let's look at a couple of the rules for this giveaway:
Rule #1: Read the entire post to make sure you find all of the rules that apply to this giveaway.
Rule #2: The minimum number of qualified participants for this giveaway is twelve.
BONUS: Once again, if we reach at least 25 qualified participants, I will spin for TWO winners.
Rule #3:
Normally, I would post a question in the post that must be answered in order to qualify for the next giveaway. However, I have seen a giveaway where the question is included in the video where the prize is awarded. I kind of like that idea and will be incorporating that into today's video. Please be aware that I use these rules to make sure people are reading the post and to help eliminate bots. IF YOU DO NOT ANSWER THE QUESTION IN THE VIDEO AS PART OF YOUR REPLY, YOU WILL NOT QUALIFY FOR THIS GIVEAWAY!

There were a total of 30 qualifiers for this giveaway. Here is the Prize wheel spin video for today.

Now let's take a look at the rest of the rules for this giveaway:
Rule #4:
If your Rising Star and/or Splinterlands username is different from the one you commented with, include them in your comment. Or if you want to give your winnings to someone else, enter their username instead and indicate that you want your prize to go to them. However, there can only be ONE entry for each account [for example, if my username is @moonthumb and I want to give my winnings to @theroad2freedom, I can add that name to my entry, but @theroad2freedom cannot submit another entry with their own name]. Also, in the interest of fairness, please only include one entry per person. I try to give everyone an equal chance to win. If I find out someone is using more than one account, I will ban those accounts from the giveaway. Additionally, only one person can qualify for each account that makes a comment (for example, you can either qualify for yourself or someone else, but you cannot do both. However, you are always free to tag someone else in your comment so that they are aware of the giveaway and can enter for themselves).

Finally, here is the list of all of the past participants (to help you find the post for the next giveaway). As usual, if you do not want to receive these notifications, leave me a comment and I will remove your name from the list.
@alejoca, @bitandi, @chuckrick, @cryptzy, @cibersk8, @dirtnowitzki, @double-eagle, @dubble, @eldon1, @failingforward, @finris, @flr25, @funferall, @gregory-f, @guurry123, @hhayweaver, @imfarhad, @irisworld, @javiss, @jdike, @jesustiano, @jfang003, @johnsdowie, @julianhorack, @kevinnag58, @kurogan, @kursen, @kurukiel, @lacandela, @legalizabrazil, @libertycrypto27, @lokywolf2295, @m0rt0nmattd, @m3ss, @magooz, @manclar, @manukass, @mcparravicini, @mimismartypants, @minimining, @musdim, @nahueldare3627, @obeliscocoin, @oduncu, @oxidil, @pablodare, @ph1102, @pixiepost, @playbyhive, @polessins, @rarej, @regenerette, @ricestrela, @shogo-takuan, @solymi, @soumya01, @specialfeelings, @sublimjester, @supriya.gupta, @theums, @trentonlundy1, @tokutaro22, @tommyl33, @troikivmm, @vocalfilter, @yankosoito, @yeckingo1, @yocazo, @zarwelius, and @zonadigital21
Thank you for taking part in Moonthumb's Mysterious Wheel of Random Prizes Giveaway
---
You might want to check these out, too:
---
Posted via proofofbrain.io
---
---