Have I Got a Story For You!
Come and listen to a story 'bout a man named Jed...oh, wrong story. Maybe I should follow the script of some current drama series and give you what's going on now and then go back and lead up to how we got there...so here goes.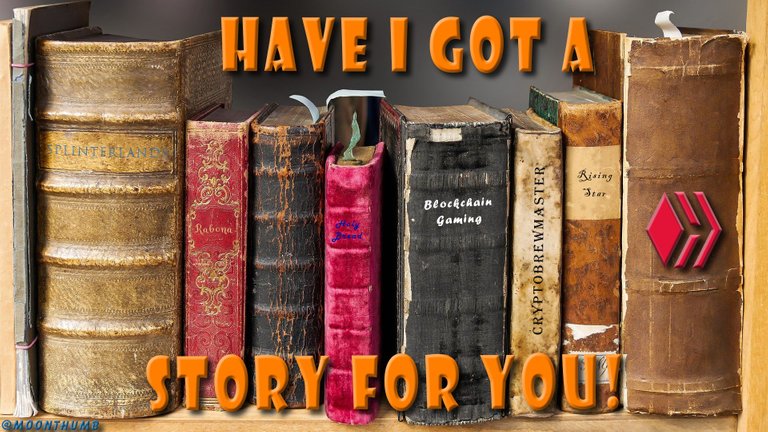 Image by Gerhard G. from Pixabay
I love games. As a part of my online activity, I not only started playing blockchain games, but I have also started posting about, commenting on, and upvoting posts about my various blockchain gaming activities. However, over the past few weeks, I haven't posted much about my personal gaming.
The Reason Why
There is a movement afoot and it's focus is collecting informative and valuable posts about blockchain gaming together in one place to provide the a single location for gamers who play multiple blockchain games. Most of the games played here on the HIVE blockchain have their own communities that serve their respective players. However, most game players don't just play one game. Therefore, we need to have a place for them to hang out and get information from all of their games in one stop. That is why I started this movement.
11 days ago
Since I am an avid game player, on a whim, I decided to see if you could combine the beneficial information from all of the Hive (and other) blockchain(s) in one place so you didn't have to jump around to several different communities in order to follow their posts. Thus the "movement" was born. Since then, I have started cross-posting articles from several different communities (generally the ones I play the most) in the Blockchain Gaming Community. As I highlight these posts, I will make a comment in them and include the following banner link:

Since game players love giveaways (and these posts create a lot of engagement), I have started adding those posts to the community. I also begin identifying posts with tips, tricks, and tactics. Since I find these articles valuable, others probably would, too, so I have started adding these, as well. You'd be surprised at how long it takes to comment on and cross-post all of those entries.
What's next?
I will continue to cross-post these types of entries plus any others I think might be of interest. Hopefully, people liking these types of posts will start to use this community to access information such as this and start submitting articles they feel would be beneficial to other game players.
At the same time, I am planning to resume my posting efforts and this post is the first step in that endeavor. Therefore, I will finished this post with an update to my recent Rising Star activities. My last Rising Star post was about a month ago. Since that time I have progressed from Level 20 to Level 35. I had 28 cards, 530 fans, and 452 skill (yep, I had just bought a R11 Range Rover to increase my fans, but that caused my EGO to jump from nothing to 37%). It took me about a week of Music Lessons to get back to 0%.
I finished working through all of the missions of Home Town Zone and started through the Local Gig Circuit. But last week, even though I had added a couple of new cards through giveaways, I once again found myself short of the fans needed to start the Shopping Mall mission, so rather than focusing on one or two cards to bring my fans up, I saved up a few days, purchased a pack, and rolled the dice.

Well, well...Out of the frying pan and into the fire. While I love the R40 Touring Coach, I was once again thrown into a major EGO situation. So, it was back to a heavy dose of Music Lessons.
Bargain Shopping
Between those lessons, I earned a few more STARBITS and lost several places in the rankings, so I decided to pick up a few cheap, unique cards yesterday. I dropped a whopping 3,250 STARBITS, I picked up all these new additions:

Searching for Bunnies
Then, when the announcement was made regarding the new Easter Special Mission, I took a chance and bought another pack to see if I could nab a Jive Bunny:

No luck!! So now, I'm out of STARBITS and still have some EGO to deal with, but I am able to take the next step and attempt the Shopping Mall mission. I am still short on my level to progress past that, but at least I'm moving again. Now I have 50 cards, 1102 fans, and 1575 skill (plus whatever I earn for the Music Lesson I am running right now).
Thanks for reading to the end. Until next time...Rock on!
---
Posts about the "Movement":
2 - Are You a Winner?
1 - Can One Unknown Guy Start a Movement?
---
---