IS LIFE FAIR? QOTW SEASON 6 #5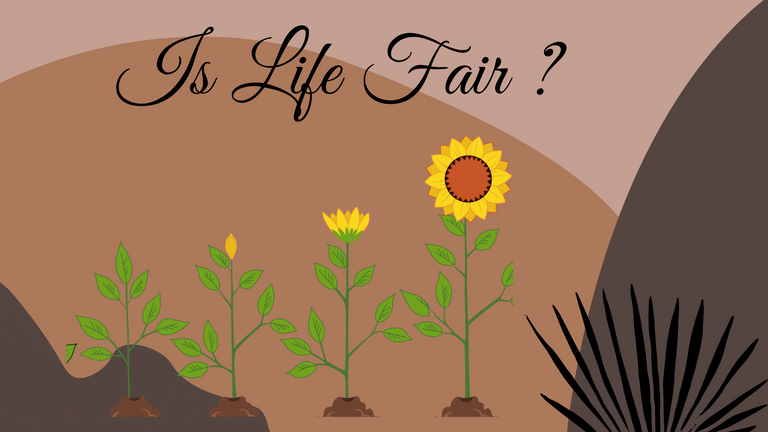 Image source : Designed @canva.com
Hello everyone. It's a great pleasure to join the league of faculties in answering this big question. Is Life Fair (ILF)? To start with, I would like to give a brief definition of the keyword in the topic. Life and fair.
Life pertains to the significance of living or existence. The immediate opposite of life is death.
Fair on the other hand means without cheating or trying to achieve an unjust advantage.
IS LIFE FAIR?
Time and tide are the connections that make an individual profess his or her place in the scheme of things in life. We must know that the opportunities opened to us are not the same based on our location and many other factors.
Life is fair everyone. An individual could manage the so-called opportunities by first discovering them.
SAME OPPORTUNITY DIFFERENT LOCATION
In every part of the world, people who have been able to wake up from their deep slumber have made a big advantage in life. And that has contributed to the testimonial they present to the world. So, self-discovery is very important in life. People may say life has not been fair, of course, that may be because they have failed to find their purpose in life. Have you ever thought about this:
• The weather condition of your locality is an advantage you should build upon to break even.
• The population size could also bring good tidings to you.
• Soil or land texture and make your name be heard the world over.
•Technological facilities available in your locality too.
Another aspect where one may look into is that of Karma.
Those who hold a strong belief in the law of Karma are merely saying that whatever strength you put into something, is the same measure younger back.
If you do good, expect good in return. Humans only have to play a role in what gets back to them. What I am saying here is that you should act well on your part.
Anyone can be whatever he or she dreams to be. We only get to work towards the goal with vigor and also be of courage.
With the above, you should be able to answer that life is indeed fair.
---
---