NEWBIES INITIATIVE: MAY BATCH APPLICATION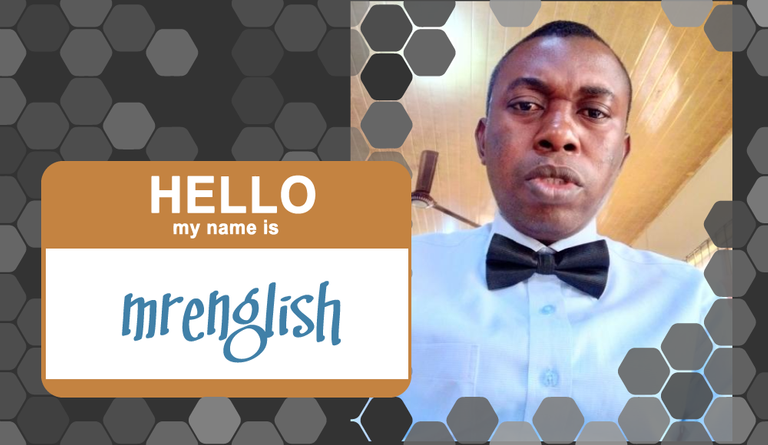 PHOTO BADGE DESIGNED BY @tripode
Eh! everyone. I am super elated to be finally home. A lot has been said and heard about this beautiful platform. The one reason why I am attracted to this space. My name is ISHMAEL KELECHI ANDREWS but would prefer @mrenglish on hive. Funny name, right? That name came as a result of an incident that occurred sometimes ago, details will be shared here in the nearest future.
MY PERSPECTIVE ABOUT THIS INITIATIVE
Let me begin by giving kudos to the organizers of this newbies initiative for May. This ritual will surely go a long way in helping newbies find their way around the platform and how to connect with the larger community. A newbie will get to prove his/her worth by simply writing the ideals of being here, emotionally or otherwise. The warm welcome I in particular have received since I appeared on this planet, is second to none. To say I am home now is not an understatement. Many thanks to @theycallmedan, @threespeak, @starstrings01, @cwow2, @tripode for the warm welcome and affection. I'd like to use this medium to applaud the initiator (s) of this viral project. If you're interested in participating in this contest, read up the announcement post HERE.
REPUTATION AND HIVE POWER
My current reputation here stands at 50 while my Hive Power, 20.009. When I came on board, I found it difficult to do anything as there was no Hive Power to get me active. My tutor, friend, and brother, in the person of @kenechukwu97 , delegated me some HB which allowed me to be active here. I am particularly grateful for this gesture.
WHY I JOINED THE INITIATIVE
Writing has been one thing I find pleasure doing. Anything that catches my fancy is what I write about. Generally speaking, you will find my work on poetry, nature, fiction, societal problems, or topical issues in society very interesting. Keeping people in suspense through writing is another side of me that you may like to see. Most often than not, my writing comes from everyday life experiences of myself and the folks around me.
On the other hand, I am here to find new friends from all works of life. And to get to see new happenings in other parts of the world. Since culture differs from one place to another, this place will accord me the opportunity to know the culture of other 'peoples' too.
Crypto is the next thing around the world. This place has a lot of stuff to be learned about crypto. I am readily open for tutelage on this subject matter.
So, I'd implore you to keep your fingers crossed and see such amazing writings coming from my table.
Thanks to the SMILE COMMUNITY for this initiative.
You can join the SMILE DISCORD HERE👉(https://discord.gg/5vRTmMQ4)


Images: Downloaded from the contest announcement post
---
---