Progress Report & Feedback: Newbies Initiative Final Task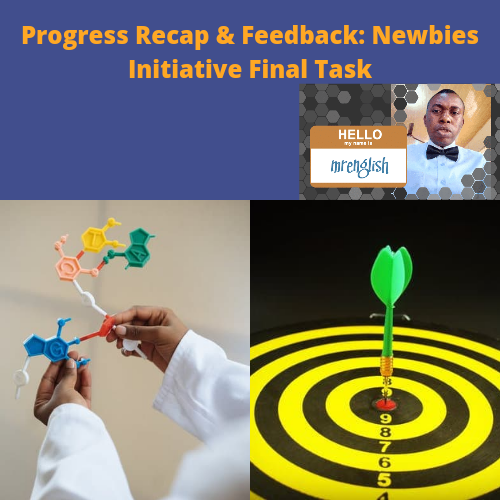 Header image:Downloaded @pexels.com & edited @canva.com
Thanks to the #smi-le community for putting up this initiative. It has been a point of reference as we deliver on our goals both for the community and for Hive at large.
Having set goals for the month, it's time to appraise the journey, using the following questions.

Did You Reach Your Goal?
Some of my set goals were achieved. Some were not probably because I didn't put enough vigor into the task before me. I was caught in some web of activities outside Hive for a day or two. I am glad anyways that some of the goals were achieved and progress made so far.

How Much Hive Power Do You Have?*
As at when this target or goal was set about two weeks ago, I had 30 Hive Power. I set a goal of 50 Hive Power but as of when the publication is written, I have reached 61 Hive Power. So, I think I deserve applause for that 😄.

What Was Your Best Performing Post?
My best performing post for the period is the second task organized by the #smil-le community for newbies is #3speak. It was a huge procedure learning the ropes of video making. I got a whooping $50.97 on that work, thank to the #3speak community, @theycallmedan, @aliento and many other space may not allow me mention.

How Many Friends Did You Make
I made an extra eleven (11) friend during the period under review. This came as a result of my engagement on other post and constructive criticisms where necessary.

What Was The Toughest To Learn
For me, the toughest was getting to sign-up on #3peak. I had to try it several times until I finally signed-up.

Feedback
So far, the whole community is friendly oy that I find it difficult to understand why the work I put so much effort in doing do not get the necessary attention it deserves.
Here, I wish the support given to newbies shouldn't only come from the community owners or whales. If you find a work interesting, you should encourage the writer or poster.
This is a out the only issue that some of the newbies including me would have faced during the period.
Thank you all for the support so far. I hope to give my best, always.
---
---