[ENG-SPA] A tiara for Halloween 🎃//Una diadema para Halloween 🎃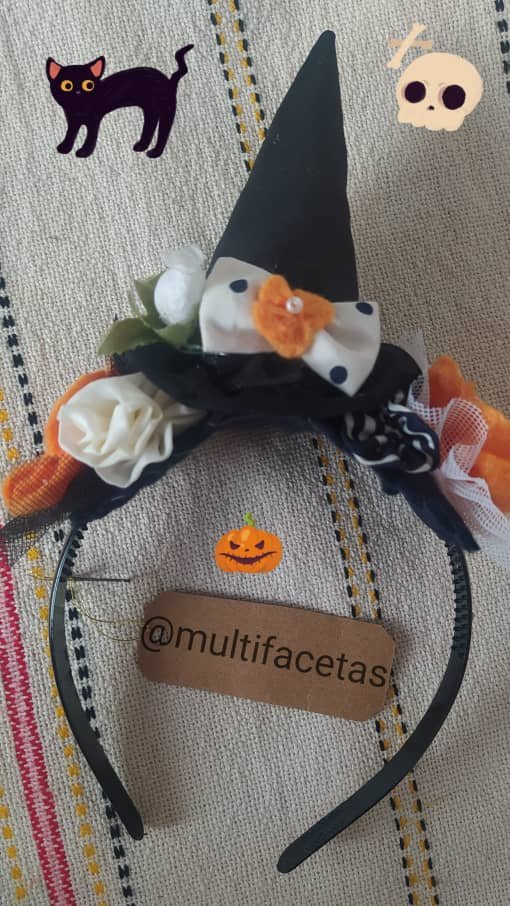 Hello #hive friends.
Greetings to the #NeedleWorkMonday community. Happy Monday and start of the week.
Today I'm featuring a decorated headband for the upcoming holiday Halloween 🎃. I felt it necessary to make this one to complement my allegorical table for that date. It is made with various black fabrics, tulle, orange felt, bows, flowers, lace. Without further ado, let's explain.
Hola amigos de #hive.
Saludos a la comunidad #NeedleWorkMonday. Feliz lunes e inicio de semana.
Hoy estoy presentando una diadema decorada para la festividad que está próxima a celebrarse el día de Halloween 🎃. Me pareció necesaria la confección de esta para complementar mi mesa alegórica para esa fecha. Está realizada con varias telas color negro, tul, fieltro color naranja, lazos, flores, encaje. Sin más preámbulos vamos a explicar.
Step by step//Paso a paso.
Materials//Materiales:
01 Rectangle of black fabric 14x12cms.
05 orange felt circles.
01 headband.
Black and white tulle.
03 flowers.
03 small pearls.
12 cms of silver lace.
Silicone.
Needle and sewing thread.
02 rectangles of black felt 6x12cms.
Stuffing.
01 Rectángulo de tela color negro 14x12cms.
05 círculos en fieltro color naranja.
01 cintillo o diadema.
Tul color blanco y negro.
03 flores.
03 perlas pequeñas.
12 cms de encaje plateado.-
Silicón.
Aguja e hilo de coser.
02 rectángulos de fieltro color negro 6x12cms.
Relleno.

Process//Proceso:
Cut a rectangle of black fabric 14x12 cms.
Fold the fabric and cut a half circle, forming a cone.
Sew the edge of the cone.
Se corta un rectángulo de tela color negro 14x12 cms.
Se dobla la tela y cortamos un semi círculo, formando un cono.
Se cose la orilla de ese cono.


Stitch the mouth of the cone with the needle and thread and gather a little.
Se hacen puntadas en la boca del cono con la aguja e hilo y se frunce un poco.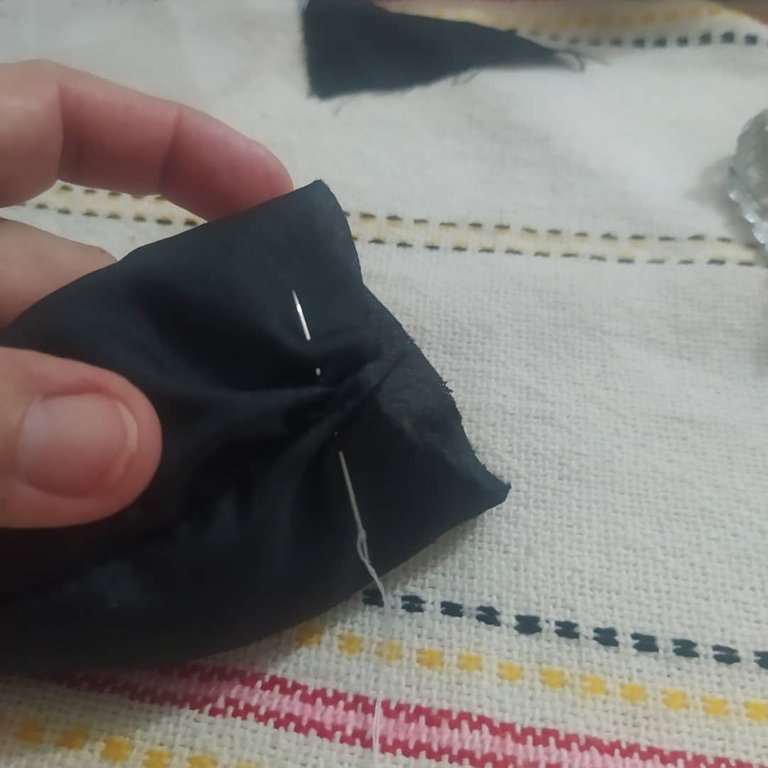 ---
The cone shape is filled until the desired cone shape is obtained.
Se procede a rellenar hasta obtener la figura del cono deseado.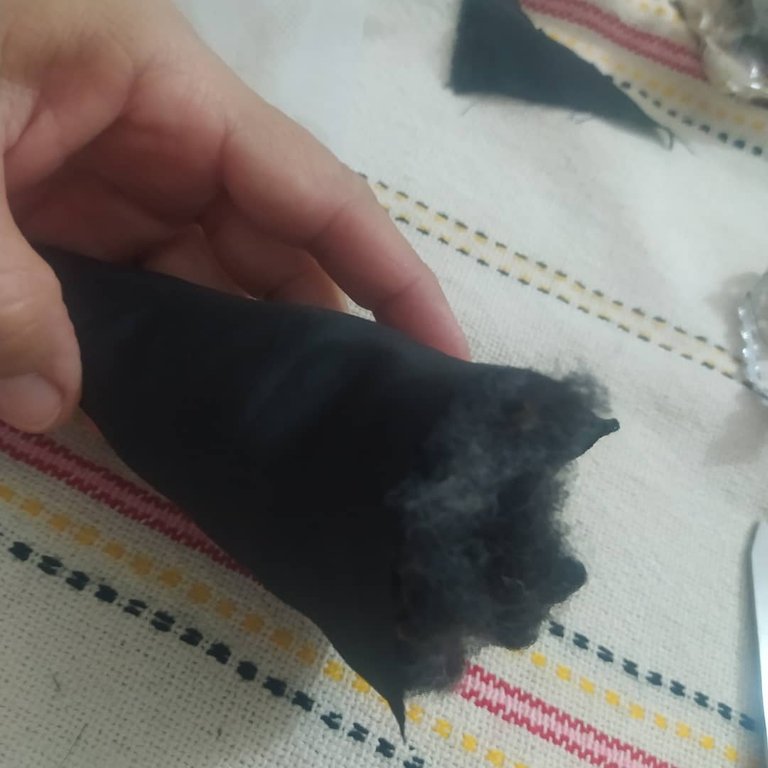 ---
The brim of the hat is made with a rectangle of 6x25cms.
Fold and sew the edge, gather it and you get the hat brim piece.
Make a circle of black felt and glue it with silicone underneath
Se hace el ala del sombrero con un rectángulo de 6x25cms.
Se dobla y se cose la orilla, se frunce y se obtiene la pieza del ala del sombrero.
Se hace un círculo de fieltro color negro y se pega con silicón debajo.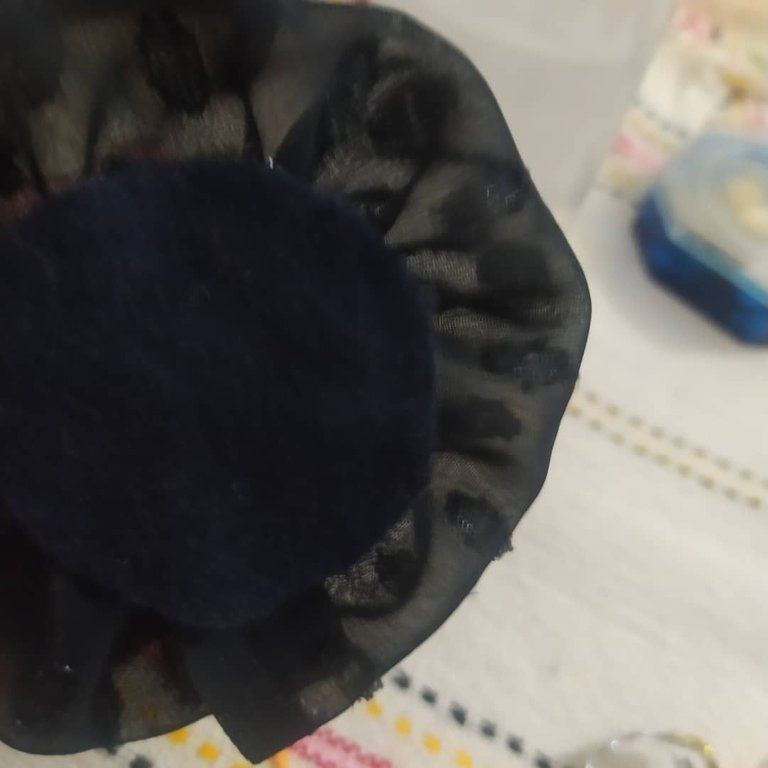 Glue the cone on the brim of the hat with silicone.
Silicone glue the silver lace, as well as the bow and flower.
Se pega con silicón el cono sobre el ala del sombrero.
Se pega con silicón el encaje plateado, además el lazo y flor.

To make 02 orange flowers, using the felt, we cut 05 circles for 02 flowers.
Para hacer 02 flores de color naranja, usando el fieltro, cortamos 05 círculos para 02 flores.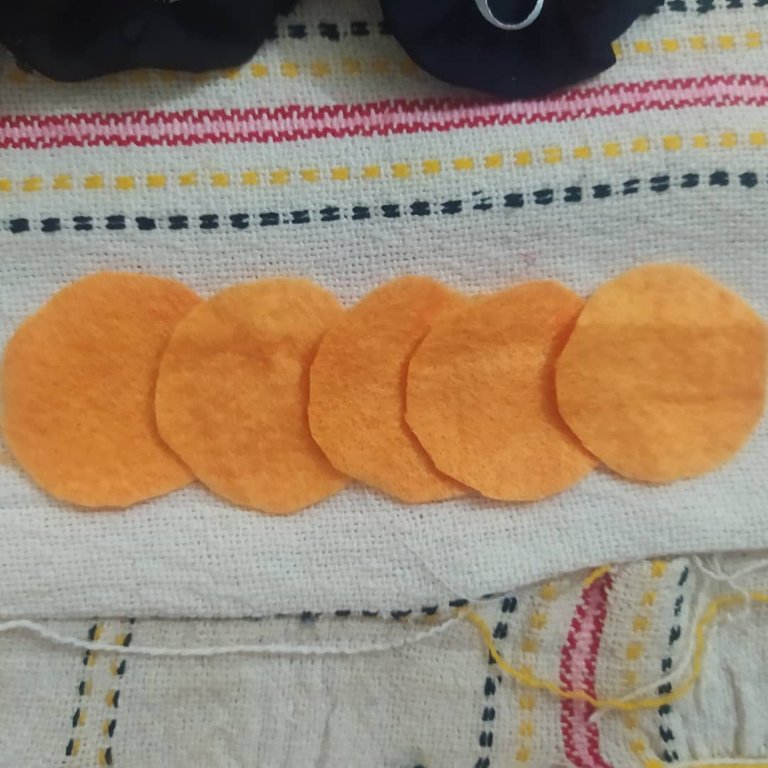 ---
These circles are cut in half.
Estos círculos se cortan a la mitad.

These half circles are sewn one after the other, gathered, adjusted and we form 02 flowers with 5 petals.
Estos semi círculos se cosen unos tras otros, se frunce, se ajusta y formamos 02 flores de 5 pétalos.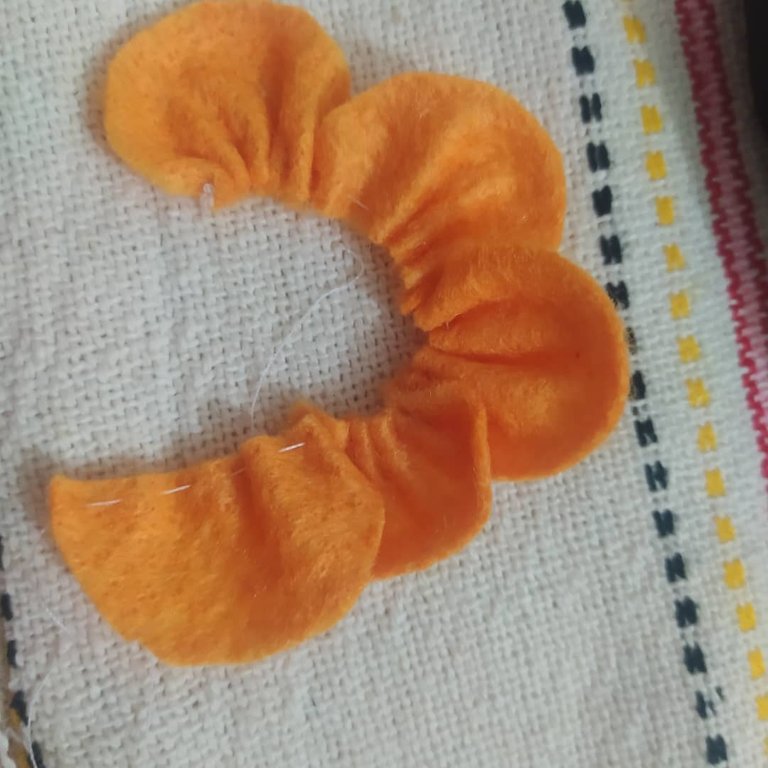 ---
Aseembly//Ensamblado:
We have all the pieces, proceed to assemble on a rectangle 14x06 cms.
Glue the hat, the 02 orange flowers on both sides and 02 small flowers previously made.
Tenemos todas las piezas, procedemos a ensamblar sobre un rectángulo 14x06 cms.
Se pega el sombrero, las 02 flores naranja en ambos lados y 02 pequeñas florecitas hechas anteriormente.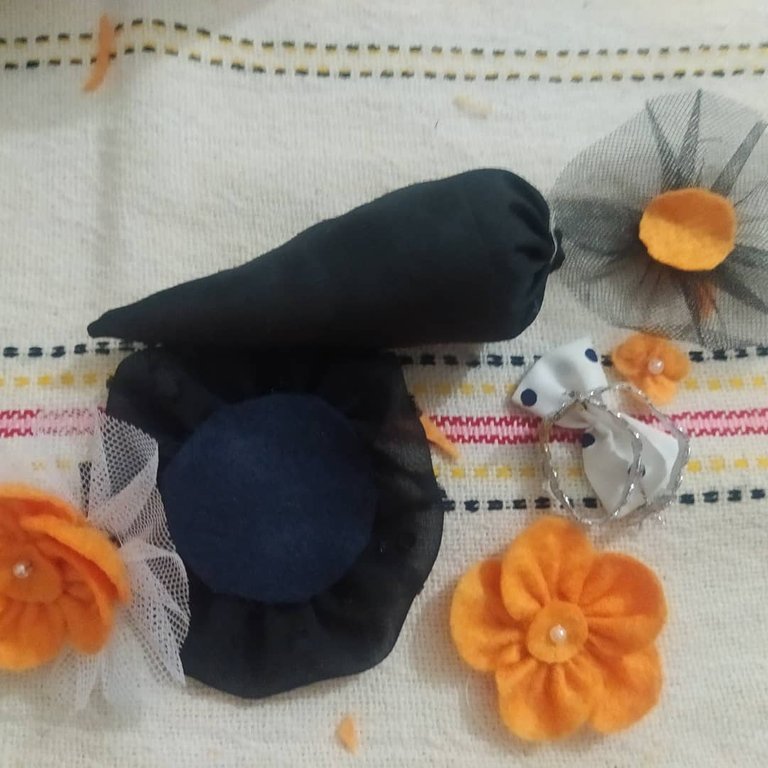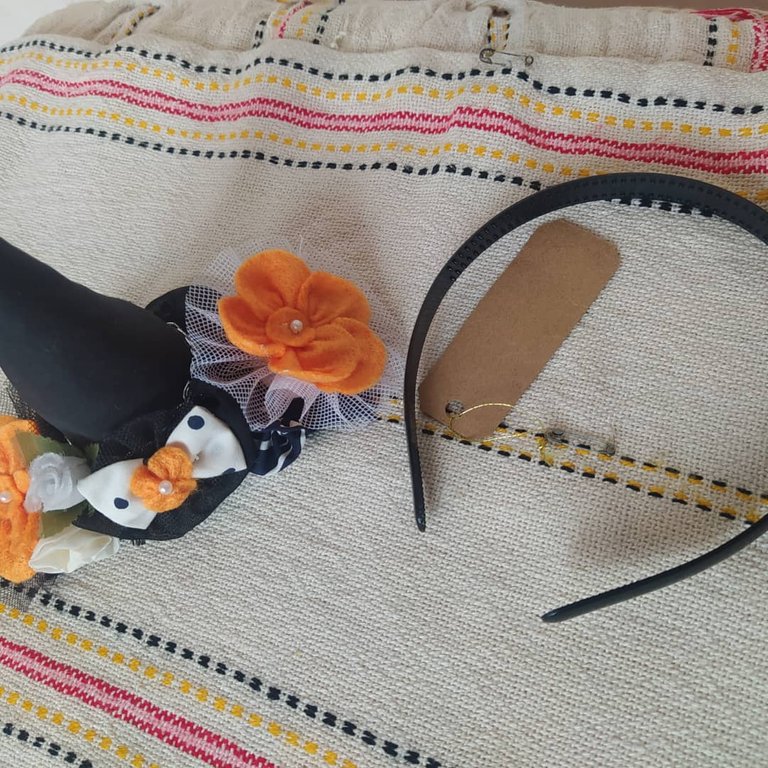 ---
We take the other rectangle of 14x06 cms black color and place it over the other one with pins.
We proceed to sew leaving a small opening to put the headband through it.
Knot and adjust.
Tomamos el otro rectángulo de 14x06 cms color negro y colocamos sobre el otro con alfileres.
Procedemos a coser dejando una pequeña abertura para meter por allí el cintillo.
Anudar y ajustar.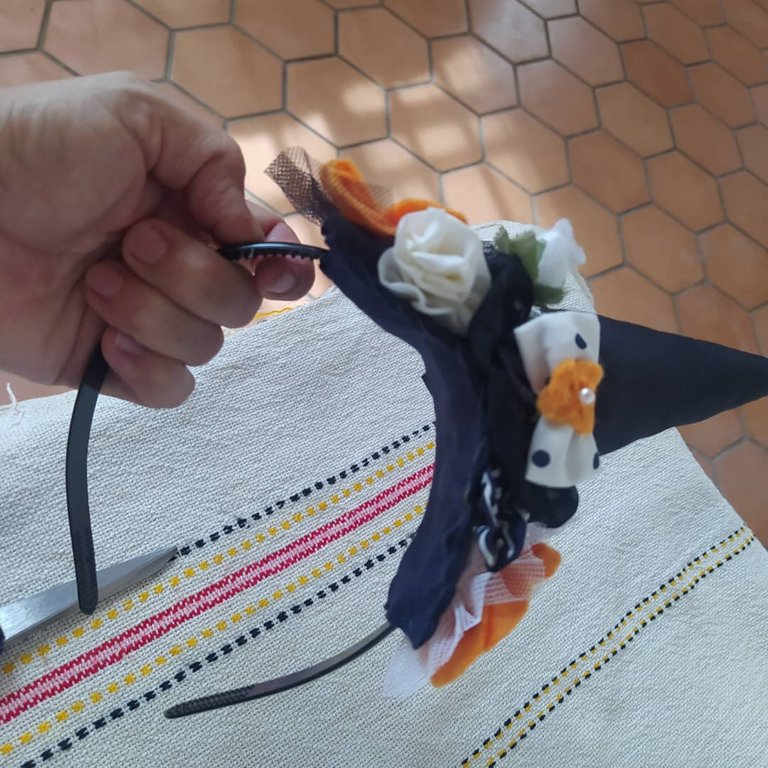 ---
... And the headband to celebrate HALLOWEEN is ready.
I am very pleased with the result, I was surprised that with little material you can get something different. I think it is ideal for girls and teenagers who want to wear this kind of headband that day. You can add more details and with more highlighting colors.
... Y listo la diadema para celebrar HALLOWEEN

Estoy muy conforme con el resultado, quedé sorprendida que con poco material se obtiene algo distinto. Para mi parecer es ideal para niñas y adolescentes que quieran lucir ese día este tipo de diadema. Le pueden agregar más detalles y con colores más resaltantes.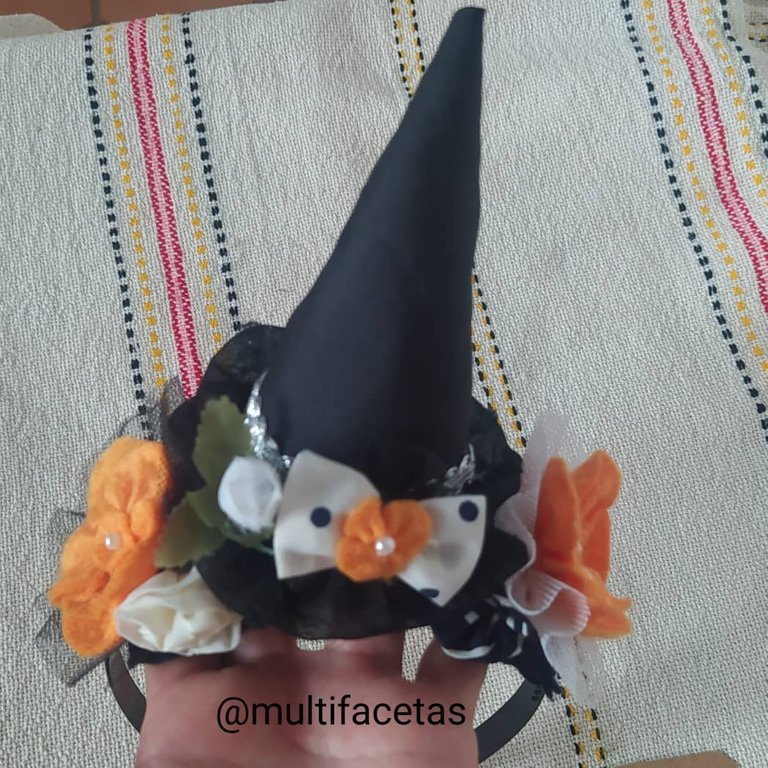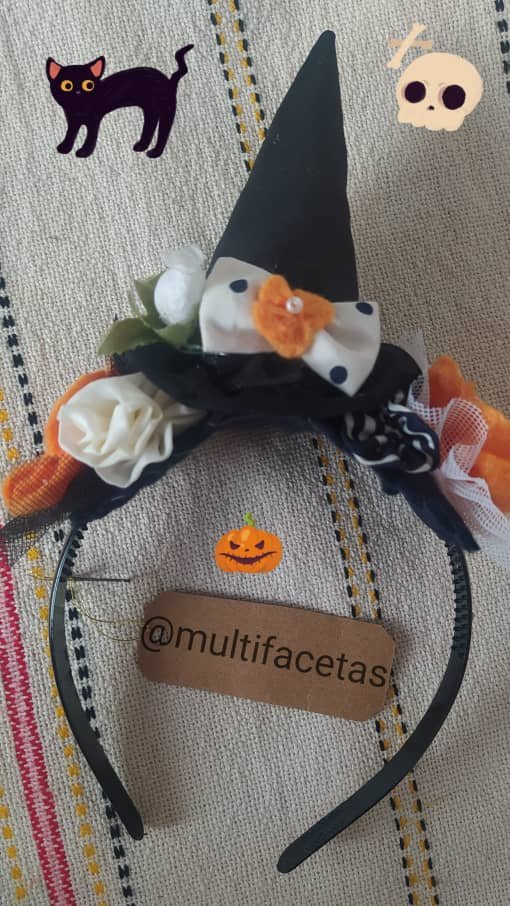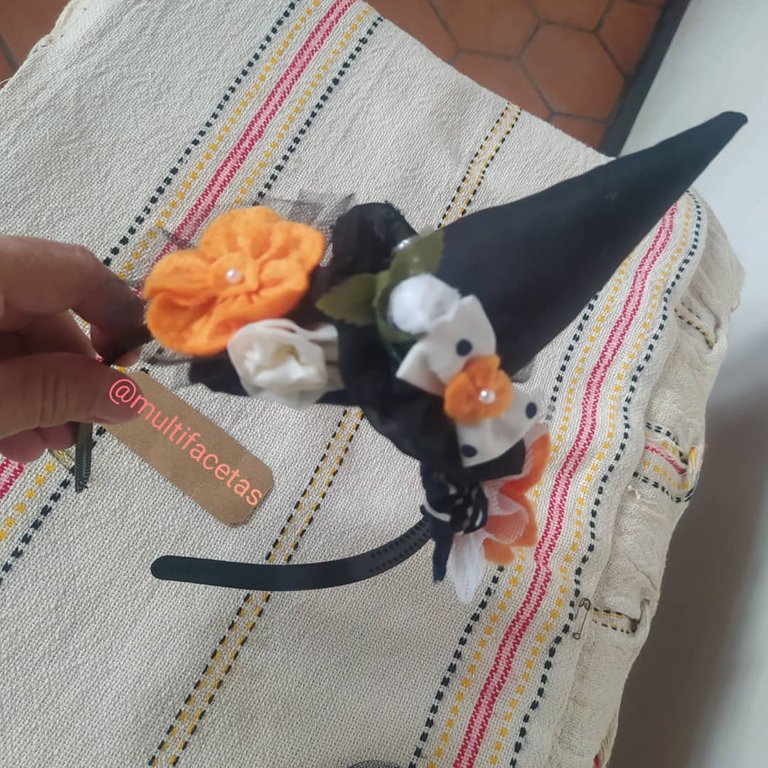 ---
Here is the headband, integrating my second edition of allegorical figures for HALLOWEEN 🎃.
Aquí está la diadema, integrando mi segunda edición de figuras alegóricas para HALLOWEEN 🎃.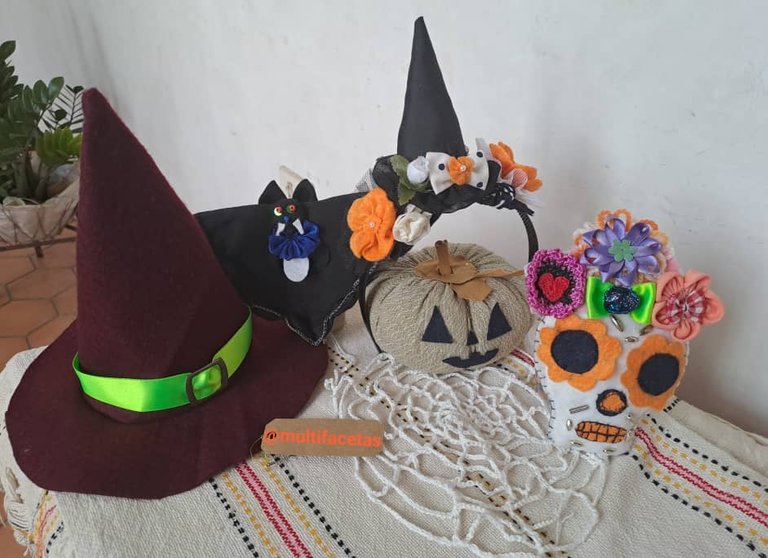 ---
💖💖💖Everything can be achieved with LOVE//
Todo con AMOR se logra💖💖💖
---
So much for my publication. Thank you for reading.❤
Hasta aquí mi publicación. Gracias por leer.❤
---
Texts and photos are my authorship.
Translation with Deepl. Photo taken with Xiaomi Redmi Note 8.
Banner and text separator created with Canva.
Los textos y las fotos son de mi autoría.
Traducción con Deepl. Foto tomada con el Xiaomi Redmi Note 8.
Banner y separador de texto creado con Canva.
---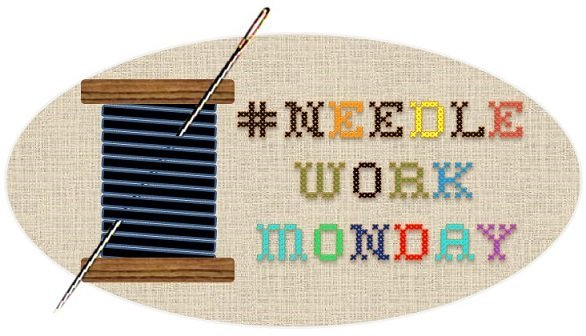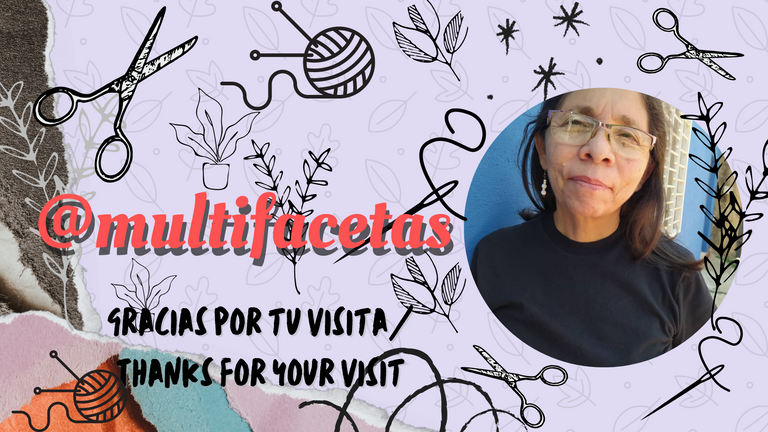 ---
---