[ENG-SPA] Challenge 3 Overcome. Jeans👖 shorts decorated with lace/ Reto 3 Superado. Pantalón corto de jeans👖 decorado con encajes.

---
Life is a run, run, run, when we have responsibility, everything is handled with a little stress. Sometimes when I am tidying up my workplace, time goes by very fast and I have to make lunch, but first I have to water the plants in the garden because I forgot to do it earlier, well I finish lunch, then wash the dishes, rest a little, but in my mind flutters the commitment to finish my Bucket list. I remembered that in the last work on the bag the needle of the sewing machine broke. I have to change the needle, then search through my things for a lace that I will sew into the project I will present.
At the moment of changing the needle, I remembered times past when I was a child, in every home there was an original Singer sewing machine. Some of these ladies were dedicated to sewing as a means of earning money, they took a course and from home they did this work. It was customary for important parties, they would buy the fabric and with figurines or model they would go to the seamstress and she would kindly make the costume.
When I bought my sewing machine, although it was on my shopping list, I did not soak in the information of the characteristics, brands, price, as I always did. I bought it on the spur of the moment, for that reason I chose the wrong equipment, of poor quality, not original Singer, I had difficulties every time with its plastic and antimony parts. I lasted about 04 years without using it because it lost time, the belt was damaged, the coil, and a main part (the quadrant of the lever) I did not get the original, I always made adaptations, the advantage is that together with my husband I disassembled it and reassembled it. Once we decided to check the mechanism on the internet and we managed to repair it. Since then I have been sewing, but little, until I got to #hive and this community and I have proposed to carry out all the back projects, because it is a dream that does not end, to make, to create, is an intense passion that little by little I am consolidating. Today I am finishing a pair of shorts adding some lace and flowers to make it more colorful, fulfilling one of the challenges of my #Bucketlist, although I have more in my waiting list of unfinished.
La vida es un corre, corre, cuando tenemos responsabilidad, todo se maneja con un poco de estrés. A veces cuando estoy ordenando mi sitio de trabajo, se me pasa el tiempo muy rápido y me toca hacer el almuerzo, pero antes tengo que regar las plantas del jardín porque mas temprano lo olvidé, bueno termino de almorzar, luego lavar los platos, descanso un poco, pero en mi mente revolotea el compromiso de terminar mi Bucket list. Recordé que en el último trabajo del bolso se quebró la aguja de la máquina de coser. Tengo que cambiar la aguja, luego buscar entre mis cosas un encaje que coseré en el proyecto que presentaré.

En el momento de hacer el cambio de aguja, recordé tiempos pasados de cuando era niña, en cada hogar existía una máquina de coser marca Singer, original. Algunas de estas damas se dedicaban a la costura como medio de ganar dinero, realizaban un curso y desde su casa hacían esa labor. Se acostumbraba para fiestas importantes, se compraba la tela y con figurines o modelo se iba a la costurera y ella gentilmente confeccionaba el traje.
Cuando compré mi máquina de coser, aunque estaba en mi lista de compra, no me empapé en la información de las características, marcas, precio, como siempre hacía. La compré de forma improvisada, por esa razón elegí mal el equipo, de mala calidad, no es original Singer, he tenido dificultades cada vez con sus piezas plásticas y de antimonio. Duré como 04 años sin usarla porque perdió el tiempo, se le dañó la correa, la bobina, y una pieza principal (el cuadrante de la palanca) no la conseguí original, siempre le hacía adaptaciones, la ventaja es que junto a mi esposo la desarmaba y la volvía armar. Una vez nos decidimos revisar por internet el mecanismo y logramos repararla. Desde allí he estado cosiendo, pero poco, hasta que llegue a #hive y a esta comunidad y me he propuesto a realizar todos los proyectos atrasados, porque es un sueño que no concluye, hacer, crear, es una pasión intensa que poco a poco voy consolidando. Hoy estoy terminando un pantalón corto agregando unos encajes y flores para darle vistosidad, cumpliendo unos de los retos de mi #Bucketlist, aunque tengo mas en mi lista de espera de inconclusos.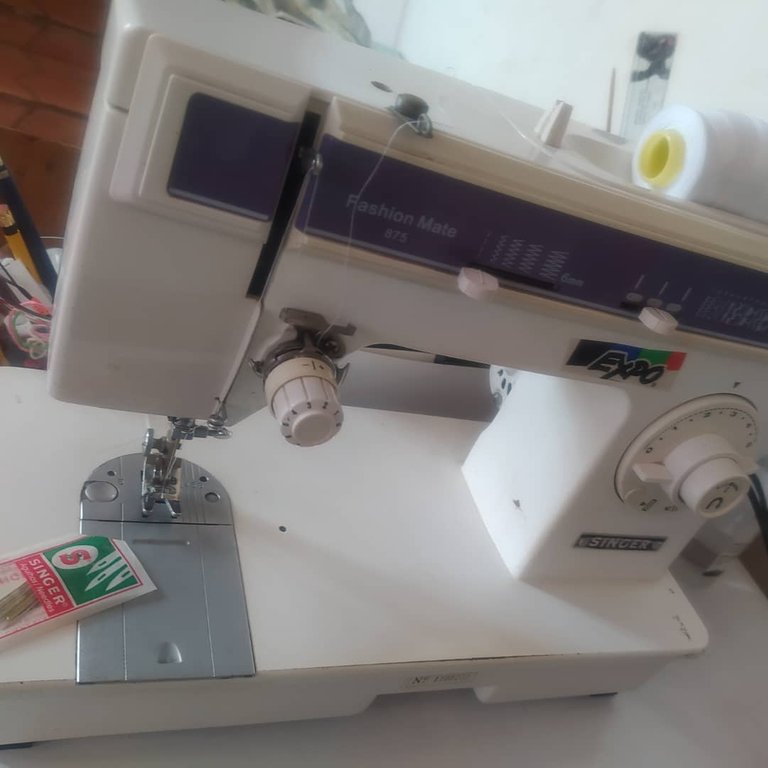 ---
Step by step//Paso a paso
---
Materials//Materiales:
---
A pair of jeans👖 shorts.
1.50 cm emerald green lace.
01 scissors.
Tape measure.
Silicone.
Pins.
Sewing thread.
Sewing needle.
Un pantalón corto de jeans👖.
1,50 cm de encaje color verde esmeralda.
01 tijera.
Cinta métrica.
Silicón.
Alfileres.
Hilo de coser.
Aguja de coser.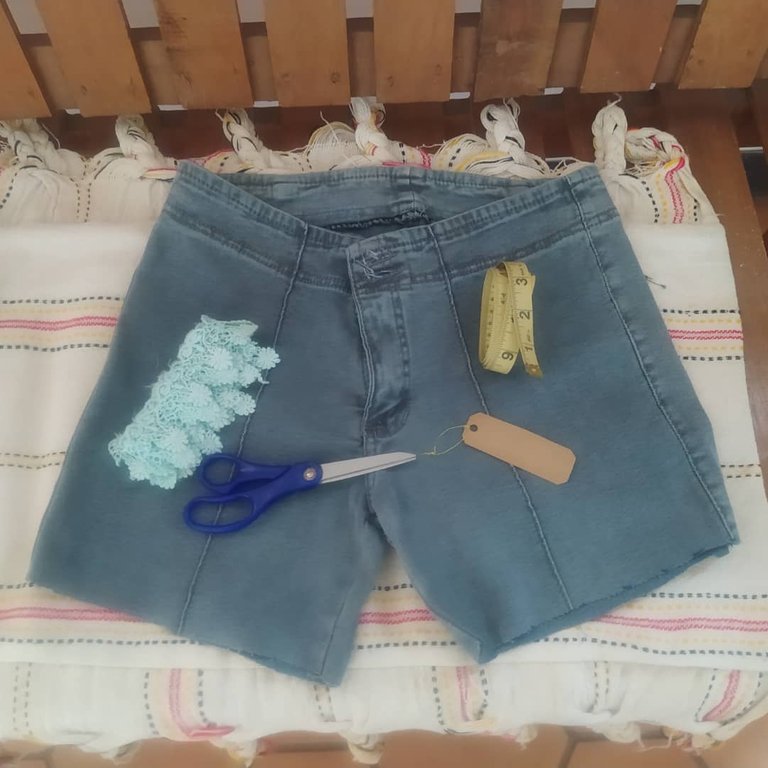 ---
Process//Proceso:
---
I looked for the material.
I activated the sewing machine.
I leveled the cut of the jeans with the scissors.
I sewed the edges or hems with pins.
I measured and cut the lace.
I sewed the lace where I decided to decorate.
I made 02 flowers to decorate.
Busqué el material.
Activé la máquina de coser.
Nivelé con la tijera el corte del jeans.
Cosí las orillas o ruedos sujeta con alfileres.
Medí y corte el encaje.
Cosí el encaje donde decidí decorar.
Hice 02 flores para adornar.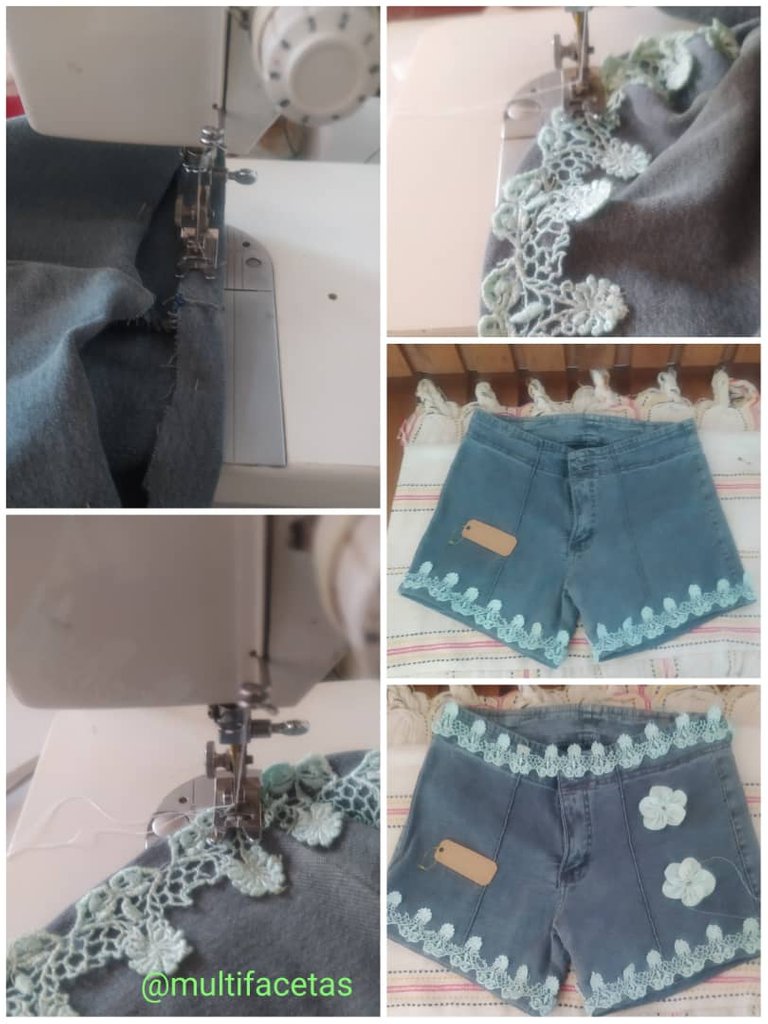 ---
... And ready the shorts decorated with lace.
This type of decoration really enhances this shorts. This is ideal for a young person, this will be for my daughter, who will soon come in the carnival days, as she is concentrating on her studies. And I know she will love this surprise, in addition to other gifts.
… Y listo el pantalón corto decorado con encajes.

Este tipo de decoración hace realzar mucho este pantalón corto. Este es ideal para una persona joven, esta será para mi hija, que pronto vendrá en los días de carnaval, ya que está concentrada en sus estudios. Y sé que le encantará esta sorpresa, además de otros regalos.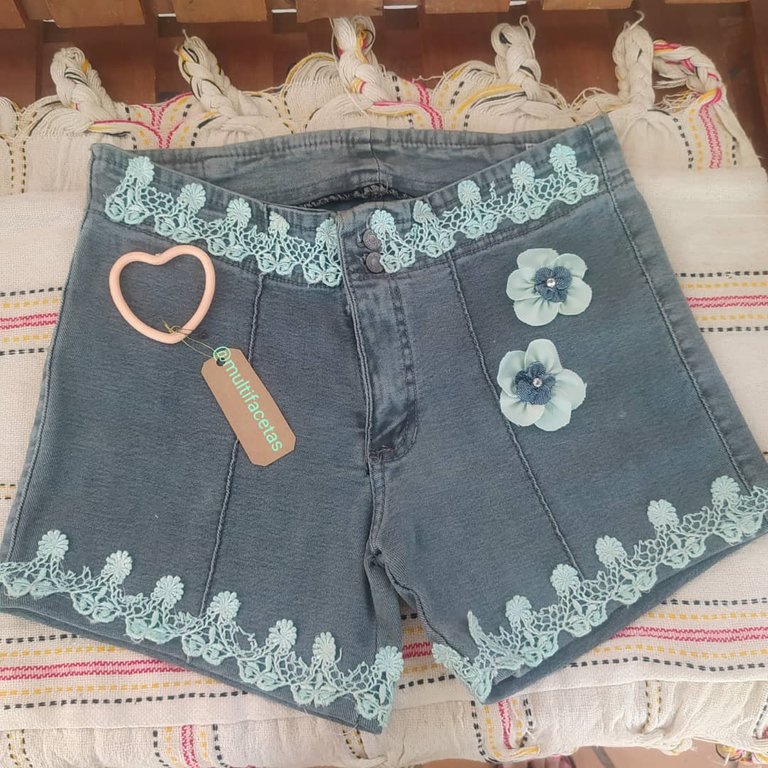 ---
This publication is aimed to motivate, to personalize our clothes, that with several details that sometimes we have in our art room, we can enhance and make it unique. We can have exclusive pieces and walk around looking pleasantly.
Esta publicación está dirigido a motivar, a personalizar nuestra ropa, que con varios detalles que a veces tenemos en nuestro cuarto de arte, podemos realzar y hacerla única. Podemos tener piezas exclusivas y andar luciendo placenteramente.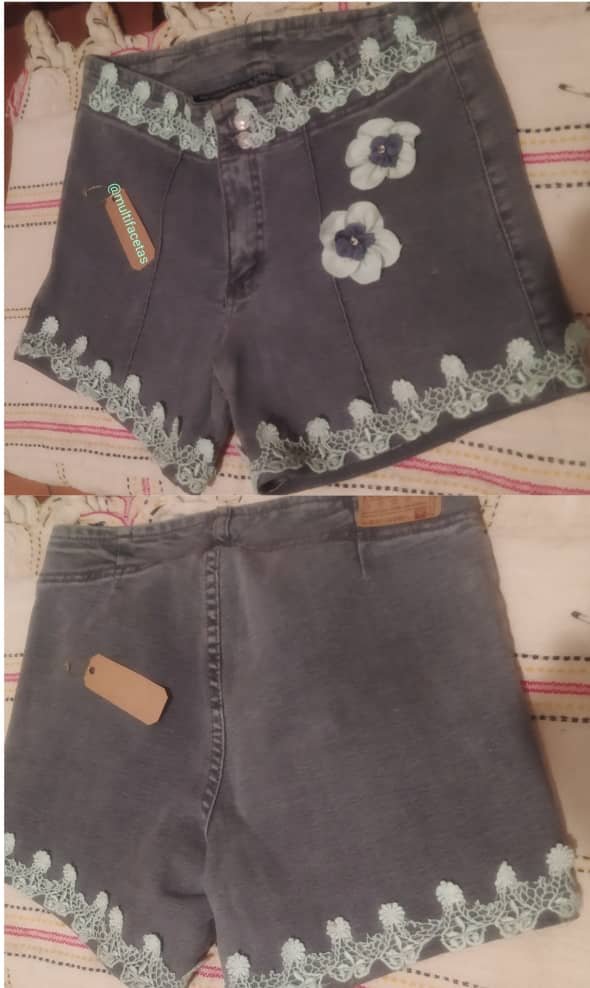 ---
Doing this project brought me memories and also satisfaction in the culmination of another challenge, although my internet woke up more expensive and just as bad, and hyperinflation wreaking havoc in our daily economy. However, I am optimistic that this will be for a not too long time, I hope so.
Well, my friends I wish you a happy weekend. Also, I look forward to your comments on this
Hacer este proyecto me trajo recuerdo y además de satisfacción en la culminación de otro reto, aunque mi internet amaneció mas caro e igual de malo, y la hiperinflación haciendo estragos en nuestra economía diaria. Sin embargo, soy optimista en que esto será por un tiempo no muy largo, así espero.

Bueno, mis amigos les deseo un feliz fin de semana. Además, espero sus comentarios al respecto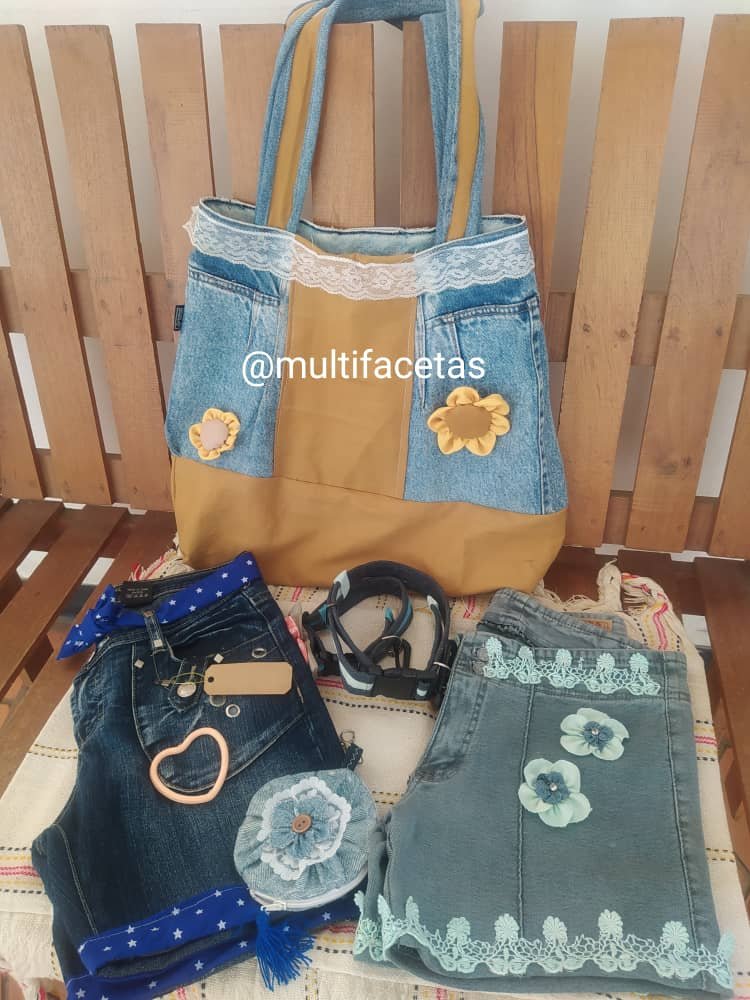 ---
💖💖💖 Everything with LOVE is achieved 💖💖💖
💖💖💖 Todo con AMOR se logra 💖💖💖
---
So much for my publication. Thank you for reading.❤
Hasta aquí mi publicación. Gracias por leer.❤
---
Texts and photos are my authorship.
Translation with Deepl. Photo taken with Xiaomi Redmi Note 8.
Banner and text separator created with Canva.
Los textos y las fotos son de mi autoría.
Traducción con Deepl. Foto tomada con el Xiaomi Redmi Note 8.
Banner y separador de texto creado con Canva.
---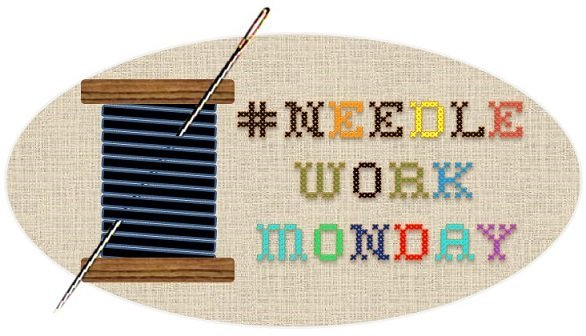 ---
---