[ENG-SPA] Challenge overcome: Coin purse-holder of useful material 👖// Reto superado: Monedero-Tarjetero de material de provecho👖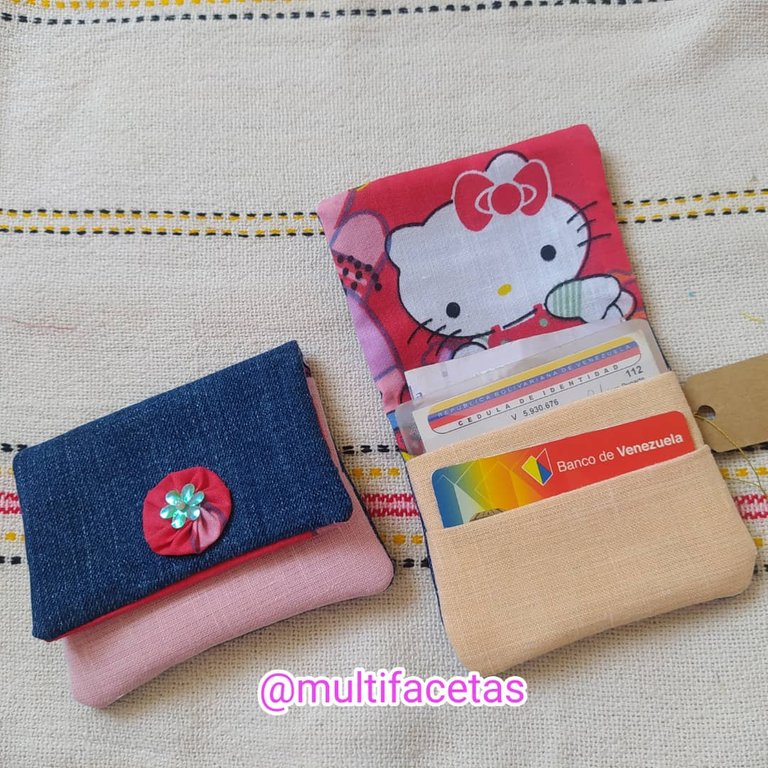 ---
Welcome to my blog//Bienvenidos a mi blog
    The harder I work, the luckier I get
                     - Gary Player


    Cuanto más duramente trabajo, más suerte tengo
                     - Gary Player

---
I've been doing the project to culminate another
#BucketList
challenge from list 2, I'm in a bit of a rush, as there are only a few days left to finish. Since Saturday night, after doing my household activities. I looked for the material, made measurements and cut the fabric. When I went to sew, I made two mistakes, and unpicked the pieces, even though I had made this card holder before, I couldn't figure out how to sew the right and left sides of the fabrics. I gave up around 1:00 am in the morning and went to sleep. The next day after having coffee I went to the sewing machine and started squaring the rectangles one by one to sew, incredible in no time, I managed to finish the design. For that reason I made two card holders to combine. Even though my daughter is a college student, she is still attracted to the Hello Kitty motif, so it will be on the inside of the case. While I was writing the publication, I got a notification, I checked and found out that I had finished the challenge, I thought that there were still five days left, so I had to change some references and labels. I am very pleased that I have been chosen in the healing of the week, that encourages me to follow the path of crafts, it has been very fruitful for me, as a hobby and I have acquired more fluency in sewing and I have acquired more skills in knitting. Without further details I give a brief explanation.
Estuve haciendo el proyecto para culminar otro reto de #BucketList de la lista 2, estoy un poco apresurada, ya que quedan pocos dias para terminar. Desde el sábado por la noche, después de hacer mis actividades del hogar. Busqué el material, hice medidas y corté la tela. Cuando fui a coser, me equivoqué en dos oportunidades, y descosí las piezas, aunque habia realizado este tarjetero antes, no conseguía como coser los derechos y revés de las telas. Decliné como la 1:00 am de la mañana y me fuí a dormir.
Al otro dia después de tomar café fui a la máquina de coser y comencé a cuadrar los rectángulos uno a uno para coser, increíble en un dos por tres, logré terminar el diseño. Por esa razón hice dos tarjeteros para combinar. Mi hija aunque es universitaria le atrae aun los motivo de Hello Kitty, entonces estará en el interior del estuche. Realizando la redacción de la publicación llegó una notificación, revisé y me enteré de que habia culminado el reto, pensé que aún quedaban cinco dias, entonces tuve que cambiar algunas referencias, y etiquetas del mismo. Me complace mucho que me hayan escogido en la curación de la semana, eso me anima a seguir el camino de las manualidades, ha sido muy fructifero para mi, como pasatiempo y he adquirido mas soltura en la costura y mas destrezas en el tejido. Sin más detalle doy una breve explicación.
---
Step by step//Paso a paso
---
Materials//Materiales:
---
Denim fabric scraps.
Hello Kitty printed fabric scraps.
Orange and pink fabric scraps.
Scissors.
Silicone.
Sewing needle.
Sewing thread.
01 ruler and pencil.
02 ornaments for the center of the little flowers.
Retazos de tela jeans.
Retazos de tela estampada de Hello Kitty.
Retazos de tela color naranja y rosada.
Tijera.
Silicón.
Aguja de coser.
Hilo de coser.
01 regla y lápiz.
02 adornos para centro de las florecitas.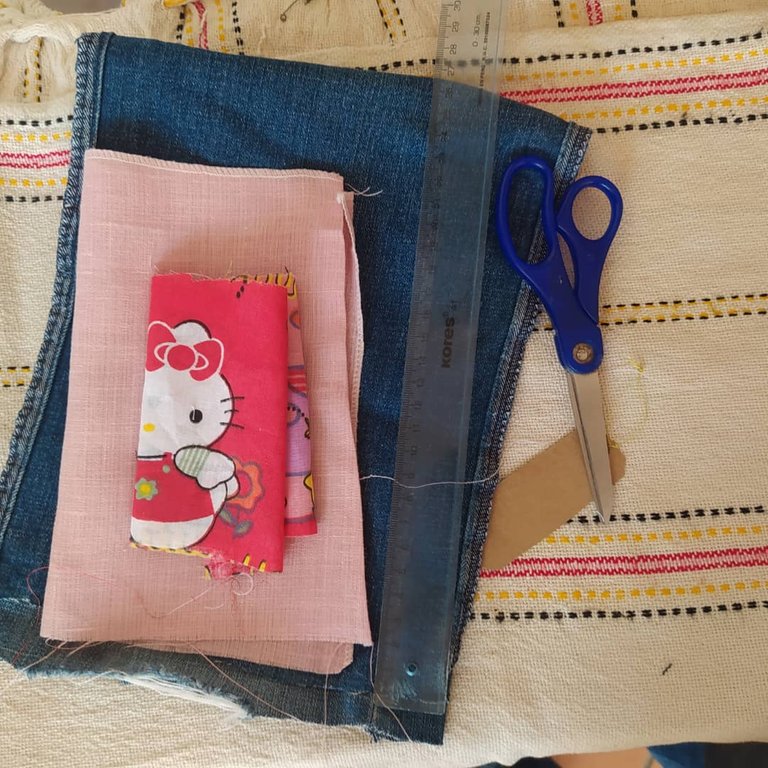 ---
Process//Proceso:
---
A: 01 rectangle of jeans fabric 12x18 cm.
B: Figure B is composed of two rectangles folded and sewn one on top of the other on the sides and bottom. 16x12 cm and 10x12 cm (pink and orange).
C: 01 rectangle of Hello Kitty printed fabric 12x18 cm. The bottom edge is sewn.
A: 01 rectángulo de tela de jeans 12x18 cm.

B: La figura B se compone por dos rectángulos doblados, y cosidos uno sobre otro por los laterales y la parte inferior. 16x12 cm y 10x12 cm (rosado y naranja).

C: 01 rectángulo de tela estampada Hello Kitty 12x18 cm. Se cose la orilla inferior.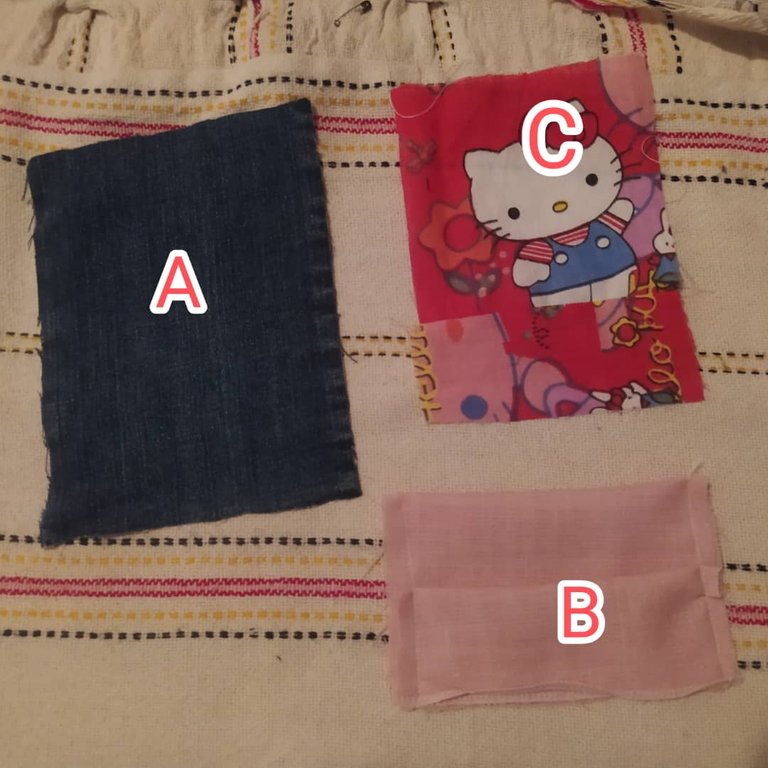 ---
On piece A on the right side, piece B is sewn on the back, sides and bottom.
Sobre la pieza A al derecho, se cose la pieza B por el revés los laterales y el fondo.
---
Then sew C on the reverse side over A and B, the sides and top.
Two pieces of cardboard or plastic are inserted through the opening. Top 10x9 cm and bottom 6.5x9 cm to give it body. You can also use wadding to give hardness to the fabric, but I didn't have any at the time of making it.
Luego se cose C por el revés sobre A y B, los laterales y parte superior.
Por la abertura se introduce dos cartones o plástico. Parte superior 10x9 cm e inferior 6,5x9 cm para darle cuerpo. Tambien puede usarse guata para darle dureza a la tela, yo no tenía al momento de hacerlo.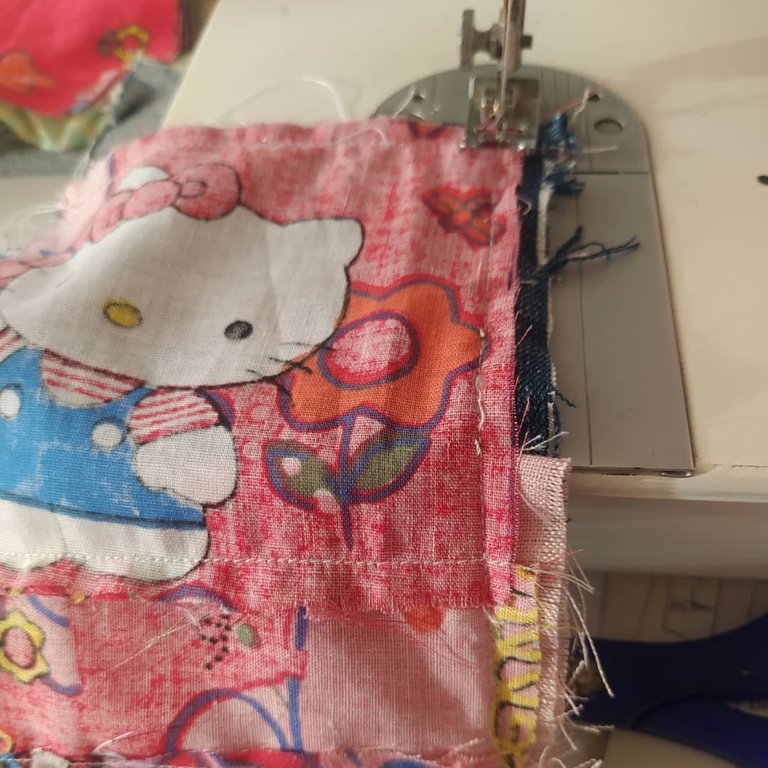 ---
The piece is then turned over through the opening, leaving the desired wallet.
Después por la abertura se voltea la pieza, quedando la cartera deseada.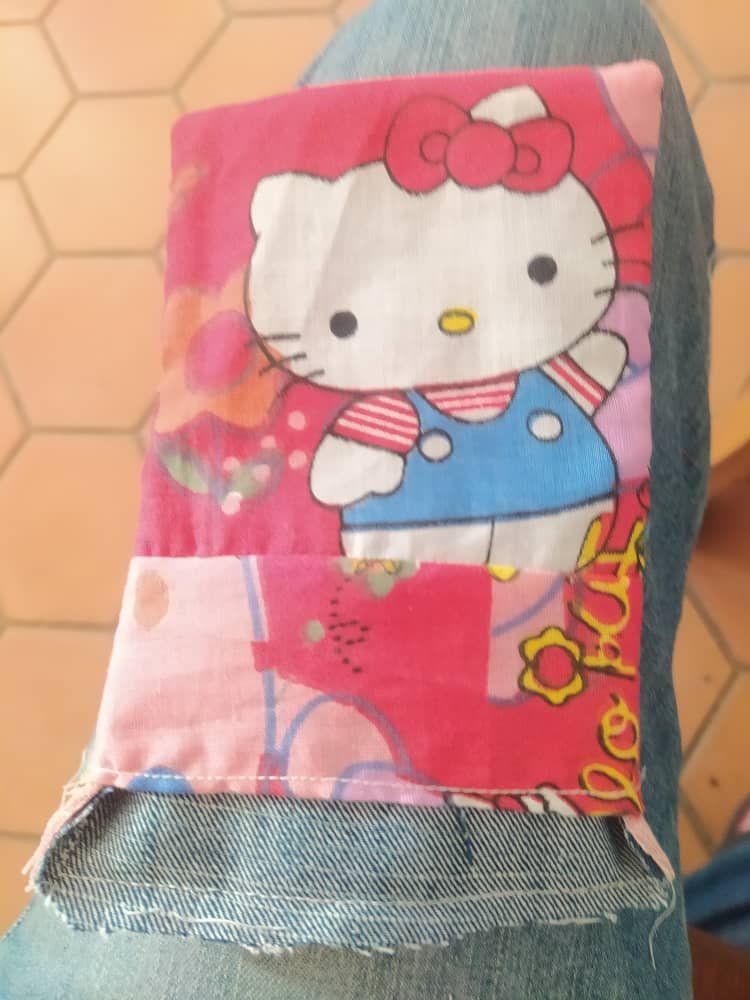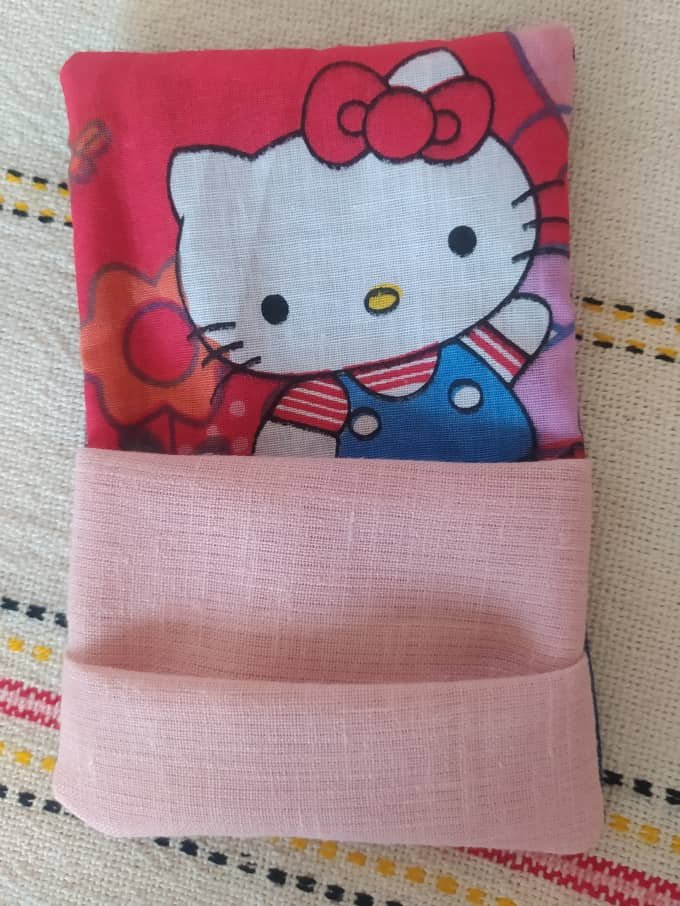 ---
Assembly//Ensamblado:
---
Two little flowers are made with the help of a cap, two circles are made on the fabric.
Sew the edges towards the center and gather them to form a flower shape.
With silicone glue it to each wallet in the front part with a detail in the center.
Se hacen dos florecitas con la ayuda de una tapa se hacen dos círculos sobre la tela.
Se cosen las orillas hacia el centro, se frunce quedando una figura de flor.
Con silicón se pega a cada cartera en la parte frontal con un detalle en el centro.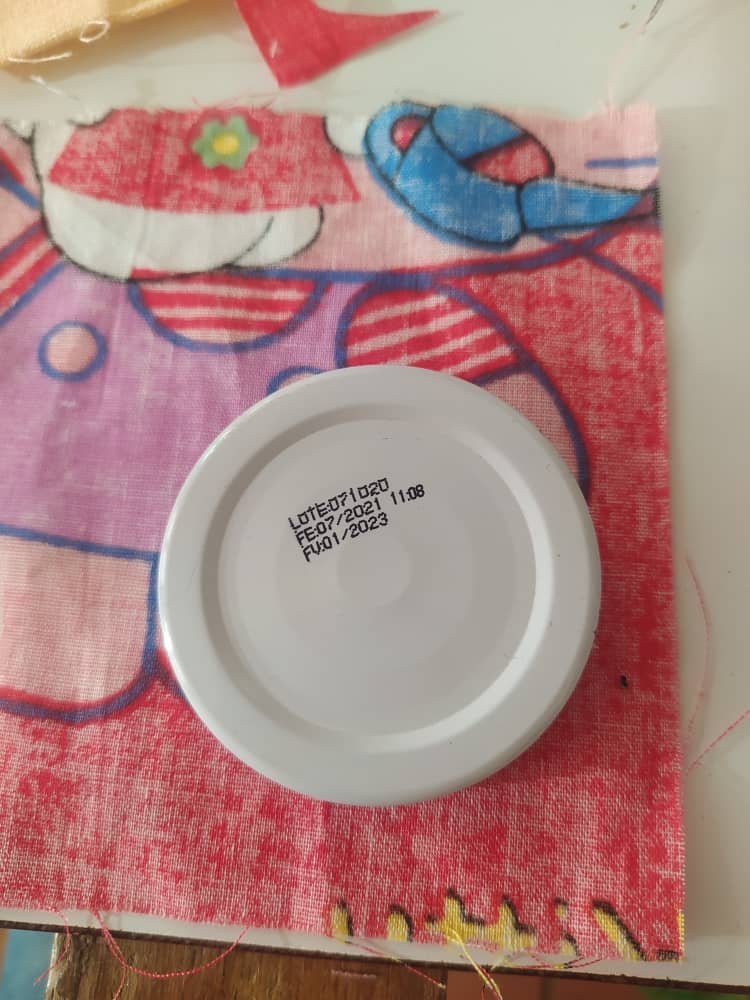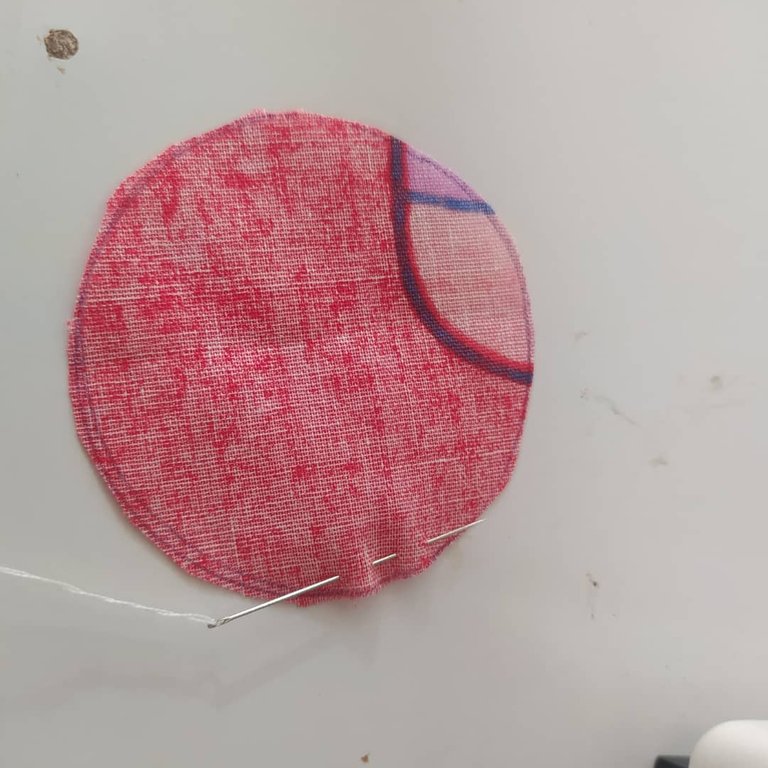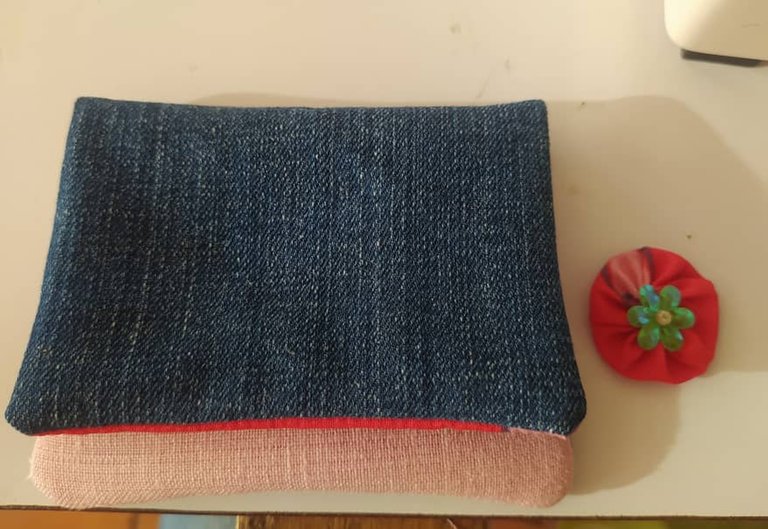 ---
The process is repeated for the orange card holder.
Se repite el proceso para el tarjetero color naranja.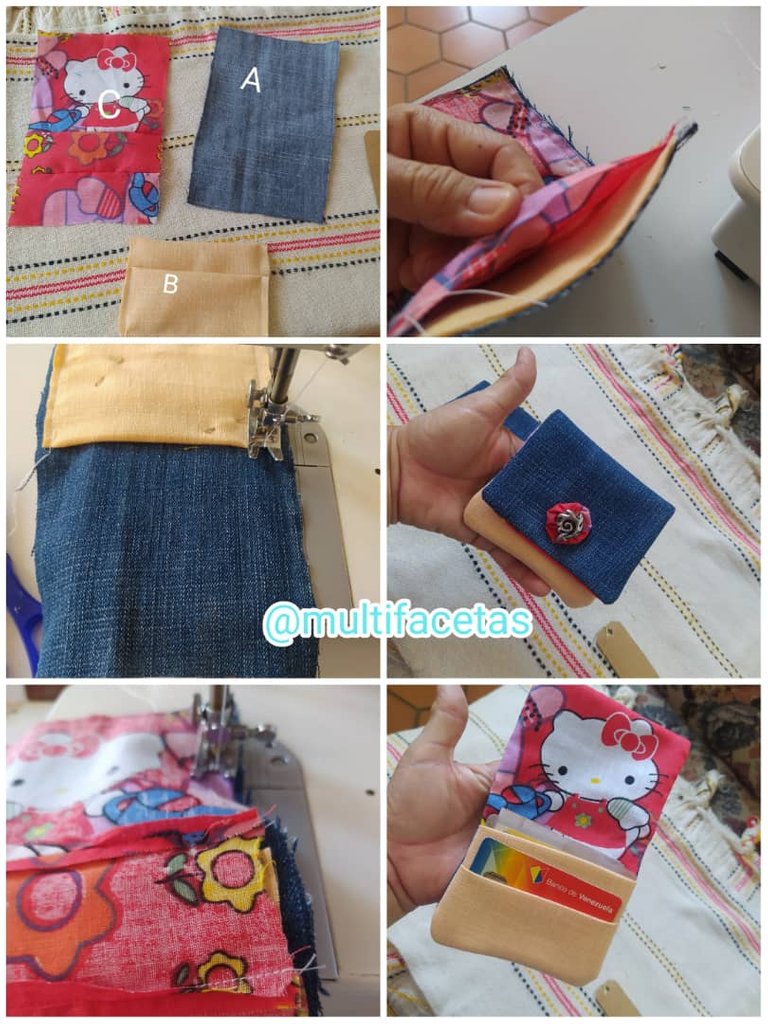 ---
... And ready, two card holders for my daughter with Hello Kitty motif on the inside.
I was impressed with the result, once I bought a card holder in a store, after a few days it began to deteriorate, to peel off. From there I decided to make some fabric ones and empirically I did it in several models. The advantage is that they can be washed, while I use one, I wash the other. My daughter liked the design and asked me for one to carry some tickets to pay for transportation, plus her electronic card and identity card. And I was delighted to make it for her.
... Y listo Dos monedero-tarjetero para mi hija con motivo de Hello Kitty en el interior.

Quedé impresionada con el resultado, una vez compré un monedero-tarjetero en un establecimiento, a los días empezó a deteriorarse, a desconcharse. Desde alli tomé la decisión de hacer unos de tela y de forma empírica lo hice en varios modelos. La ventaja es de que se puede lavar, mientras uso uno, el otro lo lavo. Mi hija le gustó el diseño y me pidió uno para llevar unos billetes para pagar el transporte, además su tarjeta electrónica y la cédula de identidad. Y yo encantada en hacérsela.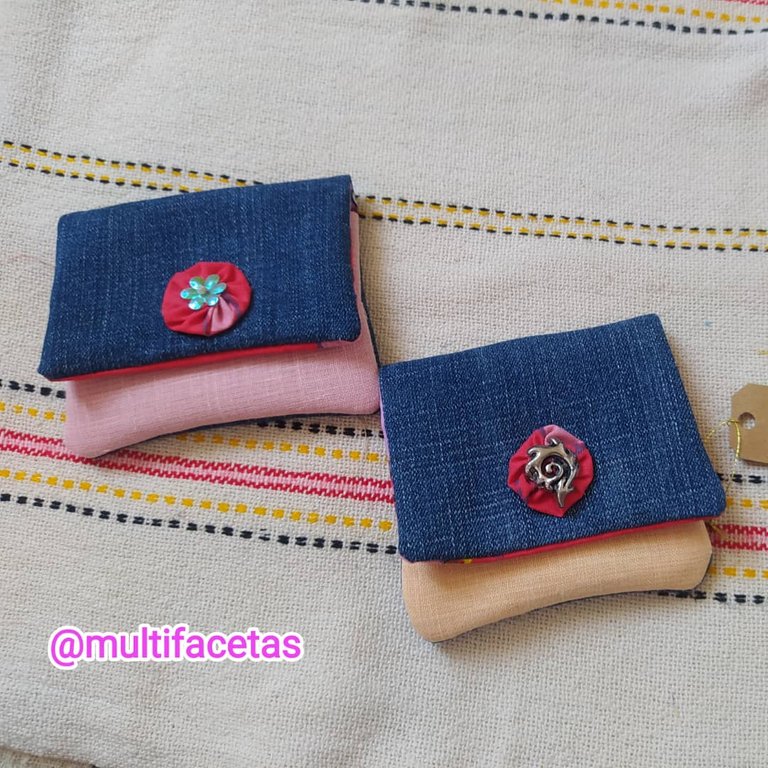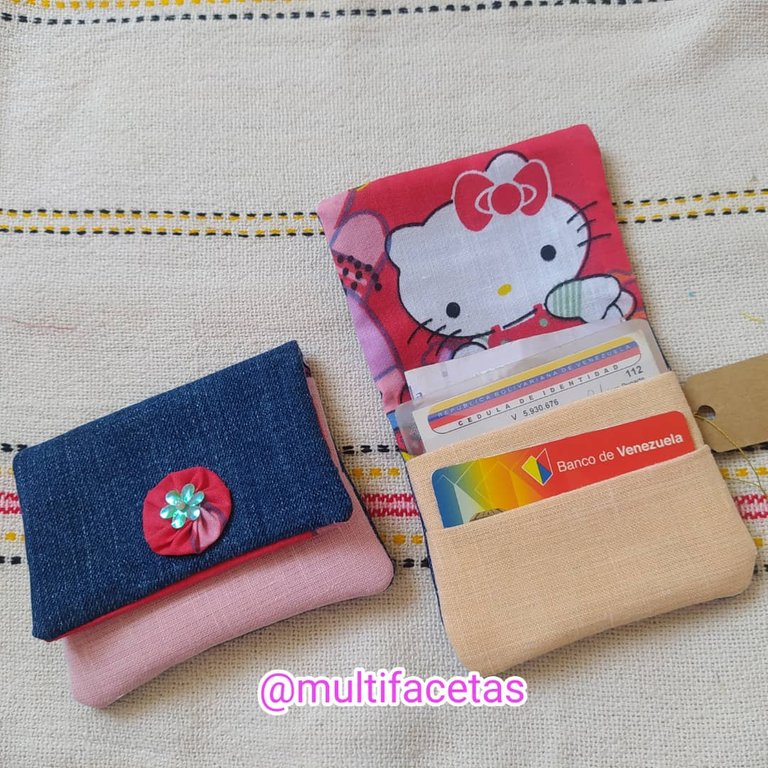 ---
Thanks to the #NeedleWorkMonday community for encouraging us to keep doing the #Bucketlist challenge even though it's over. I found out in the middle of the post. For now I will follow the path of finishing other delayed WIPs. Very pleased with this initiative and grateful.
Gracias a la comunidad #NeedleWorkMonday en alentarnos a seguir cumpliendo el reto #Bucketlist aunque haya terminado. Me enteré en pleno desarrollo del post. Por lo pronto seguiré el camino de terminar otros WIPs retrasados. Muy Complacida con esta iniciativa y agradecida.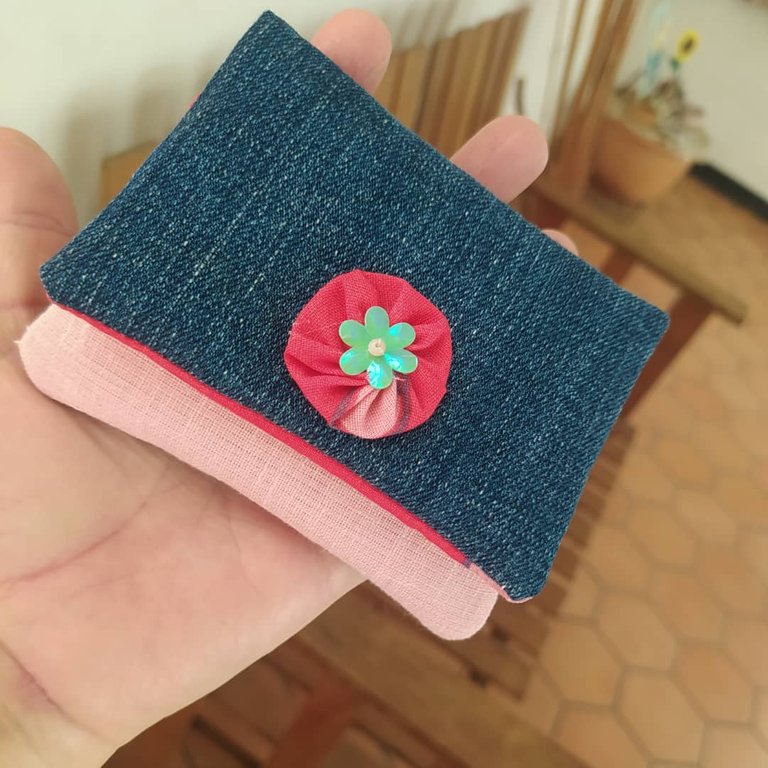 ---
Well my needlecrafter friends, have a nice day!
Bueno mis amigos artesanos de las agujas, que pasen ¡un lindo día!
---
💖💖💖Everything with LOVE is achieved💖💖💖
💖💖💖Todo con AMOR se logra 💖💖💖
---
So much for my publication. Thank you for reading.❤
Hasta aquí mi publicación. Gracias por leer.❤
---
Texts and photos are my authorship.
Translation with Deepl. Photo taken with Xiaomi Redmi Note 8.
Banner and text separator created with Canva.
Los textos y las fotos son de mi autoría.
Traducción con Deepl. Foto tomada con el Xiaomi Redmi Note 8.
Banner y separador de texto creado con Canva.
---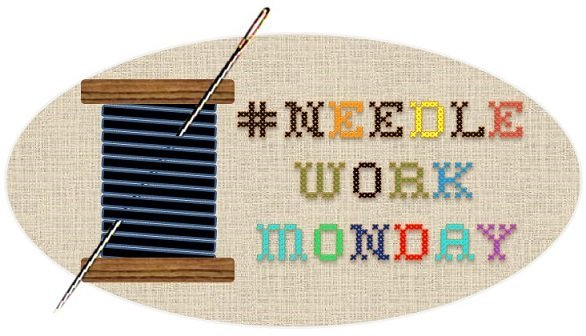 ---
---