[ENG-SPA] Christmas Cushion🎄⛄with scrap materials // Cojín Navideño🎄⛄con material de provecho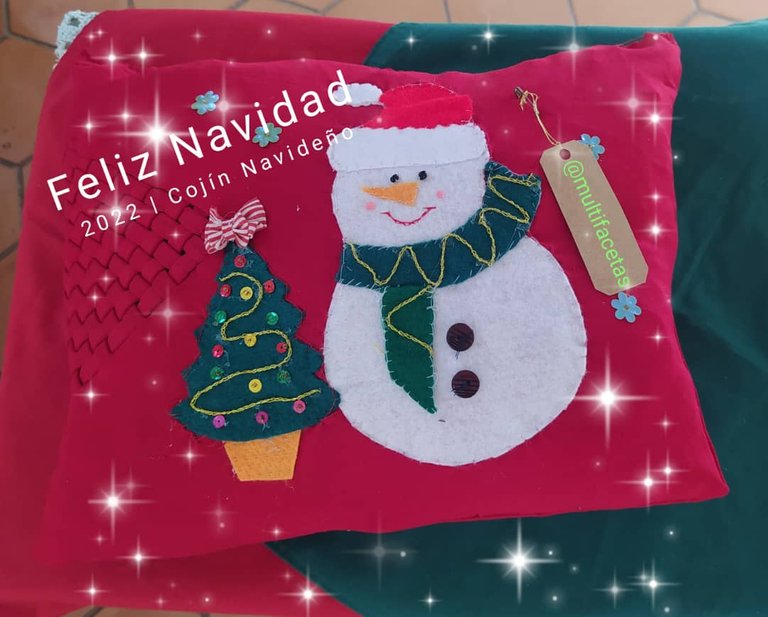 Hello #hive friends.
Greetings to those in the #NeedleWork community. Happy Holidays.
I continue with the Christmas spirit and together with the recycling I have made this nice project of a cushion with a Christmas motif. This was a red sweater that I didn't want to use because it was made of polyester, I didn't want to throw it away, but I told myself that it would be ideal to transform it into a piece with an image alluding to the Christmas holiday. I took advantage of a fabric that had the sweater, I also added several Christmas motifs made in felt (a snowman and a tree) using the colors green, white and red, also using sequins. Without further ado, let's go to the brief explanation.
Hola amigos de #hive.
Saludos a la comunidad #NeedleWork. Feliz día.

Continúo con el ánimo navideño y aunado al reciclaje he realizado este lindo proyecto de un cojín con motivos de navidad. Este era un suéter color rojo que no quise usar por ser de poliéster, no quise tirar a la basura, sino que me dije que sería ideal transformar en una pieza con una imagen alusiva a la festividad decembrina. Aproveché un tejido que tenía el suéter, además agregué varios motivos navideños hechos en fieltro(Un hombre de nieve y un árbol) empleando los colores verde, blanco y rojo, también utilizando lentejuelas. Sin más preámbulos vamos a la breve explicación.
Step by step//Paso a paso
Materials//Materiales:
A red sweater.
Felts in white, red, green, orange.
Needle and sewing thread.
Stuffing.
02 black beads (eyes).
Silicone.
Sequins.
Golden thread.
Scissors and tape measure.
02 buttons and a ribbon.
Christmas motifs (a snowman⛄, a Christmas tree🌲).
Un suéter rojo.
Fieltros color blanco, rojo, verde, naranja.
Aguja e hilo de coser.
Relleno.
02 mostacillas color negro (ojos).
Silicón.
Lentejuelas.
Hilo dorado.
Tijera y cinta métrica.
02 botones y un lazo.
Motivos navideños (un hombre de nieve⛄, un árbol🌲 de navidad)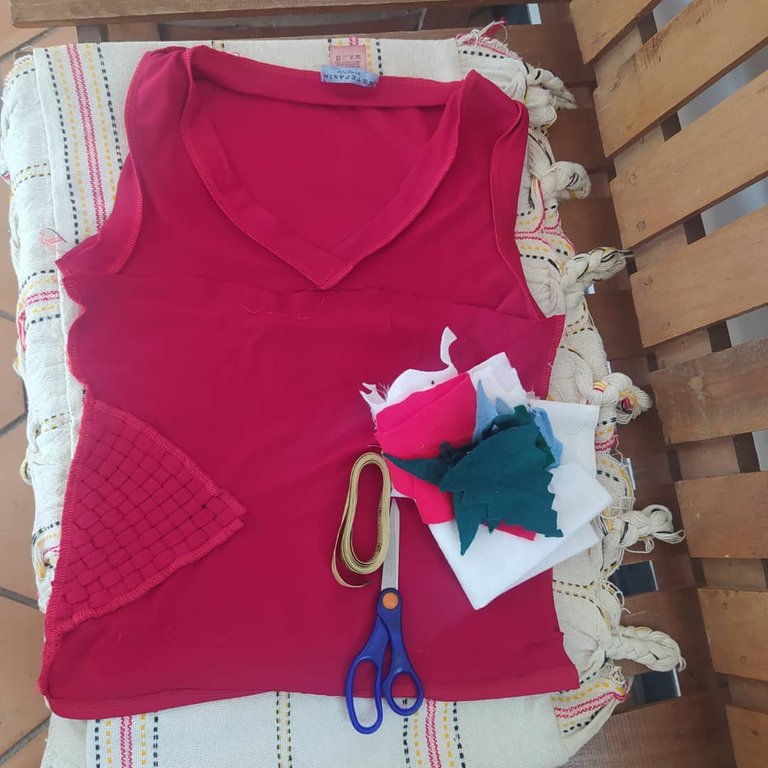 ---
Process//Proceso:
With the help of the scissors I cut the fabric in a way to get the most out of it. Size: 31x37cms.
Sew the lower part.
Sew the upper part leaving a small opening for filling.
Con la ayuda de la tijera corté la tela de una forma de sacarle el mayor provecho. Medida: 31x37cms.
Se cose la parte inferior.
Se cose la parte superior dejando una pequeña abertura para rellenar.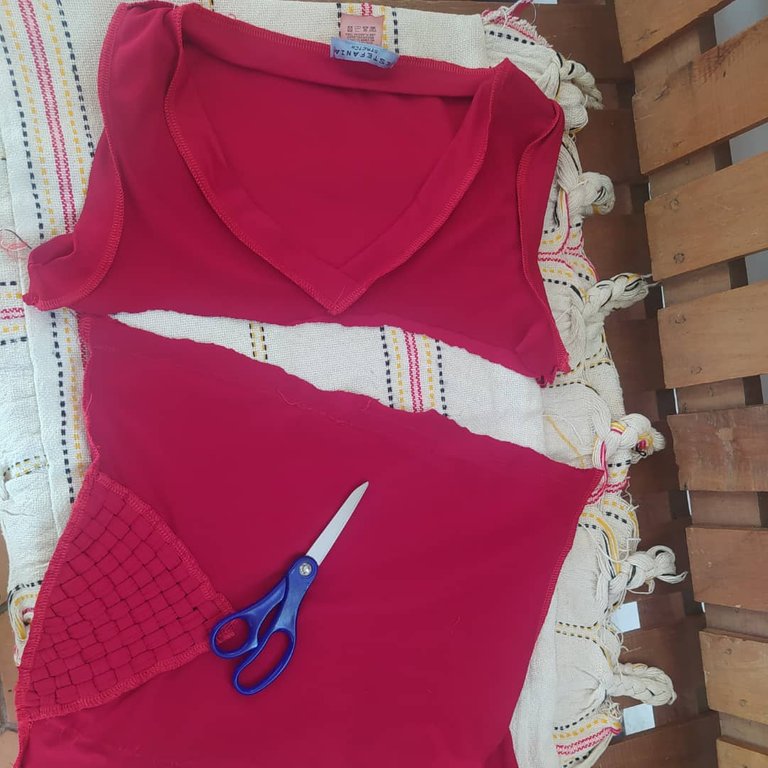 Among my things I had several diagrams and I chose the snowman⛄ and a Christmas tree🌲 to make it in felt and then sew it to the cushion as applique.
Entre mis cosas tenía varios diagramas y elegí el hombre de nieve⛄ y un árbol🌲 de navidad para realizarlo en fieltro para luego coser al cojín como aplique.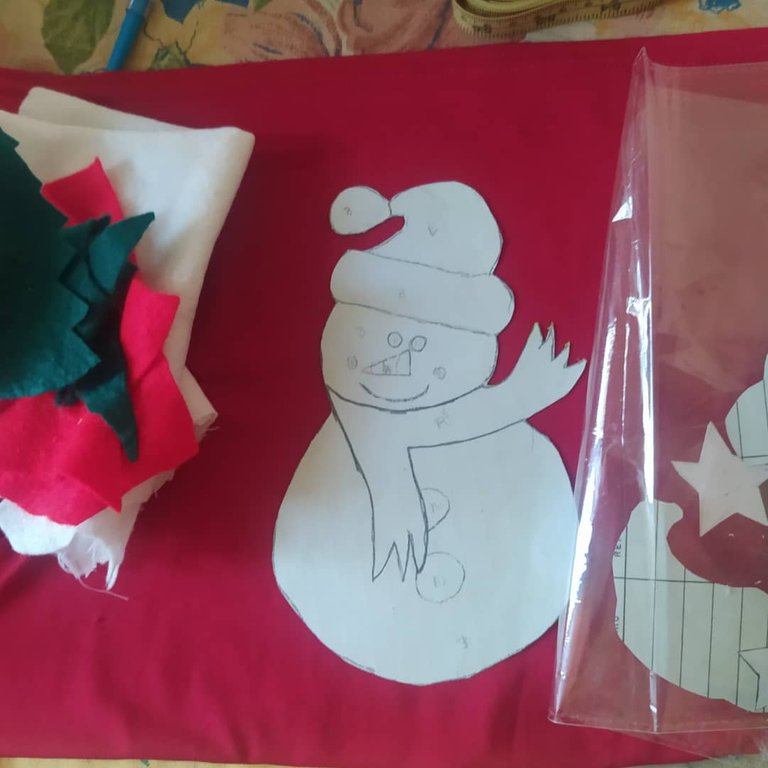 The diagram of the snowman⛄ is inserted with pins on the white felt.
It is marked with a pencil.
With the scissors proceed to cut
El diagrama del hombre de nieve⛄ se inserta con alfileres sobre el fieltro blanco.
Se marca con lápiz.
Con la tijera se procede a cortar.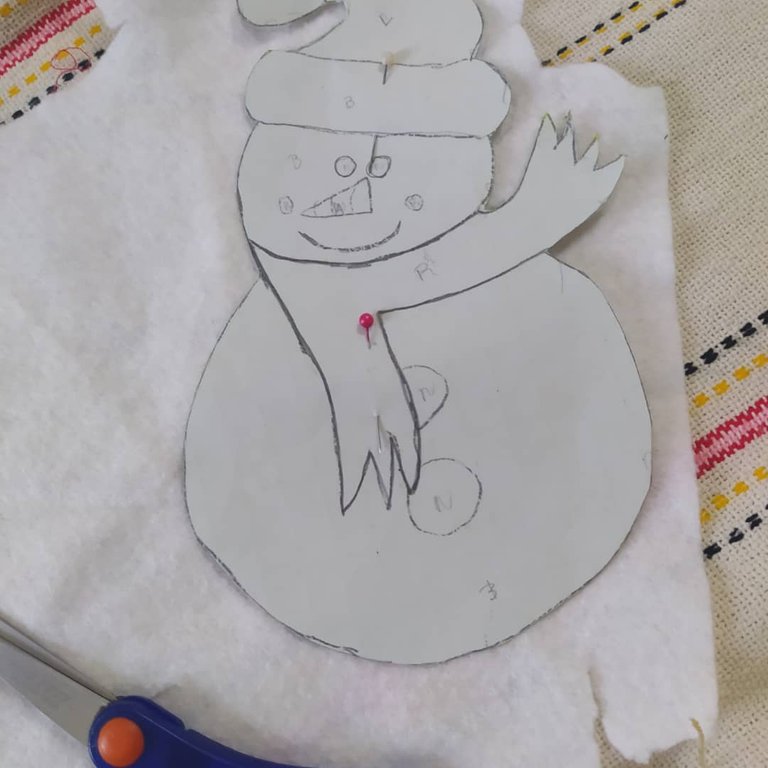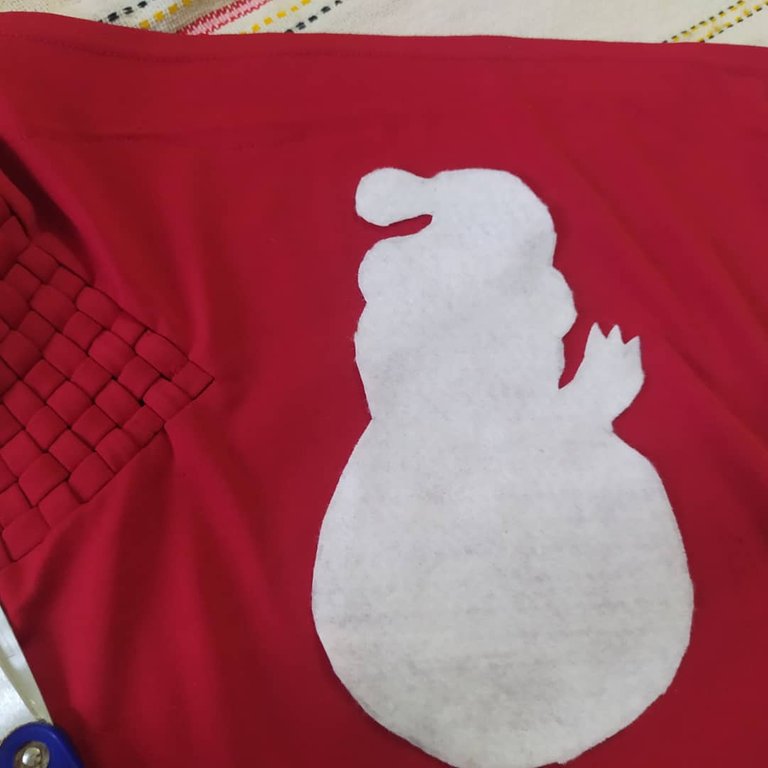 ---
Then cut the scarf in green felt.
The hat is cut in red felt with a white border.
Luego se corta la bufanda en fieltro color verde.
Se corta el sombrero en fieltro rojo y borde blanco.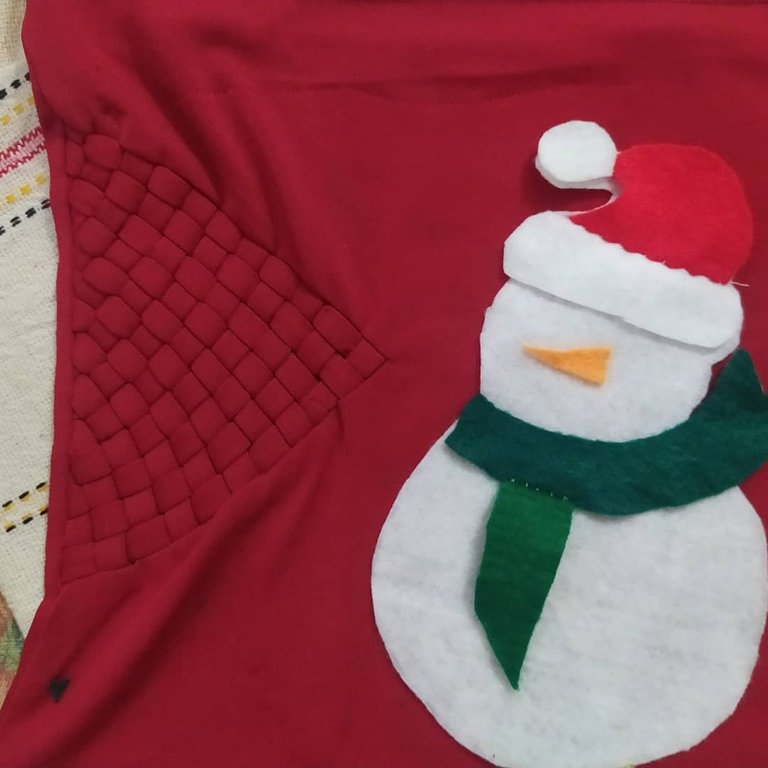 Sew the pieces onto the snowman⛄.
Sew on the beads (eyes).
Sew the orange nose.
The mouth is embroidered.
Se cosen las piezas sobre el hombre de nieve⛄.
Se cosen las mostacillas (ojos)
Se cose la nariz color naranja.
Se borda la boca.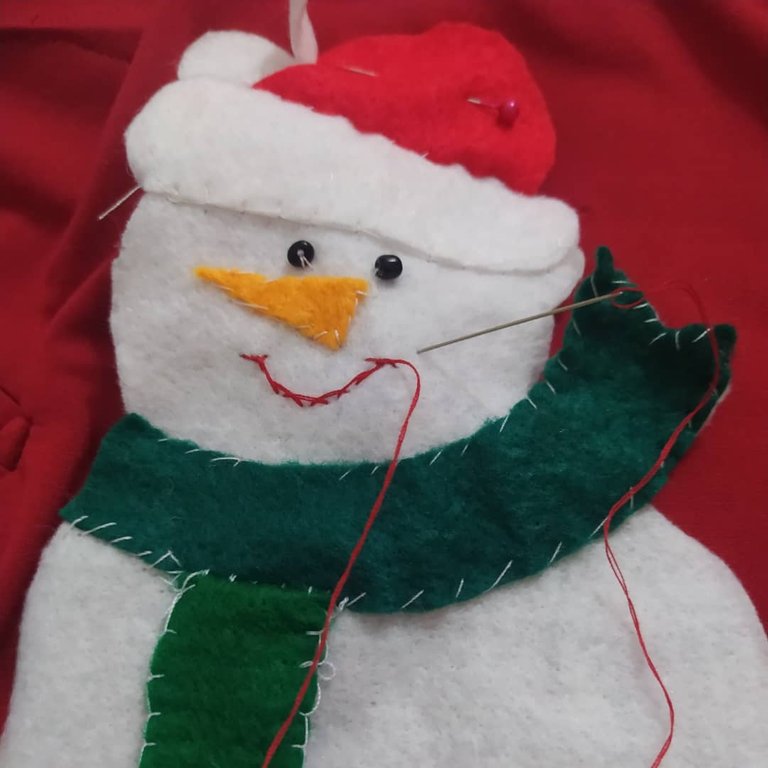 ---
The figure ⛄is sewn as an appliqué to the red fabric.
Also the figure of the tree decorated with sequins is sewn as applique to the cushion.
Se cose la figura⛄ como aplique a la tela color rojo.
También la figura del árbol decorado con lentejuelas, se cose como aplique al cojín.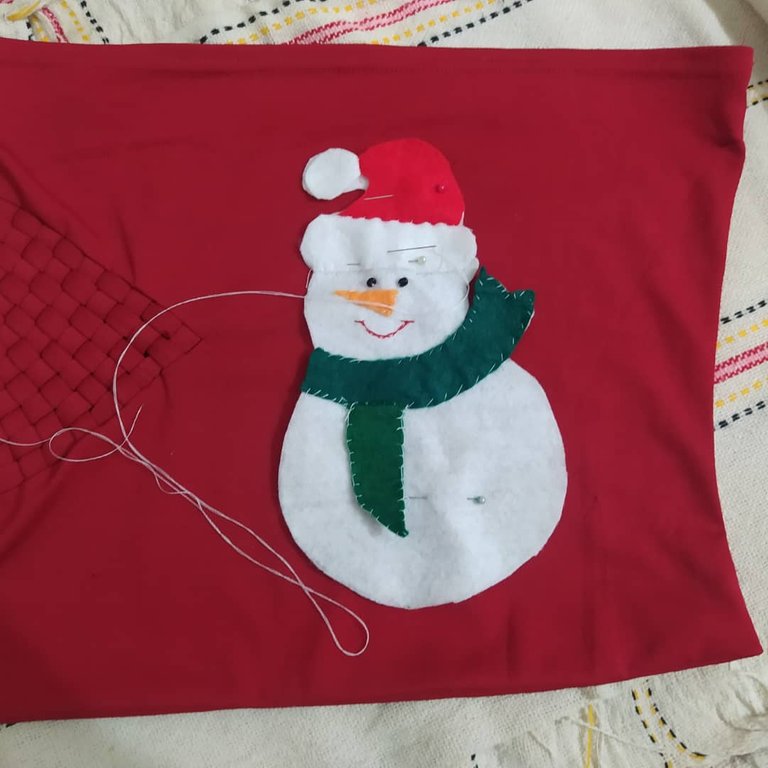 ---
Assembly//Ensamblado:
After finishing work with the figures of felting.
Sew on the buttons.
Make chains with the golden thread and glue them with silicone to the scarf and the tree.
The opening is stuffed and closed with stitching.
Después de terminado el trabajo con las figuras de fieltros.
Se cosen los botones.
Se hacen cadenas con el hilo dorado y se pega con silicón a la bufanda y al árbol.
Por la abertura se rellena y se cierra con costura.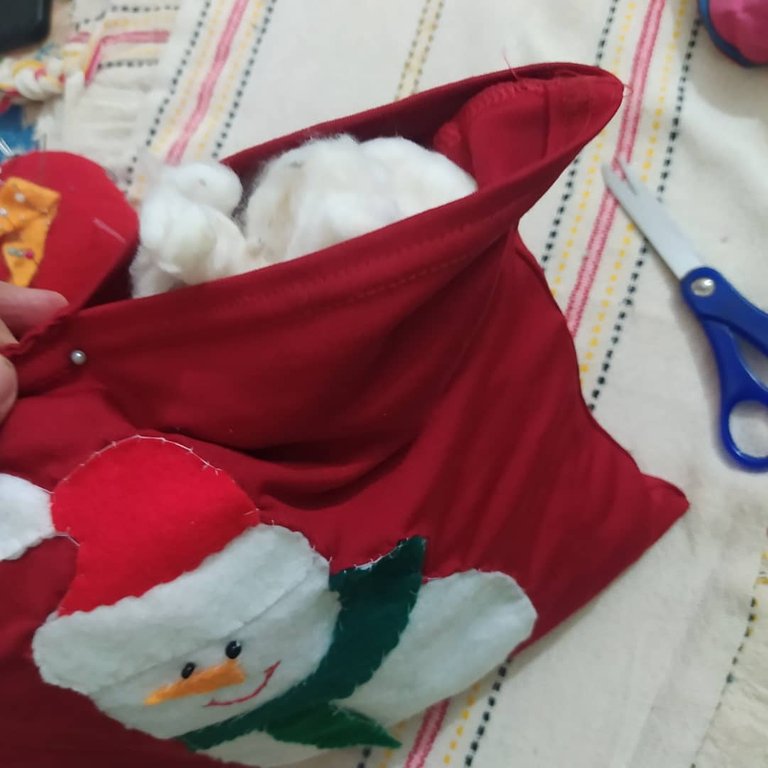 ---
... And ready the cushion⛄ ideal for decorating at Christmas🎄.
... Y listo el cojín⛄ ideal para decorar en navidad🎄.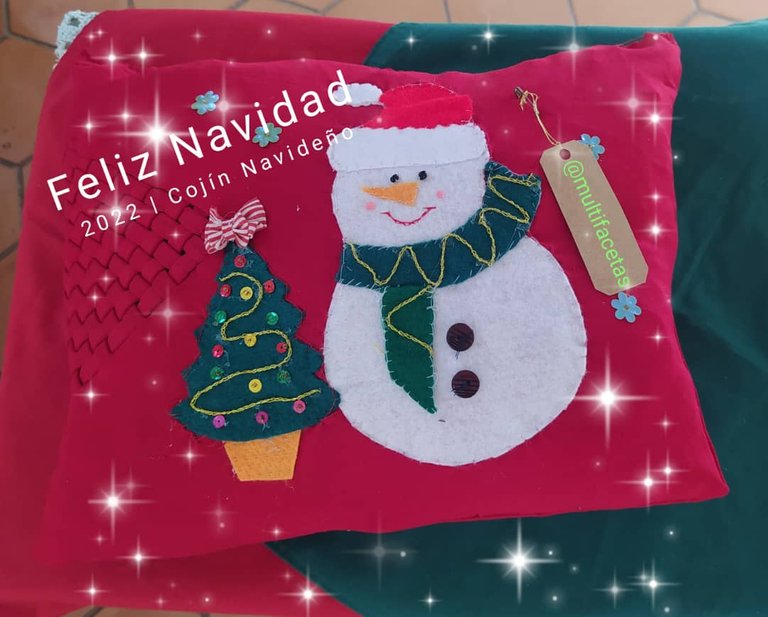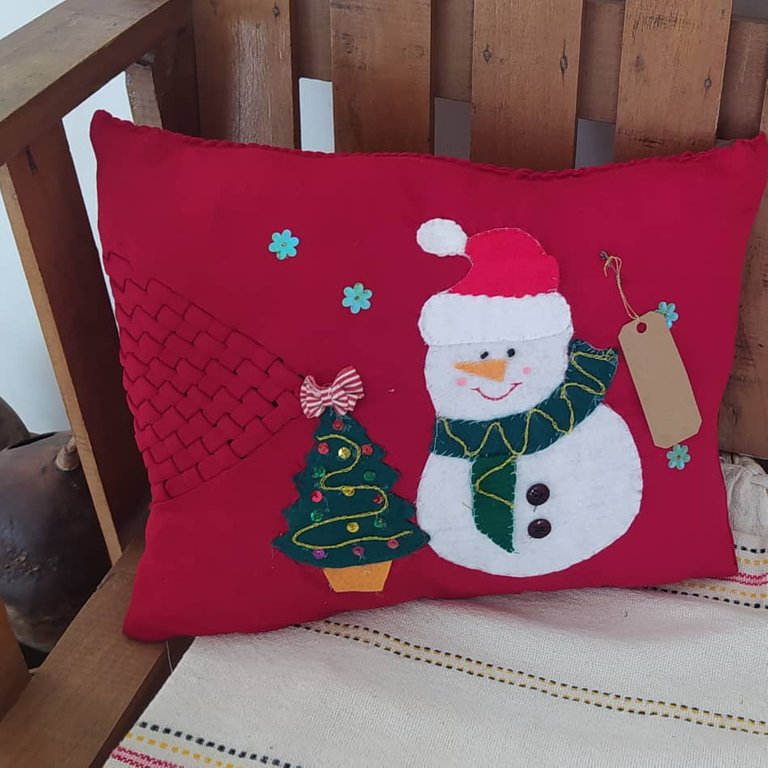 ---
Many times when we go to an establishment at Christmas time, we want to buy all the ornaments that are exhibited, knowing that in our workshops we have scraps or pieces of useful material that we can transform to obtain excellent presentations of allegorical figures. In particular and as a craftswoman, I love to make my own ornaments to display in my living room or kitchen alternating materials and threads. Even more in these times when the bad economy is out of control.
Last year I made several ornaments and now I have already made several pieces (2nd Edition).
Muchas veces cuando vamos a algún establecimiento en epoca navideñas, queremos comprar todo adornos que exhiben, sabiendo que en nuestros talleres de trabajo tenemos retazos o piezas, de material de provecho que podemos transformar obteniendo excelentes presentaciones de figuras alegoricos. En lo particular y como artesana, me encanta hacer mis propios adornos para exhibir en mi sala o cocina alternando materiales e hilos. Mas en estos momentos que la mala economía está sin control.
El año pasado realicé varios adornos y ahora ya he hecho varias piezas. (2da. Edición).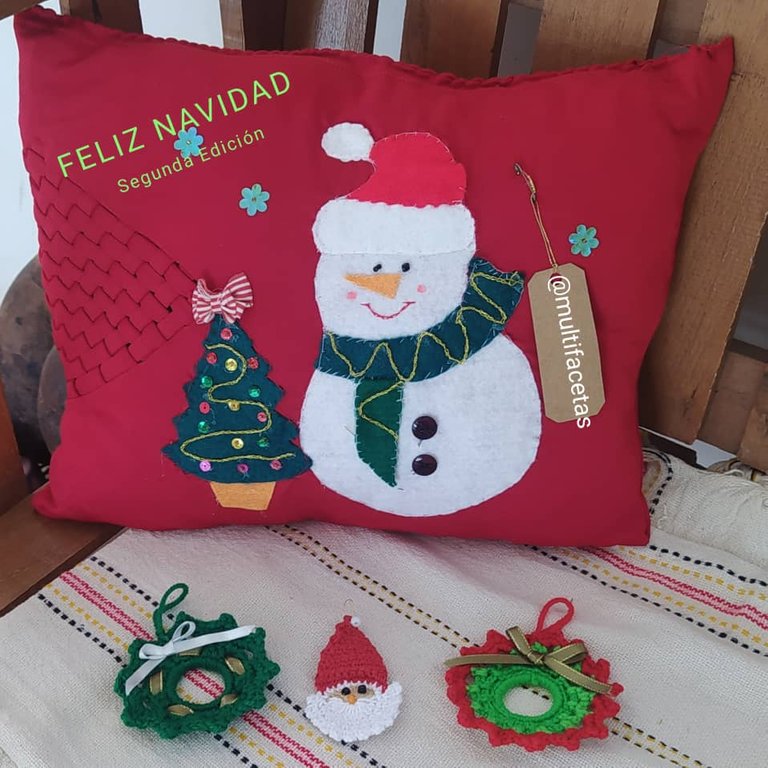 ---
This craft gave me a lot of pleasure to do it because it is entertaining and fun, making creativity flourish, it also helps sometimes when the problems that beset us as the economic situation or the deterioration of health (disease) distract us for several hours and brightens our lives to see the final product.
Esta manualidad me dio mucho placer hacerla por lo entretenida y divertida, haciendo que la creatividad florezca, además ayuda en ocasiones cuando los problemas que nos embargan como la situación económica o el deterioro de la salud (enfermedad) nos distraen por varias horas y alegra nuestras vidas al ver el producto final.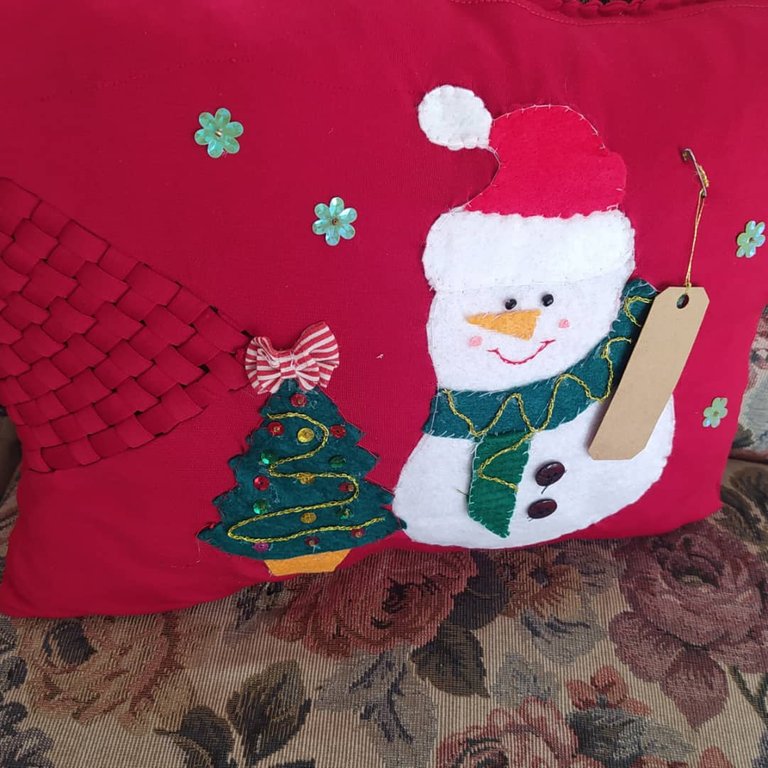 ---
💖💖💖Everything can be achieved with LOVE//
Todo con AMOR se logra💖💖💖
---
So much for my publication. Thank you for reading.❤
Hasta aquí mi publicación. Gracias por leer.❤
---
Texts and photos are my authorship.
Translation with Deepl. Photo taken with Xiaomi Redmi Note 8.
Banner and text separator created with Canva.
Los textos y las fotos son de mi autoría.
Traducción con Deepl. Foto tomada con el Xiaomi Redmi Note 8.
Banner y separador de texto creado con Canva.
---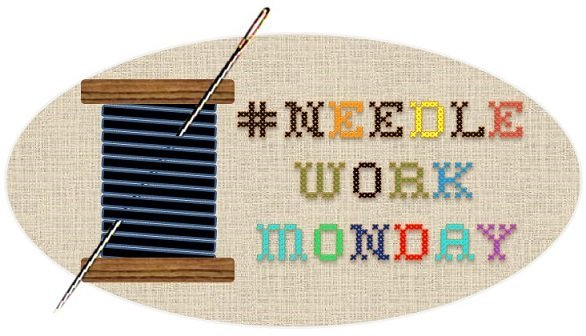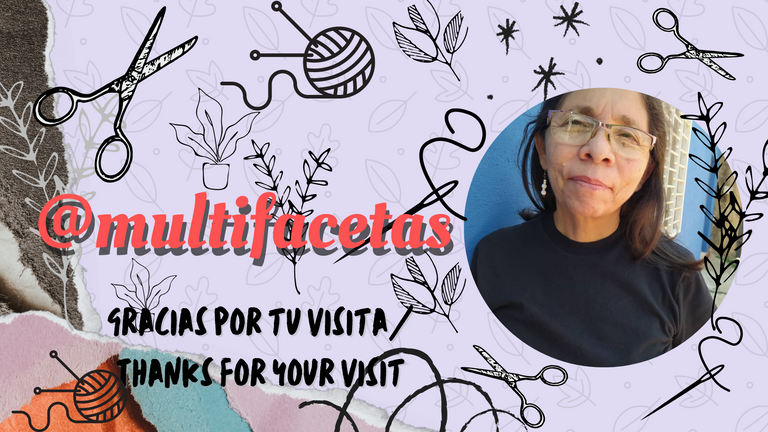 ---
---