[ENG-SPA] NeedleWorkYourBucketList: Crochet cookies. Challenge 5 Overcome//Galletas a crochet. Reto 5 Superado.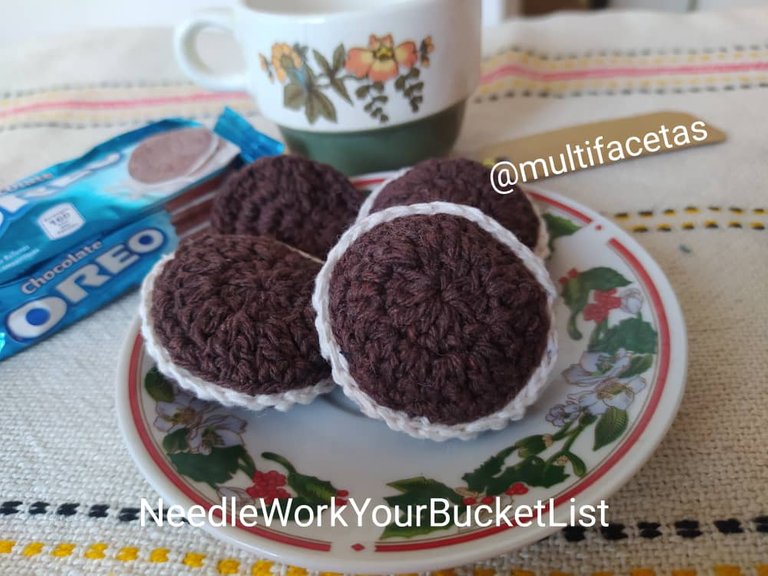 ---
Welcome to my blog//Bienvenidos a mi blog
A dream doesn't come true by magic, it takes sweat, determination and hard work. 
                    - Colin Powell

Un sueño no se hace realidad por arte de magia, necesita sudor, determinación y trabajo duro 
                    - Colin Powell

Who doesn't like cookies, especially chocolate ones? Particularly Oreo's, they are exquisite. Yesterday I went out shopping and when I went to pay, a lady in front of me, took some Oreo cookies a package of 04 and asked the cashier how much it cost, and she replied that 7.00 Bs. And the lady returns it did not buy it. At that moment I remembered that one of my pending #BucketList projects was to make a crochet cookie. When I got home I looked in my art room to see if I had the color of yarn to make it. I was lucky if there was the dark brown color and in wick. After my chores I started the work. I believe that the lady wanted to buy the oreo to give as a gift on Valentine's Day, but her budget was not enough, because the economic situation is not so nice, you have to choose the most necessary food, one can not afford to buy chocolates or cookies. Well, let's go into detail about the process.
¿A quién no les gustan las galletas?, y mas si son de chocolate. Particularmente las Oreo, son exquisitas. Ayer salí de compra y cuando fui a pagar, una señora delante de mí, tomó unas galletas Oreo un empaque de 04 y le pregunta a la cajera cuanto costaba, y responde que 7,00 Bs. Y la señora la devuelve no la compró. En ese momento recordé que unos de mis proyectos pendientes de #BucketList era hacer una galleta a crochet. Cuando llegué a casa busqué en mi cuarto de arte si tenía el color de hilo para realizarla. Tuve suerte si había el color marrón oscuro y en pabilo. Después de mis tareas empecé la labor. Yo creo que la señora quería comprar las oreo para obsequiar en el día de San Valentín, pero su presupuesto no le alcanzaba, porque la situación económica no está tan agradable, se tiene que escoger los alimentos mas necesario, uno no puede darse el lujo de comprar chocolates ni galletas. Bien pasemos a detallar el proceso.
---
Step by step//Paso a paso
---
Materials//Materiales:
---
- Dark brown wick thread. - White wick yarn. - Crochet needle nº2 - 01 key ring.
Hilo pabilo color marrón oscuro.
Hilo pabilo color blanco.
Aguja crochet nº2
01 llavero.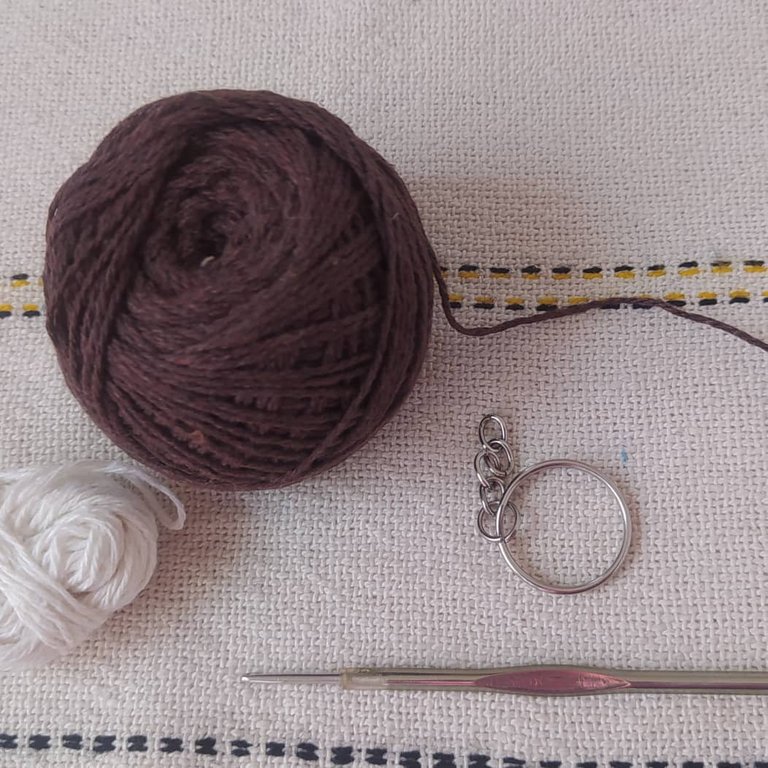 ---
Abbreviations//Abreviaciones:
---
Ch: chain(s).
mp: half point.
mpa: half high point.
aum: increases.
pa: high point.
pr: slipped stitch.
Ch: cadena(s).
mp: medio punto.
mpa: medio punto alto.
aum: aumento.
pa: punto alto.
pr: punto deslizado.
---
Process//Proceso:
---
Tapa1 (cookie)
v1: Make a magic ring, then 3chs, 11pa, pr.
v2: 3chs, 1pa, increases(2pa)in each stitch of the previous round, pr.
v3: 1ch, mp, aum(2mp), 1mp, aum(2mp) repeat sequence, pr.
Tapa1 (galleta)

v1: Se hace un anillo mágico, luego 3chs, 11pa, pr.
v2: 3chs, 1pa, aum(2pa)en cada punto de la vuelta anterior, pr.
v3: 1ch, mp, aum(2mp), 1mp, aum(2mp) repetir secuencia, pr.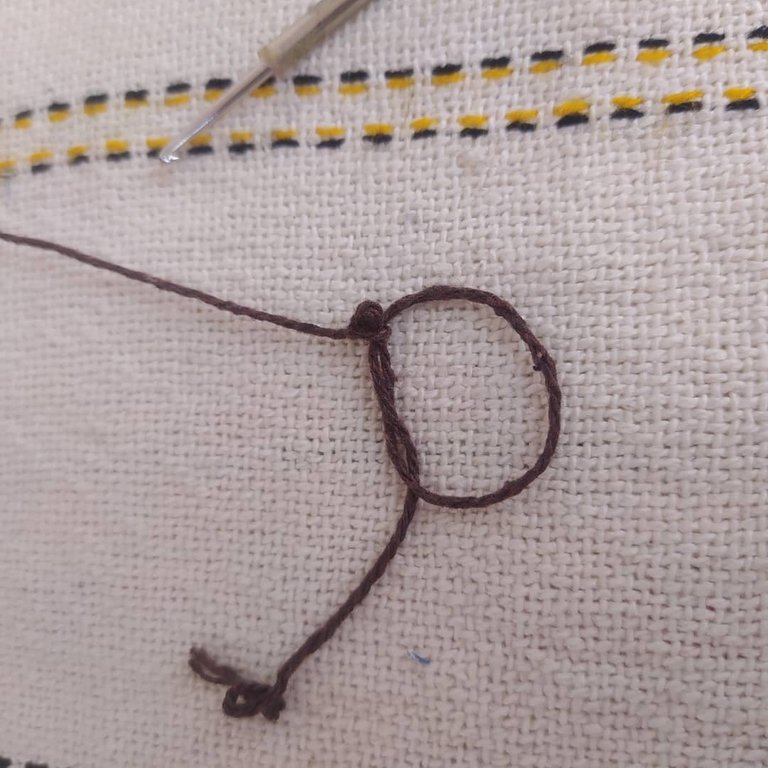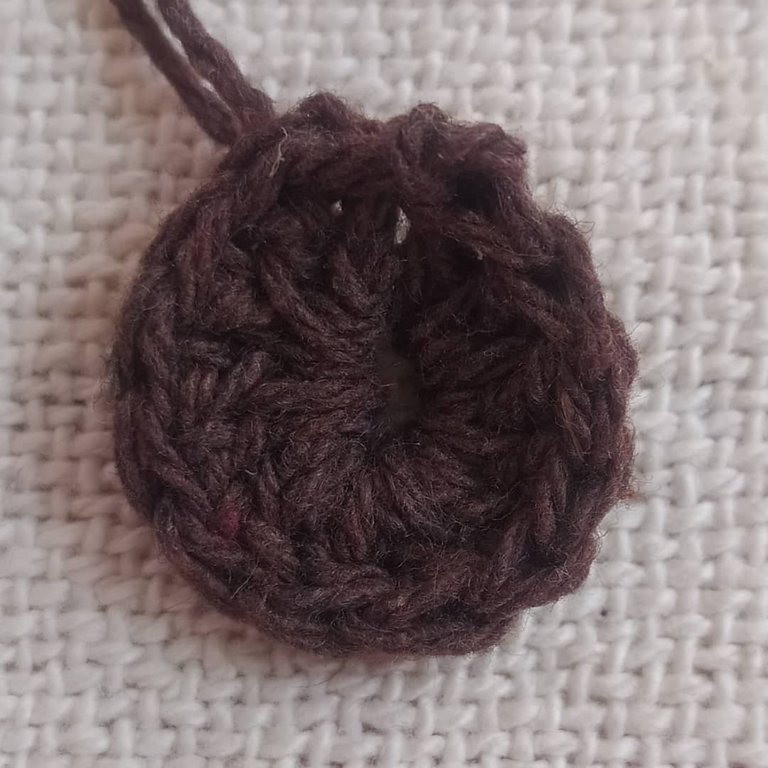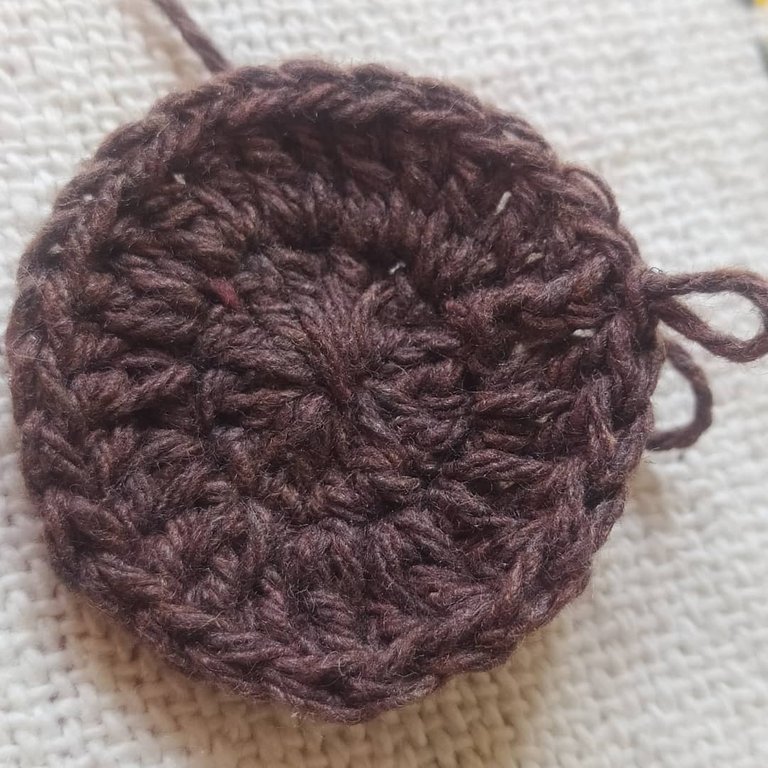 ---
Cover 2(cookie)
Repeat previous process v1,v2 and v3.
Tighten, knot and hide the thread.
Tapa 2(galleta)

Repetir proceso anterior v1,v2 y v3.
Se ajusta, se anuda y se esconde el hilo.

Assembly//Ensamblado:
---
Put both covers (cookies) together.
Sew with white thread (stuffing) using mp and leaving an opening.
The opening is stuffed.
Then the closing is finished.
Knot, hide the thread.
The key ring is attached to one of them.
Se junta ambas tapas (galletas).
Se cose con hilo blanco (relleno) usando mp y dejando una abertura.
Por la abertura se rellena.
Luego se termina de cerrar.
Se anuda, se esconde hilo.
A una de ellas se le coloca el llavero.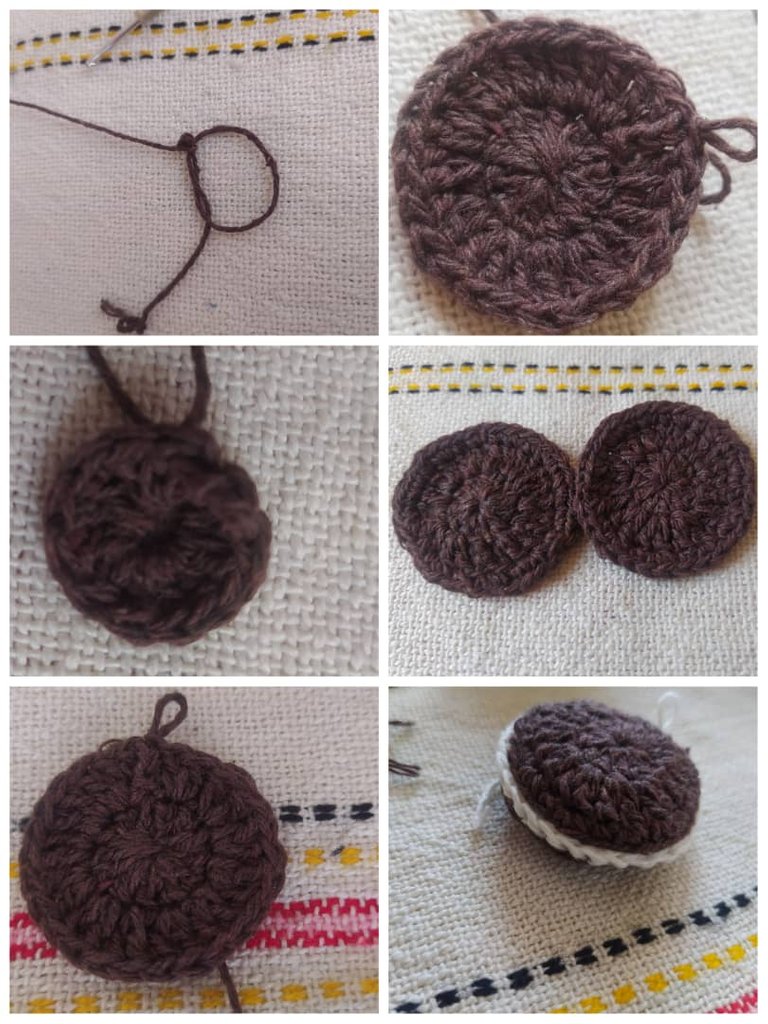 ---
… Y listo mis galletas Oreo con relleno a crochet.
Thanks to the lady at the supermarket I remembered this project that was on my #BucketList, and I was encouraged to perform, it seems easy, but it has its secret as the real cookie recipe. This cookie was born in 1912 in the USA, it has some secret ingredients.
Gracias a la señora del supermercado recordé este proyecto que estaba en mi #BucketList, y me animé a realizar, parece fácil, pero tiene su secreto como la receta de la galleta verdadera. Esta galleta nació en 1912 en EEUU, tiene unos ingredientes secretos.
---
I was satisfied with the result, I get excited every time I meet the challenges set, especially when it is a commitment to the community, all through the initiatives.
Quedé satisfecha con el resultado, me emociona cada vez que cumplo con los retos planteados, en especial cuando es un compromiso con la comunidad, todo a traves de las iniciativas.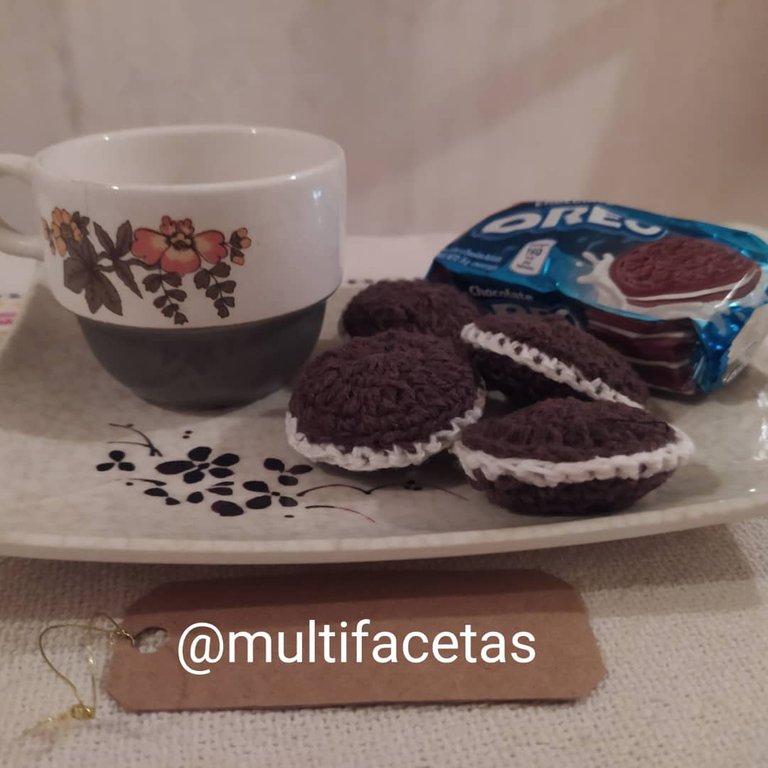 ---
In addition, these cookies can be placed on key chains, and can also be used as souvenirs for gifts and parties. There are bakers who decorate their cakes with Oreo cookies, and at that time the key chains are ideal as gifts. The package of cookies that I show in the photo, was given to me by my son a few weeks ago, I have not tasted it yet.
Además, estas galletas se pueden colocar en llaveros, y también pueden utilizarse como souvenir para regalos y fiestas. Hay pasteleros que realizan el decorado de sus tortas con galletas Oreo , en ese momentos los llaveros son ideales como obsequios. El empaque de galletas que muestro en la foto, me lo obsequió mi hijo unas semanas atrás, aún no lo he degustado.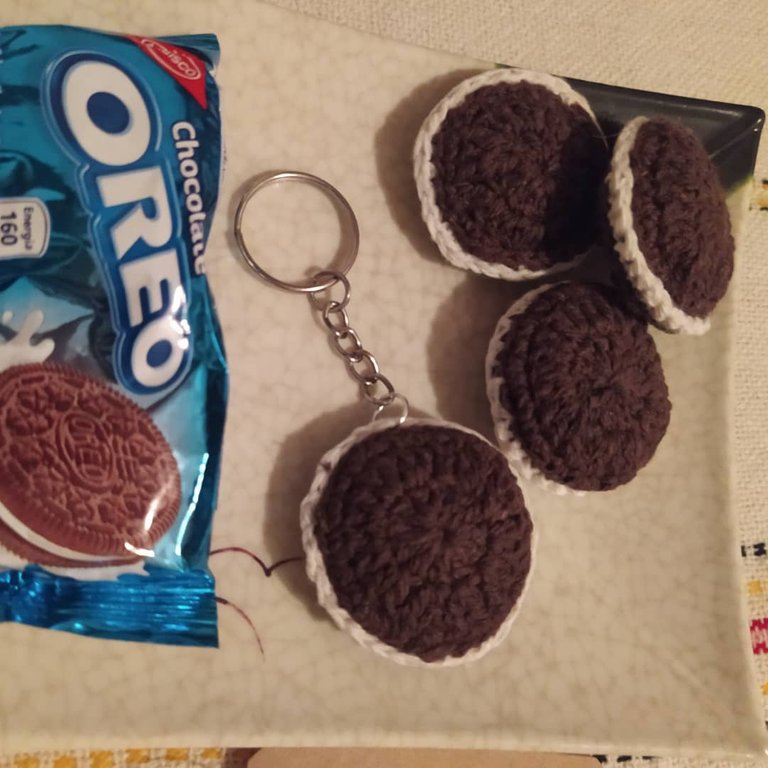 ---
Well, my friends I wish you a happy beginning of the week!
Bueno, mis amigos Les deseo un ¡feliz inicio de semana!
---
💖💖💖Everything with LOVE is achieved💖💖💖
💖💖💖Todo con AMOR se logra 💖💖💖
---
So much for my publication. Thank you for reading.❤
Hasta aquí mi publicación. Gracias por leer.❤
---
Texts and photos are my authorship.
Translation with Deepl. Photo taken with Xiaomi Redmi Note 8.
Banner and text separator created with Canva.
Los textos y las fotos son de mi autoría.
Traducción con Deepl. Foto tomada con el Xiaomi Redmi Note 8.
Banner y separador de texto creado con Canva.
---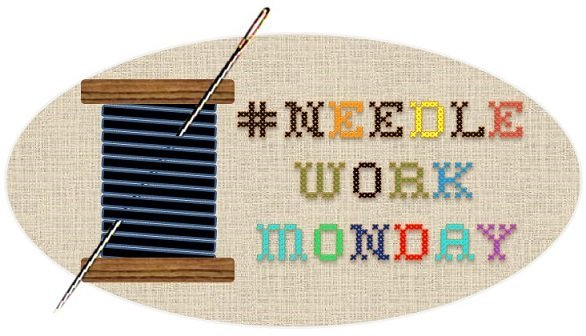 ---
---