[ENG-SPA] The spider 🕷 for Halloween 🎃// La araña 🕷 para Halloween 🎃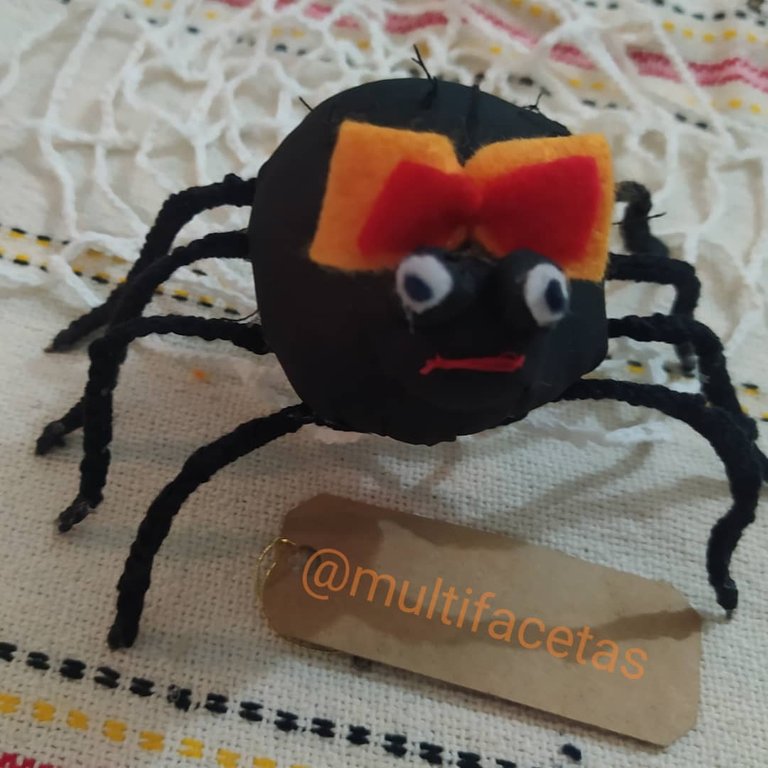 Hello
#hive
friends. Greetings to the
#NeedleWork
community. Happy Thursday.
Today my Halloween party guest is the spider lady 🕷 because I had previously made the spider web 🕸 and I was missing the weaver. I set out, to make her with black colored fabric for her body, head and eyes 👀 using stuffing. Her legs of sweet wire woven with pabilo thread, lined with half stitch. The spider is another figure that cannot be missing in this festivity. Without further ado, we will explain the process.
Hola amigos de #hive.
Saludos a la comunidad #NeedleWork. Feliz jueves.

Hoy mi invitada a la fiesta de Halloween es la señora araña 🕷 porque antes había realizado la telaraña 🕸 y me faltaba la tejedora. Me propuse, hacerla con tela color negro para su cuerpo, cabeza y ojos 👀 usando relleno. Sus patas de alambre dulce tejidas con hilo pabilo, revestida con medio punto. La araña es otra figura que no puede faltar en esta festividad. Sin más preámbulo pasamos a explicar el proceso.
Step by step//Paso a paso.
Materials//Materiales:
Black fabric scraps.
Filling.
03 Molds of circles body d=15cms, head d= 06cms, eyes d=03 cms.
Silicone.
Needle and sewing thread.
08 wires of 8cms each.
Black wick thread.
Crochet needle n.º 2.
01 Bow and flower.
01 felt circle d=6cms.
Pins.
Scissors.
Retazos de tela color negro.
Relleno.
03 Moldes de círculos cuerpo d=15cms,cabeza d= 06cms, ojos d=03 cms.
Silicón.
Aguja e hilo de coser.
08 alambres de 8cms c/u.
Hilo pabilo color negro.
Aguja crochet n.º 2.
01 Lazo y flor.
01 círculo de fieltro d=6cms.
Alfileres.
Tijera.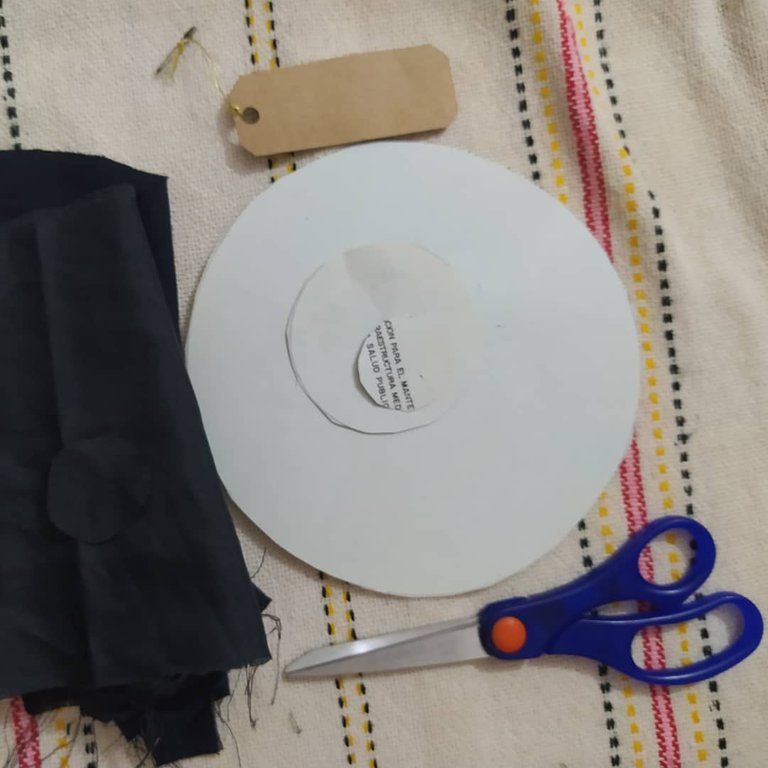 Process//Proceso:
The molds are placed on the fabric, fastened with pins.
Los moldes se colocan sobre la tela, ajustada con alfileres.
The circular shapes are cut with the scissors.
Con la tijera se cortan las figuras circulares.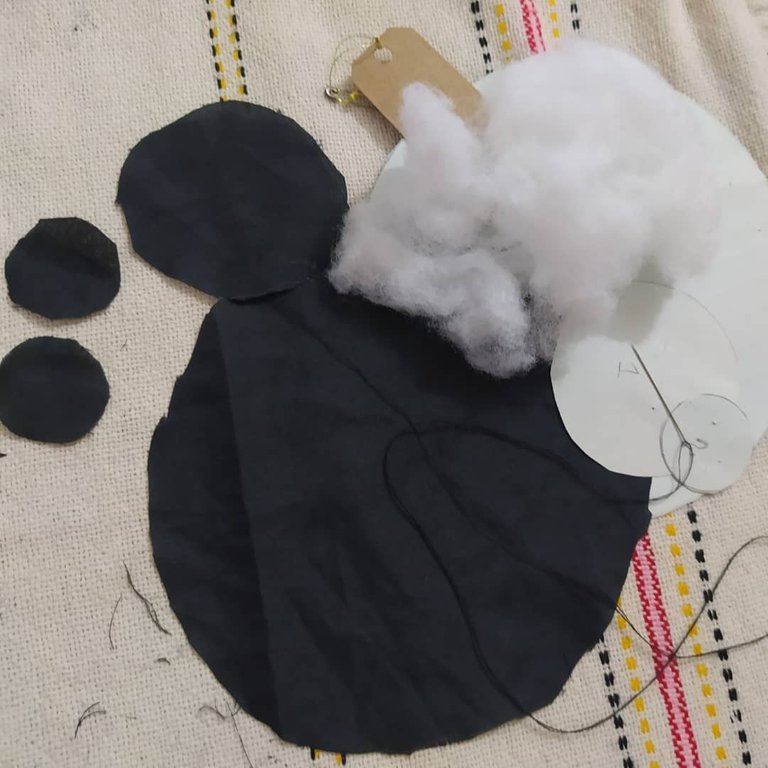 With the thread and needle, sew the edge of the cut fabric circle and gather it a little.
Con el hilo y la aguja se cose la orilla de la tela recortada y se frunce un poco.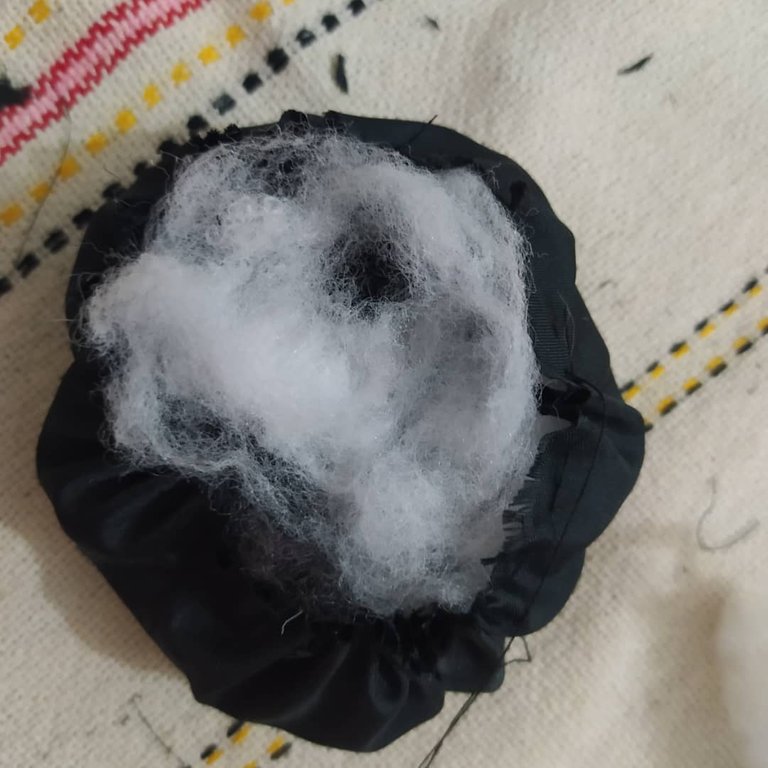 Fill in each circle, forming the body, head and 02 eyes.
It is adjusted and knotted until the desired shape is obtained.
The 8 cm wires are lined with thread using the crochet needle and the half stitch.
Se rellena cada círculo, formando el cuerpo, la cabeza y 02 ojos.
Se ajusta y se anuda hasta obtener la figura deseada.
Los alambres de 8 cms se forran con hilo usando la aguja crochet y el medio punto.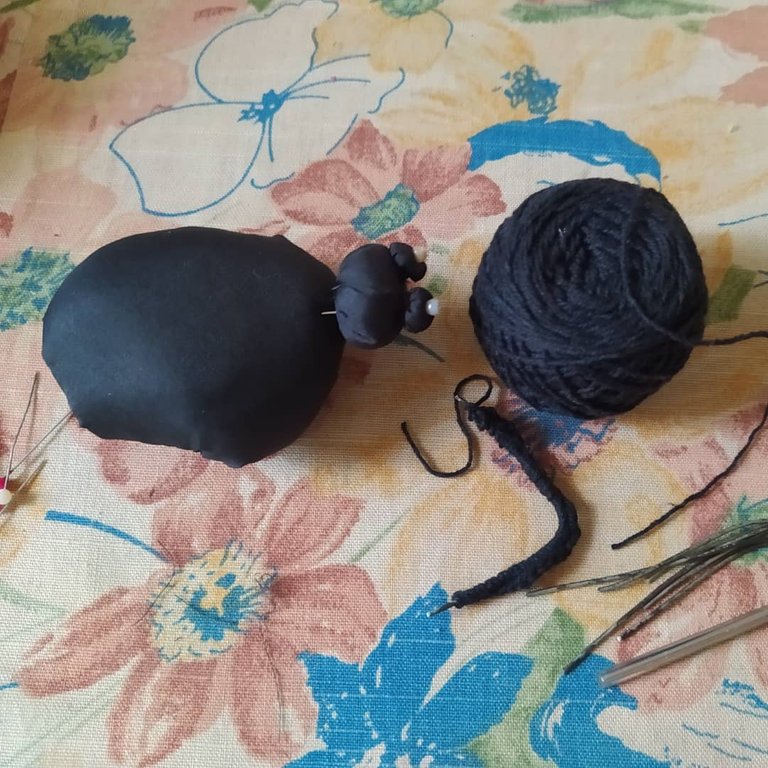 ---
Assembly//Ensamblado:
Fold the 8 little legs.
Then glue them with silicone and place the felt circle on them and hold it for 30 seconds until it dries.
This way we get the spider's body.
Then glue the eyes to the head 👀 and embroider the mouth.
Then the head is glued to the body.
Se doblan las 8 patitas.
Se procede a pegar con silicón y sobre ellas se coloca el círculo de fieltro y se sostiene por 30 segundos hasta que seque.
Así obtenemos el cuerpo de la araña.
Luego a la cabeza pegamos los ojos 👀 y bordamos la boca.
Después se pega la cabeza al cuerpo.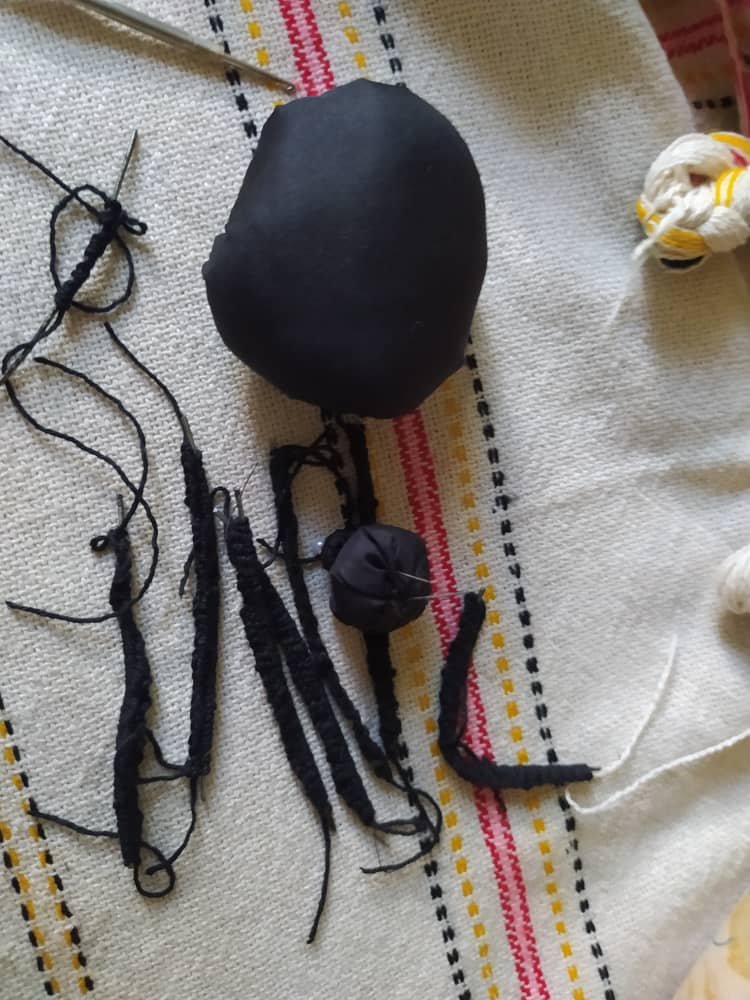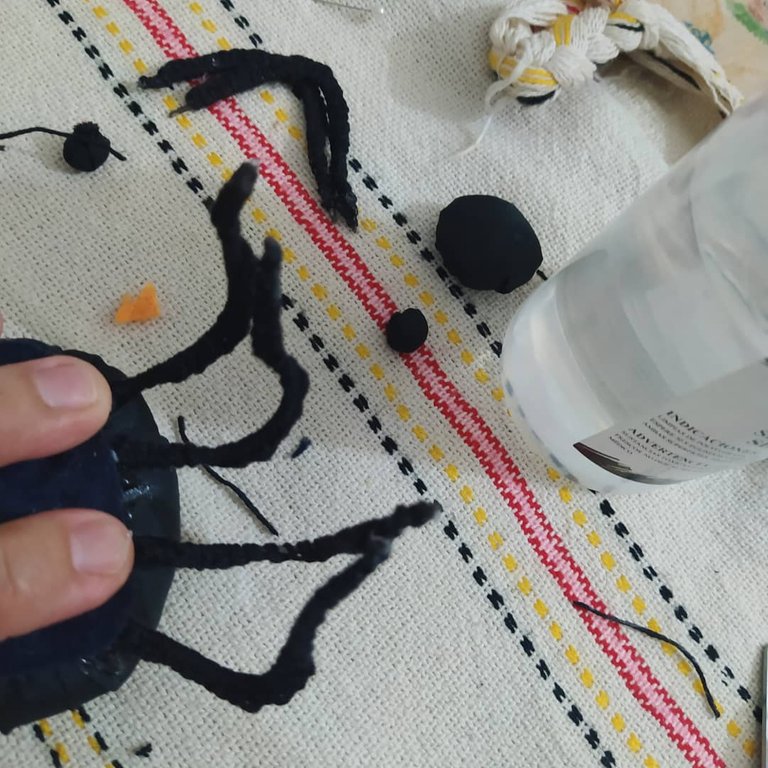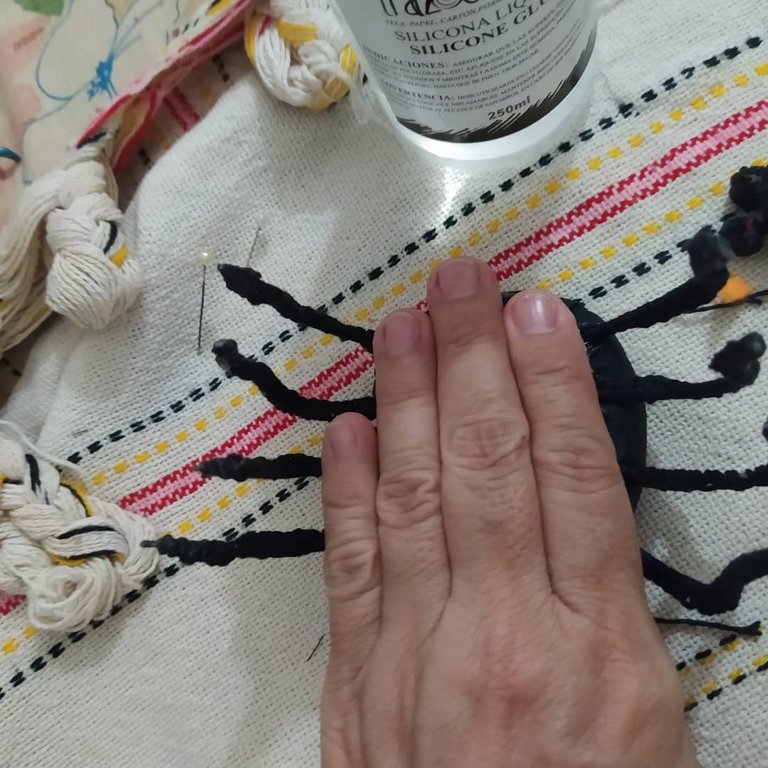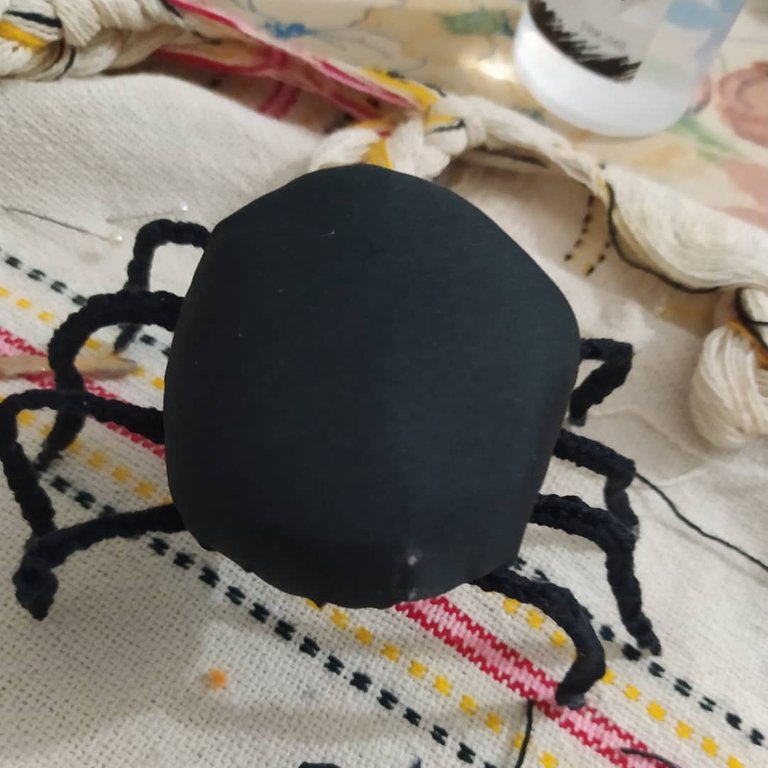 ---
...And ready Mrs. Spider with various outfits to celebrate Halloween 🎃.
...Y lista la señora Araña con varios atuendos para festejar Halloween 🎃.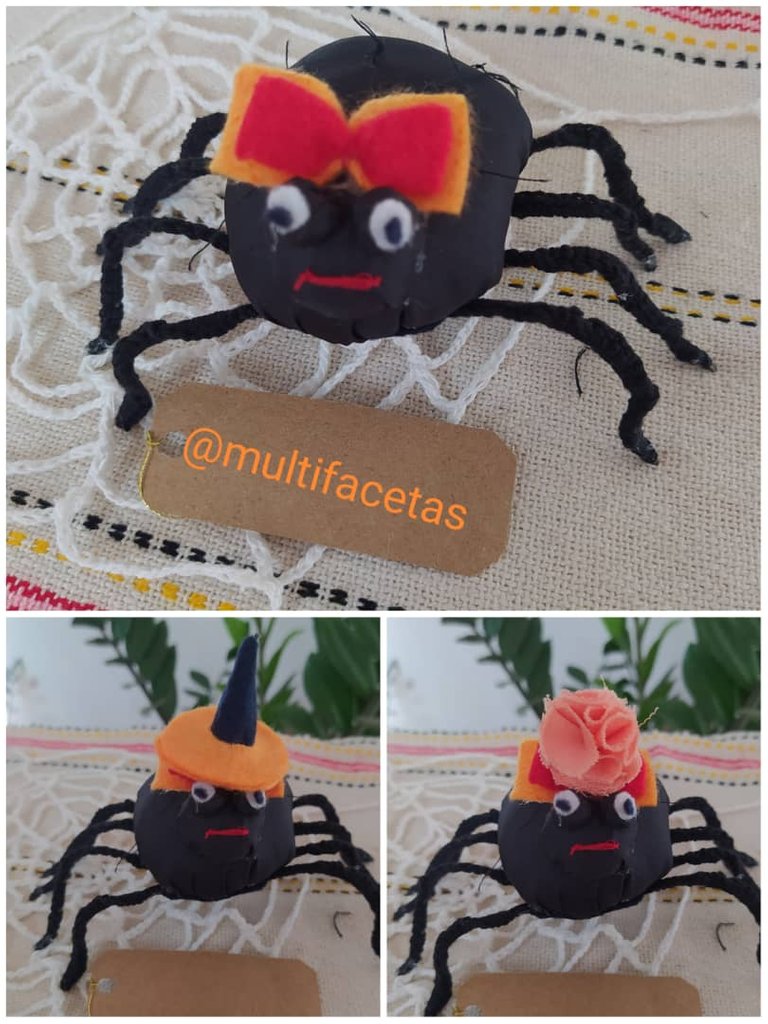 ---
The spider is an eternal guest in our homes and gardens. And as the days go by, they make gigantic webs that are sometimes terrifying. Spiders have also served as inspiration for children's tales, movies and stories.
La araña es una huésped eterna en nuestros hogares y jardines. Y al pasar los días hace unas telarañas gigantescas que a veces son aterradoras. Las arañas también han servido de inspiración para cuentos infantiles, películas e historias.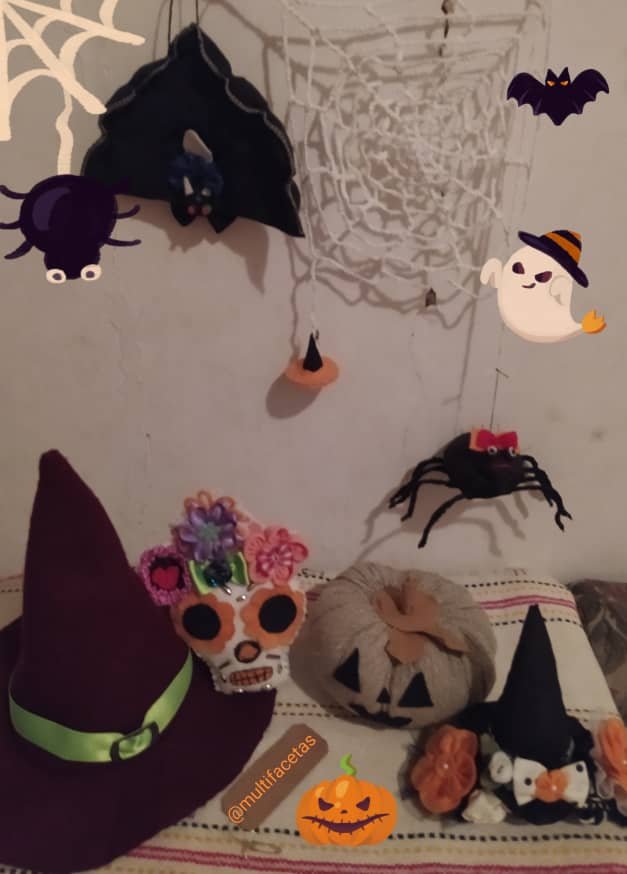 ---
Here the spider lady 🕷 along with the other allegorical figures of the Second Halloween edition.
Aquí la señora araña 🕷 junto a las otras figuras alegóricas de la Segunda edición de Halloween.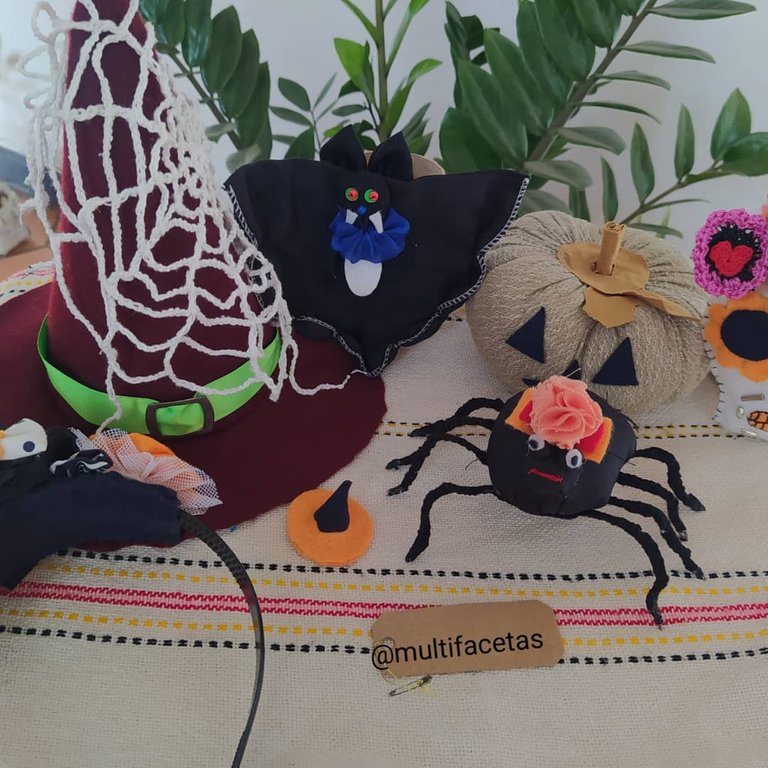 ---
Mrs. Spider among the leaves of a plant, her favorite place.
La señora Araña entre las hojas de una planta, su lugar favorito.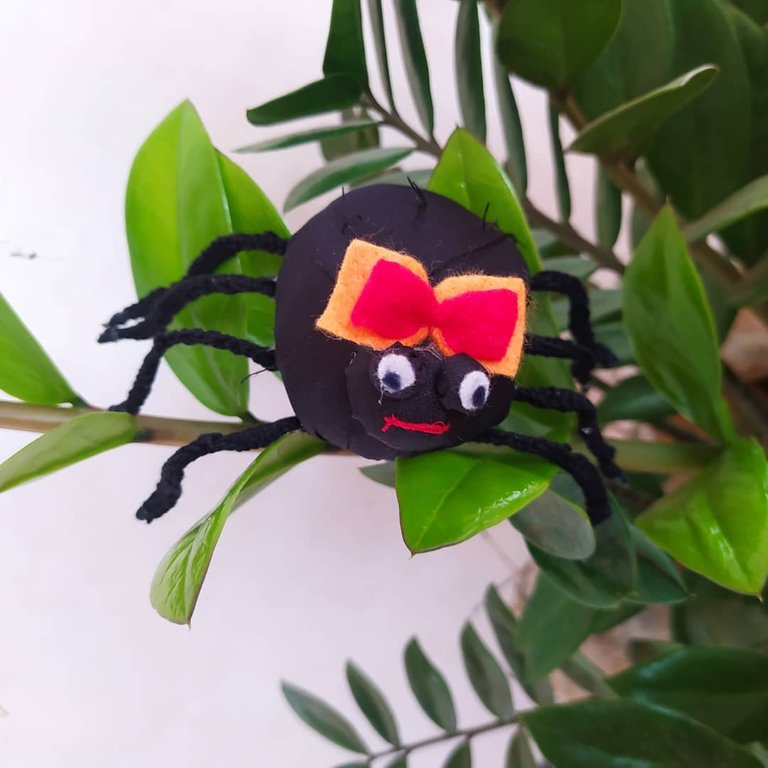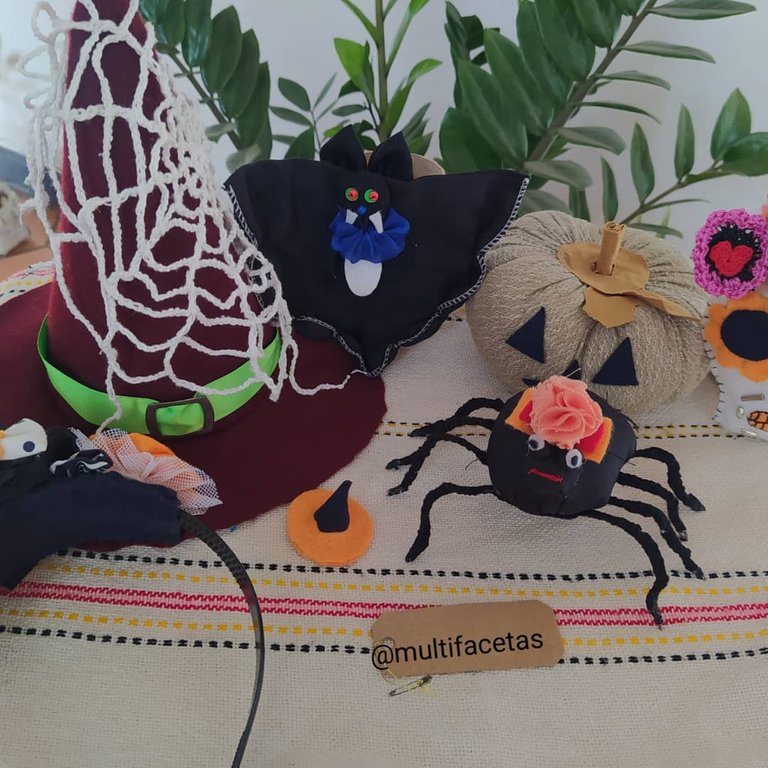 ---
This type of craft is ideal for school children and for therapy because it is fun, easy to make and with little material.
Este tipo de manualidad es ideal para niños en edad escolar y para terapia por ser entretenida, fácil de hacer y con poco material.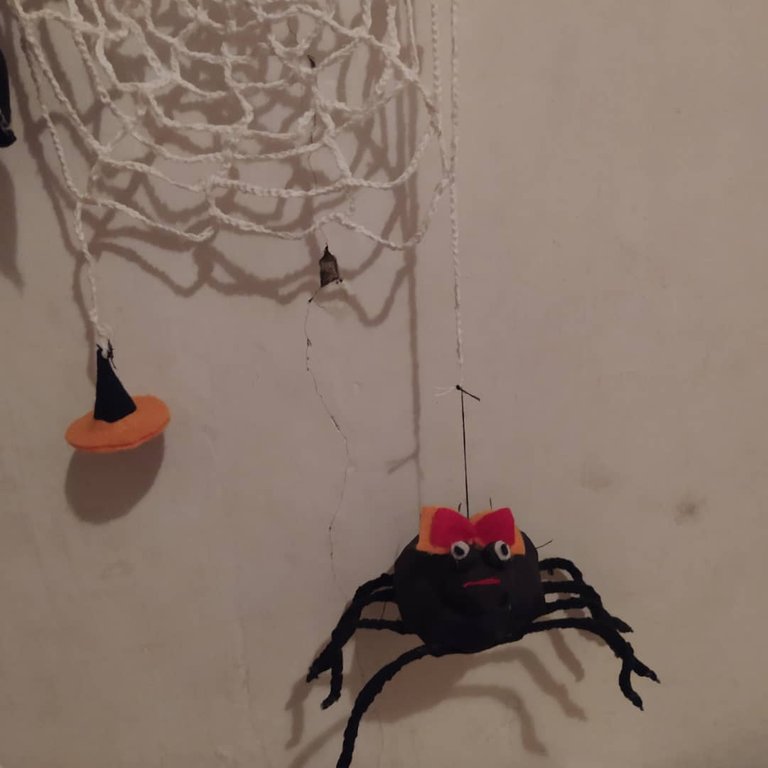 ---
💖💖💖Everything can be achieved with LOVE//
Todo con AMOR se logra💖💖💖
---
So much for my publication. Thank you for reading.❤
Hasta aquí mi publicación. Gracias por leer.❤
---
Texts and photos are my authorship.
Translation with Deepl. Photo taken with Xiaomi Redmi Note 8.
Banner and text separator created with Canva.
Los textos y las fotos son de mi autoría.
Traducción con Deepl. Foto tomada con el Xiaomi Redmi Note 8.
Banner y separador de texto creado con Canva.
---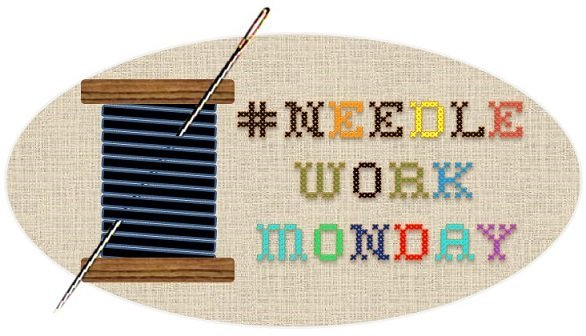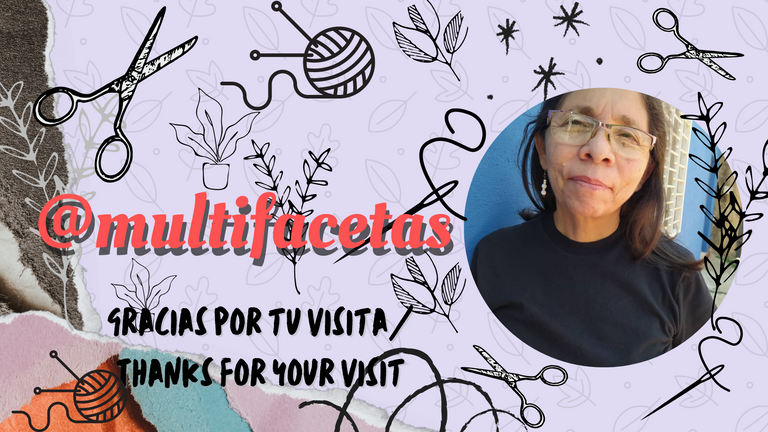 ---
---