[ENG-SPA] Valentine's Day Gift: Hexagonal nut and macramé bracelets//Pulseras de tuerca hexagonal y macramé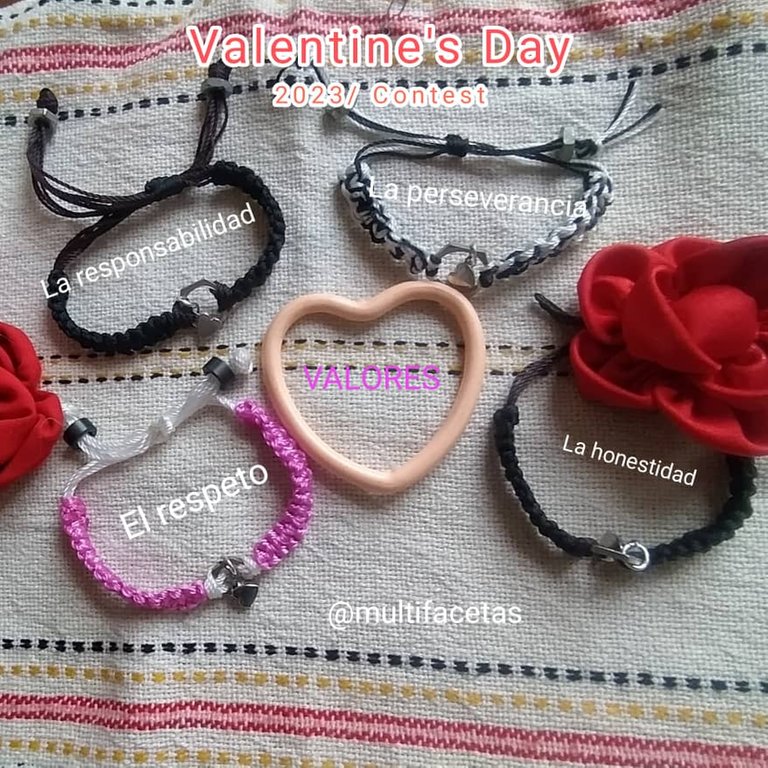 This is my participation in the #Jewelry community contest, receive my greetings. Very happy I join the adventure of challenges, because I love crafts and more if it is working with threads, jewelry and jewelry. And I invite @mosesessien, @estefania3, @racn to participate to the contest and this is the link
What more beautiful occasion than the Day of Love, Valentine's Day to make with our hands accessories for our family and friends, to show our sympathy and love to each of them.
Since elementary school I learned that the family is the fundamental cell of society.
The world and my country need the family to return to its origin. The family has been derailed from its true function, so it is our job once again to strengthen the family with the help of LOVE in our homes, accepting the differences of each one, so that as the days go by we develop and grow in harmony and we can face life together. We can achieve this through good example, developing values, academic training, and civic participation.
As parents our main function is to give support to our children, acting with responsibility, teaching them who we are and our way of living, because we are the pattern that they will copy from childhood.
We must have a good attitude, good feelings and good education that will make better children. Sometimes we will have to make adjustments in attitudes and behaviors without feeling bad in order to get closer to our children. This would be to reaffirm our love, respect, trust and acceptance, this will allow us to be by their side and support them in all the moments that are necessary.
All this will be reflected when our children are emotionally independent adults and will give us love, affection and gratitude for what we gave them, it is mutual retribution. Our children will be happy if we have been happy.
To strengthen family relationships there must be respect, good treatment, sharing quality moments, dividing responsibilities since childhood, keeping promises, giving lots of love, giving caresses, hugs and saying loving words. A very important detail is that we must manage our stress and discomfort so as not to affect our children.
This manifestation of love will be directed to my family. In this case it is a way to pay tribute to the family to encourage that today we must be more united than ever.
The bracelets of this project are made with nylon thread, some recycled pieces from the area of electricity and mechanics (nuts). I have a degree in electricity, and I wanted to give a second life to this material that I had in the toolbox, also to remember that I studied and worked for many years although I still do it at home, as a complement I will use the macramé technique, using one of the simplest stitches and I also use some of my tools.
Esta es mi participación al concurso de la comunidad #Jewerly, reciban mi salutación. Muy feliz me uno a la aventura de retos, porque me fascina las manualidades y mas si es trabajar con hilos, bisutería y joyas. E Invito a participar a @mosesessien, @estefania3, @racn al concurso y este es el enlace

Qué ocasión mas bella que el Día del Amor, Día de San Valentín para realizar con nuestras manos accesorios para nuestros familiares y amigos, para mostrarles nuestra simpatía y querencia a cada uno de ellos.
Desde estudios de primaria aprendí que la familia es la célula fundamental de la sociedad.
El mundo y mi país necesita que la familia vuelva a su origen. La familia se ha descarrilado de la verdadera función, entonces es nuestro trabajo una vez mas de que la familia se fortalezca con la ayuda del AMOR en nuestros hogares aceptando las diferencias de cada uno, para que al trascurrir los días nos desarrollemos y crezcamos en armonía y podamos afrontar la vida juntos. Podemos lograrlo a través del buen ejemplo, desarrollar los valores, formación académica, y la participación ciudadana.
Como padres nuestra función principal es darle el soporte a nuestros hijos, actuando con responsabilidad, enseñarles quienes somos y nuestra manera de vivir, porque somos el patrón que ellos copiarán desde la niñez.
Debemos tener buena actitud, buenos sentimientos y buena educación esto hará unos mejores hijos. A veces tendremos que hacer ajustes de actitudes y comportamientos sin sentirnos mal para acercarnos a nuestros hijos. Esto sería para reafirmar nuestro amor, respeto, confianza y aceptación, esto nos permitirá estar a su lado y apoyarlos en todo los momentos que sean necesarios.
Todos eso se verán reflejados cuando nuestros hijos ya sean adultos independientes emocionalmente nos darán amor, cariño y gratitud por lo que le dimos, es retribución mutua. Nuestros hijos serán felices si nosotros hemos sido felices.
Para fortalecer las relaciones familiares debe haber respeto, buen trato, compartir momentos de calidad, dividir responsabilidades desde la niñez, cumplir promesas, dar mucho amor, dar caricias, abrazos y decir palabras amorosas. Un detalle muy importante es que nosotros debemos manejar nuestro estrés y malestar para no afectar a nuestros hijos.

Esta manifestación de amor será dirigida a mi familia. En este caso es una forma de homenajear a la familia para incentivar que debemos hoy estar mas unidos que nunca.
Las pulseras de este proyecto están hechas con hilo de nailon, algunas piezas recicladas del área de electricidad y mecánica (tuercas). Soy graduada en electricidad, y quise darle una segunda vida a ese material que tenía en la caja de herramientas, además para recordar que estudié y trabajé por muchos años en eso aunque sigo haciéndolo en mi hogar, como complemento usaré la técnica del macramé, utilizando uno de los nudos mas sencillos y además uso algunas de mis herramientas.
---
Step by step//Paso a paso
---
Materials//Materiales:
---
Brown, black, pink and white nylon thread.
10 small hexagonal nuts.
04 hearts 💕.
02 tweezers.
Scissors.
Tape measure.
A board with hook (press).
Hilo de nailon color marrón, negro, rosado y blanco.
10 tuercas hexagonal pequeñas.
04 corazones 💕.
02 pinzas.
Tijera.
Cinta métrica.
Una tabla con gancho.(Prensa)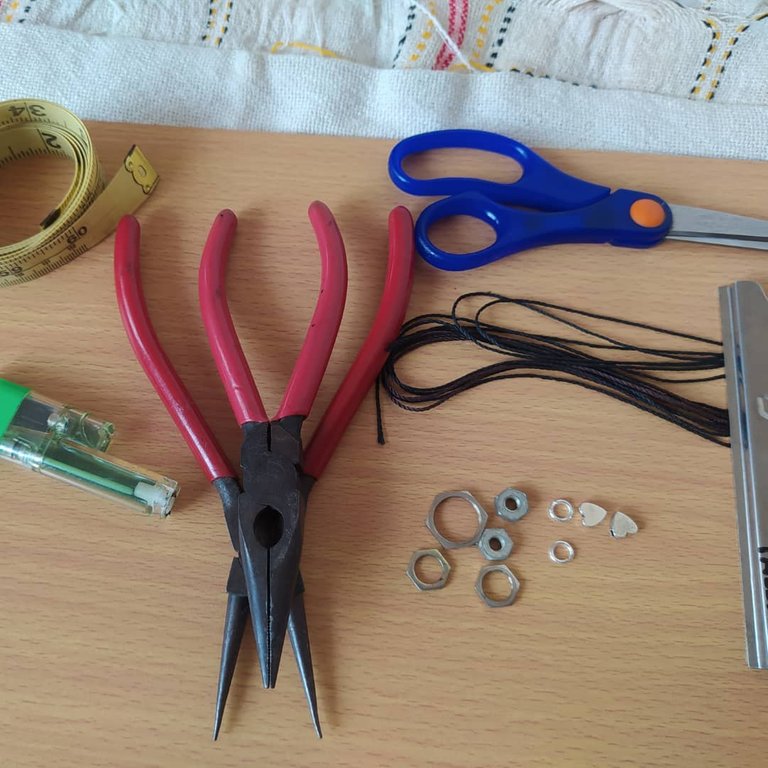 ---
Process//Proceso:
---
All bracelets are made with the same scheme.
With the measuring tape we measure the threads by groups.

We cut 06 threads 90 cm.(2 on each side)A, C

We cut 04 threads 60 cm (fixed in the center) B.

We take the biggest nut, we make the lark's knot on each side of the nut.(B)The lark's knot consists of assembling the threads that will be fixed. The thread is folded in half and passed through the nut from top to bottom. Bring the loose ends through the loop and finally it is pressed.

We insert the nut into the hook on the board.

Then we knot the group of threads A and C.
First step
We tie a half knot or macramé knot.
Half double knot
Left hand A
Pass the threads of the left hand A over the fixed B and under the threads of the right hand C, leave a small loop on the left A. Bring the threads of right hand C underneath fixed B and over, through the loop.
To tighten, gently pull the knotting threads.
Todas las pulseras se hacen con el mismo esquema.

Con la cinta métrica medimos los hilos por grupos.

Cortamos 06 hilos 90 cm.(2 de cada lados)A, C

Cortamos 04 hilos 60 cm (Fijos en el centro) B.

Tomamos la tuerca mas grande, hacemos el nudo alondra en cada lado de la tuerca.(B)El nudo alondra consiste en montar los hilos que estarán fijos. El hilo se dobla a la mitad se pasa por la tuerca de arriba abajo. Traer los extremos sueltos pasar por el lazo y por último se presiona.

Insertamos la tuerca en el gancho de la tabla.

Luego anudamos el grupo de hilos A y C.

Primer paso

Hacemos un medio nudo o nudo macramé
Mitad del nudo doble
Izquierda A
Pasa los hilos de la mano izquierda A sobre las fijas B y por debajo de los hilos de la mano derecha C, deja un pequeño lazo en la izquierda A. >Lleva los hilos de la mano derecha C por debajo de las fijas B y por encima, a través del lazo.
Para apretar, jala suavemente los hilos de anudar.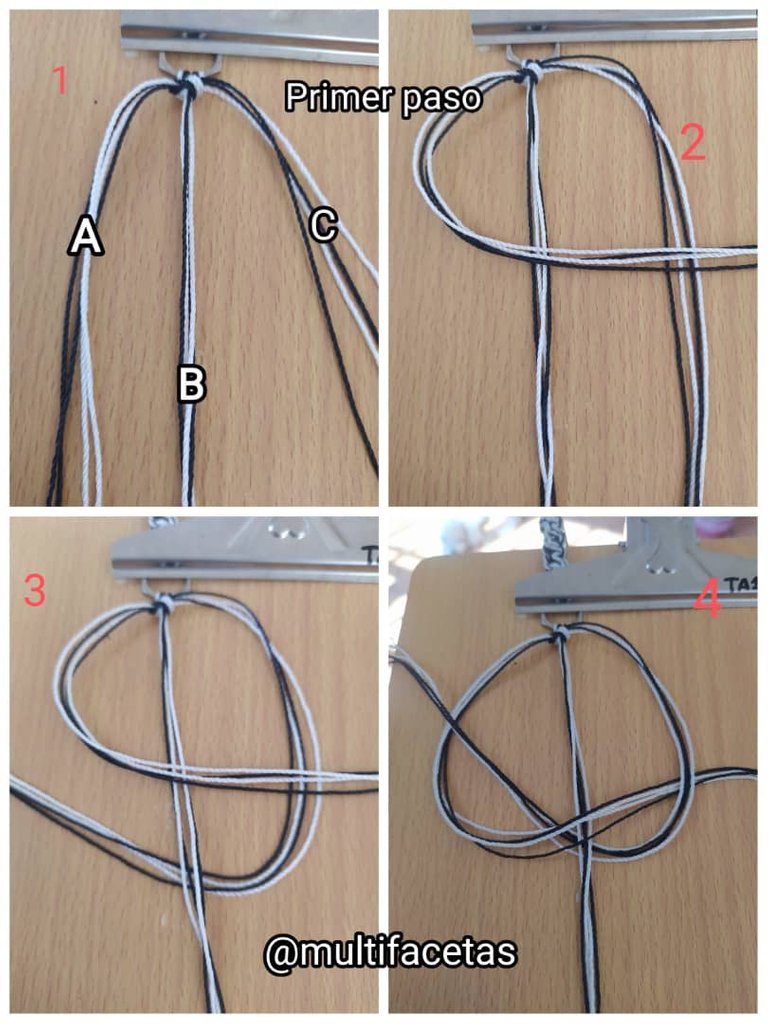 ---
Second step
Right C
The yarns are worked in the opposite direction.
Segundo paso

Derecha C
Se trabaja los hilos en sentido contrario.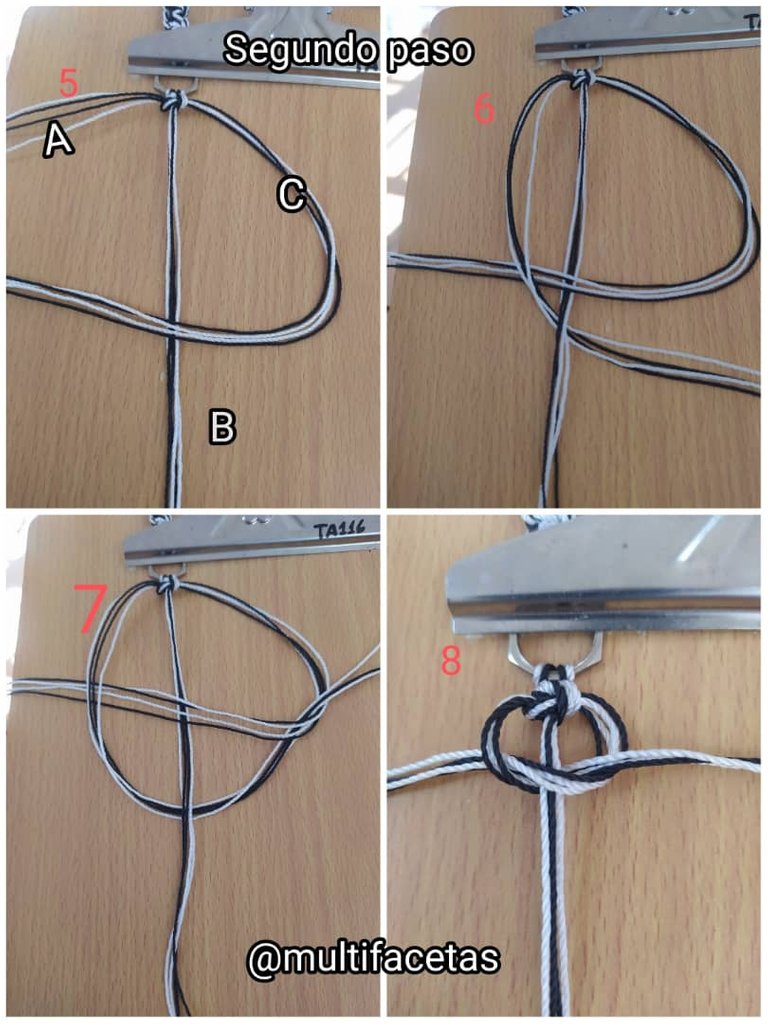 ---
Assembly//Ensamblado:
---
I inserted to the hexagonal nut a heart which is a symbol of LOVE 💖.
I also placed a smaller nut on the tips.
Inserté a la tuerca hexagonal un corazón que es símbolo de AMOR 💖.
También les coloqué en las puntas una tuerca mas pequeñas.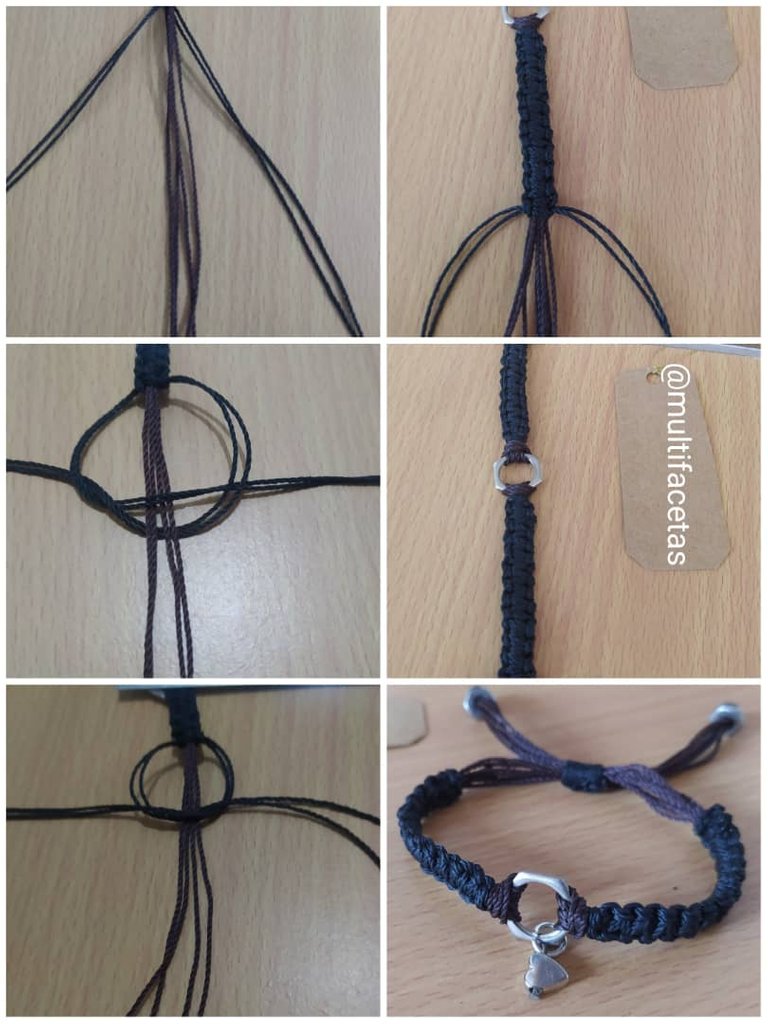 ---
... And ready my hexagonal nut bracelets woven with macramé technique to give to my family.
I also wanted to take advantage of the space to complement the theme of the family with the values that seem to have gone out of fashion in the world because we observe the predominance of unfair competition, excessive consumerism, selfishness without limit, easy and quick success and instant solutions such as luck.
We must now implement mechanisms to re-instill values in our children and apply them to get out of mediocrity and unconsciousness.
... Y listo mis pulseras de tuerca hexagonal tejidas con técnica macramé para obsequiar a mi familia.

También quise aprovechar el espacio para complementar el tema de la familia con los valores que parecen que han pasado de moda en el mundo porque se observa el predominio de la competencia desleal, el consumismo desmesurado, el egoísmo sin límite, el éxito fácil y rápido y soluciones instantáneas como la suerte.
Debemos ahora implementar mecanismos para volver a inculcar los valores a nuestros hijos y aplicarlos para salir de la mediocridad y la inconsciencia.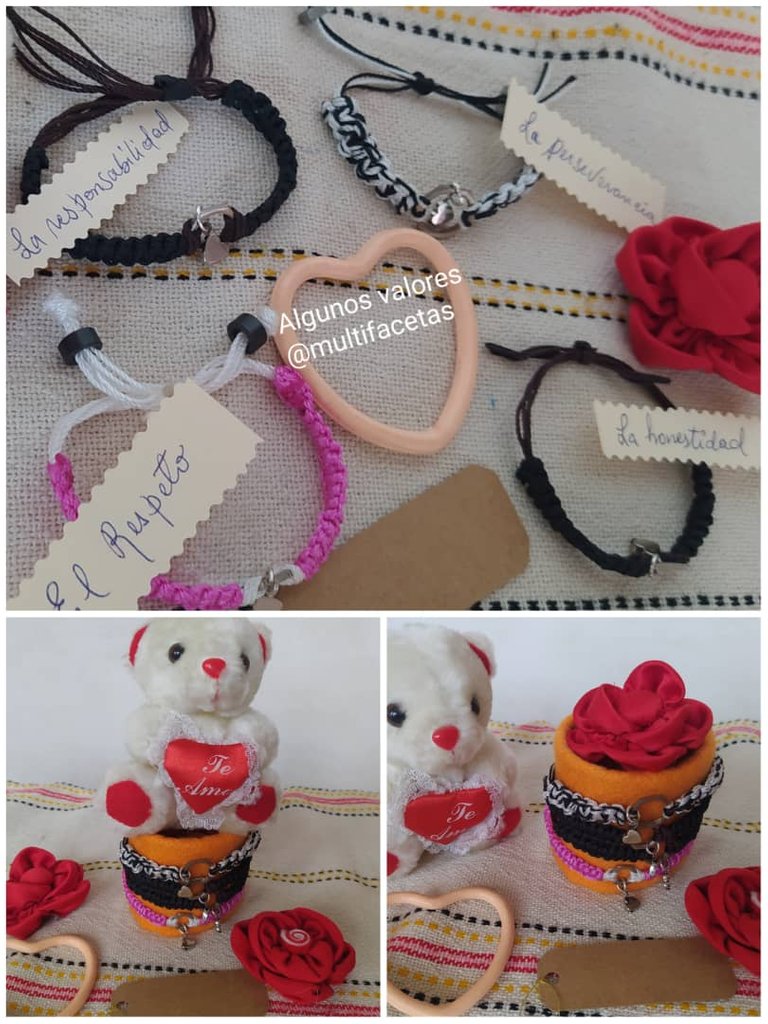 ---
I felt motivated with this contest and I came up with the idea that my bracelets had a relationship with several values to remember that they exist, for reasons of time I could not make more, plus I had no more colors of thread.
Each bracelet has a sign that refers to a value. I chose four values that are most relevant and that I have instilled in my family. They are: Respect, responsibility, perseverance and honesty.
Me sentí motivada con este concurso y me surgió la idea que mis pulseras tuvieran una relación con varios valores para recordar que existen, por razones de tiempo no pude realizar mas, además no tenía mas colores de hilo.
Cada pulsera tiene un cartel que refiere un valor. Escogí cuatro valores mas relevantes y que he inculcado en mi familia. Ellos son: El respeto, la responsabilidad, la perseverancia y la honestidad.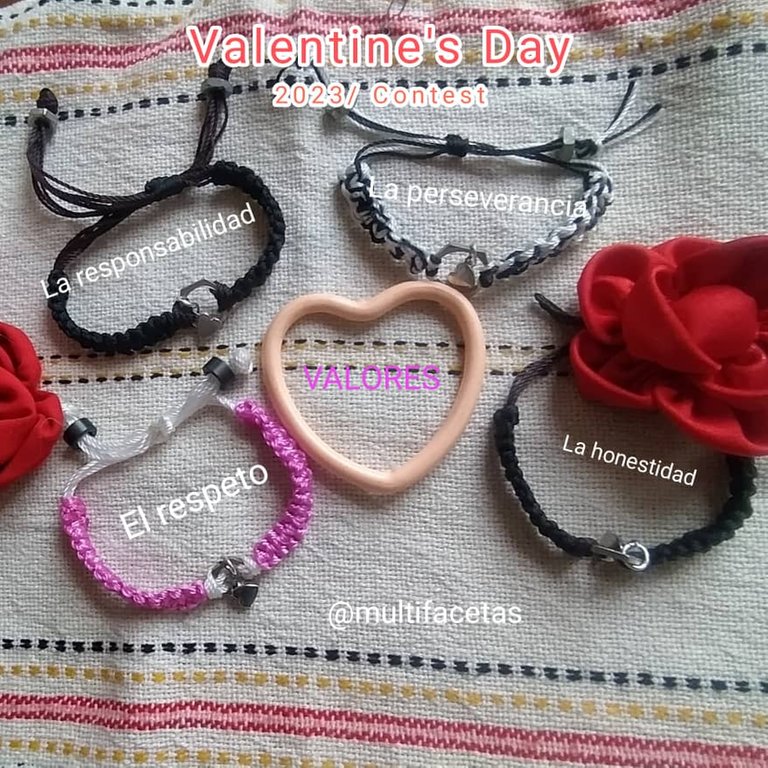 ---
My family was very happy when I told them about the contest and what I wanted to do, they supported me and even gave me ideas.
I was very happy to do this challenge, and I also remembered nice moments from last year on Valentine's Day, the day of LOVE AND FRIENDSHIP.
Mi familia estuvo muy contenta cuando les comenté sobre el concurso y lo que yo deseaba hacer, me apoyaron y hasta me dieron ideas.
Me sentí muy feliz realizar este reto, y además recordé momentos agradables del año pasado en el Dia de san Valentin, dia del AMOR Y la AMISTAD.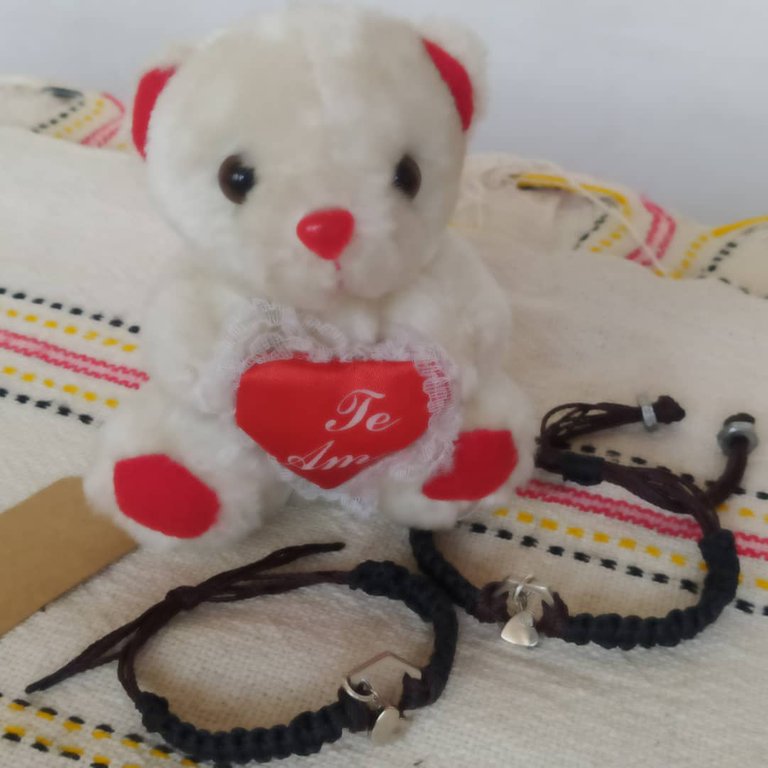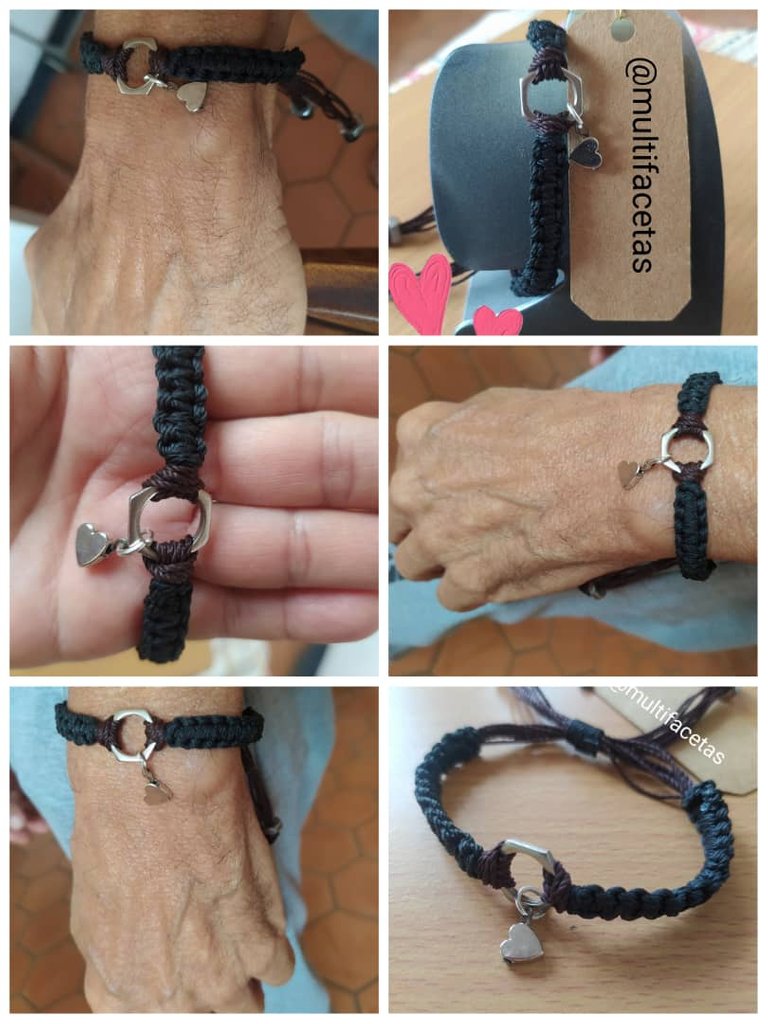 ---
Good my friends I wish you a Happy Valentine's Day❤.
Buenos mis amigos les deseo que pasen un Feliz Día de San Valentín❤
---
💖💖💖Everything with LOVE is achieved💖💖💖
💖💖💖Todo con AMOR se logra 💖💖💖
---
So much for my publication. Thank you for reading.❤
Hasta aquí mi publicación. Gracias por leer.❤
---
Texts and photos are my authorship.
Translation with Deepl. Photo taken with Xiaomi Redmi Note 8.
Banner and text separator created with Canva.
Los textos y las fotos son de mi autoría.
Traducción con Deepl. Foto tomada con el Xiaomi Redmi Note 8.
Banner y separador de texto creado con Canva.
---

---
---