[ENG-SPA]Happy New Year🥂 2023 🎉#NeedleWorkMonday//Feliz Año Nuevo🥂🎉 2023 #NeedleWorkMonday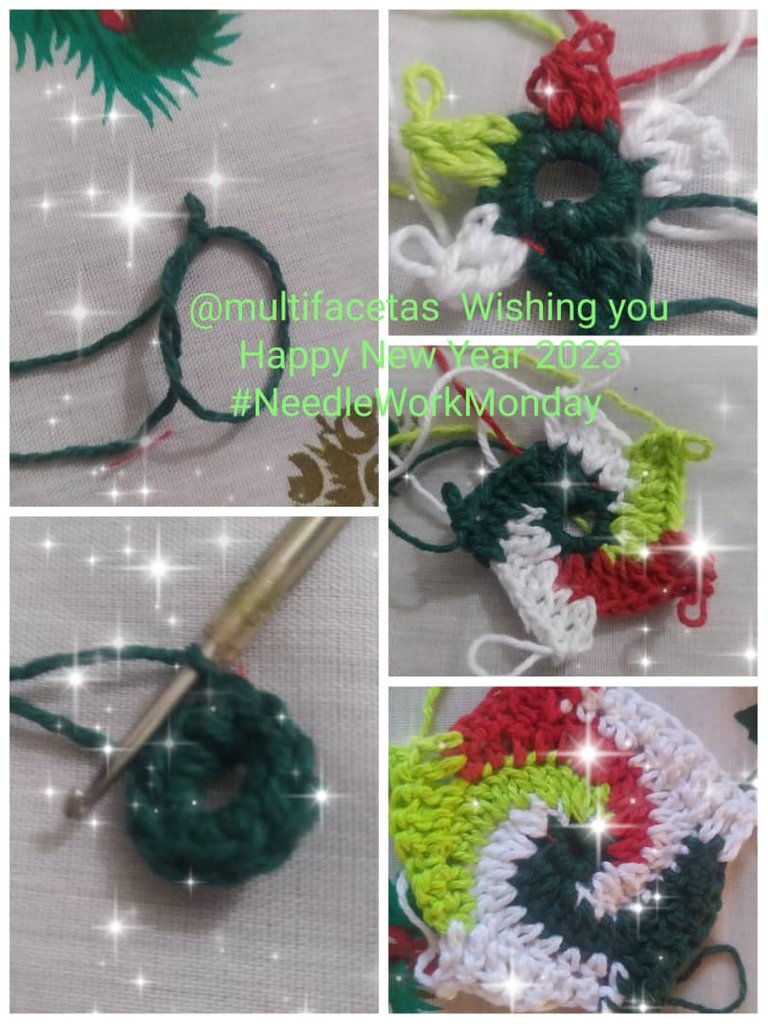 Hello #hive friends.
Greetings to the #NeedleWork community. Happy #hive day.
What more emblematic to say goodbye to the year 2022 in the #NeedleWorkMonday community, with the realization of a multicolored knitting to honor all the members of this worldwide fraternity, in which I am proud to belong, thanking the promoters and especially its founder @crosheille, who very kindly welcomed us in this beautiful community of knitting and sewing artisans. Also to @marbleby, @kattycrochet, @neumannsalva, @lauramica, @romeskie. This fabric is made with the thread pabilo red, green, white. I had several days with this project in mind until yesterday I had some time and I started it, but I couldn't finish it, because I got confused and I don't have time for this year. I promise that for the next one I will try to decipher this weaving. However, I present to you the first steps.
Hola amigos de #hive.
Saludos a la comunidad #NeedleWork. Feliz día.

Que más emblemático despedir el año 2022 en la comunidad #NeedleWorkMonday, con la realización de un tejido multicolor para homenajear a todos los miembros de esta fraternidad mundial, en la cual estoy orgullosa pertenecer, agradeciendo a los promotores y en especial a su fundadora @crosheille, quien muy amablemente nos ha acogido en esta hermosa comunidad de artesanos del tejido y la costura. También a @marbleby, @kattycrochet, @neumannsalva, @lauramica, @romeskie. Este tejido es hecho con el hilo pabilo color rojo, verde, blanco. Tenía varios días con ese proyecto en mente hasta que ayer tuve un poco de tiempo y lo empecé, pero no pude concluir, porque me confundí y ya no tengo tiempo por este año. Prometo que para el próximo trataré de descifrar este tejido. Sin embargo, les presento los primeros pasos.
Step by step//Paso a paso
Materials//Materiales:
Red, white, dark green and apple green wick yarn.
Crochet needle nº2.
Hilo pabilo color rojo, blanco, verde oscuro, y verde manzana.
Aguja crochet nº2.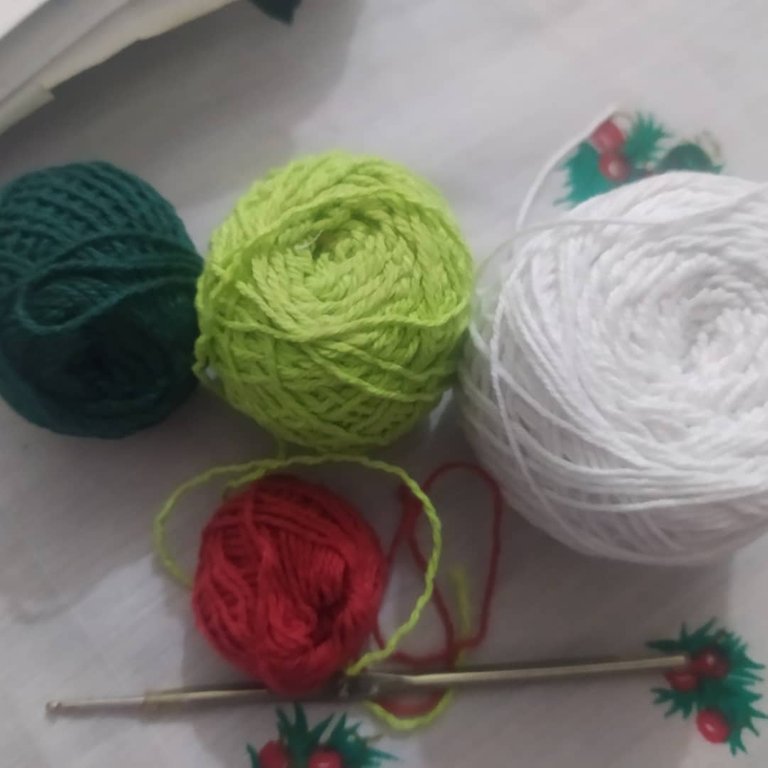 ---
Abbreviations//Abreviaciones:
Ch: chain(s).
mp: half point.
mpa: half high point.
aum: increases.
pa: high point.
pr: slipped stitch.
Ch: cadena(s).
mp: medio punto.
mpa: medio punto alto.
aum: aumento.
pa: punto alto.
pr: punto deslizado.
---
Process//Proceso:
A magic ring is made with the dark green thread.
v1: On the magic ring, make 10 mp, pr, close the ring.
v2: Every 2 stitches insert the threads, first the dark green color, then the white color, then the red color, then the apple green and again the white color.
Se hace un anillo mágico con el hilo verde oscuro.
v1: En el anillo mágico se hacen 10 mp, pr, se cierra el anillo.
v2: Cada 2 puntos insertar los hilos, primer color verde oscuro, luego el color blanco, después el color rojo, el verde manzana y nuevamente el color blanco.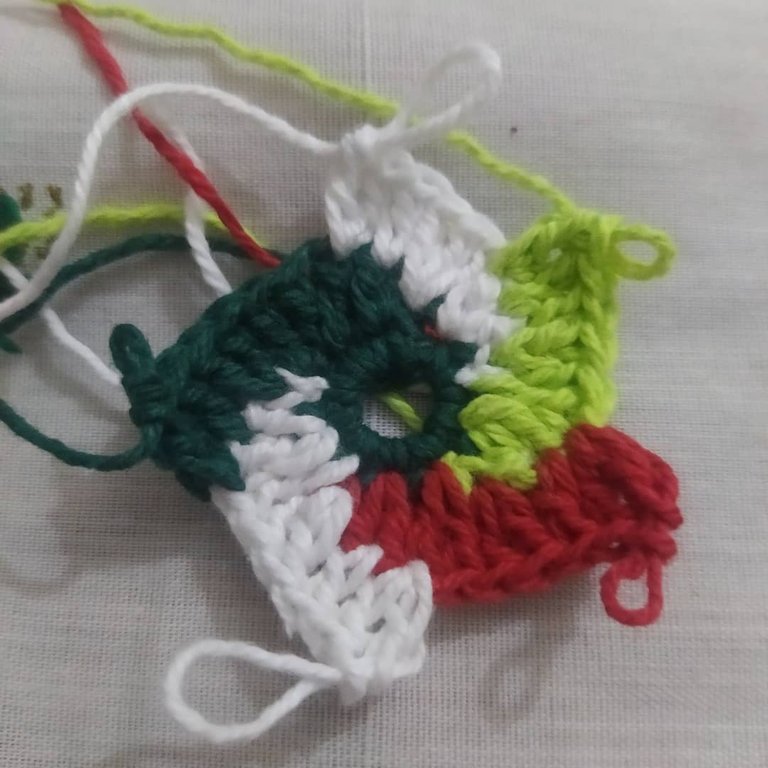 ---
v3: In the next stitch make, aum(mpa,pa), green color pa, release and take the loop of the white thread, repeat previous sequence, and so on with the next color turning counterclockwise (so far, so good, in the next hours the year will end, I have other obligations, this story will continue).
v3: En el punto siguiente hacer, aum(mpa,pa), pa color verde, soltar y tomar la lazada del hilo blanco, repetir secuencia anterior, y así sucesivamente con el siguiente color girando al contrario al sentido de las agujas del reloj. (hasta aquí, todo bien en las próximas horas terminará el año, tengo otras obligaciones, esta historia continuará)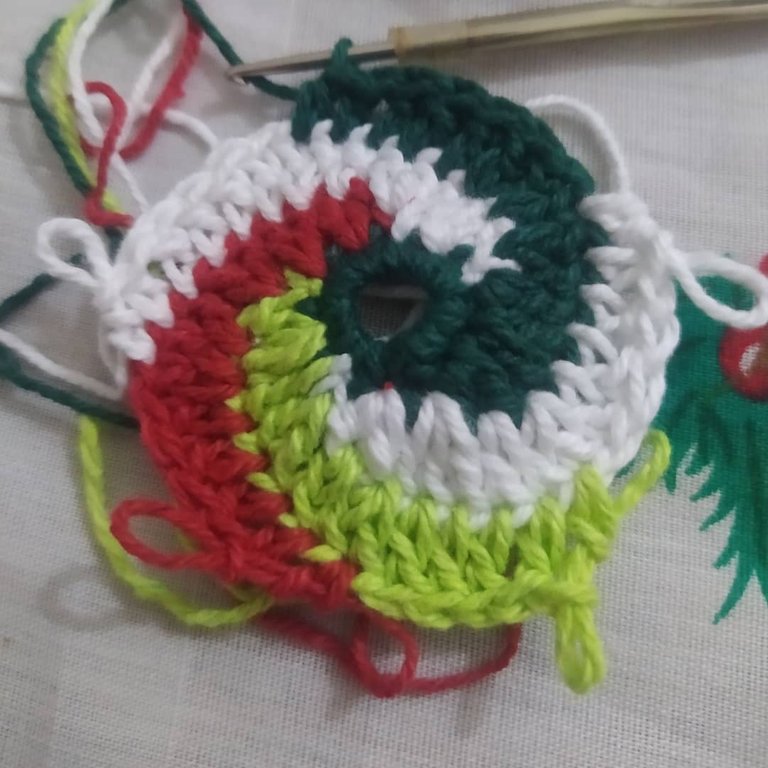 ---
Assembly//Ensamblado: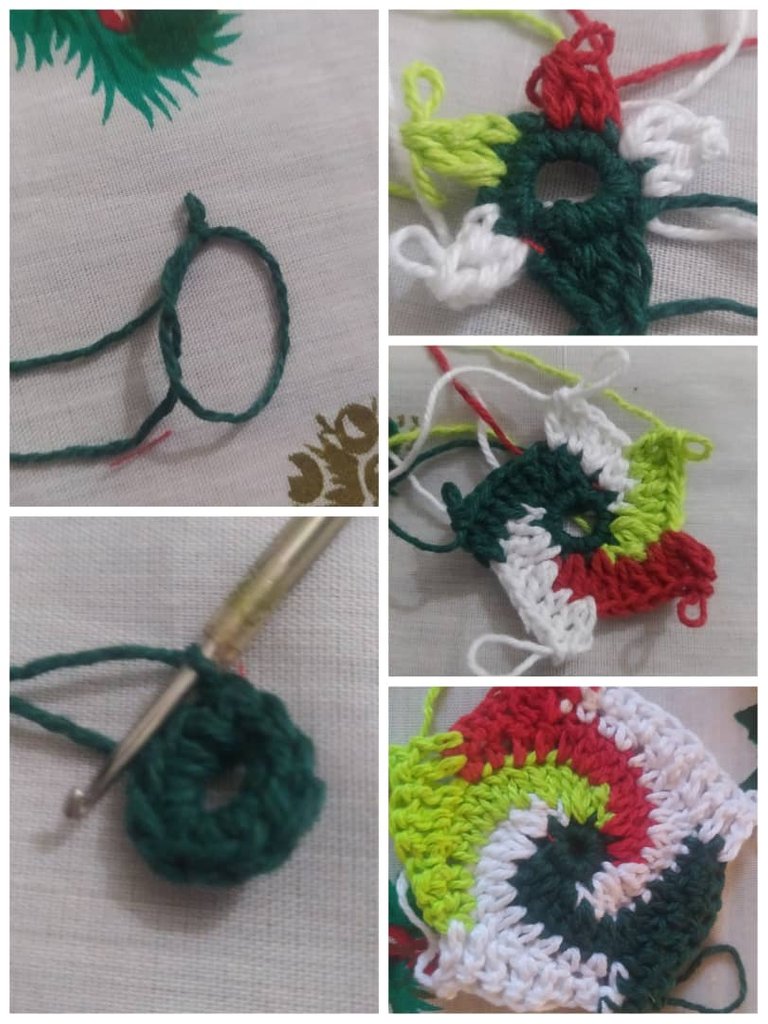 ---
… And ready the multicolored fabric.
It is unfinished, I do not have time for this year to see where I failed or how many high stitches (pa) I have to do to form a multicolored 5-pointed star or it can also be a mat. Next year I will take up this project again (to be continued).
… Y listo el tejido multicolor.

Está inconcluso, no tengo tiempo por este año ver en que fallé o cuantos puntos altos (pa) tengo que hacer para formar una estrella multicolor de 5 puntas o también puede ser un tapete. El próximo año volveré a retomar este proyecto.(Continuará).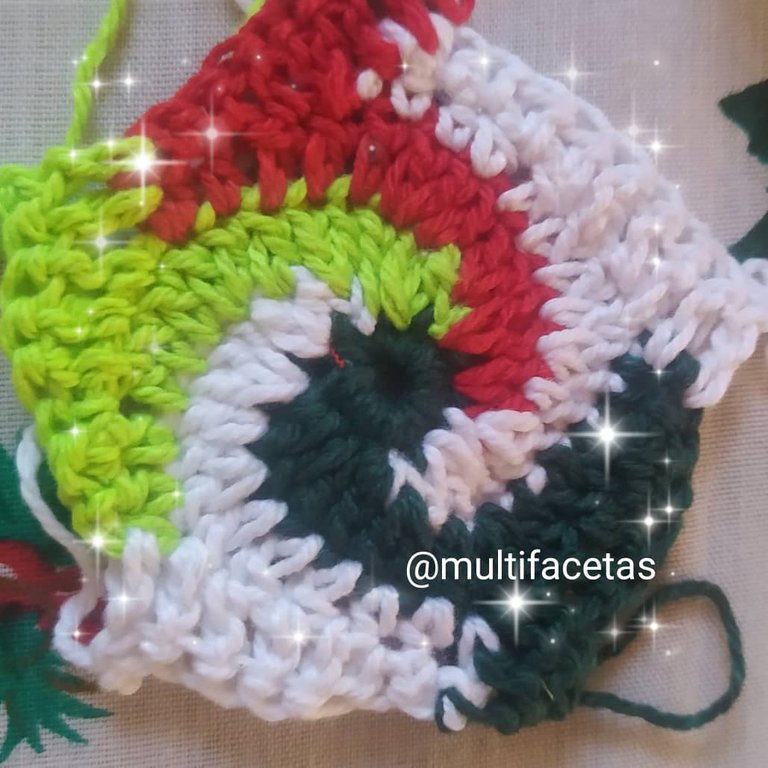 Starting to make this fabric, motivated me to thank this community that has encouraged me throughout the year 2022. They have valued several publications on my handmade art of knitting, recycling of jeans, work with felt, using my knitting needle, my sewing needle, my sewing machine, in short all the necessary tools. Also many thanks to all the hivers who have written to me, voted for me and to the curators who have taken into account my publications. I regret not having been active the previous years, but life is like that, sometimes things get complicated, but also the problem passes, then we recover and we get active.
Empezar a hacer este tejido, me motivó para agradecer a esta comunidad que me ha animado en todo el año 2022. Han valorado varias publicaciones sobre mi arte artesanal de tejido, reciclaje de jeans, trabajos con fieltro, usando mi aguja de tejer, de coser, mi máquina de coser, en fin todas las herramientas necesarias. También muchas gracias a todos los hivers que me han escrito, me han votado y a las curadurías que han tomado en cuenta mis publicaciones. Lamento no haber estado activa los años anteriores, pero la vida es así, a veces las cosas se complica, pero también pasa el problema, luego nos recuperamos y nos activamos.
---
Well, my friends it's time to say goodbye and wish you A Happy Holidays, may 2023 be a prosperous and prosperous year for all and for #Hive.
Bien, mis amigos es hora de despedirme y desearles Unas Felices fiestas, que el 2023 sea un año próspero y venturoso para todos y para #Hive
---
💖💖💖All with LOVE is achieved💖💖💖
💖💖💖Todo con AMOR se logra 💖💖💖
---
So much for my publication. Thank you for reading.❤
Hasta aquí mi publicación. Gracias por leer.❤
---
Texts and photos are my authorship.
Translation with Deepl. Photo taken with Xiaomi Redmi Note 8.
Banner and text separator created with Canva.
Los textos y las fotos son de mi autoría.
Traducción con Deepl. Foto tomada con el Xiaomi Redmi Note 8.
Banner y separador de texto creado con Canva.
---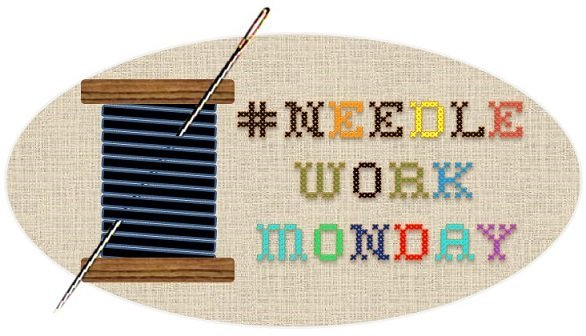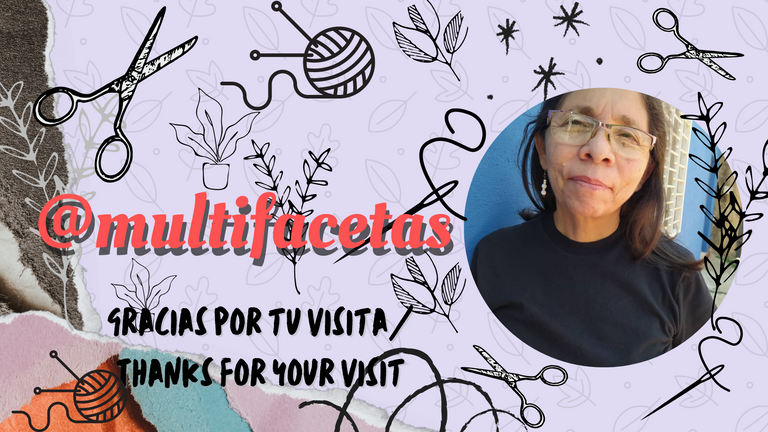 ---
---