Garden Journal January 2023:The milkweed or papaya🌱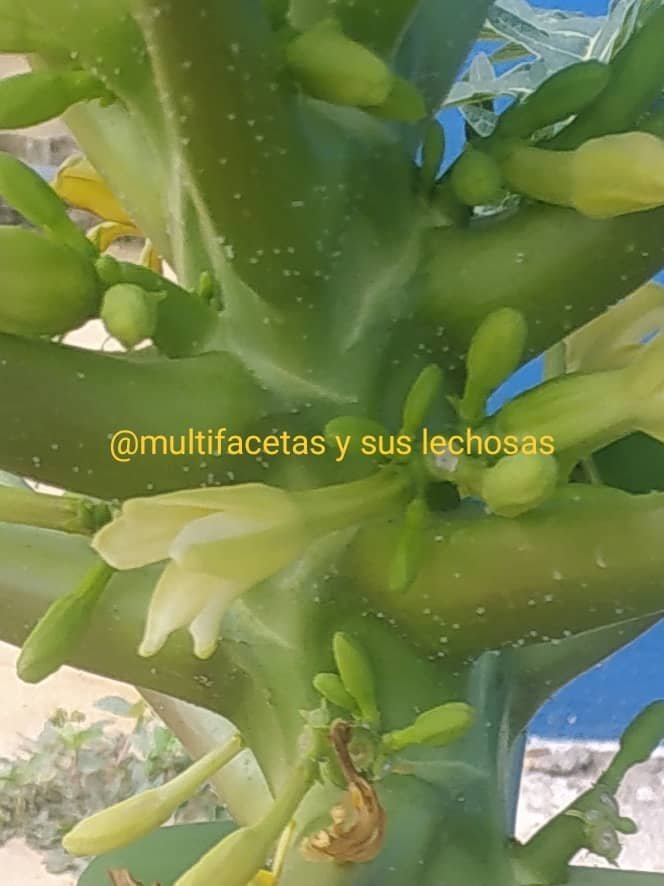 Welcome to my blog
    The only way to do great work is to love what you do.
                            - Steve Jobs

Hello #hive friends.
Greetings to the #HiveGarden community. Happy Saturday.
Today I present to you the process of milky or papaya production in my garden. I am very happy because my plant after almost two years of being planted began to bloom and recently began to come out the fruits. The rain did its magic, it fed the plant sufficiently.
I tell you that planting is an art, dear gardeners, because from the seed to the fruit must be monitored, it is like bringing a child into the world. I say this because I fanaticize in the whole process to obtain the desired fruit. I invite you to read the following steps.
---
Step 1.
I had more than almost two years this plant that had germinated from some seeds of a papaya that I bought in a greengrocer's shop, after eating it, I washed the seeds, and then I put them to dry. After a few days I made them germinate in a tray, then I transplanted them to some bags, there were about 15, then as the days passed some died from fungus, due to bad drainage, I changed them and improved the soil, and it was still pending. Then came the drought, but I watered them more times daily, in 2021 I took 06 to the field to plant them there and here I also left 06. When I arrived 02 had died. I opted to plant the 4 that were left. Then in 2022 it was a rainy year, which benefited the one I am showing today.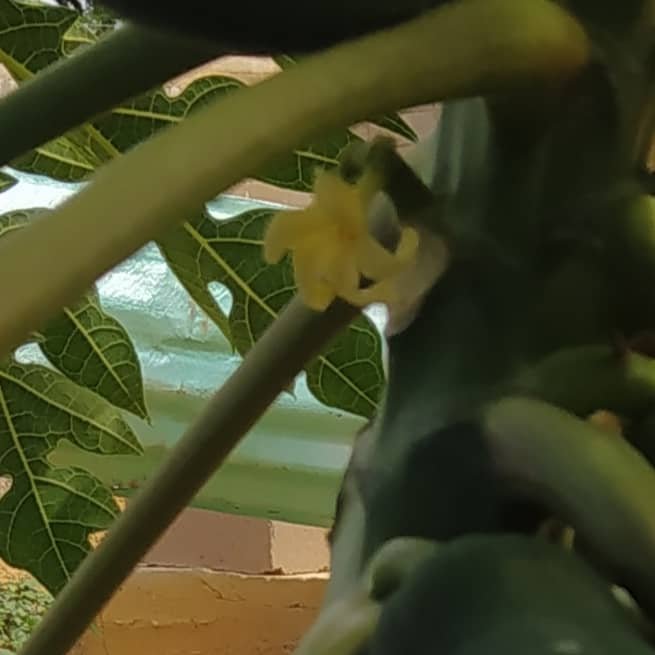 ---
Step 2
At the moment of planting it had a size of more than one meter high, 18 months old, when I put it in the ground I opened a big enough hole, I added agricultural lime to the soil, plus triple 15 fertilizer and organic fertilizer made by me with remains of egg shells, vegetables and coffee grounds. Daily watering.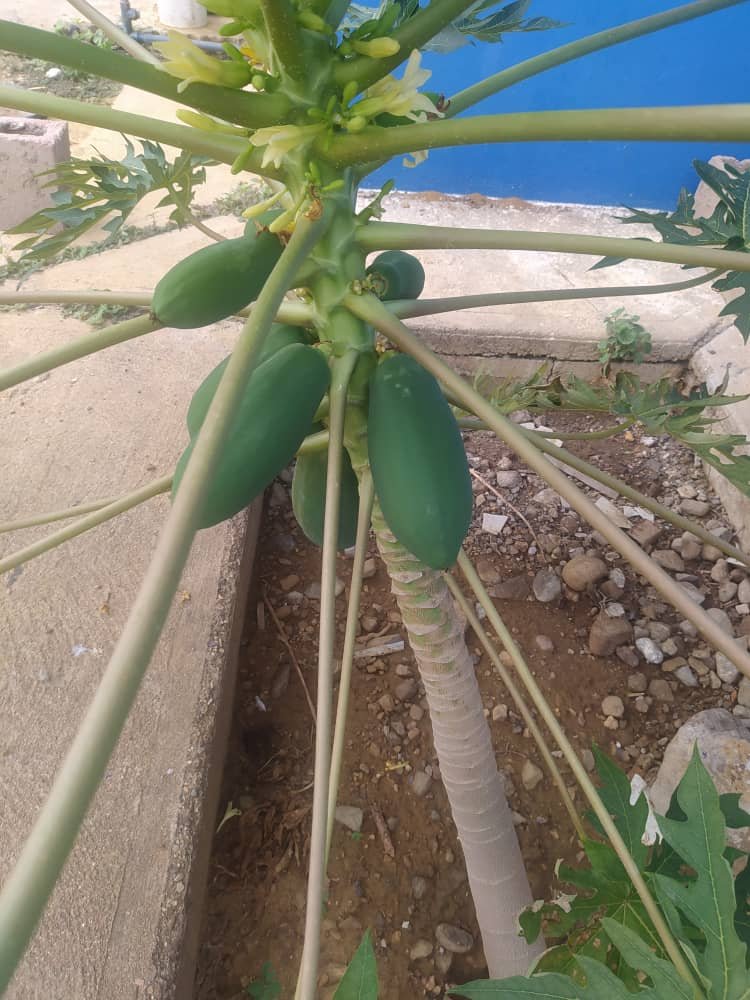 ---
Step 3
Every time it rained, I opened the furrow more to store more water and added triple 15.
---
Step 4
Days went by, and I observed its flowers, I thanked God and prayed for the fruits so longed for, now that the economy is quite unbalanced, harvesting is a great advantage, each kilo costs $1.5 quite expensive and of low quality.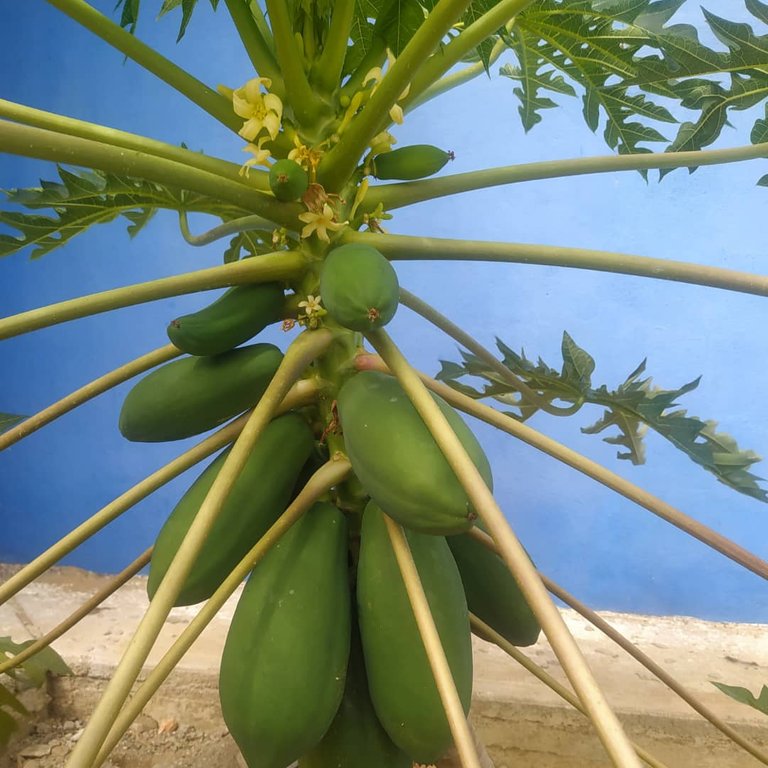 ---
Months have passed, and the fruits have formed with an adequate size. One day in December I observe a yellowish papaya, I remove it from the plant with a knife, I make some small slits to make it ripen faster, a method that my grandparents used to do, three days later it was ready and I cut it into small squares with other fruits for a fruit salads, to eat it at snacks.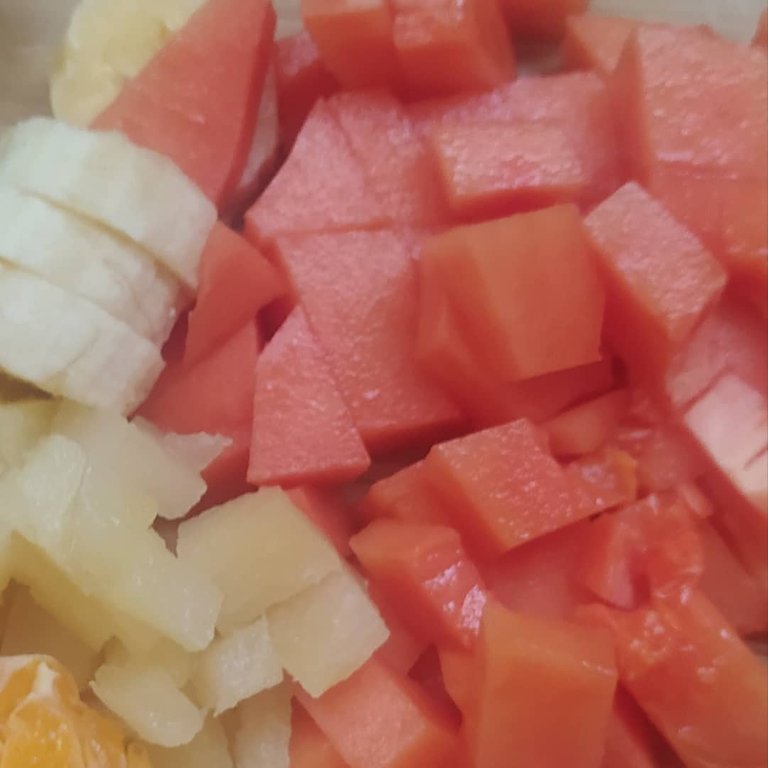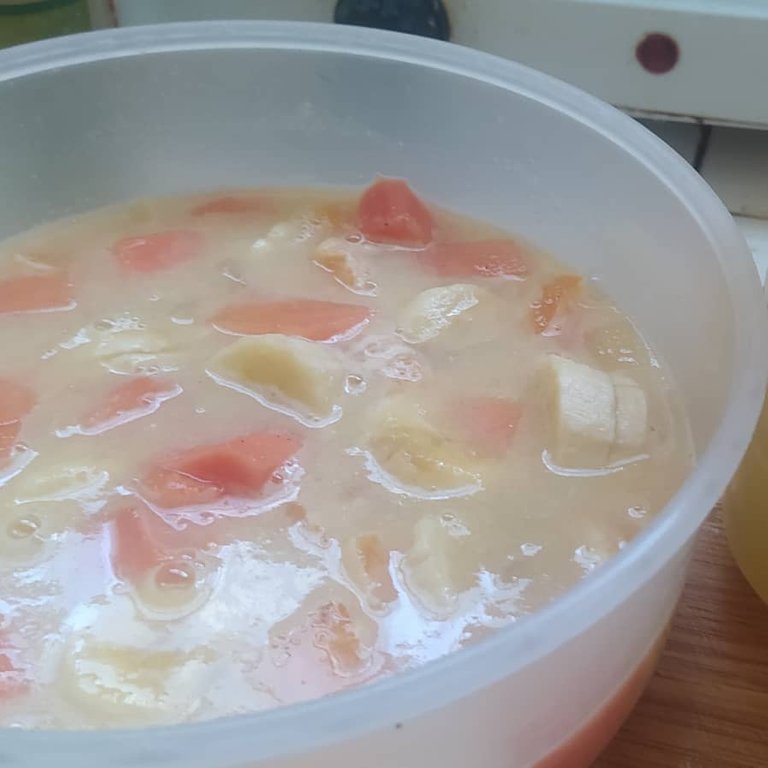 ---
December went by, and I didn't make the traditional milky sweet, waiting for the fruit to be ready. Now, in January, I had a still-green milky fruit, ideal for this delicious delicacy.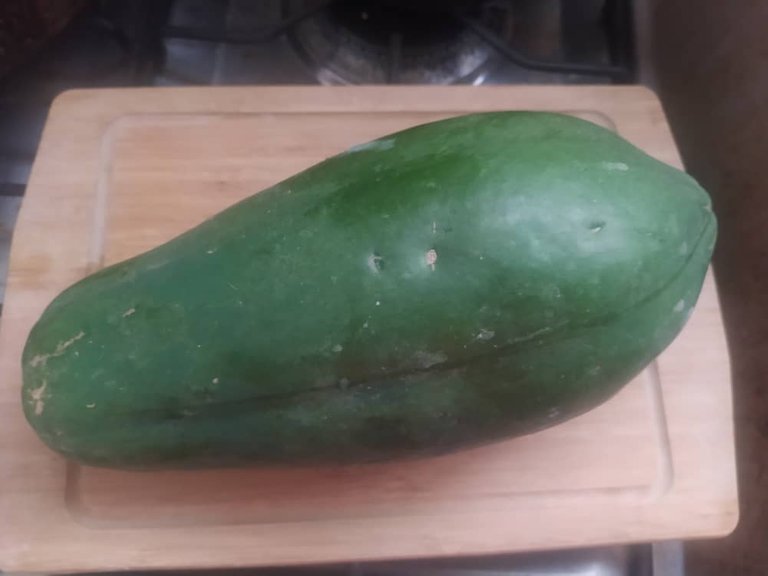 ---
Milk sweet:
The next day I already had the 1/2 kg of sugar, 15 cloves, 01 teaspoon of soda.
And I set out to remove the shell with a potato peeler, a friend recommended and lent me that utensil, which made my job easier. It was a good idea to use the potato peeler because with a knife it is inadequate and the shell comes out thick.
I cut it into julienne strips, soaked it for 10 minutes in water and soda.
Then it is strained.
In a pot I added the papaya, sugar, cloves.
It is placed on the stove, with a wooden spoon is mixed gently, until the sugar becomes caramel, but I observed that the milky broke with the heat, I had a mistake because I cut too thin juliennes and became a kind of jam.
It was ideal to eat spread on crackers.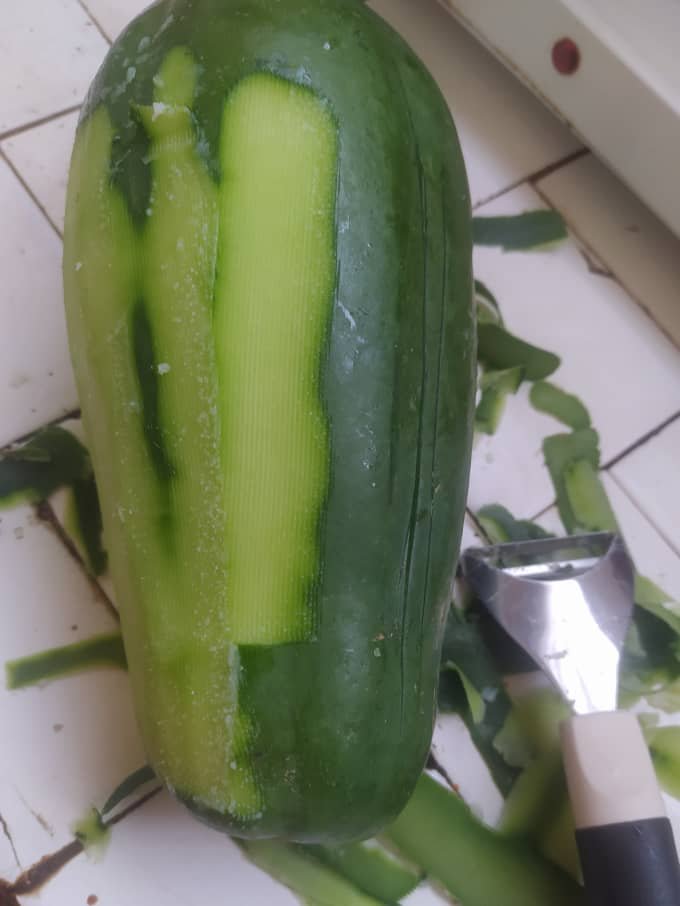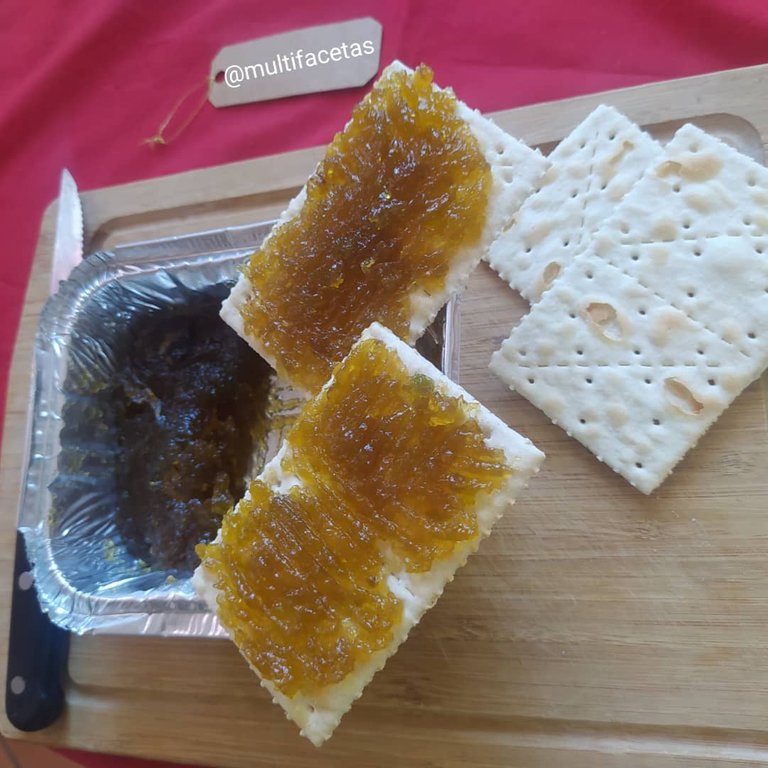 ---
Milkweed conserve.
I also took a piece of milky, put it through a coarse grater.
In a pot I add a cup of grated milky, 1/2 cup of sugar and cook over medium heat, stir until the sugar forms a caramel until I observe that in the spoon the sweet adheres, turn it off and proceed to give it a paddle until it hardens. And the preserve is ready.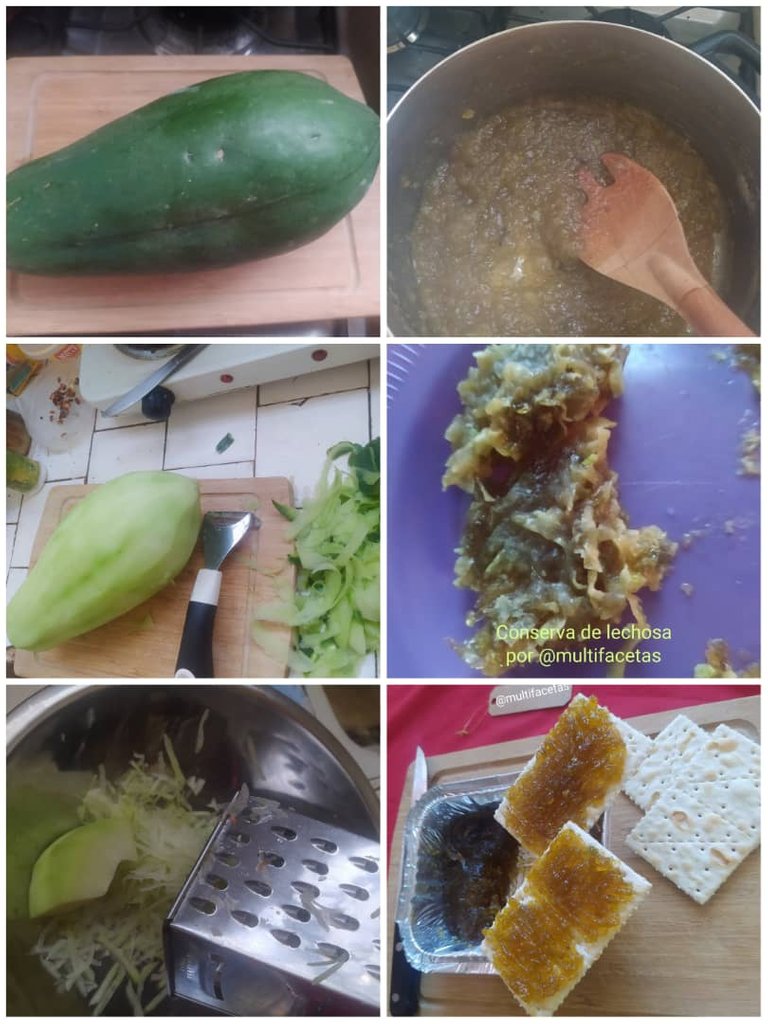 ---
Did you know?
Milkweed is a tropical fruit, its flavor is sweet and juicy.
Its scientific name is carica papaya.
In Venezuela it is cultivated throughout the territory, in family orchards and in medium extension.
It can be consumed in juices, meringues,fruit salads, desserts, ice creams, candied and dehydrated fruits.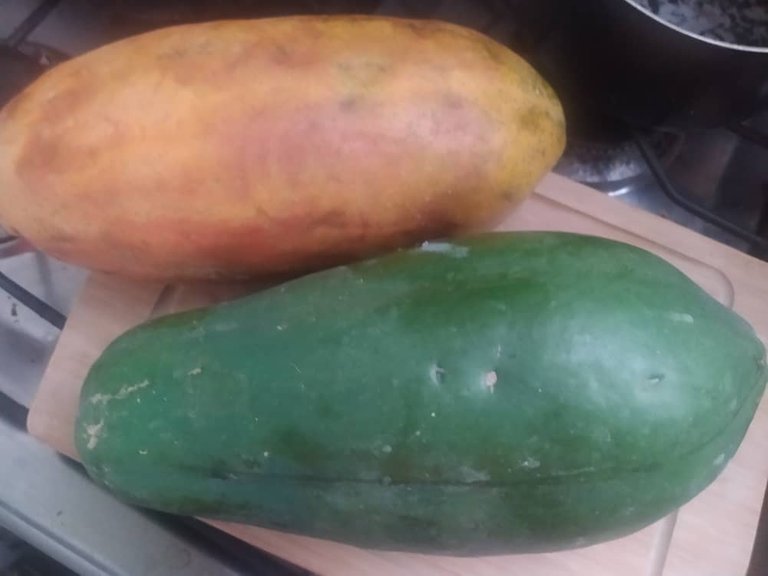 ---
Benefits:
    The consumption of this fruit brings benefits to our organism.
    - Improves digestion (papain)
    - Contains vitamins B (B1, B2, B3), vitamins C, A and D.
    - For its high content of fiber and water, prevents constipation.       
    - Rich in minerals: sodium, potassium, calcium, magnesium, phosphorus, iron, zinc and iodine.
    - The consumption of its ground seeds on an empty stomach helps to counteract gastrointestinal parasites (carpaina).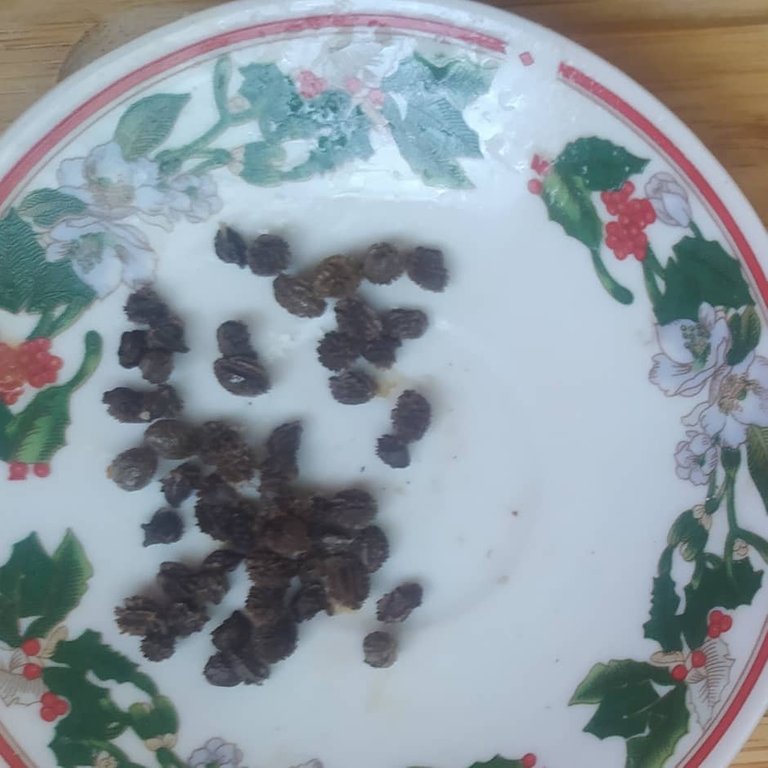 ---
Well, my gardening friends of the world, I wish you a happy day!
---
💖💖💖Everything with LOVE is achieved💖💖💖
---
So much for my publication. Thank you for reading.❤
---
Texts and photos are my authorship.
Translation with Deepl. Photo taken with Xiaomi Redmi Note 8.
Banner and text separator created with Canva.
---

---
---