Valentine's Day: Heart-shaped box with lid 💖with waste materials//Caja con tapa en forma de corazón 💖 con material de provecho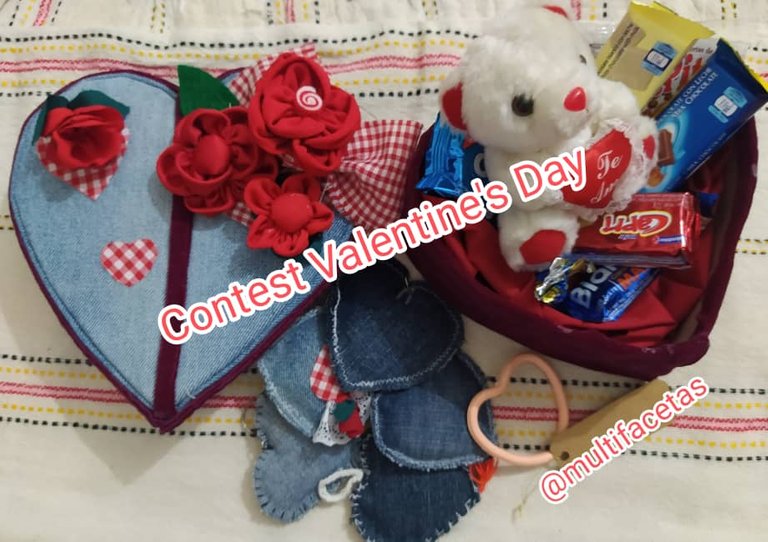 ---
Welcome to my blog//Bienvenidos a mi blog
---
Un sueño no se hace realidad por arte de magia, necesita sudor, determinación y trabajo duro. 
            - Colin Powell

This is my entry to the New Contest: Valentine's Day, from the #Hivediy community. Thanks to @ivycrafts for inviting me. And I invite @blanca56 to participate and this is the link
Very excited to do this project to celebrate this beautiful day where the heart figure is the protagonist. Which represents the most important feeling of every human being, which expresses the immensity of LOVE and FRIENDSHIP, whatever the type of love: maternal, couple, friends, family. This four-letter word has a great weight in the life of every being, man or woman, lived in different ways, since we are all different by nature. The LOVE can be defined as a feeling towards another person that naturally attracts us and that seeking reciprocity in the desire of union, completes us, makes us happy and gives us energy to live together, communicate and create.
This detail I have made is a recycled cardboard box in the shape of a heart 💖 lined with recycled jeans fabric and combined with some simple red fabric flowers, which will serve as a receptacle for candies, chocolates and key chains, it will also have its lid. This gift was commissioned by a young entrepreneur to give to his workers as a reward for their good performance in their work. I am very happy to do this kind of activity because it is fun and entertaining because time goes by too fast and it helps me to be creative and imaginative. Now we are going to detail some steps.
Esta es mi participación al New Contest: Valentine's Day, de la comunidad #Hivediy. Gracias a @ivycrafts por invitarme. E invito a participar a @blanca56 y este es el enlace.
Muy emocionada en realizar este proyecto para celebrar ese hermoso día donde la figura de corazón es el protagonista. El cual representa el sentimiento mas importante de todo ser humano, el cual expresa la inmensidad del AMOR y la AMISTAD, cuál sea el tipo de amor: maternal, de pareja, entre amigos, entre familiares. Esa palabra de cuatro letras tiene un gran peso en la vida de cada ser sea hombre o mujer, vivida de diferentes maneras, ya que todos somos distintos por naturaleza. El AMOR puede ser definido como un sentimiento hacia otra persona que naturalmente nos atrae y que procurando reciprocidad en el deseo de unión, nos completa, alegra y da energía para convivir, comunicarnos y crear.
Este detalle que he hecho es una caja de cartón reciclado en forma de corazón 💖 forrada de tela jeans reciclado y aunado a unas sencillas flores de tela color rojo, el cual servirá de receptáculo de caramelos, chocolates y llaveros, además tendrá su tapa. Este regalo es un encargo que me hizo un joven emprendedor para obsequiar a sus trabajadores en premio por su buen desenvolvimiento en sus labores. Muy contenta en hacer este tipo de actividad por lo divertido y entretenido porque pasa el tiempo demasiado rápido y me ayuda a la creatividad e imaginación. Ahora pasamos a detallar algunos pasos.
---
Step by step//Paso a paso
---
Materials//Materiales:
---
Recycled cardboard from a circular tube box.
Scraps of scrap denim (lid lining and hearts 💕)
Red fabric scraps (box lining).
Silicone.
Scissors.
Ruler.
Molds of hearts💕 of different sizes.
Key rings (05).
Cartón reciclado de una caja de tubo circular-
Retazos de tela jeans de provecho (forro de la tapa y corazones 💕)
Retazos de tela color rojo (forro de la caja)
Silicón.
Tijera.
Una regla.
Moldes de corazones💕 de diferentes tamaños.
Llaveros(05).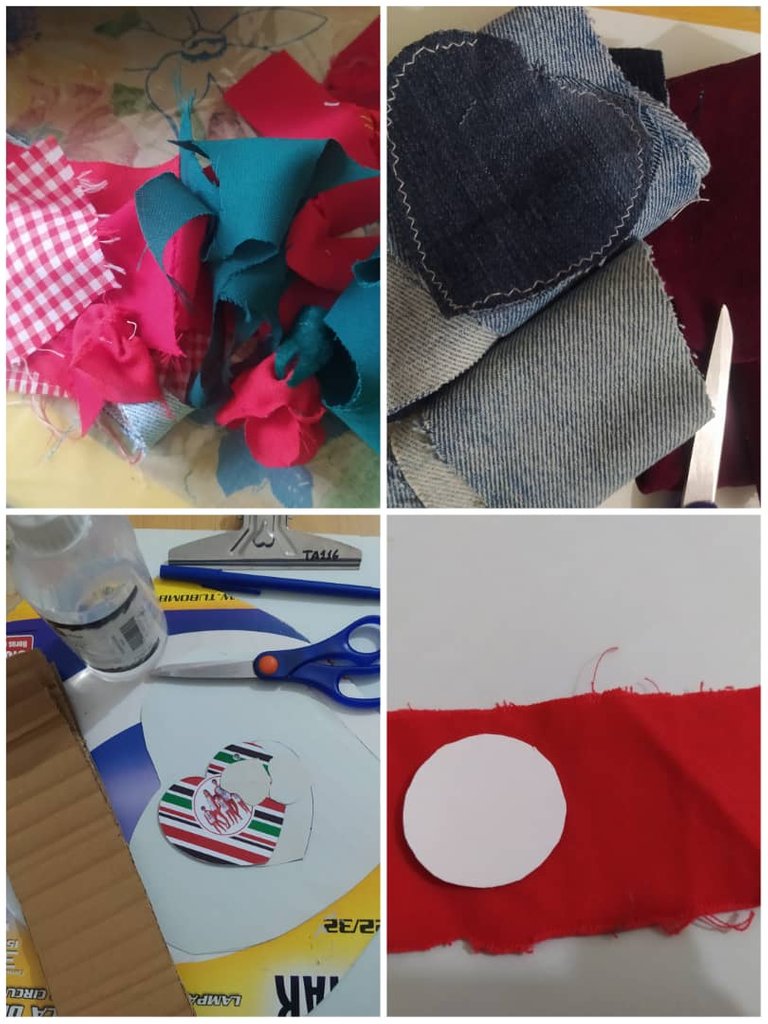 ---
Process//Proceso:
---
Step 1
Place 02 large 💕 hearts on the cardboard and cut out.
Cut the sides and glue giving the shape around the heart 💖.
Paso 1

Colocar 02 corazones 💕 grandes sobre el cartón y cortar.
Cortar los laterales y pegar dando la forma alrededor al corazón 💖.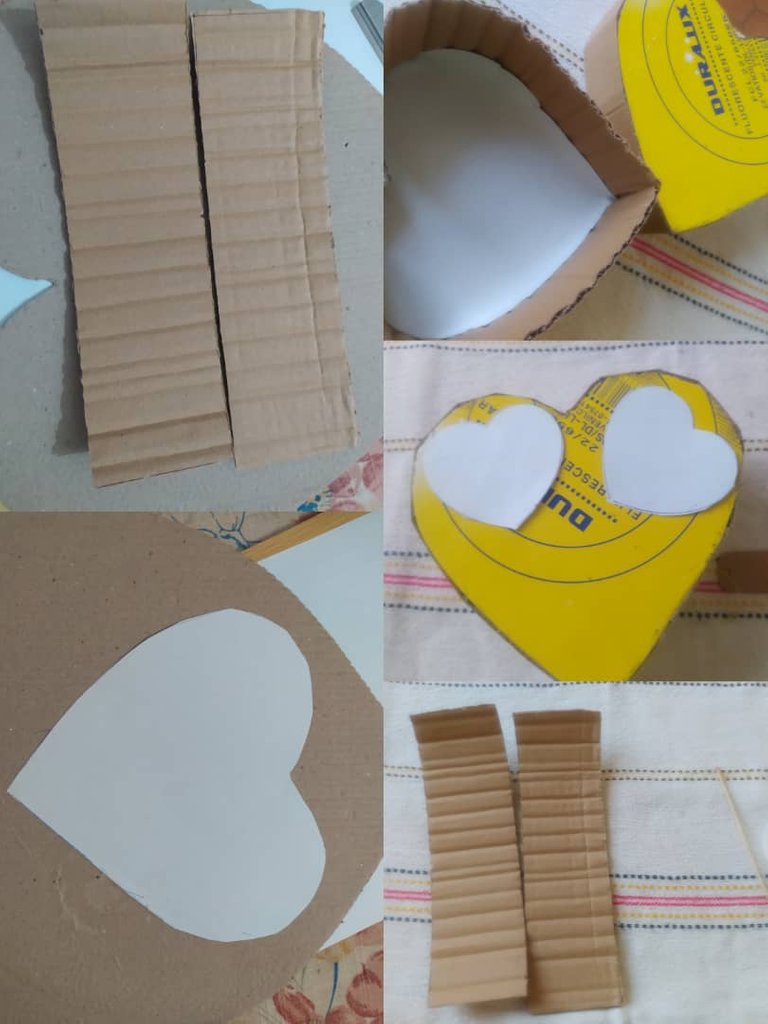 Step 2
Then proceed to line the lid with jeans fabric.
Then the bottom part of the box is lined with the red fabric.
Paso 2

Luego se procede a forrar con tela de jeans la tapa.
Después la caja, parte inferior se forra con la tela color rojo.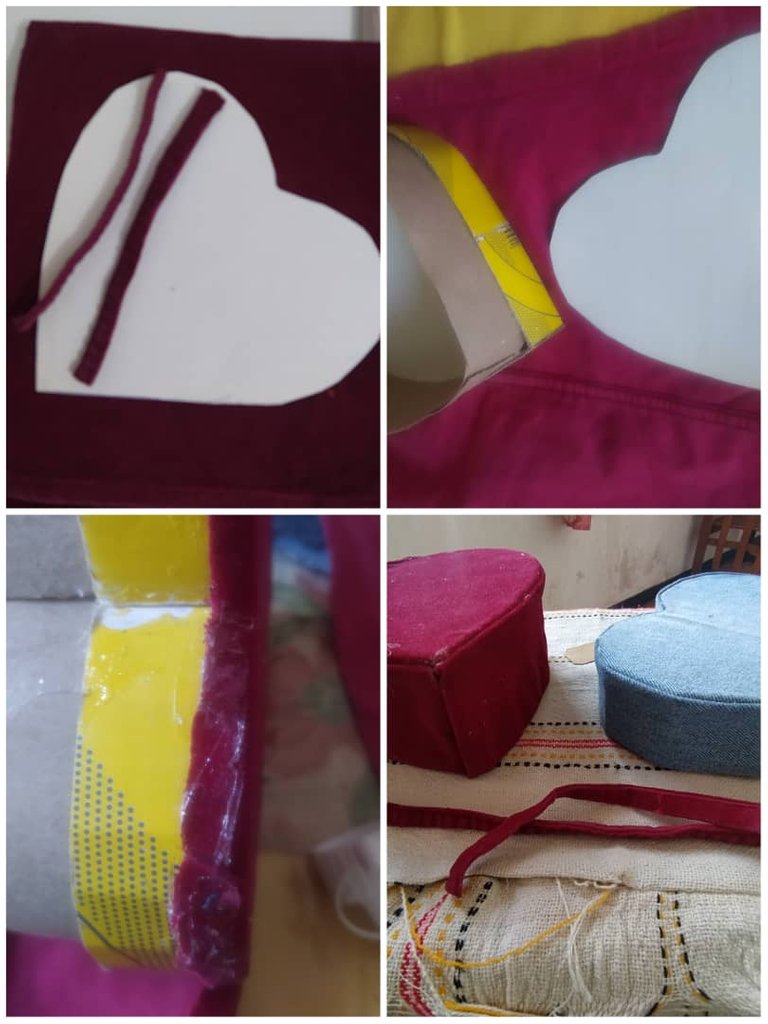 ---
Assembly//Ensamblado:
---
Step 3
In pieces of jeans fabric, place the mold of medium hearts 💖(10) for key chains, cut them, sew them, fill them, place the key chain and close them. Then decorate some of them.
Then, make 4 flowers from scraps using a circle, fold it, and sew the edges with backstitch, gather with petals of 05 each.
On the top (lid) a red strip was placed and decorated.
Paso 3

En retazos de tela jeans se coloca el molde de corazones💖 medianos (10) para llaveros, se cortan, se cosen, se rellenan, se coloca la cadena llavero y se cierra. Luego se adornan unos.
Luego, se hacen 4 flores de retazos usando un círculo, se dobla, y se cosen las orillas con pespunte, se frunce con pétalos de 05 c/u.
En la parte superior (tapa) se le colocó una tira color rojo Y se adornó.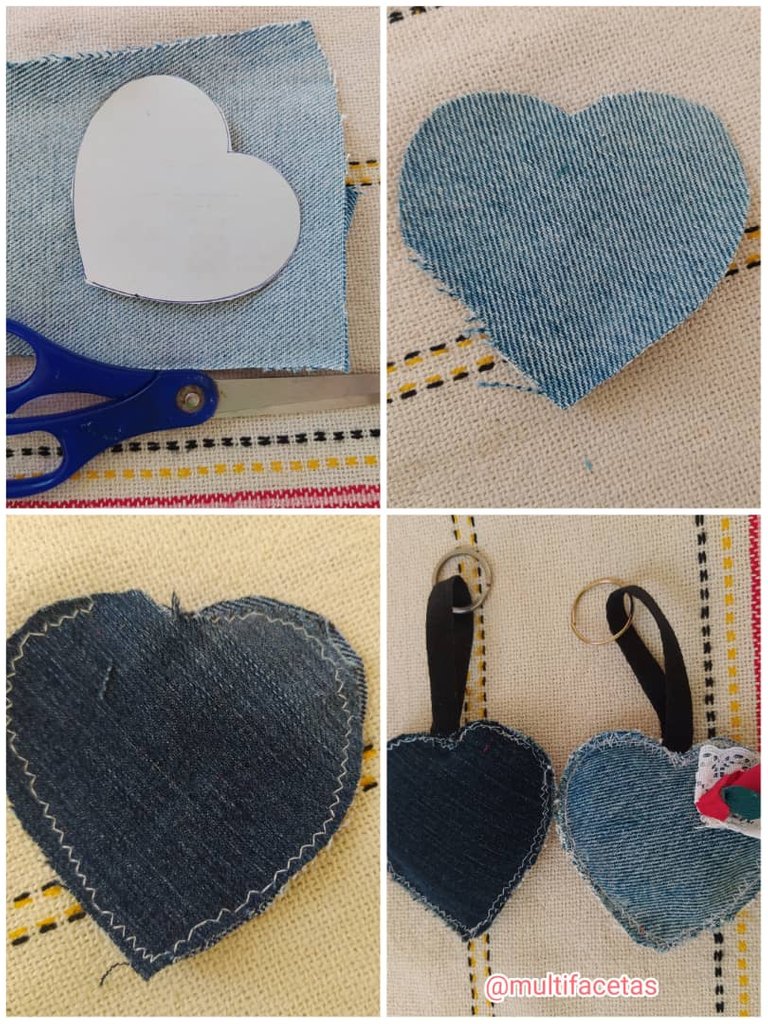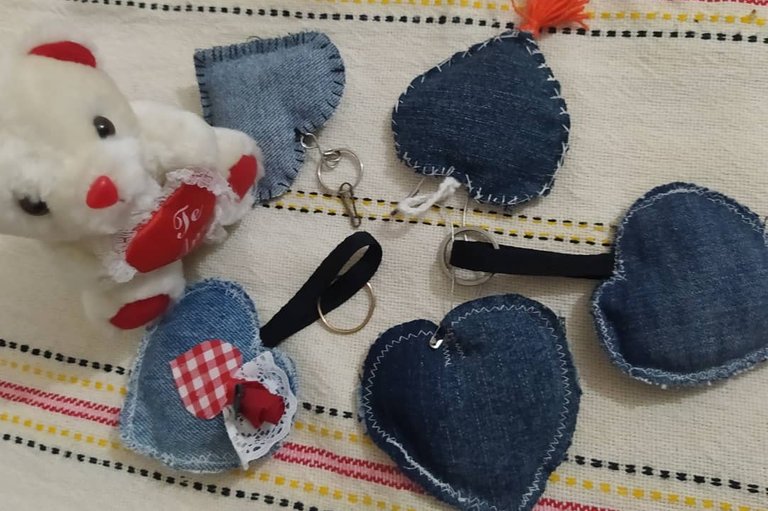 ---
… And ready the box with heart-shaped💖 lid filled with key chains and chocolates.
This work is made from 100% recycled material: cardboard and fabrics. Very happy to have finished this challenge and hope you like it. The entrepreneur liked the key chains and of course the chocolates, and the sales clerks liked them very much for their kindness. They also loved the decoration of the heart 💖 box.
… Y listo la caja con tapa en forma de corazón💖 llena de llaveros y chocolates.

Este trabajo está realizado 100% de material reciclado: Cartón, y telas. Muy feliz de haber terminado este reto y esperando que a Uds. les guste. Al emprendedor les gustó mucho y mas a sus dependientes por su amabilidad, los llaveros y por supuestos los chocolates. También les fascinó la decoración de la caja de corazón💖.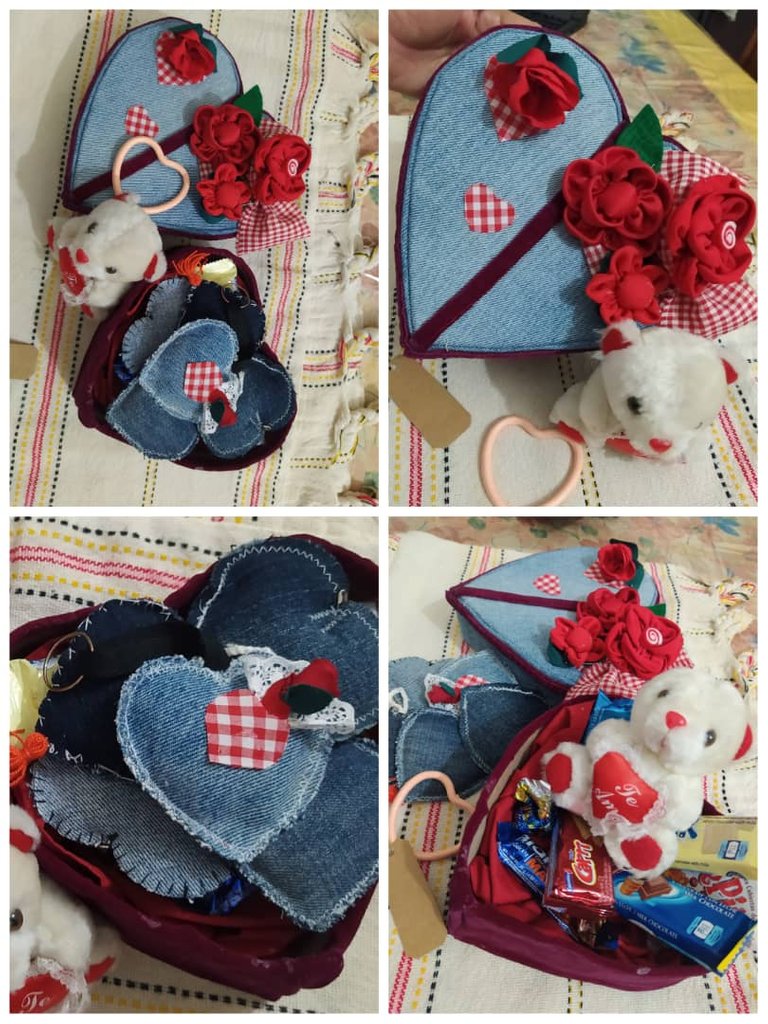 ---
Many times in our home there is enough material to make these boxes useful for any moment, I invite you to recycle those cartons that we have accumulated, avoiding that everything goes to the trash, we must apply the technique of the three R's: Recycle, Reuse, Reduce.
Muchas veces en nuestro hogar hay suficiente material para hacer estas cajas útiles para cualquier momento, invito a reciclar esos cartones que tenemos acumulados, evitando que todo vaya a la basura, debemos aplicar la técnica de la tres R: Reciclar, Reusar, Reducir.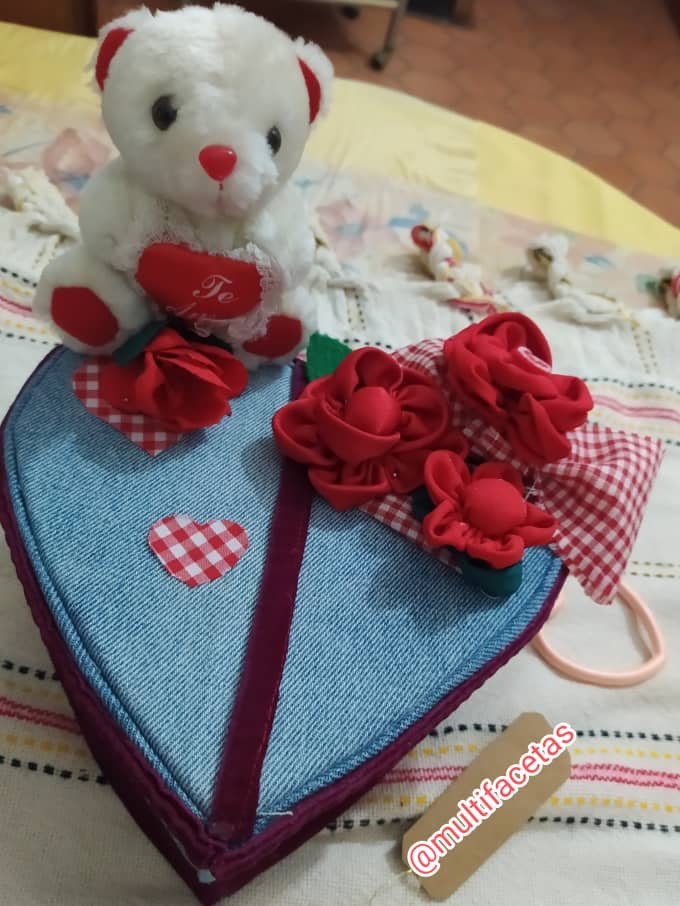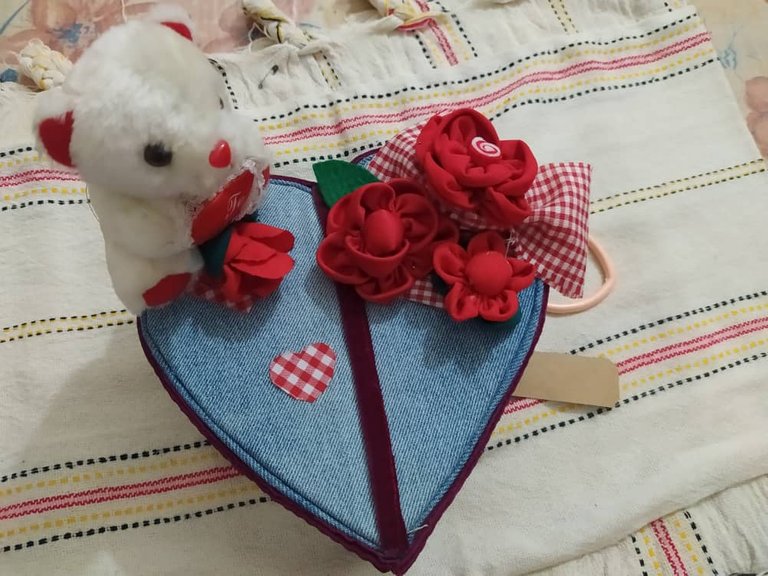 ---
This box is easy to make with cardboard lined with fabric, so we save a little money that will help us to buy the chocolates, and to express a little love to people who are efficient at work. It is gratifying in these moments where the country is immersed in so much difficulty, it is like a small light in the tunnel, a hope that constancy will bring us a manifestation of LOVE at any moment.
Esta caja es fácil de hacer con cartón forrado de tela, así ahorramos un poco de dinero que nos servirá para comprar los chocolates, y poder expresar un poco de cariño a las personas que en el trabajo sean eficientes. Es gratificante en estos momentos en donde el país está inmerso en tanta dificultad, es como una pequeña luz en el túnel, una esperanza a que la constancia nos traerá una manifestación de AMOR en cualquier momento.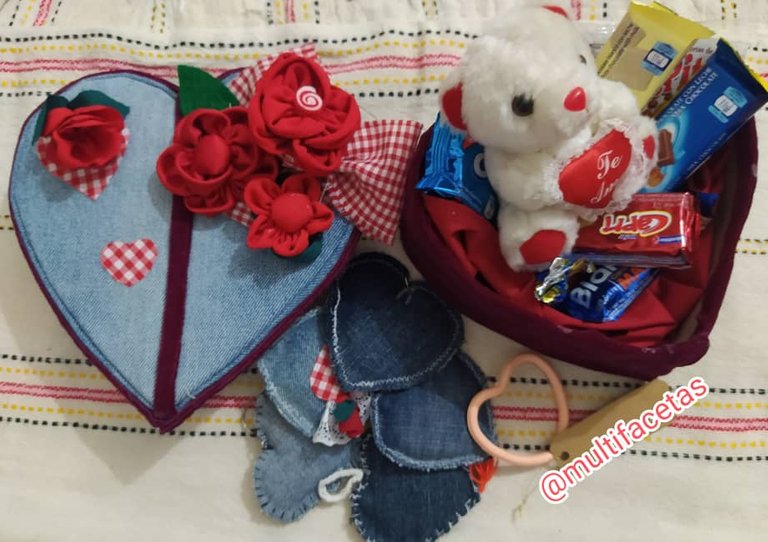 ---
Well my friends, I bid you a happy day.
Bueno mis amigos, me despido deseándoles ¡un feliz dia!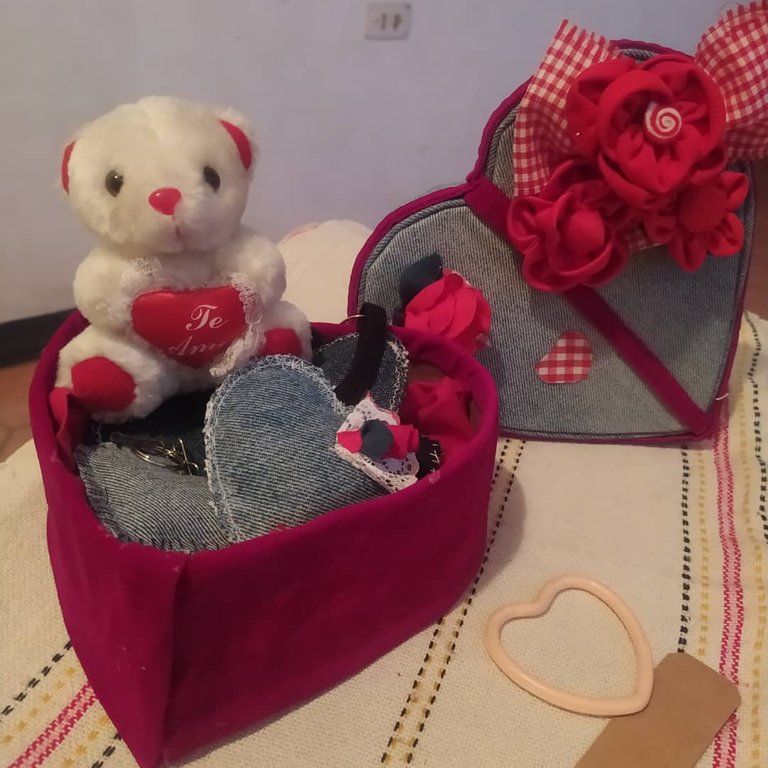 ---
💖💖💖Everything with LOVE is achieved💖💖💖
💖💖💖Todo con AMOR se logra 💖💖💖
---
So much for my publication. Thank you for reading.❤
Hasta aquí mi publicación. Gracias por leer.❤
---
Texts and photos are my authorship.
Translation with Deepl. Photo taken with Xiaomi Redmi Note 8.
Banner and text separator created with Canva.
Los textos y las fotos son de mi autoría.
Traducción con Deepl. Foto tomada con el Xiaomi Redmi Note 8.
Banner y separador de texto creado con Canva.
---

---
---