Investing In The Cosmos Network, Famous For Its Airdrops: %74 APR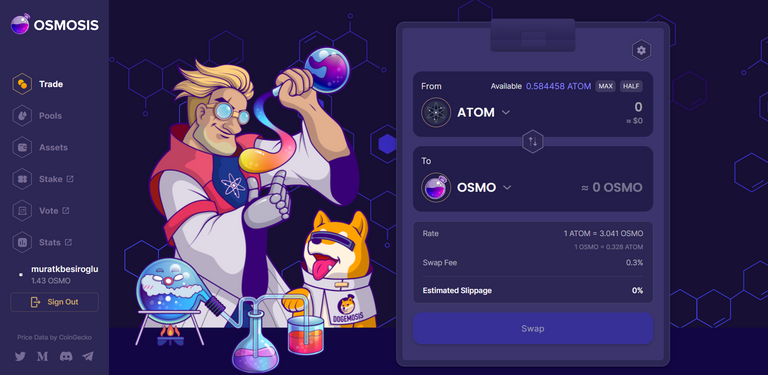 Blockchain interoperability is said to be extremely important in the future of crypto. This is a plausible claim, as Ethereum's market share in the DEFI space was 98% at the beginning of 2021, falling to 62% at the end of the year. And Ethereum's share in the DEFI space continues to decline. We want to transfer our coins, tokens, NFTs, and other data from one blockchain to another.
Although there are many projects on the interoperability of blockchains, the most well-known ones are Polkadot and Cosmos. Polkadot ranks 11th among all coins by market cap. Cosmos is still the 21st most valuable coin.
In the last 12 months, blue-chip coins such as Terra, Solana, Avalanche, Polygon have climbed up in the market share rankings. Cosmos(Atom) lagged behind in terms of pricing. I bought Atoms on Binance about a month ago and staked my Atoms for 10% APR using the Binance Earn infrastructure, as I think it has significant upside potential.
While researching airdrops in the crypto market recently, I learned that the Cosmos ecosystem is extremely generous in this regard. I learned by experience that the coins given as airdrops can be very valuable on the occasion of @ragnarok.game and @spk.network airdrops. Moreover, Hive coins were also distributed as airdrops at the time.
When I researched the subject, I learned that Atom coins held in central exchanges cannot benefit from airdrops. However, it was obvious that airdrops would continue in the Cosmos ecosystem. The following infographic was published on the Fomocraft Twitter address on February 12. As far as I can see from the comments, the SEFI airdrop is lagging behind.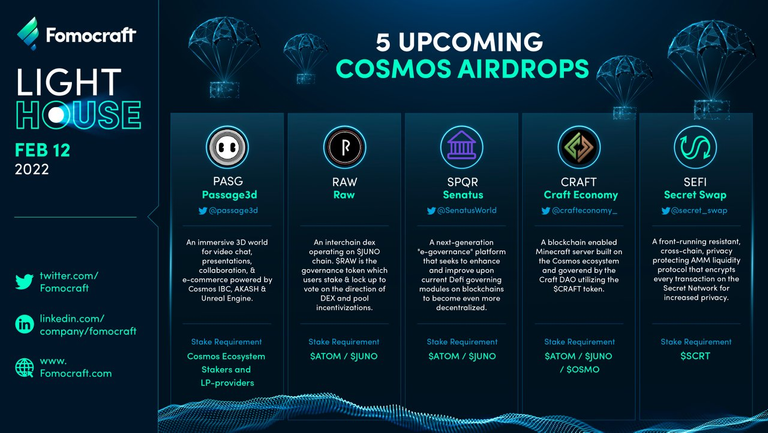 Cosmos is a community-driven ecosystem just like Hive. Each airdrop has its own rules. The following criteria determine whether we can benefit from airdrops.
Which coins do we have in the Cosmos ecosystem? Atom? Juno? Osmosis? Scrt? (For most airdrops, having Atom is enough.)
Where do we keep our coins? (It should be in our non-custodial wallet, not on centralized exchanges. Coins held in liquidity pools are sometimes included, in some cases only staked coins are included.)
When is the snapshot date?
How much is the value of the Cosmos ecosystem coins we have? (An amount like $1000 may be sufficient)
Last night, I installed Keplr wallet on my laptop, which allows trading on the Cosmos network. The setup is no different from other wallets that work as browser extensions. I sent 1 Atom from my Binance account to my Keplr wallet for testing. Seeing that it was okay, I sent the rest of my Atoms. I like to invest in liquidity pools more than staking coins. That's why I linked my Keplr wallet to https://app.osmosis.zone/. Osmosis is a side chain of Cosmos as I understand it. I migrated my Atoms to Osmosis using the "Deposit" option in the Assets menu. During this process, I first tested with 1 Atom. Transaction fees in the Cosmos ecosystem are quite low, so I recommend you to test and trade. Transfer from Cosmos to Osmosis takes a few minutes.
Osmosis app is a DEX where Cosmos ecosystem coins can be traded. We can assume that it corresponds to Beeswap in Hive. When I reviewed the price history of the Osmo coin, I found that it has performed quite well so far. In the Osmosis app, I converted half of my Atoms to Osmo and invested in the Cosmos/Osmo liquidity pool. The pool APR is currently 74%.
I have three expectations about this investment.
Earning a high yield from the liquidity pool.
Increase in the values ​​of Cosmos and Osmo coins.
Taking advantage of the airdrops in the Cosmos ecosystem.
I will be glad even if two of the three expectations come true :)
Thank you for reading.
Image Sources: https://app.osmosis.zone/ and https://cosmos.network/
---
---