Splinterlands Gold Modern League Strategy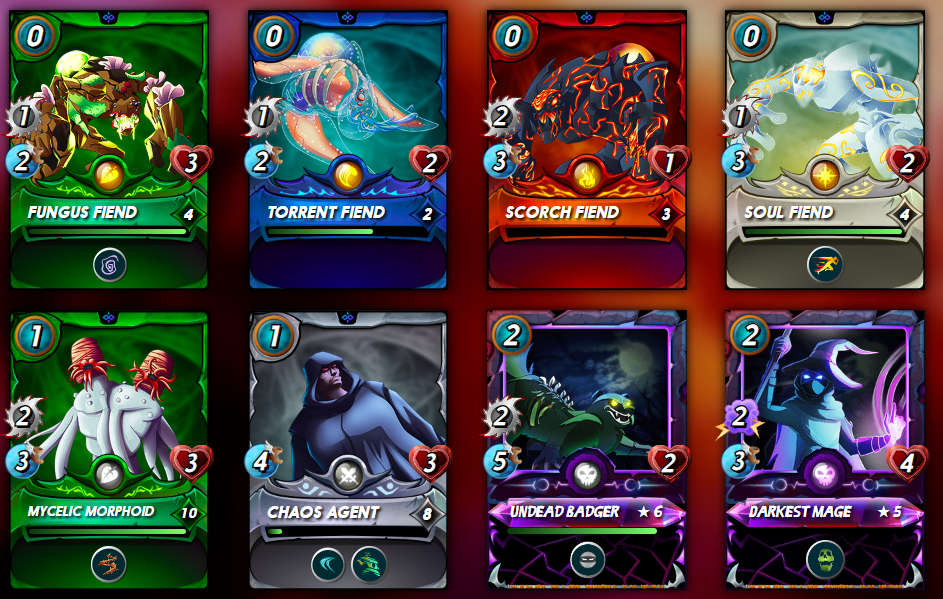 I've been battling in the gold league for a week in Splinterlands. This morning I finally got promoted to the diamond league. I was able to pass the bronze and silver leagues easily. I lingered for a long time in the gold league.
My experiences in the last week have shown me that I need to take the gold league seriously. Deficiencies in the card deck or strategy almost always turn into a defeat in the gold league. Although I had some difficulties in the Silver I league as well. Some players avoid going to successive leagues due to high card costs. Thus, they can optimize their games and card portfolios according to that league.
Without further prolonging the introductory chapter, I want to move on to the strategies I used to advance to the diamond league.
Card Deck
The first thing I did to compete in the gold league was to raise the cards I rented to the highest level allowed by the rules. I ensured my common, rare, epic, and legendary cards were at levels 8, 6, 5, and 3, respectively. I rented the lower levels of a few cards whose rental fees were exorbitantly high. Thus, I could easily pass the Gold III and Gold II leagues.
Things changed quickly in the Gold I league. I started getting a series of defeats in Gold I with my collection of about 50 cards. I focused on individual games to increase my win percentage and found that I needed the cards for certain games.
In games involving poison, it is necessary to use cards with immunity.

It is necessary to have cards with a shield feature in games with an explosion feature.

There is the little league, where cards with mana less than four are included. This league requires small but effective cards to use as tanks.

Flying cards are needed for a version of the poison game.

For games with a high mana limit, it is necessary to use cards with ten or more mana.
To be competitive in different games, I had to increase the number of cards I rented to over 75. My winning percentage skyrocketed when I had a complete deck of cards.
Neutral Cards
From the earliest days, I understood the importance of neutral cards that can be used with summoners of each element. To be competitive in the gold league, I had to use the opportunities provided by these cards to the fullest.
Parasitic Growth works well in games that require a large number of melee attack cards. Although its attack power is mediocre, he makes a difference with the scavenger feature.
Disintegrator reduces the opponent's attack power in games based on melee attacks.
Chaos Agent is a card commonly used in low-impact games.
Elven Mystic reduces the enemy's mana attack power. It makes a good antidote for opponents playing the Earth element.

For three mana, Uraeus grants three melee attacks and the ability to inflict poison. It is a card well-known to experienced players.
Venator Kinjo is used second in blast and poison games.
Xenith Monk is used as a tank in games where small money cards are used. It makes a difference with its self-healing feature.
Defense
In addition to a solid offensive strategy, a systematic defense approach is needed in the gold league. As the higher versions of the cards are used, the possibilities for the players to reinforce their strengths increase. In this case, the importance of defense increases.
An excellent defensive strategy requires guessing which element's summoner the opponents will use. If the opponent is going to use earth or dragon, for example, it is necessary to use cards that will reduce his magic power. If the opponent uses life, reducing the range attack power is essential. For those who use Fire, using melee attack cards works well.
Water was the element that gave me the most significant trouble in the gold league. Honestly, I needed help finding an exact recipe for water. A well-optimized earth deck can sometimes be a cure for water teams. For this reason, the rental cost of level 6 Kelya Frendul is relatively high.
Master players use melee, range, and magic cards in a balanced way. That's why I'm trying to use cards that reduce all three attacks as far as the mana limit allows.
Summoners
Our chances of winning increase when we create a holistic strategy in which the summoner contributes. In the gold league, we can make a difference with non-favorite summoners. For example, Grandmaster Rathe makes it easier to defend against spells thanks to the Void Armor feature. In addition, providing armor strengthens this strategy.
Conquerer Jacek's +2 speed, scattershot, and piercing features in high mana games allow effective attacks against monsters in the back row. To get the expected benefit from Conquerer Jack, it is necessary to use cards with high melee capacity. Fortunately, the fire element has plenty of such cards.
On the other hand, summoners that require three mana can also be used in small mana games instead of standard summoners with four mana. I have yet to try this strategy to keep the Summoner cost limited.
Conclusion
As we all know, Splinterlands is a very sophisticated game. Even learning the 61+ abilities that cards can have takes an intellectual effort. It only takes a few games to realize that the opponents are just as intelligent as we are. As with any event, a solid macro-level strategy is needed for success in Splinterlands.
My article A Strategy Framework For Splinterlands Gameplay, I discussed macro-level strategies. In this article, I conveyed my experiences in Gold League. When the capture rate of my account increases, I will start fighting in the diamond league. It will be a much more challenging and enjoyable fight.
Thank you for reading.
Posted Using LeoFinance Beta
---
---