5 minute freewrite Friday prompt they found work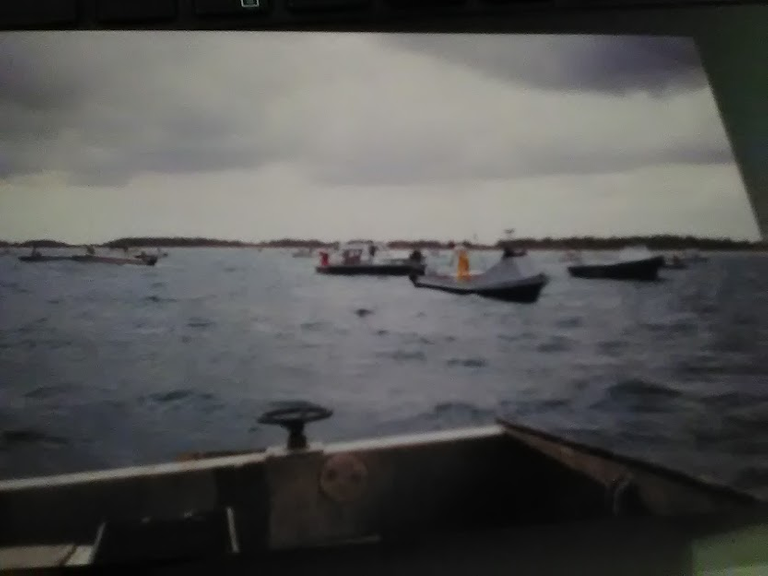 This is my post for #freewriters Friday prompt they found work hosted by @mariannewest
For over 200 years the fish in Florida's rivers, the Gulf, and the ocean were caught by commercial fishermen. They fed people who were not able to fish or did not know how to catch fish. Then a group of sport fishing guides got together to rid the state of net fishermen. They thought that if they got rid of us, the fish would be jumping in their boats and they would have it all to themselves and their clients who paid them to take fishing. In 1994 they won. They got big magazine companies like Florida Sportsman and other companies like this to back them. They had money!!!
They had TV commercials that were full of lies, saying that we caught everything that swam into the nets, birds, dolphins, turtles, and every type of fish. They showed shrimp fishing nets that did catch turtles and had nothing to do with the way we fished, but the public did not know the difference. One thing was the mesh size of our nets determined what we caught, we had a net that the mesh was 2 and 7/8 inches and it caught what we call butterfish or spots, bigger fish bounced off of it, and smaller fish went through it. Our mullet nets were different sizes, in the fall they were a bigger mesh to let the smaller fish go through and we caught one size of them. In other words, we hung nets for the size fish that we wanted to catch. We also ran our nets around the fish making a circle, then ran the motor inside the circle and picked it right back up. They made it out like we left the nets for hours. The wording was also confusing to people, if you wanted to save the nets, you had to vote no.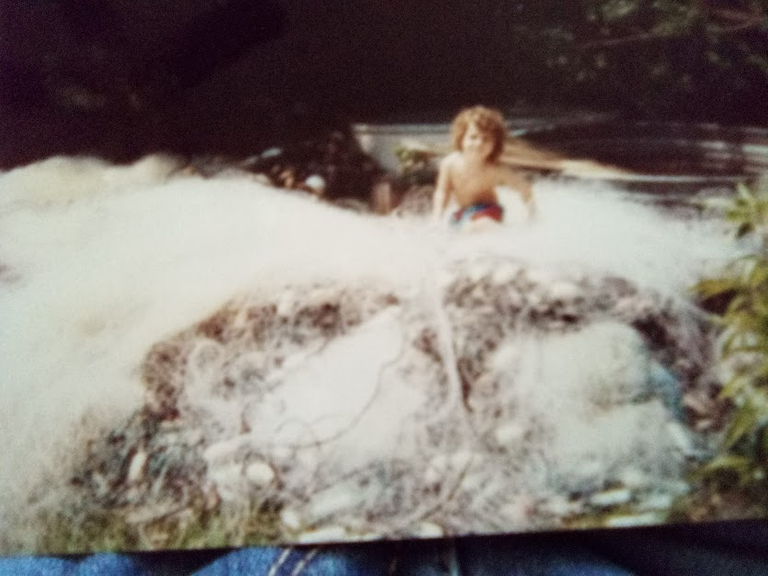 This is my grandson sitting on some of our nets, if one net caught everything, then why did we need so many?
The Guide's plan backfired on them, they thought it would keep us off of the water but it did not. The fishermen are still there, they found work by doing what the Guides do, catching the fish by hook and line or cast netting them. Now we are right in their faces and they do not like it. But they are now coming back at us by getting the laws changed on the fish that they target, they tried to take trout from us but the state refused, and now with the decline of the river, I see it coming.
The first picture is of the first type of fishing that we did after the net ban, my husband designed a cast net to catch Spanish mackerel, and now it is the type of net that everyone uses. They started out using a cast net that they put duct tape around the leadline to keep it open as it sunk in 30 feet of water, this is in the ocean. My husband made the cast net that instead of the horn at the top, this net did not have a horn but a long piece of heavy mono that let the top open as it sunk, it also does not have tuck strings. This made it sink faster.
photos are mine
---
---