5 minute freewrite Monday prompt future business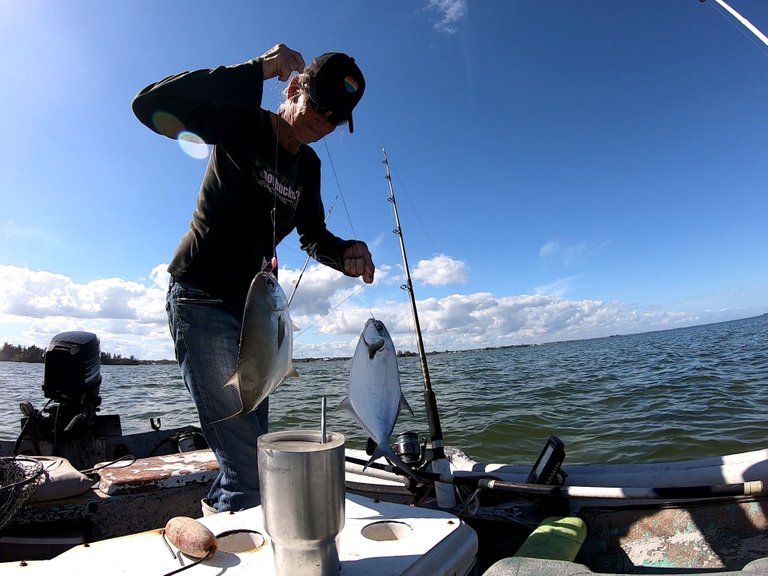 This is my post for #freewriters Monday prompt future business hosted by @mariannewest
The weather has warmed up which makes the river water warm and I felt better so I went fishing today. I can not remember when the last time that I went. I got over to the Big Flat and saw a pompano boil so I anchored. A boil is what we call the swirl of water that fish make when they run off. I was anchored for over 30 minutes without a bite and was thinking of moving, this happens a lot as soon as I think of moving, I catch one. I got it to about 20 feet from the boat, and it got off. Five minutes later my husband texted me and said he had one on but it went around his anchor line and got off. I sat there for a total of one hour and 15 minutes without another bite.
I reeled in all 6 rods and moved. I saw 2 boils so I anchored, I was there 15 minutes and something very large got hooked, I got lucky with this one because he straighten my hook out, I did not lose my rig. I said to myself, I am not sitting here with big creatures that might bite and take everything. I picked up one of my rods to move and a different rod had a pompano. So this is when I decided to stay and deal with the big creatures I never hooked another one. I had a double pompano and got them close to the boat and one got off. I caught 3 more on this anchoring.
I went to move and when I tried to start my motor, the battery was dead. I have been having trouble with it. I guess I have gotten too weak to pull start it so I rowed to my next anchoring. On this anchoring, I caught 10, I had another double, the picture is them.
My husband took the fish to the fish house so I could go to the auto store and buy the right battery connections, we had another battery but it is not a marine battery. Marine batteries have studs with wing nuts so you can hook the motor cables to the battery.
My husband weighed the fish together we had 52 pounds, which makes a very good day's pay, that is if they are still 6.75 a pound.
My husband has always been good at knowing what our future business was going to be, by this I mean he always knew what we were going to fish for next. Now with the condition of the river, our ages, and the condition of our bodies, he does not need to worry about what will be next. Now we fish pompano in the fall, winter, and spring. In the summer we fish trout. I think back at all of the different types of fish that we used to catch and now be down to just 2 species, I just do not have any words to explain how I feel about it.
This is the list that we no longer catch. Spots, sheepshead, drum, grouper, pogies, flounder, kingfish, Spanish mackerel, croakers, whiting, bluefish, jacks, weakfish, silver trout, sharks, and snapper. I am sure that I am leaving some out but that is all I can think of at the moment.
photo is mine
---
---