5 minute freewrite Tuesday prompt turn your head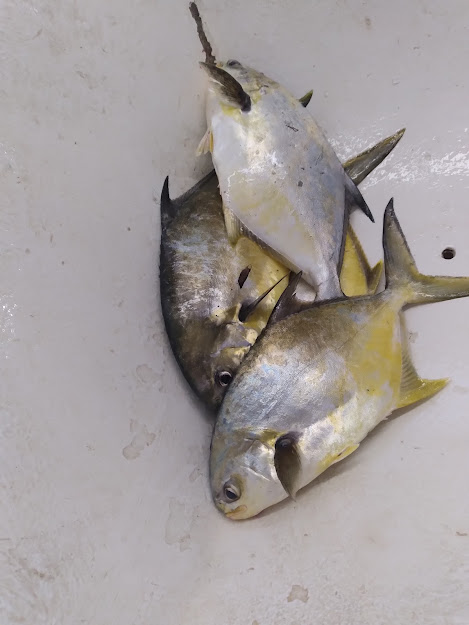 This is my post for #freewriters Tuesday prompt turn your head hosted by @mariannewest
I was expecting to see the wind blowing when I got to the river this morning, but I was pleasantly surprised to see it only blowing 10 knots, which is not bad at all.
When I got to the Big Flat my husband was anchored there. As I was going around him, I saw a pompano boil off of my boat. Boil is the swirl they leave when they run off. I anchored and stayed there for 25 minutes, I did not see any more or get a bite so I pulled anchor and ran to Black Point and the clam leases.
I did not see anything so I went to Pauls Island and Pelican Island. I did not see anything but anchored twice but did not catch anything. I headed back to the Big Flat, but when I got to the north end of Pelican Island a pompano came out of the water ahead of my boat.
I anchored and had 3 skip off of my boat. I caught 1 but the catfish and blowfish were eating all of my bait and with sandfleas being pretty much extinct, I was going to move but was not sure where.
A boat was running across Pelican Island flat so I started watching it to see if I could see a pompano skip. When watching a boat like this one, it is important not to turn your head because you will miss it when one skips. Sure enough, I saw one and it was in the spot that I call my honey hole.
I now knew where I was moving to. When I got there I idled around hoping that I would see one, but I did not see anything and decided to anchor anyway.
I had been there maybe 30 minutes and had not seen anything. I was thinking about going to the Big Flat and one skipped from my boat. I stayed there for an hour and had 9 skip from the boat and only caught 3.
My 4 pompano only weighed 7 pounds but the good news is the price went up to 6.75 a pound. I more than paid for fuel.
photo is mine
---
---