Gods Unchained - Here Come The Olympians!
---
Hello Gods Unchained Fans,
After my recent adventures with my light deck and before that with the Amazonians, this week I have bought a great Olympian deck and put them to action in the Weekend Ranking.
The deck was originally proposed to me by @daje10 who also likes to play the Olympians. The deck is a low-budget one and costs $22,95 at todays prices. I managed to get some ETH onto layer2 once there was a drop in the gas fees so I could finally get my Olympian deck that I wanted, including Reios The Old Wolf at shadow level.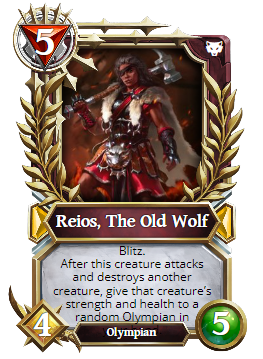 I have been having great fun with this deck and it took a little while to get used to it and understand some of the strengths and weaknesses. Some of the synergies are pretty amazing and I managed to get the win rate up to 50% so far.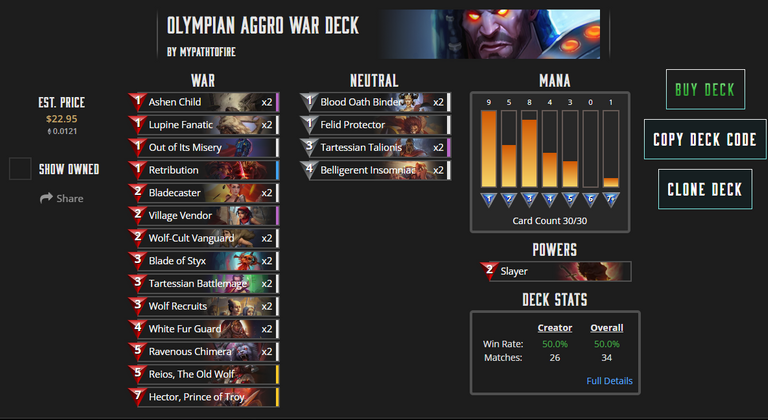 Deck Code: GU_1_6_PAIPAIPAjPAjCBvKBaKBaBFvPAJCDmCDmPAHKBcKBcCAZCAZCCkCCkCCvCCvPAKPAKCGDCGDKBiKBiIDgIDgPAGCCu
Mostly I try to buff my cards with Wolf Recruits if I can and then when I have a few casualties, throw a big Tartessian Talionis on to finish the job when he gets a nice big buff.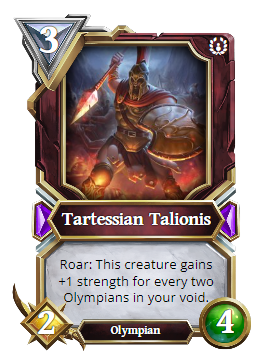 ---
Olympian Deck - Today's Battle
This week's battle is one where I am managing to get a good run and combo with my cards to show you what it can do.
1 Mana
I start first and cannot play anything. The same for my opponent by the looks of it.
2 Mana
I play Wolf Recruits to buff the cards in my hand.
3 Mana
I go for the Godblitz initially to get some damage on the board. I am unnerved by my opponent not playing any cards.
4 Mana
I play my first cards. Hopefully with protection one might survive the round. My first card is destroyed but buffs another card in my hand, the other is given order.
5 Mana
I play a card that can unsleep itself... my opponent puts it to sleep but it comes back although with burn too.
5.5 Mana
I can get a decent attack on my opponents god plus buff my hand with Wolf Recruits again. My opponent trys to send my cards to sleep again, but that doesn't work fully with Beligerent Insomniac.
6 Mana
I play another Beligerent Insomniac. My opponent fails to clear the board.
6.5 Mana
My buffed Beligerent Insomniac causes a huge 8 damage to my opponent leaving him with just 2 left. It is almost all over, but he then fills the board with some heavy hitters, 2 front line and Serris!
7 Mana
Luckily I have a very buffed twin-strike Wolf-Cult Vanguard who can take out the frontlines... both of them! This then leads the path clear for me to finish him.
Summary
The deck has some great synergies and buffs if the cards fall right. So far some early aggro can sabotage my plans but when it plays right, it is really fun and satisfying.

You can see after 26 games, I have managed to build up a 50% win rate, which was good as it started at around 40% for me as I didn't know what I was doing.
Compared to my Zombie and Nature deck, it is a little under but I hope to increase it with some more play.
Weekend Ranked Update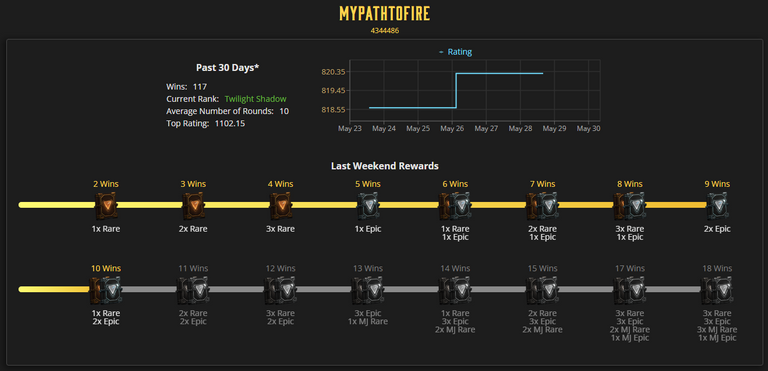 In the weekend ranking, I managed to get 1 win more than last weekend, but at 10 wins from 18, it is still 3 short of the need 13 wins for the great MJ Rare pack.
My Collection and Earnings

I have now reached level 123 and have 2 shadow cards and 252 meteorite cards. My collection value is growing and worth 529 GODS tokens (87,92$). I didn't forget any cards for a while, but have pulled some Witherfingers that are worth 3,92 GODS tokens and could be profitable to do.
How has your week in Gods Unchained been?
Thanks for reading/watching.

If you're looking for a new game to play, Gods Unchained is a great game that you should check out. If you want to support my posts, consider signing up using my referral link: here

Credits:
Gods Unchained in game images from source unless otherwise specified.
Thumbnail image using source

Let's connect : mypathtofire
---
▶️ 3Speak
---
---