January Play2Earn Gaming Roundup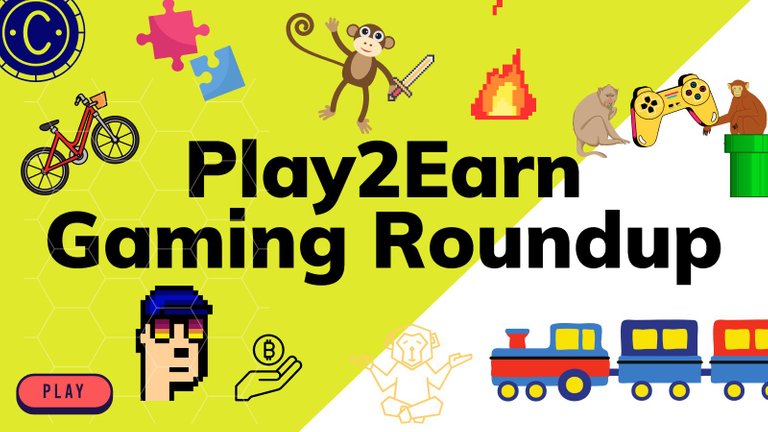 Hello Play2Earn Gamers!
Welcome to my latest Play2Earn gaming roundup. My current play2earn gaming list is:
Rising Star
DCity
HashKings
DCrops
Splinterlands
Rollercoin
Cryptobrewmaster
Crypto Shots
Train of the Century
Gods Unchained
Splinterforge
The 7th Seal NEW
Alienworlds NEW
NOT LIVE YET
Astral Revelations
Stardomplay
Woo
Genesis League Soccer
Craft Ink
Not Live Yet
Currently, I have only got some tokens and/or NFTs for the games that have not been released yet. I am looking forward to when they will go live and I can start playing them.
Games on my Radar
Since my last update, I have managed to get started in Alienworlds and the 7th Seal has snuck in there that wasn't on my radar. I am still waiting to start Metropolis, Muterra, Infernal Colesseum, Flowerpatch, Beastgarden, Axie Infinity, Zombie Outbreak Survival, and also new to my list are Green Rabbit, Blockchain Brawlers, and RPlanet.

As usual, I will start with Rising Star which has been a steady performing game in my play2earn portfolio. Since my last update, my fans have grown by 2.2k, skill by 2.9k, and luck by 0.3k. This was helped along by some pack purchasing and occasional fan buying.
I have climbed 3 levels to 85 and have opened a further mission in the Country Tour Missions.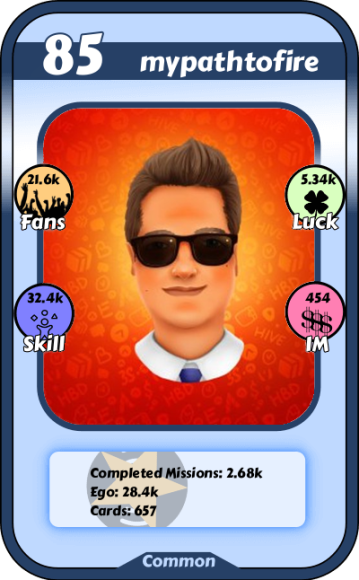 My Rising Star NFT collection has risen to 657 which is a good number of cards now.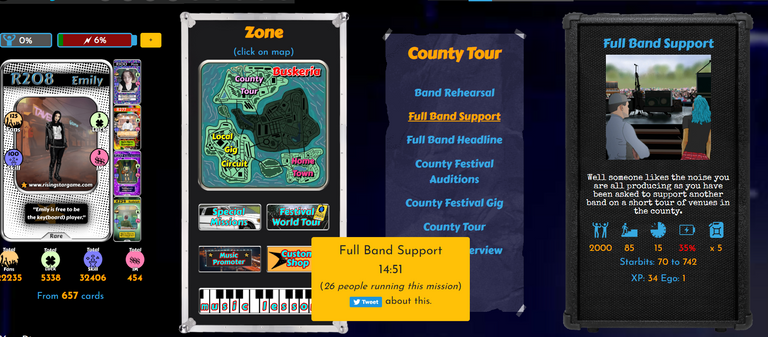 source
After adding the Band Rehearsal mission last time, I have been running it quite often but now after reaching level 85, I can run the Full Band Support mission, and here I am running it for the first time. To be able to run this mission, I needed to buy 5 petrol cans as this was a requirement. They cost around 13k Starbits each.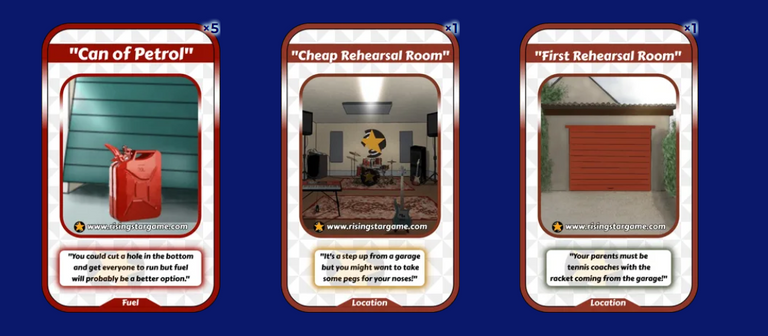 source
So along with the rehearsal rooms that I needed for the Country Tour Band Rehearsal mission, I now have 5 petrol cans.
My ranking this week is 523 (507) which is a little less than last time. I am currently saving Starbits for my next 12-pack opening. I do love a big 12-pack opening!
If you are interested to give Rising Star a try, consider using my link here and let me know in the comments for a free crypto gift.

In dCity, my final cards have been sold and I have made a nice profit on them. The final card the Pizzeria is currently listed and I reduced the price and hope to sell it in the next few days. I have been getting some SIM and still earn some passive income from my SIM power, but this is slowly reducing due to my lower SIM holdings. With the pump in Hive recently, SIM has been holding its value very well.
This will be my last update from dCity unless I start playing more actively again.

There has been some big news in HashKings, the long-awaited switch to BUD staking has started and now you can burn your BUD to take part in the weekly seed drops.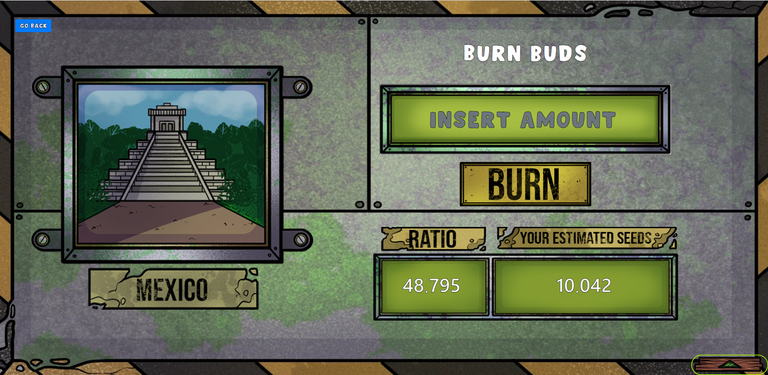 source
As I was complaining about this in my last update about using MOTA and then it suddenly switched over to BUDS. I immediately then went and burned some BUDS and you can see here, that I should receive 10 Mexico seeds.
In the end, I think I got 10 as my inventory is now full of seeds, but I'm not quite sure as I already had some seeds, plus I staked some MOTA for seeds too. It would be good if you received a confirmation of what you got. I notice that it is not easy to track your NFT holdings on Hive the same as you can on WAX. I think this is to do with smart contracts not being on the base layer.
With my seed supply now secured and my inventory stocked up, I need to now update my spreadsheet to calculate how much buds a seed will cost and then work out the potential profit each week. Getting airdropped seeds makes it more profitable again in Mexico, I just need to remember to burn some BUD each week for new seeds. I have tried to sell some too at the lowest price, but the market doesn't seem so active right now.
There was a good move up in the price of HKWater and I managed to offload a lot of HKWater that I was holding for a nice price and this would cover buying myself a new piece of land. If the price of HKWater drops again, I will stock up again on HKWater and look to sell some of it back for a higher price. In the meantime, my water towers have been producing plenty of HKWater for me and my crops do not run dry.
I am looking to expand my farming and am monitoring the land prices. This week there was a nice offer on for some land in Mexico for 6 Hive, down from 7 last time, so I decided to buy it. There was also a good offer available for the Afrika land for 33 Hive, down from 44,5 Hive last time. I will save up the Hive and buy it next if it is still on offer in the next days.
South America 5 Hive
Mexico 6 Hive (previously 7)
Afghanistan 10 Hive
Afrika 44,5 Hive
Jamaica 73 Hive
Asia 245 Hive
Which land is the most cost effective and best to buy, I am still not sure, but would like some land on all the continents and then could figure it out. Only the Jamaica and Asia land looks very expensive!
That's all for my HashKings update this week, so far I am loving this game.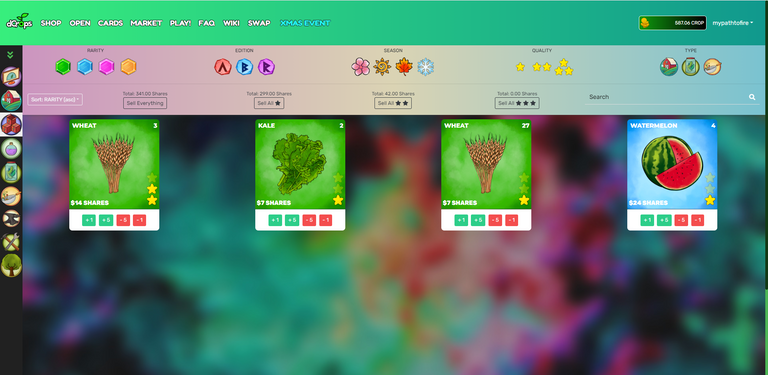 source
In dCrops, another successful season has come and gone. I had to harvest crops 3 times this season and I nearly missed the final crop by a couple of hours. Luckily I caught it in time and could get everything harvested and earn the valuable CROP token.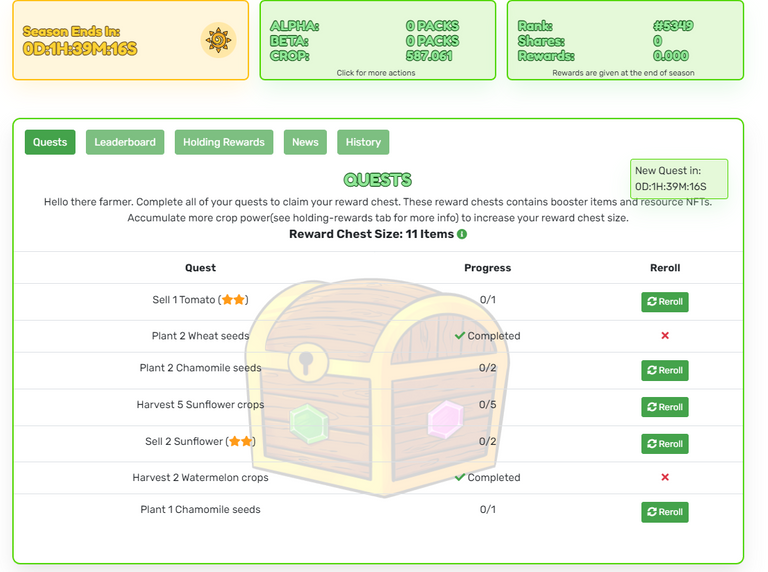 source
I harvested a few different crops and this was good for my quest missions, although I again only completed 2 of the missions.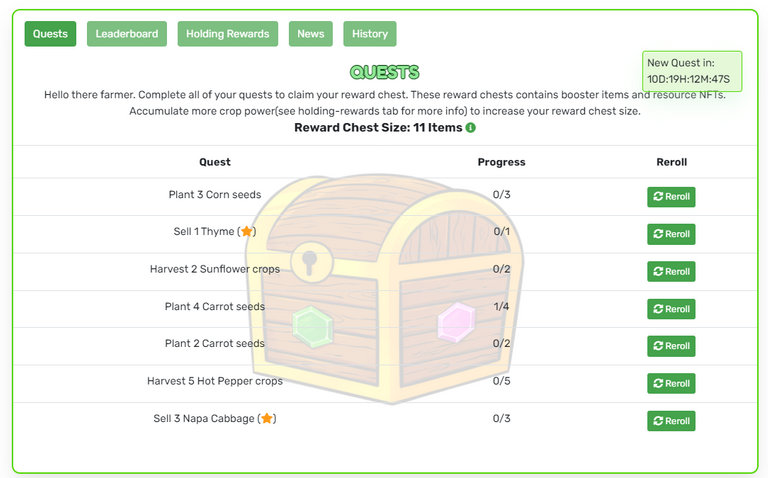 source
For the new season, this also doesn't look so good as I have only planted some carrot seeds this autumn season. I think I need to look at buying some new seeds so that I can complete more of the quests.


source
So far I have 823 CROP tokens saved towards my goal of 5999 CROP tokens to buy some awesome land. But I am reconsidering, maybe I would buy some fertile or average land also. In the end, I added another fertile land plot to my farm and will still save towards the awesome land plot.


source
I have dropped further down the ranking 6 places from 214 to 220 and hold 23k CROP power. The return is currently 16,07% APY on my crop power, which is an increase compared to last time. I need to try and work on building my crop power and get first in the top 200. The pack prices have dropped priced in Hive, which makes sense with Hive increasing so much from the recent lows.
If you want to give dCrops a try, you can use my link here.

In Splinterlands I have given a separate update and therefore have just a brief updated. I have opted for Diamond chests this season which I think is a mistake, I should really stick to gold ones right now until my deck is upgraded and I can compete for most of the season in the diamond league.

So far I have just 18 diamond chests which are at least half as many as the gold chests that I would get. I hope they will be good to make up for it. There have been many exciting changes to Splinterlands just recently, to the new rulesets and soulbound cards, which means that there are many things to take into consideration and it keeps the game exciting and fresh.
If you are interested to play Splinterlands, consider signing up with my link here.

Oh, Rollercoin, what can I say about this game?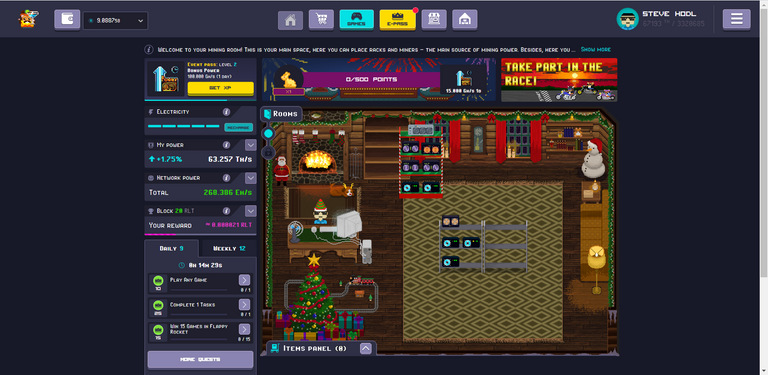 With the end of the advent event, it has not been so much fun. No new miners or gifts to get each day. Spending the RST has not been possible with nothing worthwhile to buy. I have lost interest to play any of the games to complete the daily challenges and can only collect the daily login bonus and recharge the electricity for my rig.
Therefore, I have fallen around 5k places in the ranking. There is the current "race" event where you need to craft some rigs, but it has not really kept my interest. I hope that there would be some new excitement coming to Rollercoin soon.

I have only played Crypto Shots a couple of times recently and have gotten a bit frustrated that I couldn't complete the level 0. How bad am I!? lol To improve this, I decided to install Firefox like they recommended and look to get some upgrades.
First, I did manage to link my account to my WAX account so that I can also buy assets from the Nefty Marketplace too.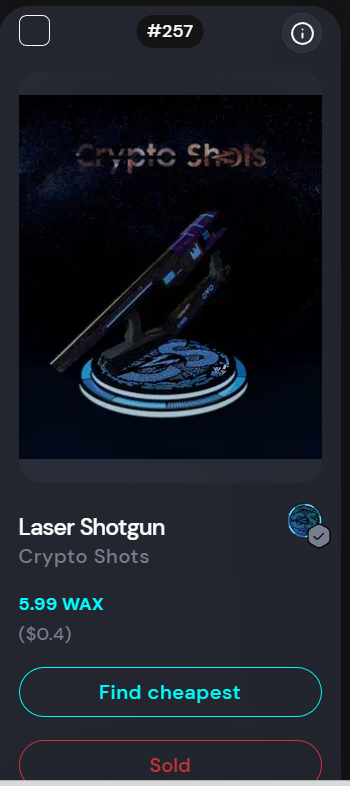 I mentioned in my last update that I was thinking to buy the laser shotgun, in the end, I just bought it and it cost me 5,99 WAX which is $0,4 at the current market price. I also purchased the regular laser as I only have the base gun. Once purchased, these weapons have a 12-hour cool down before they can be used.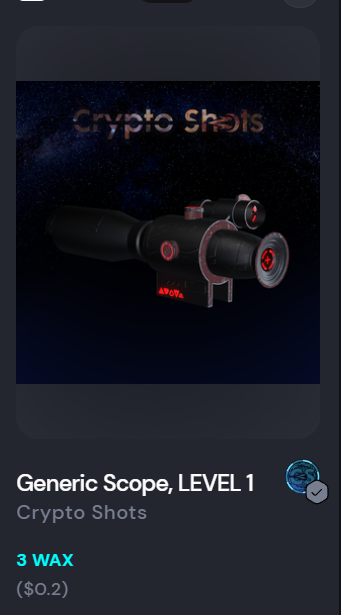 Some other items I am thinking to buy are the teleport device, although I am not sure what it is for. The other thing that has caught my eye is the generic scope. This could be great to use with my new weapons, I therefore added it to my inventory.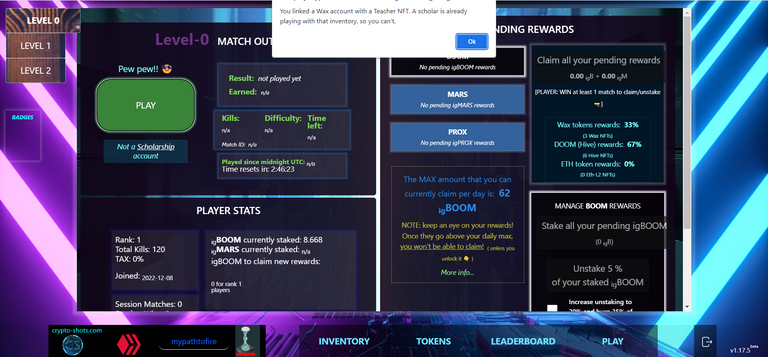 Unfortunately, once my WAX account was linked, it was saying that my account was a Teacher account and a Scholar is already playing with that inventory. It is a bit weird, hopefully I can get it sorted out to start playing with my new upgrades.

Train of the Century has been running steadily and earning me TOCIUM with just a few clicks every few hours. Since my last update I upgraded my train and conductor so that I could carry a full train load on both my trains.


source
This has allowed me to unlock more achievements like this one for example. My next plan is to add two more carriages to train 2 and by some goods to carry plus a passenger.
Otto is often offering parts with a discount and I will need to buy the upgrades needed for my train 2. To unlock a carriage would cost 15k TOCIUM for the first four slots.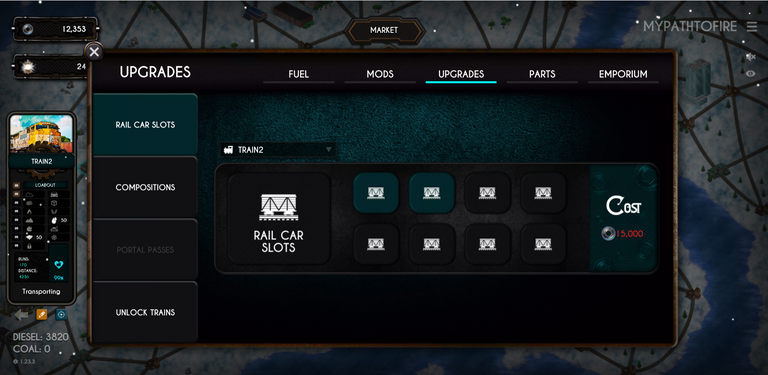 source
The the next step would be to create a third train which would cost 30k TOCIUM to get started. I already have the required train and conductor to get it running. This would then mean that I would have three trains running and earning TOCIUM.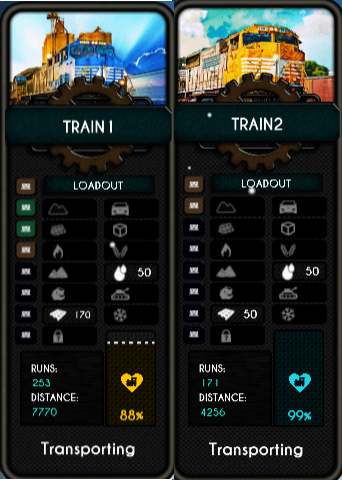 Here you can see the current stats of my two trains.

So far since my last update, I didn't play any Gods Unchained which is a shame, I need to start earning those GODS tokens. Hopefully, some news in my next update.

Since my last update, I didn't play too much SplinterForge. To progress, you really need to upgrade your own hero and I haven't started doing this yet.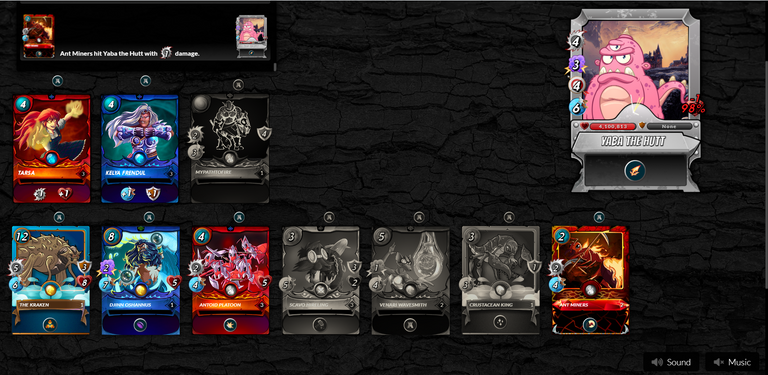 source
In my latest battle, you can see that you really need to try and protect your monsters with shield and health regeneration which isn't easy because it is also not so clear on some of the attack rules of the boss you are battling.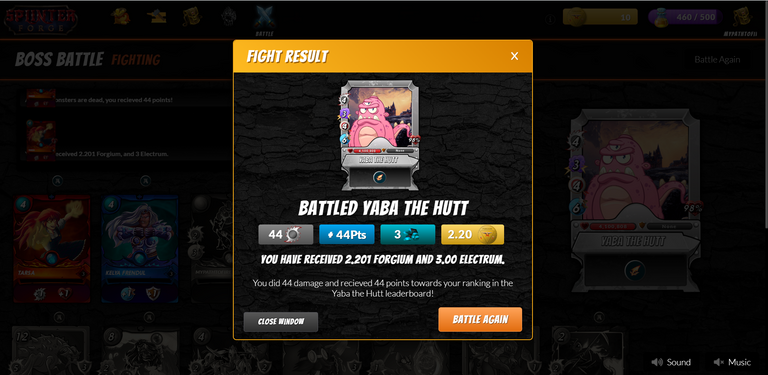 source
Without upgrades to your hero, you cannot earn a decent amount of points. My highest was just over 80 so far. With all the changes in Splinterlands itself, I have been more focused there, even though this is a great use of your Splinterlands assets to play further.

A new addition this month is Alienworlds. To start with I just have the male farm boy avatar and a shovel that is not earning very much Aether (TLM).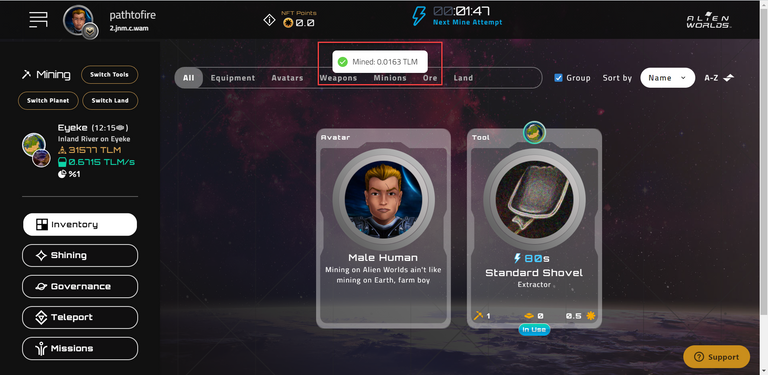 source
Here you can see after completing a mission, I earned 0,0163 TLM which is about 0,004 WAX. As this is the lowest mining tool going, it doesn't make sense to continue mining with it and it refreshes every 2 minutes. Click this every two minutes would probably drive me mad.
I was reading that I need to buy some upgrades including explosives so that I can mine efficiently and just do that once or twice a day.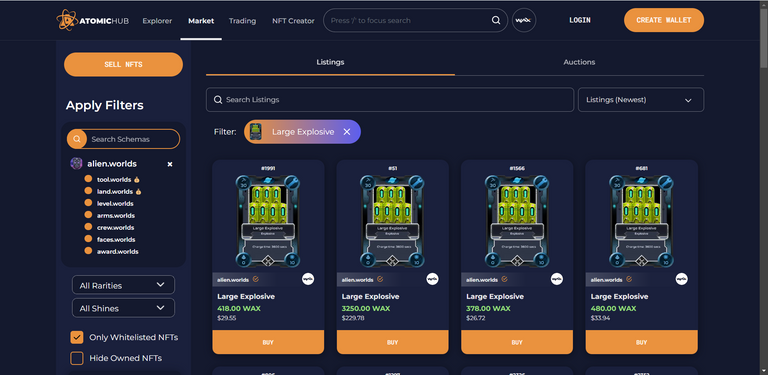 source
The one I found on Atomic Hub was the large explosive costing from 378 WAX. Before I buy it, I need to first check for sure that it is the right one and I can mine with it.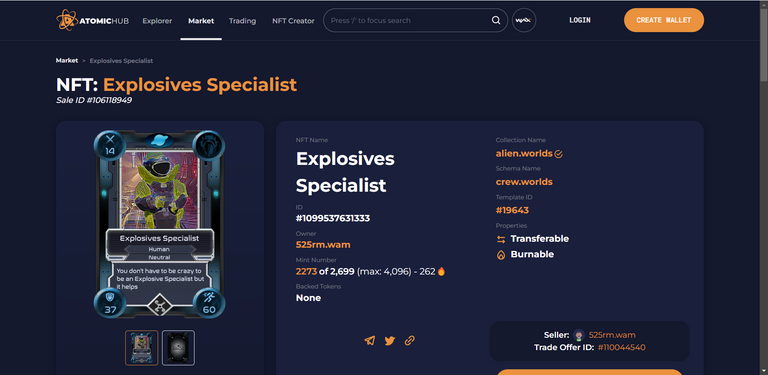 source
To go with the explosives for mining, I presume you would also need a new Avatar to use the tool. Here I have found the Explosives Specialist. It costs from 83 WAX currently but looks like it could be a good investment to go with the tool.
Once I have purchased these, I can then get them mining and earning me TLM.

A further new game that I have started since last time is The 7th Seal. I won't go into this one today as I already covered my first impressions here.
That's all for today and thanks for reading.
Let me know what you are playing in the comments.

Credits:
Title image created by myself in Canva.
Screenshots taken from the respective games as indicated.

Let's connect : mypathtofire
---
---