My Hive Goals for 2023

Welcome to the first week of my Saturday Savers Club/Hive Goals post for 2023. I see many people have already posted their goals for this year already and I am behind schedule.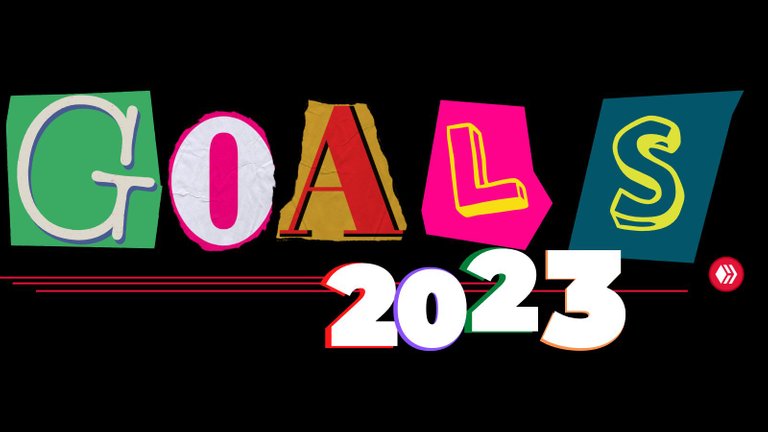 This year the Christmas and New Year holiday period was shorter than usual, so I didn't have my few days of deliberating over my goals. It usually takes me a while as I need to do some thinking about them. Before we get to that, let's wrap up 2022:

So in the final days I managed to reach my Alive and SPS goals. My stretched Hive target was missed slightly, but the original Hive Power goal has already been reached. I managed a small jump in CTP which brings me higher there.
My secondary tokens FUN achieved the target and there was a nice jump in CENT token.

When setting my goals, I like to do some brainstorming or mind-mapping even. Here is an initial mind-map that I have created: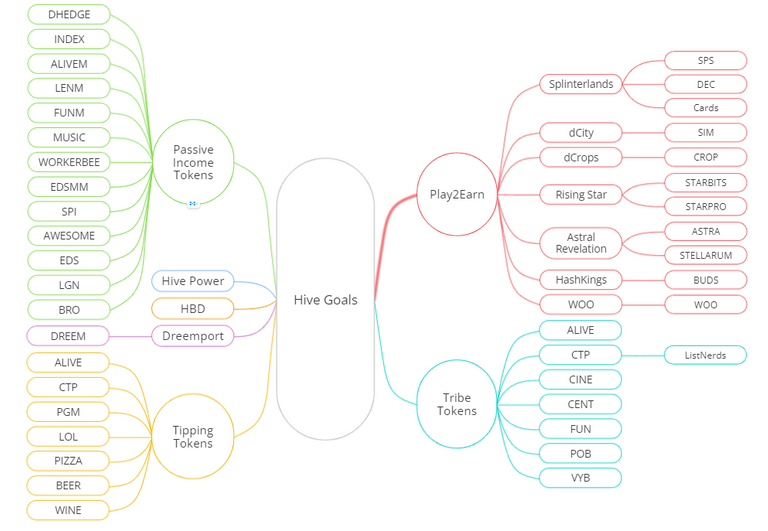 It then gives a nice visual picture of the Hive Ecosystem and the various stacking opportunities available. This list isn't comprehensive and I have probably missed a few that I have and stack.

I can then play around with it and adjust where Iwant my focus to be more easily. I also like picking up a pen and paper and drawing them, but I found this nice program which works well.
We can see that the Hive Ecosystem is so vast and full of many opportunities that using a scatter gun approach is probably not the way to go (although it could work of course) as I have used last year.
This year I am thinking that my focus will be about consolidation and my thoughts are to focus just in that area with just 3 projects maximum, not including passive income tokens.
This would allow me to get to know the project much better, how it is working, the people behind it etc.. and then this could hopefully avoid any future losses by not having enough knowledge about the project and being de-worsified.

This year I want to keep it simple again and will target to increase my Hive Power. Long term I would like to hold HBD, but I think Hive has a greater potential to grow currently and I will consider to stack more HBD once Hive is over $1.
Start: 56314
Target: 100k Hive Power
Need: 43686
If I am earning around 100 HP from author rewards per week * 52 = 5200 HP will come from here if I keep posting. If I am earning around 80 HP from curation rewards per week * 52 = 4160 will come from here.
Author rewards: 5200
Curation rewards: 4160
Total: 9360
Need: 34326
That would leave a 34326 gap that would need to be filled by other passive income or power ups. This is an ambitious target of 2860 Hive that needs to be powered up extra each month. We will see how it will progress.

Whilst I will continue to grow my CTP and CENT bags, they will not be my main focus as I have already larger bags there and so the biggest growth I would like would be to increase my ALIVE power. This is at 10k at the moment and will be one of my main targets this year.
Start: 10025
Target: 25k ALIVE Power
Need: 14975
This would be 1247 ALIVE required to power up each month which is an ambitious target but hopefully with my increased 10k stake, should be do-able.

My final main goal will remain the same as this year too. It is in the Play2Earn area and is SPS in Splinterlands. Here I would like to increase my SPS stake as it is quite low at the moment.
Start: 1539
Target: 10k SPS staked
Need: 8461
This would require 705 SPS to be staked each month which is quite a stretch target. I hope some rewards from the liquidity pool and guild battles can help me reach this one.
Well those are my three main goals that I will focus on and this remains pretty much the same as last year. The only thing that I need to keep in mind is that if Hive rises above $1, I may need to adjust my focus to include HBD, until then, I continue with my current strategy.

GIVEAWAY
You may have noticed that I did not target a passive income token and although I do hold these, I will do a separate post with a high-level overview of the options available there and consider which ones I will stack.
I did a poll on Twitter to ask what passive income token should I giveaway today and DHEDGE was the most popular: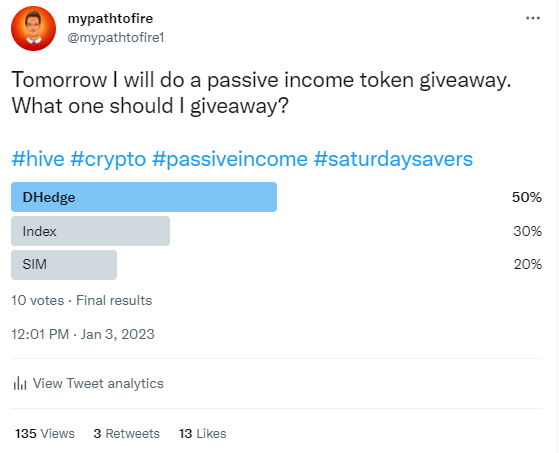 Therefore today I give you the chance to win some DHEDGE.
If I was to include a passive income token, which one should it be?
Let me know in the comments and the 3 best comments will win a share 10 DHEDGE tokens.
5 DHEDGE for the 1st place
3 for 2nd place and
2 for 3rd place.
The winners will be announced in next weeks post.

That's it for this week, but before I go, be sure to check out the @eddie-earner or @susie-saver accounts for more details about the Saturday Savers Club. This is run by @shanibeer.
Thanks for reading.


Credits:
The title image was created in Canva using image from source and clipart used under license with the free to use version of Canva.
Disclaimer
This is not investment advice, please do your own research before investing.

Sign Up For ListNerds:


Let's connect : mypathtofire
---
---