Gods Unchained - The Road to Solar Gold with the Olympians
---
---
Hello Gods Unchained Fans,
After creating my first Olympian deck that I shared last week, I have made a couple of tweaks to it after some suggestions from @kstreet. I took out the 2 Beligigerent Insomicacs and replaced them with an extra Village Vendor and Felid Protector.

The results have been nothing short of spectacular. Of course, also I have been learning to play the deck better and you cannot master a deck in just 1 week, but tweaking the strategy with a focus around Village Vendor and Wolf Recruits cards has paid some huge dividends and given me some mighty battles. It has been amazingly fun to play. I started off by testing this deck on the live stream of @thecyberdexter and managed to finally beat his decent light deck.

More impressive however, I have been able to boost the win rate from a meare 50% to a mind-boggling 71,4% and have reached Solar Gold for the first time and have been edging closer to Etheral Diamond league too. Just yesterday I defeated a $1022 Zombie Control Deck.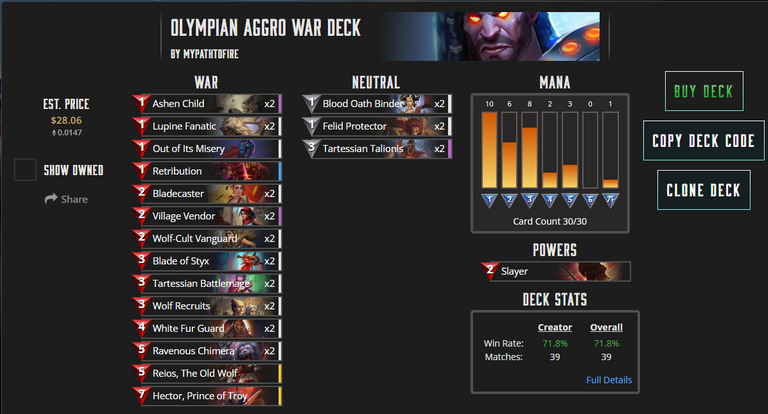 Deck Code: GU_1_6_PAIPAIPAjPAjCBvCBvKBaKBaBFvPAJCDmCDmPAHPAHKBcKBcCAZCAZCCkCCkCCvCCvPAKPAKKBiKBiIDgIDgPAGCCu
To get the extra cards meant to spend an extra $6, but it was for sure worth it.
---
Olympian Deck - Today's Battle
This week's battle is one where I start off trying to buff my deck with Wolf Recruits, but don't quite succeed, but there is still enough power in the deck to pull through. The interesting thing about this match is that it is also against an Olympian/Viking Aggro War deck but with maybe some more powerful cards.
1 Mana
My opponent plays the Shale Fire Hatchling that will buff any card played, I shouldn't really play any cards, but wait for Wolf Recruits.
2 Mana
However, it works out ok as we exchange for a Blitz card with this round. I play Wolf Recruits. I need to get rid of that pesky dragon.
3 Mana
I play my Blood Oath cards to try and buff each other. I also play Ashen Child which will buff another card when it dies.
4 Mana
This has played into the hands of my enemy as the dragon now has a 6 attack strength. He cannot get rid of my cards but plays a relic and attacks my go for 6! I take the dragon out straight away. Ideally I would like some low-cost blitz attack.. but go for the expensive one, perhaps I should have not played blitz yet, but I need to use the leech too. My Blood Oaths are now vulnerable as I didn't play any frontline.
5 Mana
My opponent manages to clear the board. I put a protected monster on the board and use Godblitz.
5.5 Mana
My opponent puts up a strong protected front line monster White Fur Guard who I also have. I use Ranger Firstbow to remove the protection and would like to use my twin strike to attack their God and the monster, but with frontline, it's not possible.
6 Mana
Things heat up when my opponent plays Sleigh Master Valka a really cool Viking card. I play the Old Wolf and clear his board.
6.5 Mana
With his God only having 7 health, things are looking precarious for my opponent. What else does he have in his bag? He foolishly plays the Woodcutter Imp and this takes 3 further health from his God... it's all over!
Summary
The deck has some amazing synergies and getting those Wolf Recruits and Village Vendor buffs in early can give you an unstoppable advantage if you can thwart your opponent doing too much damage to you in the meantime.

Here you can see that my Olympian deck is now right up there with my old Zombie Midrange deck with win ratio. The plan is to keep playing this deck for over 100 matches and see how the ratio looks then.
Weekend Ranked Update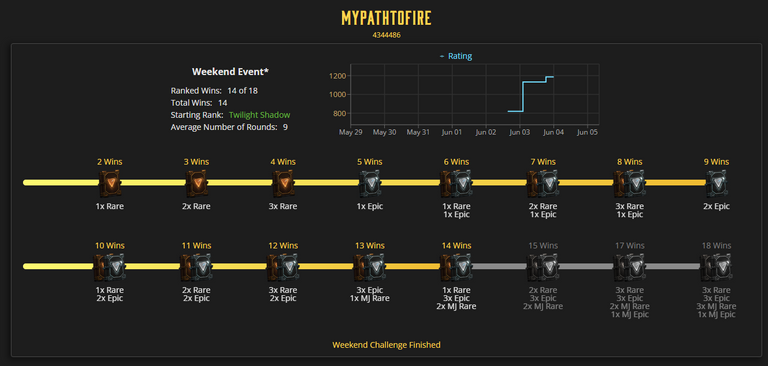 In the weekend ranking, I managed probably my best result ever with 14 wins from 18 and bagged 2 MJ Rare packs!
My Collection and Earnings

I have now reached level 128(+5) and have 3(+1) shadow cards and 260(+8) meteorite cards. My collection value is growing and worth 610.76 GODS tokens ($100.22). I have just forged another Shadow card, so will have 4 now.
How has your week in Gods Unchained been?
Thanks for reading/watching.

If you're looking for a new game to play, Gods Unchained is a great game that you should check out. If you want to support my posts, consider signing up using my referral link: here

Credits:
Gods Unchained in game images from source unless otherwise specified.
Thumbnail image using source

Let's connect : mypathtofire
---
▶️ 3Speak
---
---