Play2Earn Gaming Roundup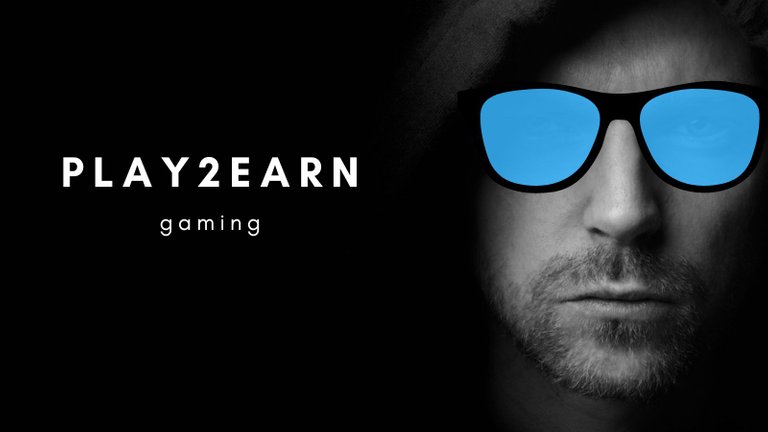 Hello Play2Earn Gamers!
Welcome to another Play2Earn gaming update. I have been gaming and buying and selling NFTs like mad to boost my crypto earnings during this bear market so that I will be well-positioned for the bull market when it comes.
Some of the games can be quite challenging and require some learning, but others are easier and just require a few clicks here and there each day. As long as the crypto keeps flowing, I guess it is all good.
Games played this time are:
Rising Star
HashKings
Splinterlands
Gods Unchained
Stardomplay
Warsaken
Realms NEW
Axie Infinity NEW
GameFI
Astral Revelations
Woo
Genesis League Soccer
Craft Ink
Dcity
Metropolis
Infernal Colesseum
Zombie Outbreak Survival
CryptoBrewmaster
Train of the Century
Dcrops
Alienworlds
Splinterforge
Crypto Shots
Rollercoin
GameFI
For these games, I have only got some tokens and/or NFTs for these and was not active this time.
Games on my Radar
Muterra
Flowerpatch
Beastgarden
Green Rabbit
Blockchain Brawlers
RPlanet
Spider Tanks
Skyweaver
Stella Fantasy
Psyber X
Big Time
Since my last update, I have started playing Realms and have been exploring the setup to play Axie Infinity.
A new game on my radar this week is Big Time which looks like a good NFT RPG type multi-player, world-exploring battling game that I have registered for early access. Hopefully, I can get in on some action here as it looks pretty good.
I have also registered for Stella Fantasy early access and will see what happens there if I can play at some point soon.
Right, lets get straight into it.

First up, as usual, I start with the game I play first most days, Rising Star. This has been running smoothly so far. Since my last update, my skill has increase by 500 and my other stats the same. I have climbed two more levels and will look to buy some more fans from the market soon.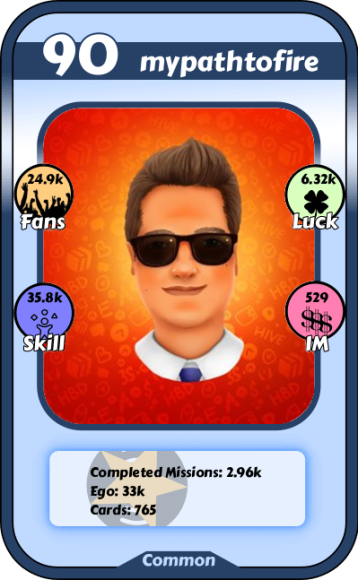 I still have 765 NFTs and have no changes there this time.
My ranking this week is 634(562) which is a drop from last time as I didn't do a pack opening this week and need to buy some more fans and give my rating a boost.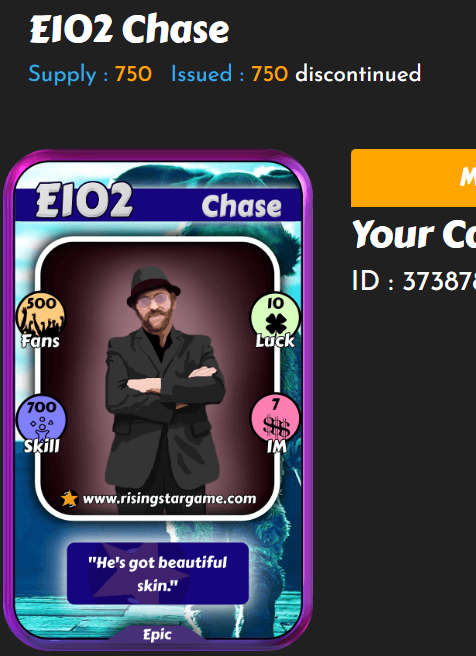 I have just won the very rare Chase card which has a huge fan and skill boost for me so I will include this in my update for next time. Many thanks to the great guys at @liotes for this as it is a great boost to my collection.
If you are interested to give Rising Star a try, consider using my link here and let me know in the comments for a free crypto gift.

HashKings has been running very well providing me with a nice bounty of BUDS each week. I have plenty of seeds thanks to the new BUDS pools and my own HKWATER towers produce enough water that I can even sell some surplus on the market.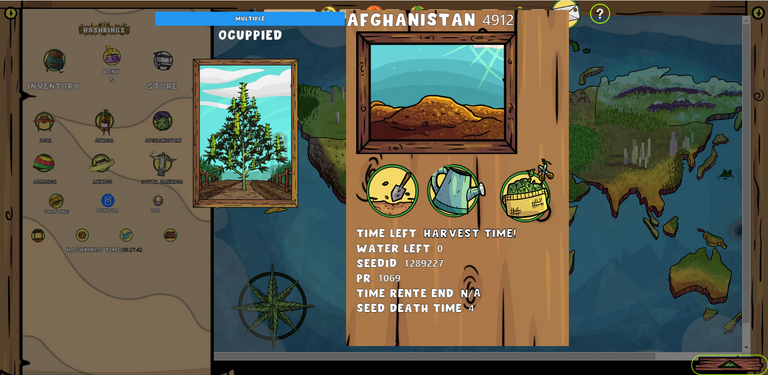 Once I have earned enough, I will look to add another landplot to my farm and increase my earnings. This games is really hands off and I can check on it every few days and maintain things.

In Splinterlands I have given a season wrap-up, for season 105. It was a pretty great season and only 8 days have passed and we have had some massive changes in the game already since then.
The first is that there is now a DEC listing fee for rentals which will pummel those low BCX rentals and make it unprofitable. I decided to move quickly and sold off many of my rental cards to remove my exposure to the renal market.
I am happy I did this. I leveled up cards that I want to use to play with and the remaining cards I keep to either rent out or sell at a later date. These cards are now a more manageable 1500 or so and consist of legendaries, summoners or cards where it is unprofitable to sell at the moment.
My progress in collecting the new soulbound cards is progressing well and I will do a separate update for that. Splinterlands remains one of my core Play2Earn games and is great fun right now.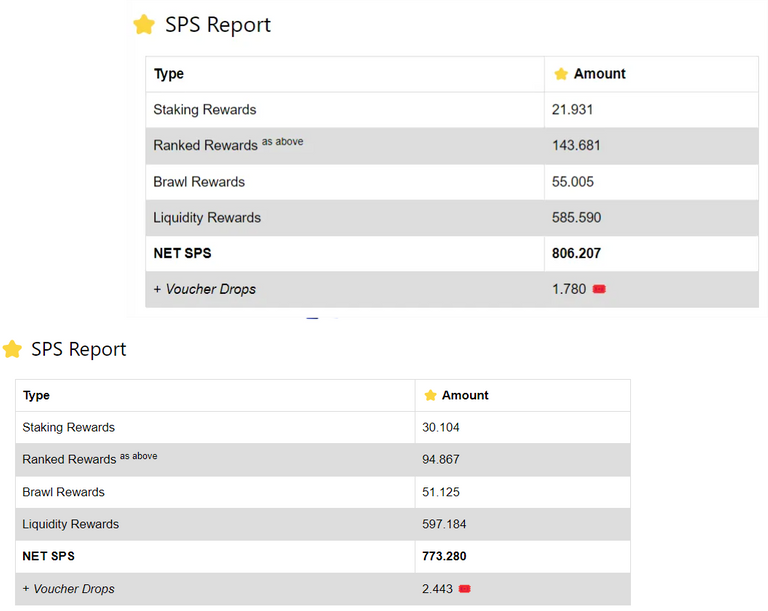 You can see my SPS earnings fell slightly compared to last season, but remain in the 800 SPS area. This month I also bought and staked and additional 5000 SPS which should double my staking rewards for next month. The plan is to buy another 90k SPS in the next weeks if we see a dip in the market.
If you are interested to play Splinterlands, consider signing up with my link here.

I have been having a blast with Gods Unchained recently as you can see in a recent post where I show you some changes to my deck and the power of corpse explosion.
Here you can see the awesome power of the End Times card. The only thing is that it requires 8 mana and sometimes I need its power much earlier! lol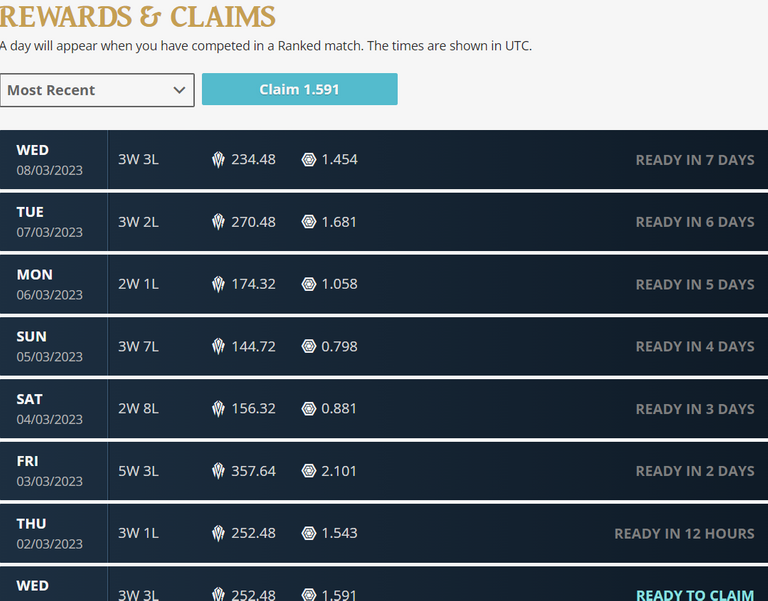 My $GODS earning for this week have been averaging around 11 for the week which is similar to last week.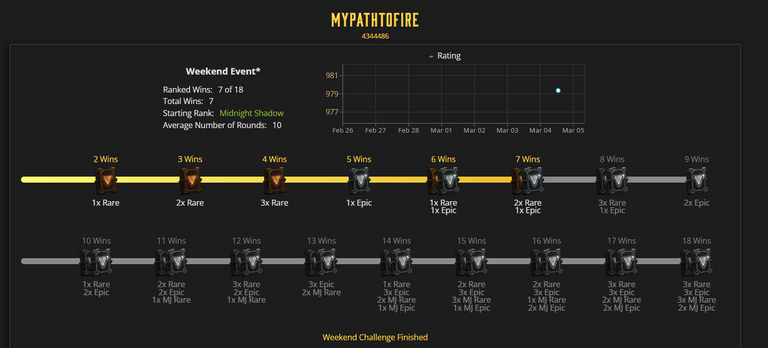 The results of the weekend ranking were not as good as last weekend. This week I won 3 packs still though and got a card I was looking for towards one of my new decks that I am planning.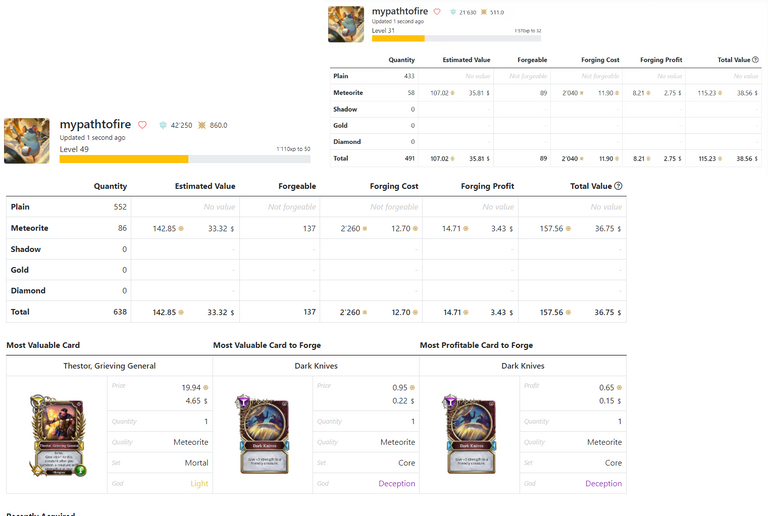 I have increased my cards from last time from 433 to 552. This is a nice jump up in 2 weeks. My Meterorite cards increased by 28 after I forged some to sell and also bought some new ones for my zombie deck.
My actual deck value in $ has decreased though, but this is more because of the drop in the market we currently have than anything. In $GODS, it is now 142,85 GODS instead of 107,02. This is great that I am building up a nice valuable asset for the bull run.
My next moves in Gods Unchained are to make some big upgrades in my zombie deck with some more cards that I have found and also finish building my light deck. I also want to look at another god so that I have at least 3 decks that I can use.
I will continue to play 3 or 4 times a day during the week and usually 10 times at the weekend for the weekend ranking. This seems to give me the optimal $GODS earning power.
If you are interested to play, consider to sign up using my link where we both get $10 GODS tokens as a bonus when you reach rank 6. Click here.

Stardomplay is another game similar to Rising Star and a few times a day I need to run some missions.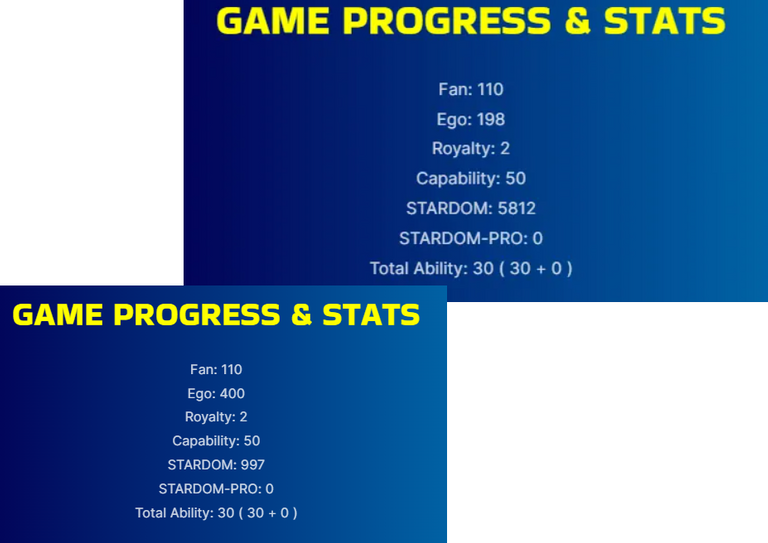 source
There hasn't been too much change in my stats. The STARDOM has been rolling in nicely and the price has also remained very stable and actually risen in value which is great. My last withdrawal was 3100 STARDOM which was a nice little income.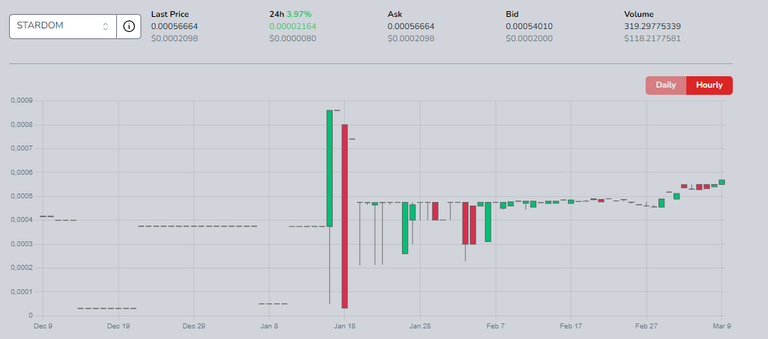 I am still in need of some more fans and the market for them is very hot right now so I have been biding my time waiting for some good offers. I am just kicking myself I didn't buy them a month ago when I first saw them as they were for sale at a great price.
My next plan is to save up 10k STARDOM and do my first pack opening, this is going to be exciting stuff, so I will make a video for this and keep you updated.
If you are interested to give Stardomplay a go, you can sign up with my link here.

Last week as you know I also bought my Warsaken deck and started playing. So far I did manage a few games initially and the game looks interesting if I could get more games in.
There isn't an auto game matcher and you instead need to drop a code in the discord which is not always getting matched. I know this is on the devs to do list, but I really don't know why this isn't made a priority. This has stopped me from playing very often.
There was also updates that the daily LOOT drops have been halved. I was earning 15 LOOT and now this is 7,5 per day at my rank. I am close to ranking up, so this would be good once my rank increases I will get a higher LOOT reward again.
For me though, the game is on hold until the get this game matching implemented as dropping codes in discord is a no-no.

The first new game since my last update is Realms. This is on the Wax blockchain and so far it is about building your base up and completing missions.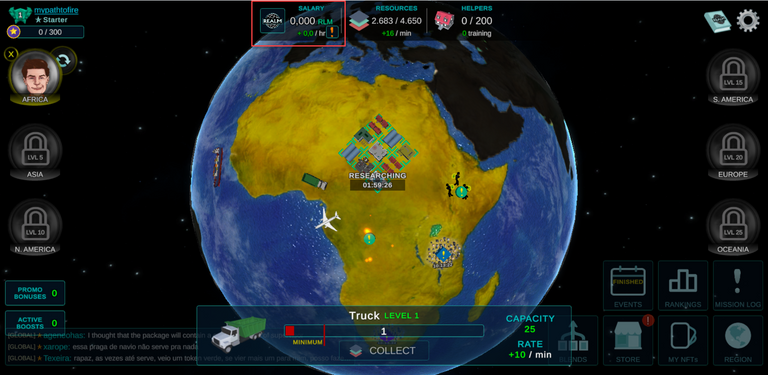 So far I have built quite a few units for my base and that has taken weeks to build.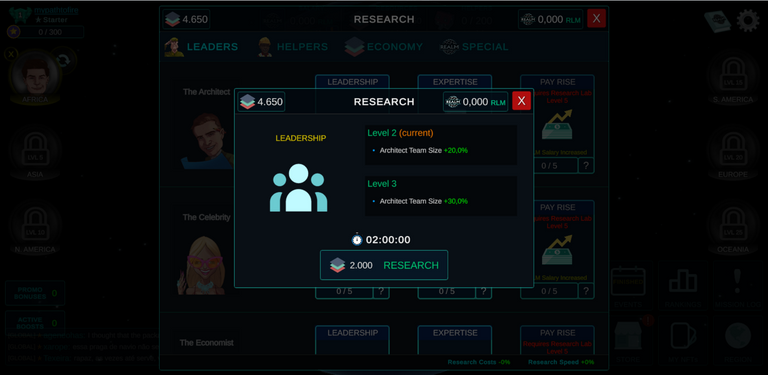 I have now started on researching missions that should help me with research type stuff.
The only thing is I am not earning any RLM yet as I haven't been completing the daily missions. It says I need to assign a leader. I am guessing but probably I need to buy some leader NFTs and then I can start doing missions and earnings. This is on my to-do list to get this game earning for me.
So far the game looks interesting and runs in the background for me.

The second new game that I have been looking at but not playing yet is Axie Infinity.
So far I have been checking out some videos about the game and how to get started etc. It is not so clear and easy as you may think. This is so bizarre with many games that I wonder if these guys making the games have ever used a PlayStation or Nintendo because if they want to onboard new players, you should usually make it as easy as possible.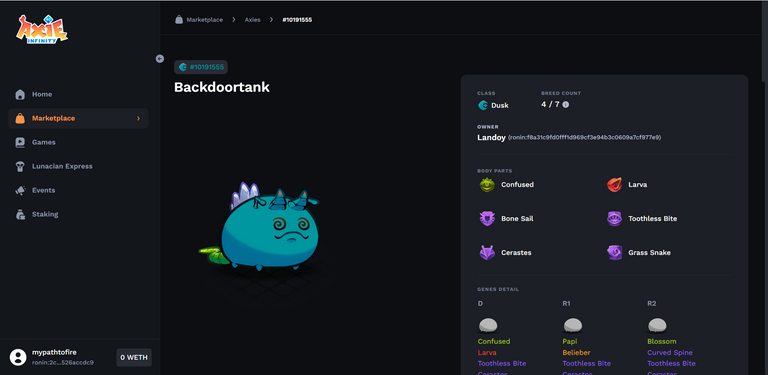 After downloading and installing the game, you get to where it says you can play for free and you think great, I can have a test of the game and see what the gameplay is like, what is the game all about, play a few demo type games to show new players.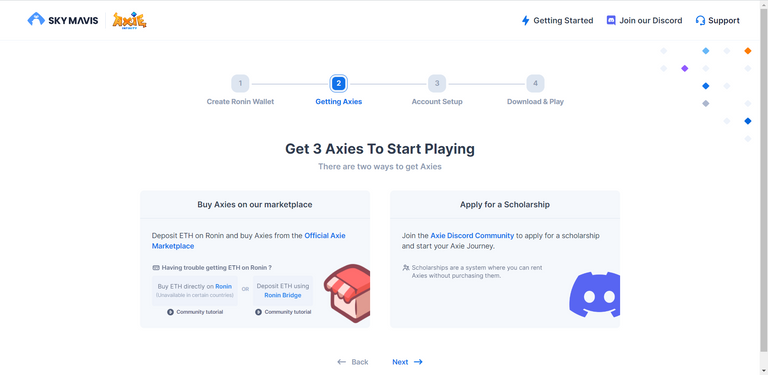 But actually you later learn that you need at least 3 what are called "Axies". You could ask in the discord but this then requires verifying yourself which doesn't work for me in discord for some reason.
The next step is to look to buy 3 of these Axies on the market and start playing. They cost only a couple of $ each, but I would need then to transfer some ETH to the ingame Ronin wallet that you need to also setup and I didn't check the gas fees yet. Anything on ETH, just seems to make my eyes roll at this point, so I am not sure if I will actually make the effort to play the game yet. You can find out in my next update.

That's all for this update and thanks for reading.
Let me know what you are playing in the comments.

Credits:
Title image created by myself in Canva using clipart licensed with the free version of Canva and image soure from 10634669/Pixabay.
Screenshots taken from the respective games as indicated.

Let's connect : mypathtofire
---
---