What is Hive Pizza?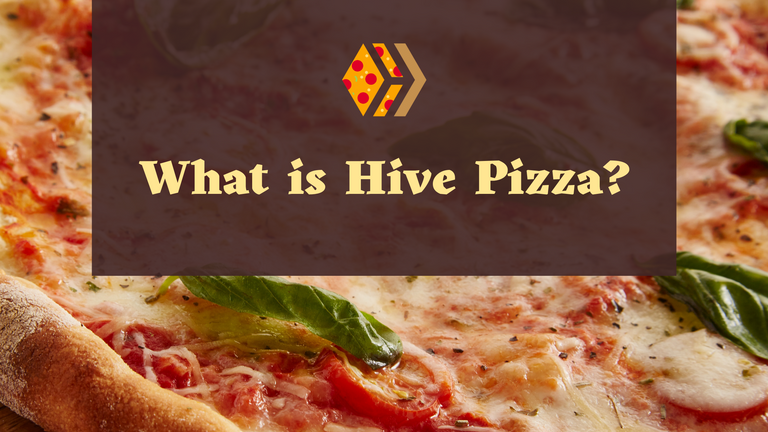 Hello all, I wrote this post to explain what Hive Pizza is to people who haven't been introduced to it yet. Pizza is not just a Hive token, it has so many features that one article won't be able to cover it all.
When I see someone in the Discord asking "What is Pizza?", these are the aspects that I think of.

A hangout
If you like to have fun, talk to interesting people, play games, listen to music, watch movies then Pizza Discord is your perfect hangout. Pizza is a great community that hosts events on a weekly basis like Trivia, Movie Night and Game Night. There are seasonal events like Chess Tournaments and also some impromptu ones like game streams.

If you are into art, we have some awesome artists discussing and showing their art in the art channel.
In the music channel you can meet fantastic musicians and share your love for music. For the gamers, we have a great variety of channels for games on and off-chain.

We also have a very active chat, whenever you visit the server you can find someone to talk to. I like to think of the Pizza Discord as my local pub. If you haven't joined the Discord yet, follow this link.

An engagement tool
I first found out about Hive Pizza when someone commented on my post with the !pizza command and I got a slice of pizza. Then I went to search for more information about the token and started staking pizza so I could give slices to other people as well.

It is a great way to engage with authors and readers on the blog. I believe everyone is happy when they receive a pizza slice. I know I am every time I receive one. The tipping command is also a good way of spreading awareness about the token. When I received mine I went to research about it and now I am a proud member of the pizza guild.

Another way the Engage2Earn model is promoted is through weekly giveaways in the Discord. To be able to participate in the giveaways you need to have a minimum amount of messages in the server. The message counter is reset every week so the community is always active and engaged in conversations.

A currency
You can actually buy things with Hive Pizza. On the hive.pizza store you can buy a variety of games using your pizza tokens. We've also had successful trades between members of the community exchanging pizza tokens for assets like a Splinterland card.

If you want to invest your pizza, there are many options. There are various diesel pools at Tribaldex and BeeSwap. Many of the pools provide rewards and they offer good APR as well.

There is also a brand new Staking Rewards program for those wanting to diversify. When you stake a minimum of 30.5 tokens, you start receiving rewards. You can read all the details about the program in this post.
For those who don't have any pizza in their wallet yet, you can read this guide on how to buy your first pizza.

These are just a few aspects of Hive Pizza that come to my mind when I think of it. But there is so much more. The team is working hard to bring a lot more utility to the token. Every week they publish an announcement with what they are working on at the moment and what we can expect next.

The latest news is the launching of a scholarship program. Read all about it on this post.

Follow @thebeardflex to get the scoop firsthand.

---
---