Do your see LeoFinance as r/CryptoCurrency community of Reddit or Crypto Twitter ?
---
There are many reasons why I love LeoFinance. The main reason for this is that I want to continue learning about crypto while being part of a wonderful community.
Maybe spending too much time on Twitter in the last few years made me view LeoFinance as more like crypto Twitter. Now my view has changed so much. During my little experiment with @nathanmars.leo account, I figured out that short contents are not so good for learning and most of the learning happens in the comment section.
Lately, I'm visiting r/CryptoCurrency at least once a day to steal some ideas for my daily creation with LeoFinance. My recent posts are receiving large numbers of comments from my peers. Every single comment I read is teaching me something and honestly, I'm learning more from my comments. So I take this moment to appreciate all the people who make an effort to leave a comment on my post.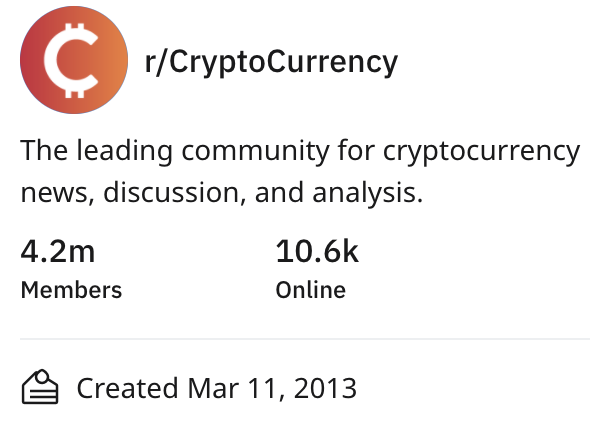 I see LeoFinance as r/CryptoCurrency of Reddit these days. Maybe because I'm actively creating, curating and engaging with Leo. Maybe because I spend less time with Twitter. Maybe because I see LeoFinance as a huge community like r/CryptoCurrency with 5 million members in 7-10 years from now.
Creating crypto-related content is not everyone's cup of tea. But when you find out WallStreetBets and Cryptocurrency was the most popular conversation on Reddit in 2021 make me realise the high demand for crypto-related content.


Source
So How do you see LeoFinace? r/CryptoCurrency? or Crypto Twitter?
Also, If you haven't already please check out inji.com the new Hive dApp and the new version of HiveStats.io
Hive: leofinance.io/@nathanmars
Bitcoin: bc1qa3k6y6dfd9twfct4vn2akk5903cdx8vtun4yyn
Twitter: Twitter.com/NathanMars7
Telegram: nathanmars7
---
▶️ 3Speak
---
---