Lotus Love Sunday Editorial - Physical Health, Mental Health, A Little Herbalism, & Paying Life Energy Forward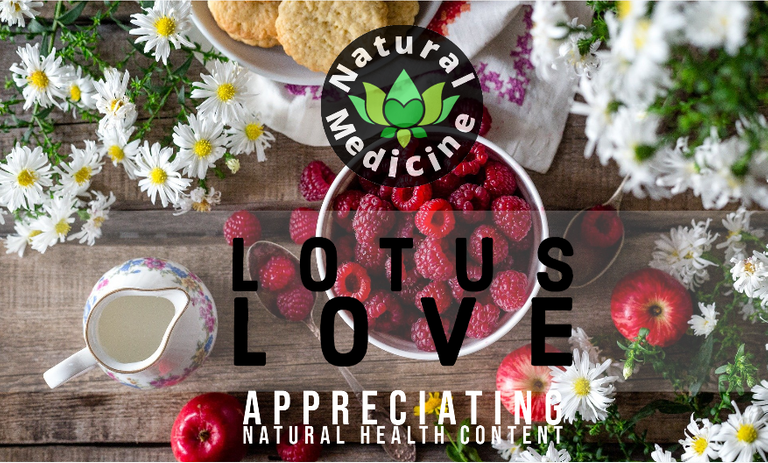 @JustinParke here with an inspired Lotus Love full of informative, educational, and inspirational posts from the Natural Medicine Community and beyond. Health is wealth as they say, and this editorial has you covered, from the mental to the physical and spiritual.

by: @chaodietas
     This post isn't about solar panels and wind turbines, but the energy we have inside ourselves, and how we can best keep the positive flow going. Whether you've learned a new skill and you intend to share with someone else or you've received some upfulness and you want to pay it forward, all are good examples of how we could recycle the energy of life.
Here is an excerpt to inspire...
Something similar happens in us in this "recycling of energy", if you have too much joy, for example, share it to receive a little of the quality that you lack and thus be able to have harmony in your life. Giving does not imply giving material things, on the contrary, intangible things are the ones that have more weight and value.

by: @keuudeip
     This is an ode to Asian basil, a plant which I guess I took for granted while living in Cambodia for many years. Here in Suriname, there is mostly tulsi, which is delicious in many dishes, but by no means a substitute for Asian basil. This post is very informative and contains some beautiful shots of this important herb.
Wet your taste buds with this teaser...
If the basil leaves are not picked, and the plants continue to grow tall - in my backyard, some grow to more than 100 cm - then the stems produce flowers, and hence, the production of leaves stops on those stems, and the stems become woody.

by: @angryman
     An often overlooked component of complete health is physical health, and exercise is one of the most important ways to maintain physical health and fitness. It's easy enough to make healthy food choices and substitutions on the fly, but for those that aren't manual laborers, you may need to set aside time for physical fitness, and that is unfortunately becoming a little easier thanks to COVID lockdowns.
Here's a tidbit of what's within...
Alternating how you train can keeps things interesting. It can also serve to stimulate a muscle group to become stronger after the recuperation period.

by: @sumaiya777
     I've eaten a lot of pickled limes and lemons in my life, and I also eat them fresh in many dishes, but I've never seen anyone eat them fresh, rind and all. This herbalist also highlights the many health benefits of lemon peel, and somehow makes them look so delicious with just a bit of mustard oil, chilies, and salt.
Have a quick read of the post intro...
Lemon is a natural medicine that contains citric acid and peel has anti-inflammatory properties that can get rid of difficult diseases in our body. We only know the benefits of lemon, but we do not know the benefits of lemon peel.

by: @kawsar8035
     Anger is certainly an emotion most of us find trouble controlling at some point in our lives, especially under this pandemic and its associated restrictions. Kawsar gives some insight into how his irritability and anger have changed with age, and also some ways he attempts to control it.
I chose @kawsar8035 for the recipient of this week's 5% beneficiary. I feel his post is a bit underapprecialoved, so hopefully this will provide a little boost.
Take a quick sample read...
Sometimes I talk to myself to control my anger. Or watch different types of fun videos. So that watching fun videos reduces a lot of anger. Although many times it works. But many times the anger is so much that then this funny video is not good.

Earn Instantly For Writing Natural Health Content
Earn LOTUS and HIVE rewards for sharing your natural health content on www.naturalmedicine.io. If you don't already have a HIVE account, you can sign up for FREE here. We support writers sharing about herbalism, TCM, yoga, meditation, vegan and other healthy diets, as well as earth centered practices such as foraging, permaculture and biodynamics - read more about us on our Welcome Page!


Delegate II Community II Discord



---
---